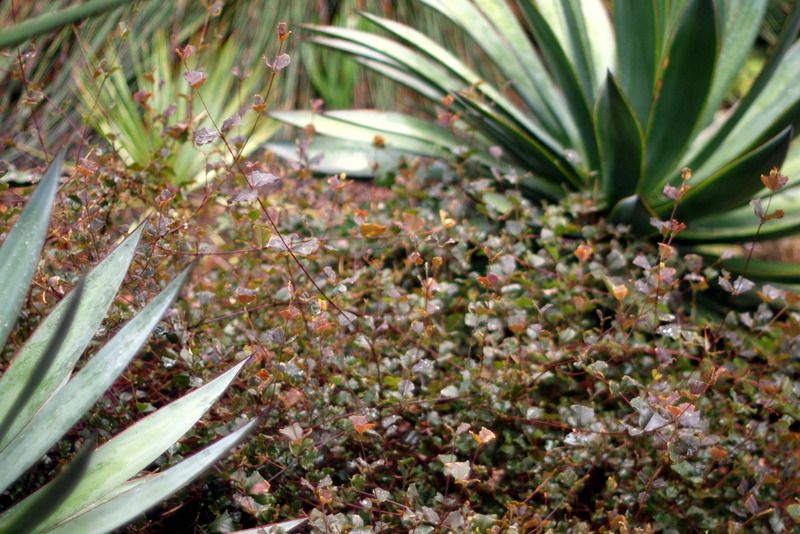 Before September turns the corner into fall, when my garden plans will predictably revive and become hopeful and catalogue-driven once again, it's a good opportunity to take a clear-eyed look at the survivors. The survivors are once-treasured plants that slowly over time become mere backdrop to the latest and newest treasures. The garden changes so often that there are few plants that date back even a decade. This plant is the rare exception, having been a survivor for donkey years, (old slang for a very long time), going back to when it was purchased sometime in the '90s. After purchase I promptly forgot its name, only remembering 'Bronze Butterfly,' because it just so happened that for once the name was a true and vivid description of the plant.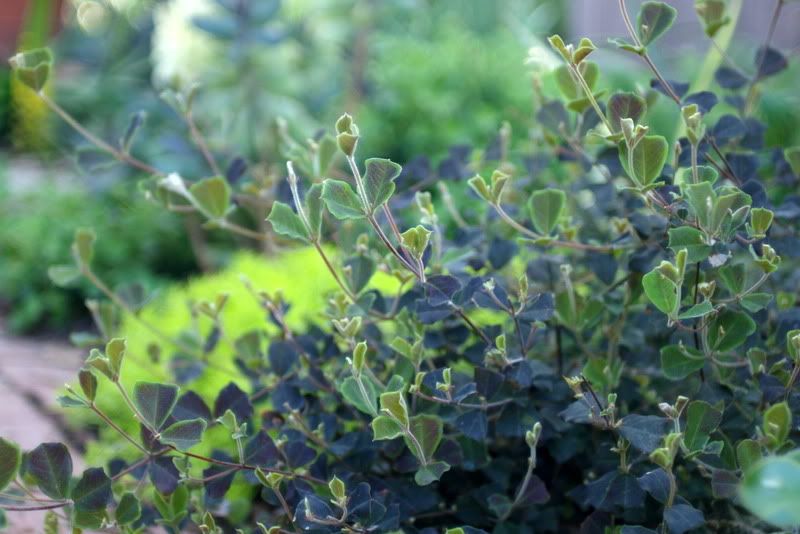 Old photo showing the bright edge to the leaf margins in spring, with the leaves appearing much darker, almost black.
When the Internet became available (an event that divides my life pre and post more than anything else, with the exception of possibly marriage and kids), a Google search confirmed it as Brachysema praemorsum from Australia. Not only time and technology but taxonomy marches on as well, and currently brachysema is known as gastrolobium. What hasn't changed is its consistently gorgeous appearance for over a decade now in the front gravel garden. In fact, it's probably the oldest plant in the garden.* I pulled it from the California native section of a long-defunct nursery near Palos Verdes, Calif, that according to this article closed in 1997 due to the economic effects of severe drought followed by recession in that decade. So I must have brought it home sometime before '97, at least. I've never seen the plant for sale again.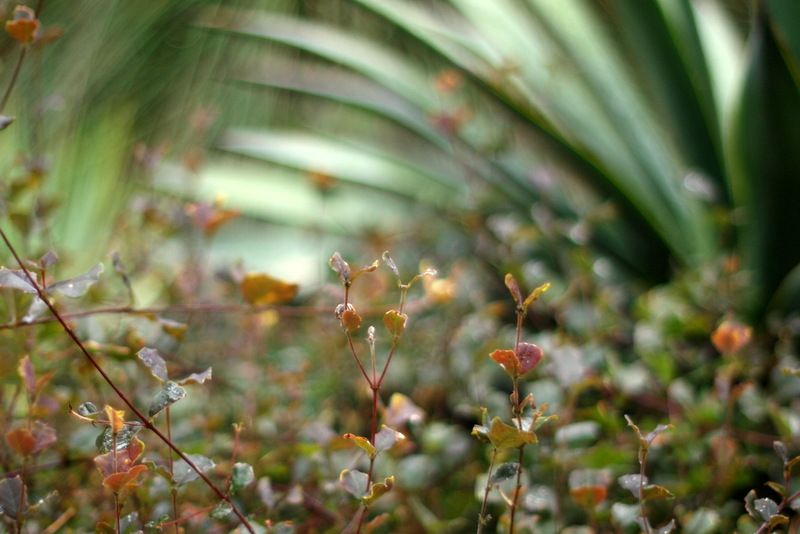 It might not ever make Plant of the Year, but it has many admirable qualities. First and foremost is its ability to live among agaves and dasylirions on their irrigation schedule, which is pretty much when it rains, and you know how well that's been going lately. It is from Australia, that continent with so many sympatico, mediterranean-adaptive plants for use in our Southern Calif. gardens. A light clipping to keep it off the agaves is probably the only attention it receives. It doesn't build up a lot of dead growth in the interior and always looks fresh. When in bloom, the claw-like, red flowers don't read especially well amongst the leaves and for me aren't the main attraction.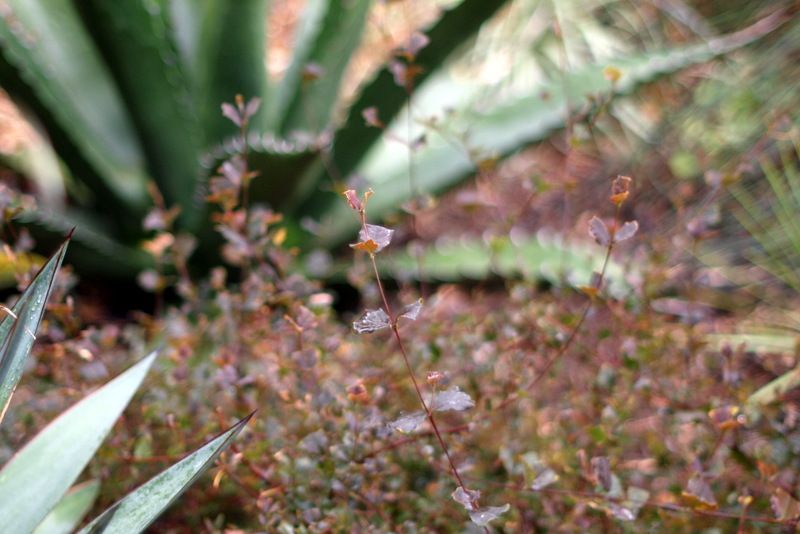 It's really all about the wiry quality to the stems, upon which float the opposite, winged, richly colored leaves. Its meandering tracery makes a fine counterpoint among the solidity of agaves.
Along with durability, a big reason for its survival in the garden is that it never becomes an exasperating or annoying presence. It just never has a bad day. (On the strength of BB's performance, another gastrolobium was added this year, G. sericeum, from Australian Native Plants Nursery near Ojai.)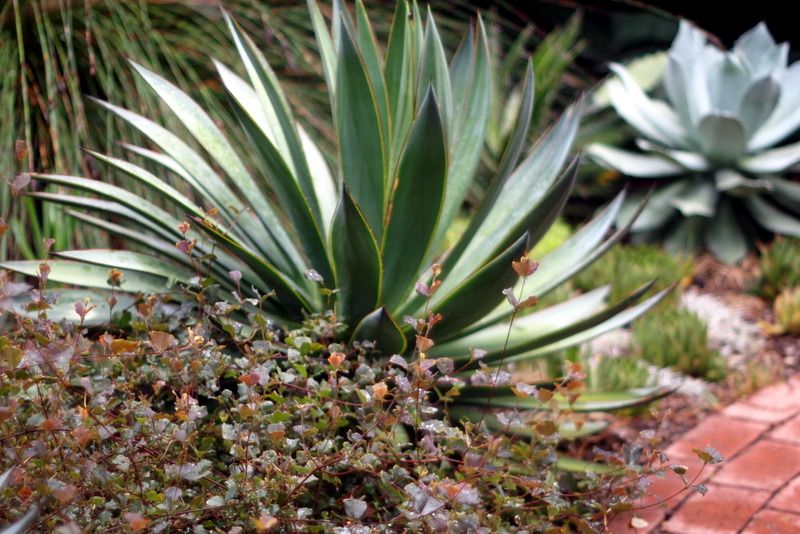 I have a strong suspicion the two 'Blue Glow' agaves that bookend the gastrolobium will complete their life cycle and bloom next year, another reason to do a little portrait of this part of the garden now.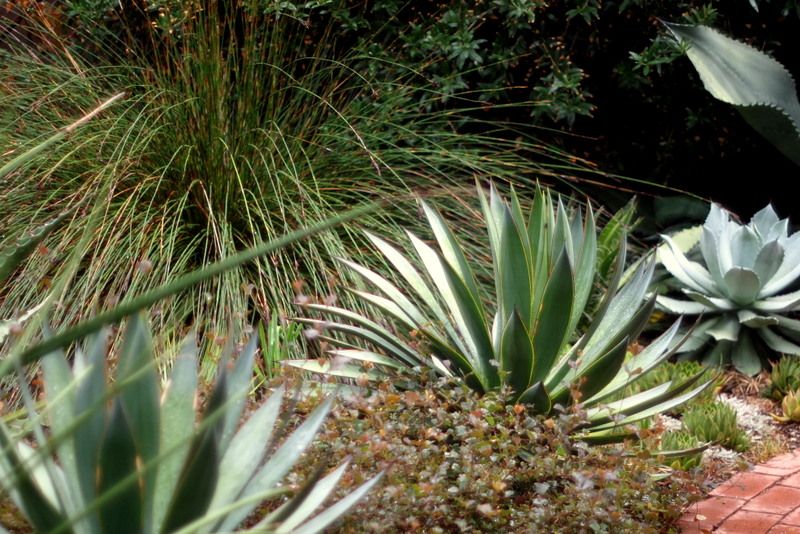 Another old-timer is the restio behind the agaves. (It's hard, for me anyway, to tell restios apart, but I think this is Thamnochortus insignis, about 3 feet tall after many years and sprawling to maybe 5 feet in diameter.) With 'Bronze Butterfly,' these two are the oldest plants in the front gravel garden, which was lawn in the pre-Internet days when we bought the house. Back then I took out the lawn because I was greedy for space to grow plants. I was actually worried for a time that neighbors would complain of our lawnless state. Now that having a green lawn has become a cause for complaint, I'm hopeful that, unlike the Palos Verdes Begonia Farm, nurseries won't close due to drought but will instead thrive as robust gardens replace lawn as the new normal. There's so many great plants out there just waiting to prove what beautiful survivors they can be.
*San Marcos Growers describes it as a 2002 Koala Blooms introduction, which would be after the nursery where I purchased it closed in 1997. I can't account for the discrepancy in dates and have always believed it was purchased at the Palos Verdes Begonia Farm. In any case, it's been in the garden at least ten years. UCSC lists it as "Brachysema praemorsa."