The shrubby statice, also goes by Limonium roseum, from South Africa. I just uncovered its true identity this morning using a Google Image search.
The one and only time I've seen it offered at a nursery, I bought it, and that was long, long ago. This is the first year it's flowered. It spent years in the back garden, didn't do much other than cling to a weak semblance of plant life, then was moved to the front gravel garden, often a death sentence for non-performers. In the sun-baked gravel, watered only by 15 inches of winter rain (in a good year), it not only held on, but increased in size. I always assumed it was a California native, possibly from some dim memory of having grabbed the original gallon from the natives section of a now-closed nursery. Now that I know its name, I find its native soil is sandy. I would never have planted it in the clay of the gravel garden had I known that. A native buckwheat, Eriogonum grande rubescens, at the limonium's feet enjoys the same growing conditions.
The statice has extremely tough, leathery leaves.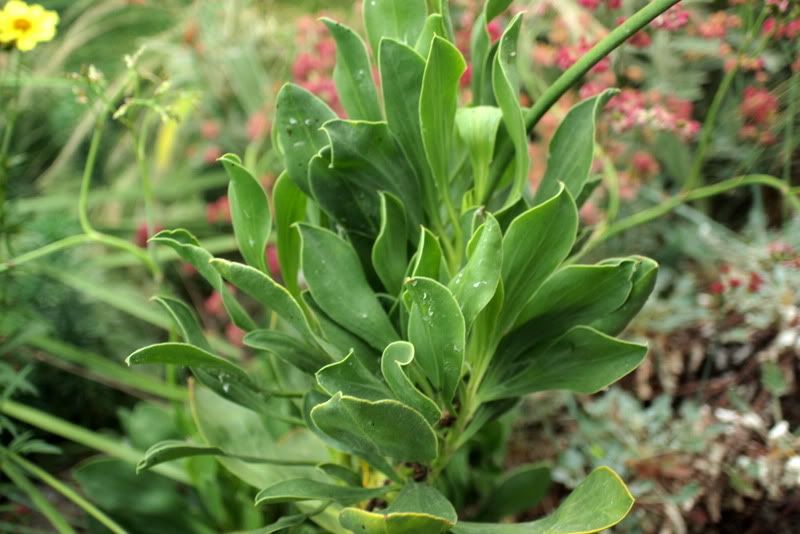 Hortus Third has this to say: "Shrub, to 3 ft., brs. leafy, covered below by persistent lf. bases; lvs. obovate, to 3 in. long, tapering to a clasping base, scabrous on 1 or both surfaces with pitted glands; fl. scapes scabrous infl. dichotomously branched, spikelets 1-fld., few to many, close-set in spikes; calyx to 1/2 in. long, funnelform, limb 5-ribbed, pink, corolla pink, longer than calyx. S. Afr."
Say what?
Lambley Nursery & Gardens in the UK has this to say:
"One of the finest dwarf shrubs for a dry climate. This statice, to quote E.E. Lord, '….. will endure dry conditions and inland frosts alike.' Limonium peregrinum forms a low rounded evergreen shrub with leathery bright leaves. For much of the year it has flat topped sprays of bright rose pink flowers held well above the leaves. These are good cut flowers and a delightful addition to posies. Difficult plant to propagate."
And I'd add extremely slow to grow. It's taken it close to a decade to produce flowers for me. It's also apparently notoriously difficult to start from seed. No idea who E.E. Lord is, quoted above, and a quick search was fruitless.
So what's to be learned from this botanical mishegoss?
a) If you neglect a plant long enough, it may surprise you and not die;
b) If you don't grab that unfamiliar plant at the nursery, you may never see it offered again.
c) Sometimes having no information at all on a plant works out OK.
d) The dumb occasionally get lucky.
I'm going with (b).