I think I'm finally getting the hang of this heat wave business. I'm taking a cue from the plants: Hunker down and just wait it out.
When I cut the melianthus back, this Gomphostigma virgatum found some needed breathing room. With a little extra irrigation, it's revived enough to lightly flower. A silvery South African shrub that likes more water than most silvery things, it was performing this pretty arching trick and dangling tiny white flowers over the clam shells this morning. I saw this growing at Digging Dog Nursery in their display garden and asked for it, but it's not currently listed in the catalogue.
Lavandula multifida, the fern-leaf lavender, when it doesn't mysteriously collapse, stays in constant bloom. Two out of the original four planted last year remain. They bulk up very fast and keep the garden and hummingbirds constantly flush with indigo flowers, but it does lack the eponymous scent. I love having lavender back in the garden, even the unscented kind, and have another touchy one, Lavandula lanata, waiting to be planted when it cools down later in the month.
Included just because it looks so very icy cool, Aloe scobinifolia. And also because once it's in the blog, I'll always have a record of its name. It did have a bloom truss on it when I bought it a few weeks back.
Gaura is blooming in containers. So many new cultivar names for gaura these days, but they're all short-lived so I don't keep track. I only ask that gaura be white, not red or pink.
White also gives a very different character to Persicaria amplexicaulis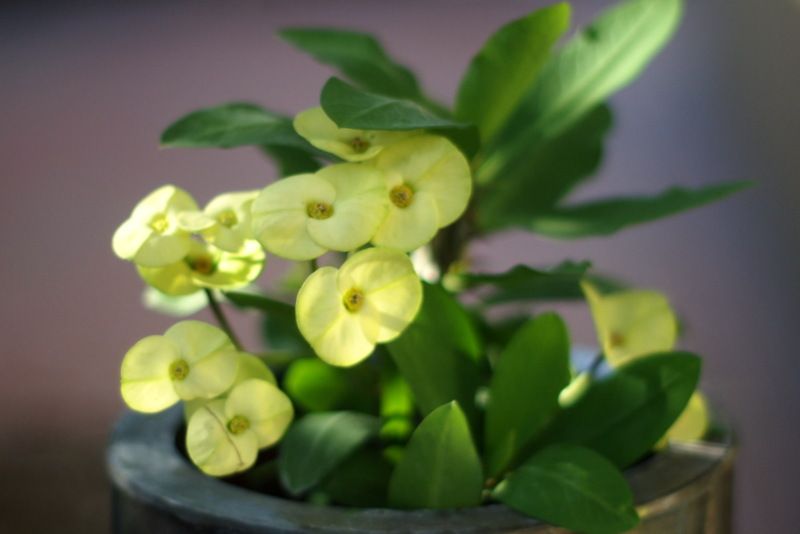 This is a total Bloom Day cheat, since I bought this Euphorbia milii 'Amarillo' yesterday. But these fancy cultivars of the Crown of Thorns are in bloom all over my neighborhood, especially in the Cambodian-owned gardens. One house down the street has dozens of these growing wall to wall in containers in the front garden, where they can be admired from the gate. I got the impression last time I lingered at the gate the owners didn't appreciate me seemingly stalking their prize plants, so it was time to get one of my own.
This sticky-leaved Cuphea viscosissima is very heat sensitive. I'm hoping it undergoes an astounding transformation when the weather cools. It's a volunteer seedling from plants I grew in the past, which surprised me since they looked so miserable in their short time in the garden.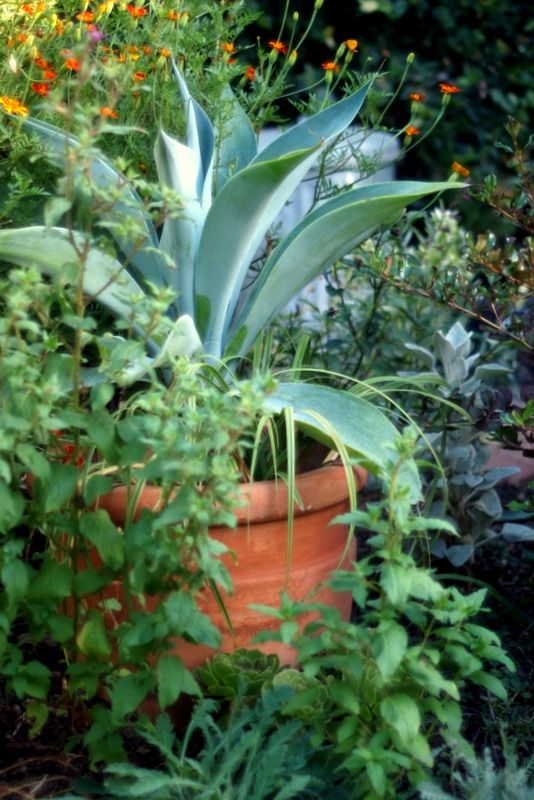 A photo from August to show how tall it is for a cuphea, the blurry plant in the foreground. I've found a bee and a couple wasps snared by the sticky leaves, so that's a mark against it too. I didn't take a new photo of the marigold Tagetes 'Cinnabar,' but there's no worry or hand-wringing over these Day of the Dead flowers from Mexico during a heat wave.
I've been seeing photos of Pennisetum 'Vertigo' on blogs and reports of it hitting 6 feet, but I think this 'Princess Caroline' at 8 feet in one season is even bigger, if that's an appealing feature.
Seeing this Solanum pyracanthum in a Portland garden made me realize the impact of different climates on this plant. Here it's wispy and flowers early and at a small size, no matter how frequently I pinch it back. In Portland in July it was much more dense, with the leaves and orange thorns an arresting feature before it blooms. I've noticed that the castor bean plant similarly flowers early, while the plants are still young and rangy. Both the solanum and castor bean will act like perennials here too.
Lotus jacobaeus, famous for it's wine-colored flowers, has a gold cast this year.
A short-lived perennial here, this new plant was brought in last year.
Winter-dormant Pelargonium echinatum has been in bloom all summer.
Since August's Bloom Day, I've cut down the long-blooming Gomphrena 'Fireworks' to the ground and stopped the near-constant irrigating of Rudbeckia triloba, at which point it collapsed. I didn't take photos of Russelia equisetiformis, the yellow form of the firecracker plant, which has been in constant bloom all summer, or the kangaroo paws, but otherwise that's the September 2014 Bloom Day report I'll be adding to Carol's blog May Blooms Gardens, where she collects our flowering reports from all over the world every month.