Anigozanthos is becoming as common as agapanthus in Southern California, but I'm still a fan. Blooms for months, fine on the dry side, handles full sun, dramatically vertical. You'd think there'd be a huge selection available. But it's pretty much orange, yellow, red, pink. Occasionally that amazing black one turns up in nurseries, which goes by Macropidia fuliginosa, but it's notoriously touchy.
'Harmony' anigozanthos, May 2013
For the longest time I steered clear of red kangaroo paws. Orange and yellow, yes. Red, no. There really is no accounting for taste. Maybe there's this fear that if we kept no rules at all, a vortex of chaos would swallow us up. All I know is that I'm now suddenly fine with red anigozanthos. (But pink, um, no.) The first red I brought home was, appropriately enough, 'Big Red,' whose first bloom in the garden will be this spring. Then I recently brought home some petite red no-names in 4-inch pots that were a good price at the big box store.
And then there was that momentous day I found 'Little Jean' (two days ago). I immediately plucked her from a stand of mixed blooming kangaroo paws after one look at her rich interplay of colors.
Compare the complexity of bloom on 'Little Jean' (red/green/black/yellow on bright red fuzzy stems) to the no-name red kangaroo paw above.
Now a new band of red anigozanthos is taking shape in the garden, snaking around the base of Yucca 'Margaritaville.' Interspersed with the kangaroo paws are some lomandra I'm trying out like 'Breeze' and 'Lime Tuff.' I've pulled out all the blue oat grass Helicotrichon) to give lomandra, this startling green New Zealander, a try.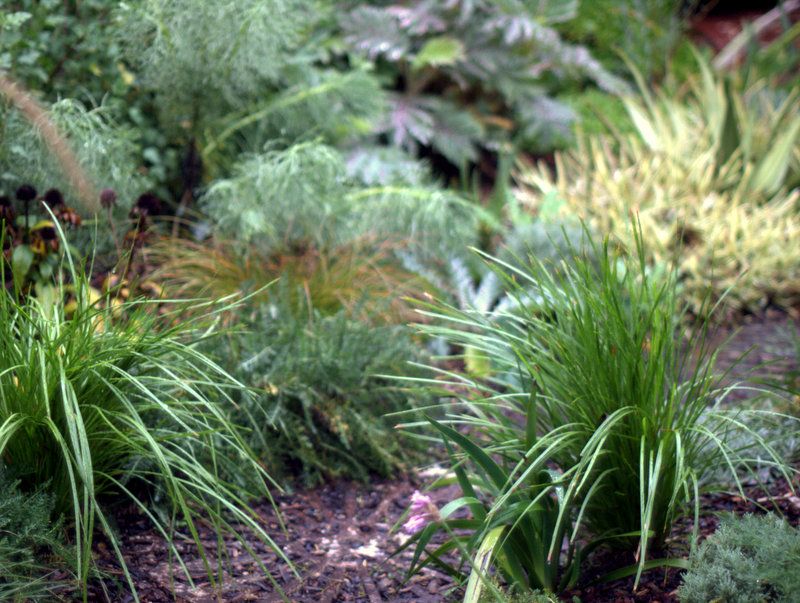 Lomandra 'Lime Tuff.' I know at some point it will have an ugly phase, all grasses do, but wow, what bright clean beauty it's shown all fall/winter.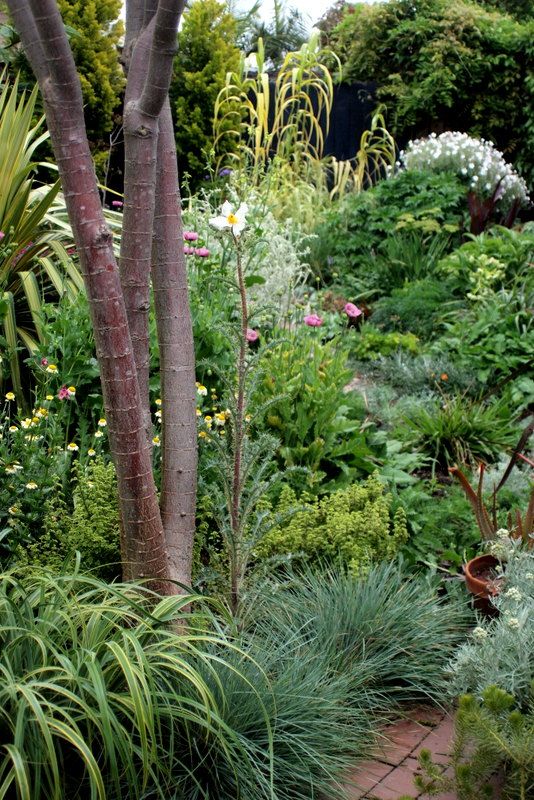 The now-departed blue oat grass, looking fine in April 2013 but always ratty in winter. The tree, Euphorbia cotinifolia, is gone too. Wind snapped its trunk. That thug Arundo donax 'Golden Chain,' way in the back, has also unwillingly vacated the garden. In fact, except for the yucca, the garden has been completely changed up again. The long-leaved carex on the left, Carex trifida 'Rekohu Sunrise,' has been moved to more shade. A really good carex with a big arching presence like hakonechloa, but for drier soil.
(And I really, really wish I could find another source for seed or plant of Argemone munita, the tall thistly looker with romneya-type flowers.)
Anigozanthos 'Yellow Harmony'
But getting back to kangaroo paws, just letting you nurseries know that some of us love seeing different kinds of them, like 'Little Jean.'