My Portland friend Loree at Danger Garden collects impressions of favorite plants at the end of the month, so I put together a contribution of what's catching my eye this week.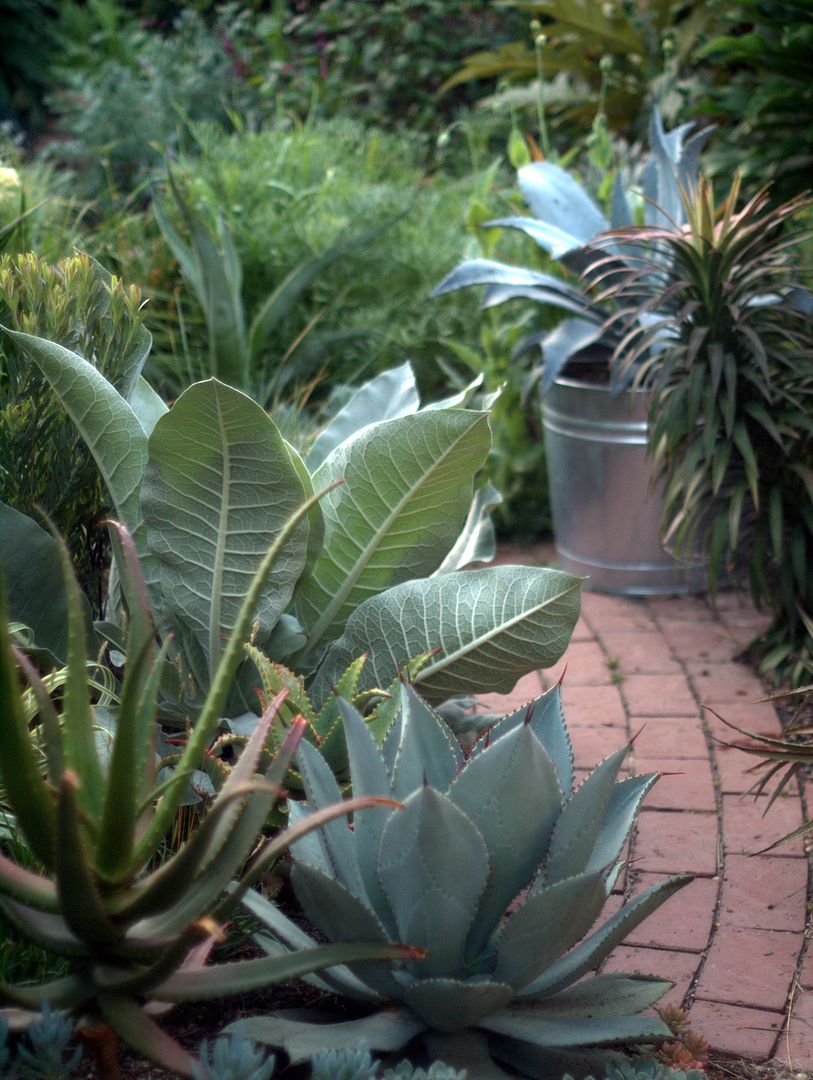 I'm enjoying how the Verbascum bombyciferum echoes the rosette shapes of surrounding agaves, but a softer, feltier echo against the stiff, silvery-blue agave leaves of 'Dragon Toes' in the foreground, A. franzosinii in the background. The verbascum is temporary, while the Leucadendron 'Winter Red' gains size just behind it. Annuals and biennials are perfect solutions for the temporary gaps around a growing shrub. I'd love to get some seed from the verbascum after bloom, though.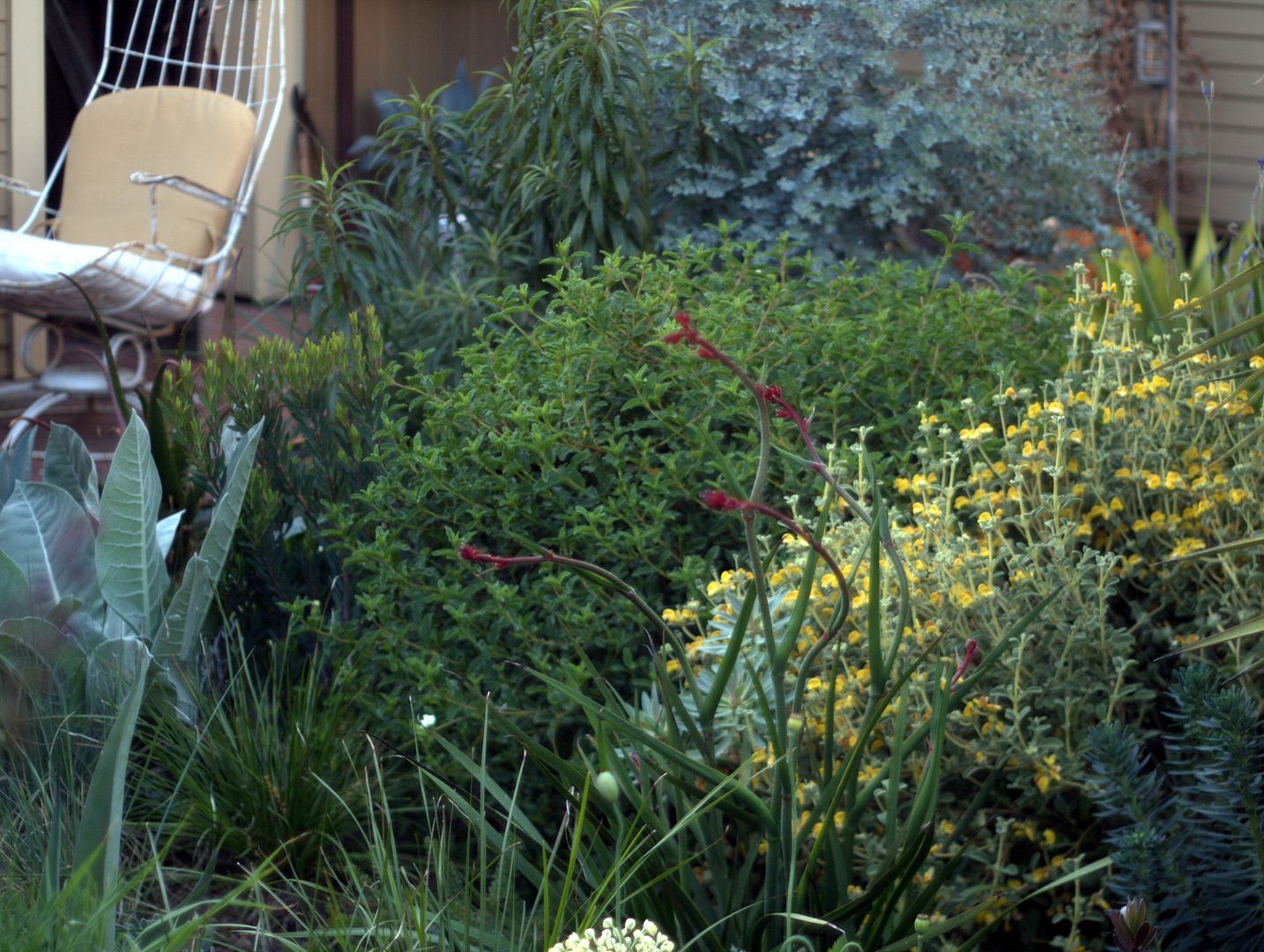 Dark green shrub is Cistus 'Snow Fire.' The evanescent white flowers with maroon central blotches have disappeared by the end of the day.
The 90-degree temps the past couple days are the reason that the garden is filled with the sharp, resiny scent of cistus, something I miss when the garden is without it. They're generally short-lived shrubs for me, but for quite a few years the iconic sounds and scent of summer included the low hum of of busy insects coupled with that uniquely pervasive scent.  If it's going to be this hot, at least let the air be pungent with cistus.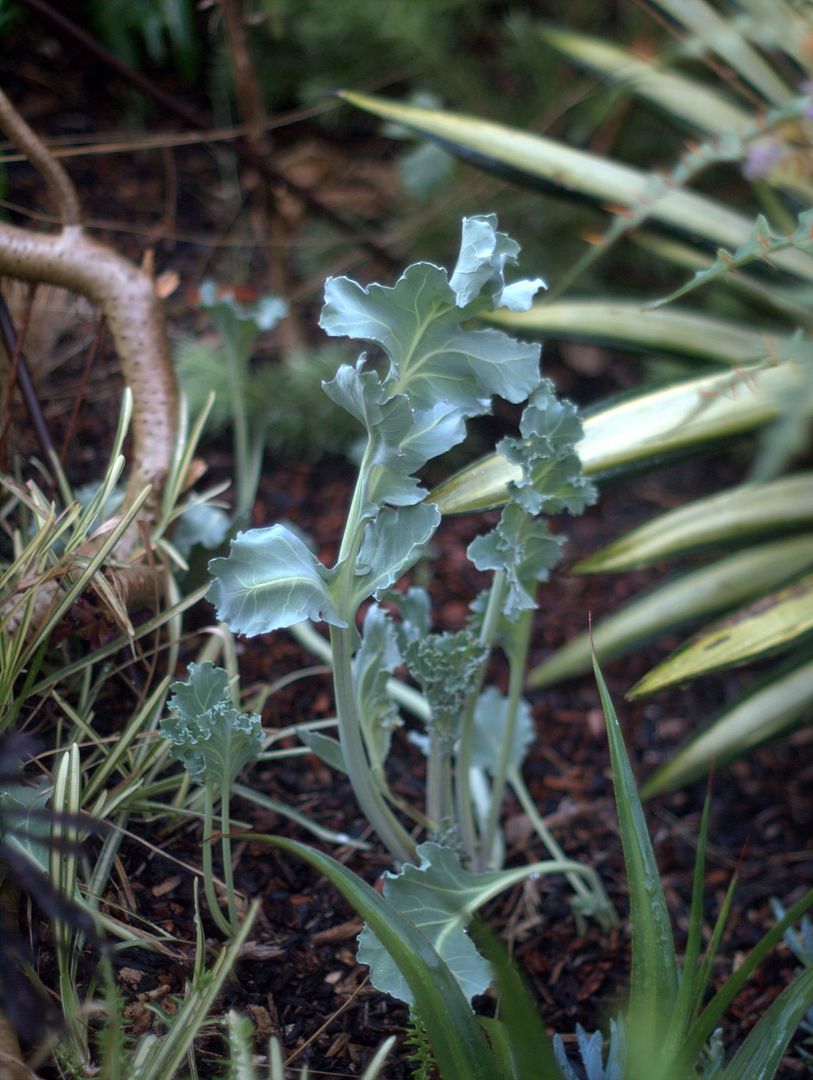 If there's any plus side to the drought, it's much less snail damage. Crambe maritima.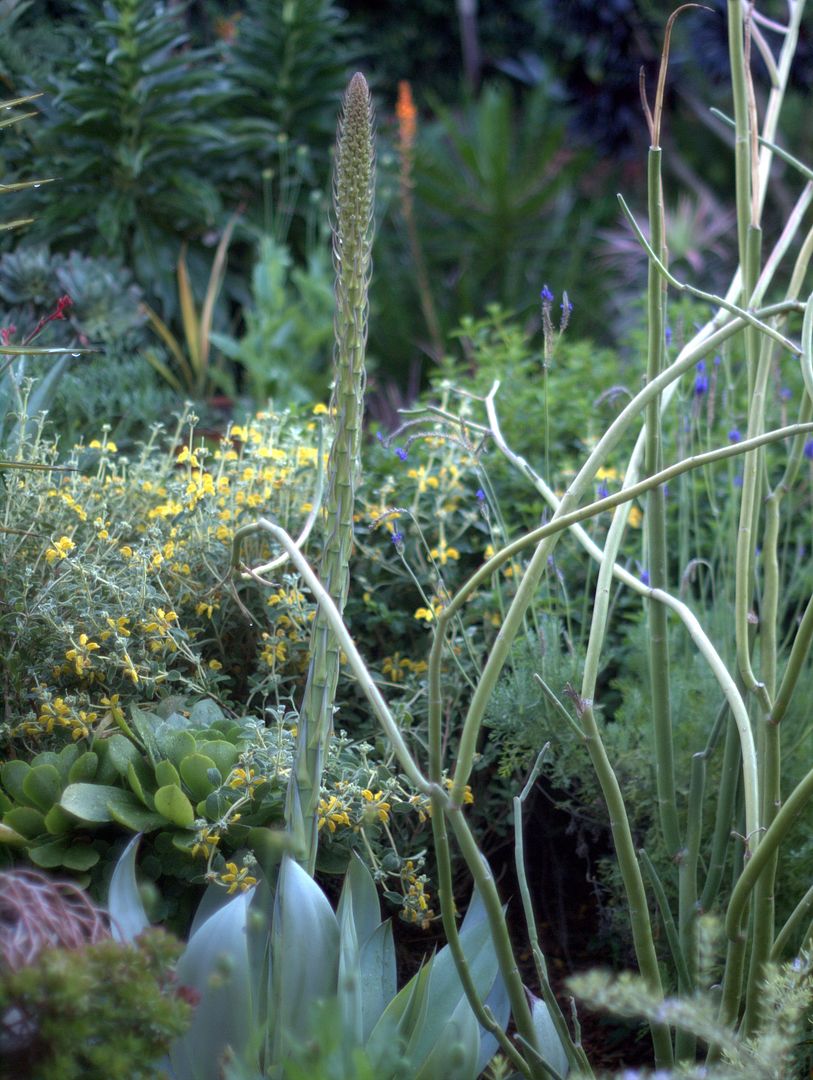 Agave celsii var. albicans 'UCB' throwing a bloom spike, signaling its last year in the garden.
Even though the garden is as densely planted as ever, the changeover the last couple years to plants that will tolerate not just dry but very dry conditions and strong sun is nearly complete. As short-lived stuff passes on and agaves bloom, I'd like to experiment with much wider spacing, which necessarily means a lot less plant collecting. We'll see how far I get with that plan. I can thin and prune furniture and stuff indoors no problem, but get stingy with plants? Uncertain.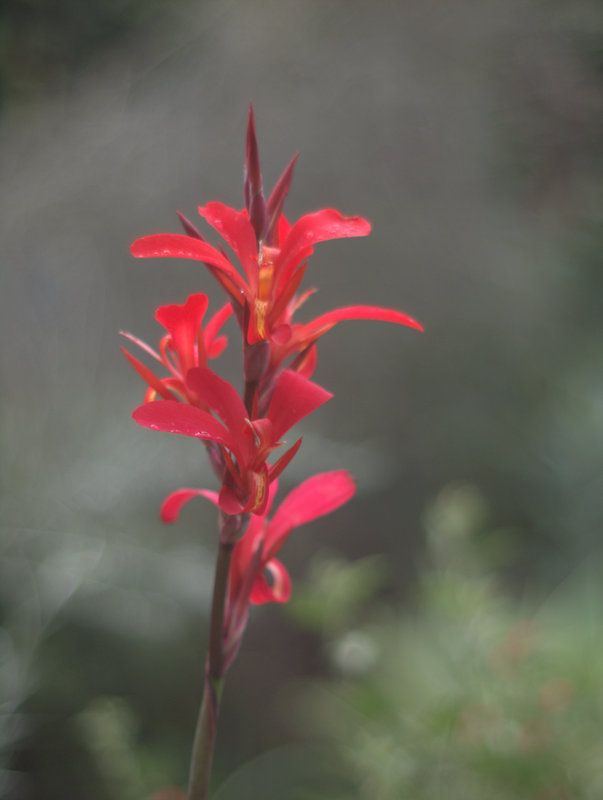 Bought unlabeled, it looks like Canna indica, the plain old "Indian shot" canna, so named for the round black seeds used in jewelry (and as makeshift ammunition). Big green leaves, small flowers. A lush look from a tough-as-boots plant.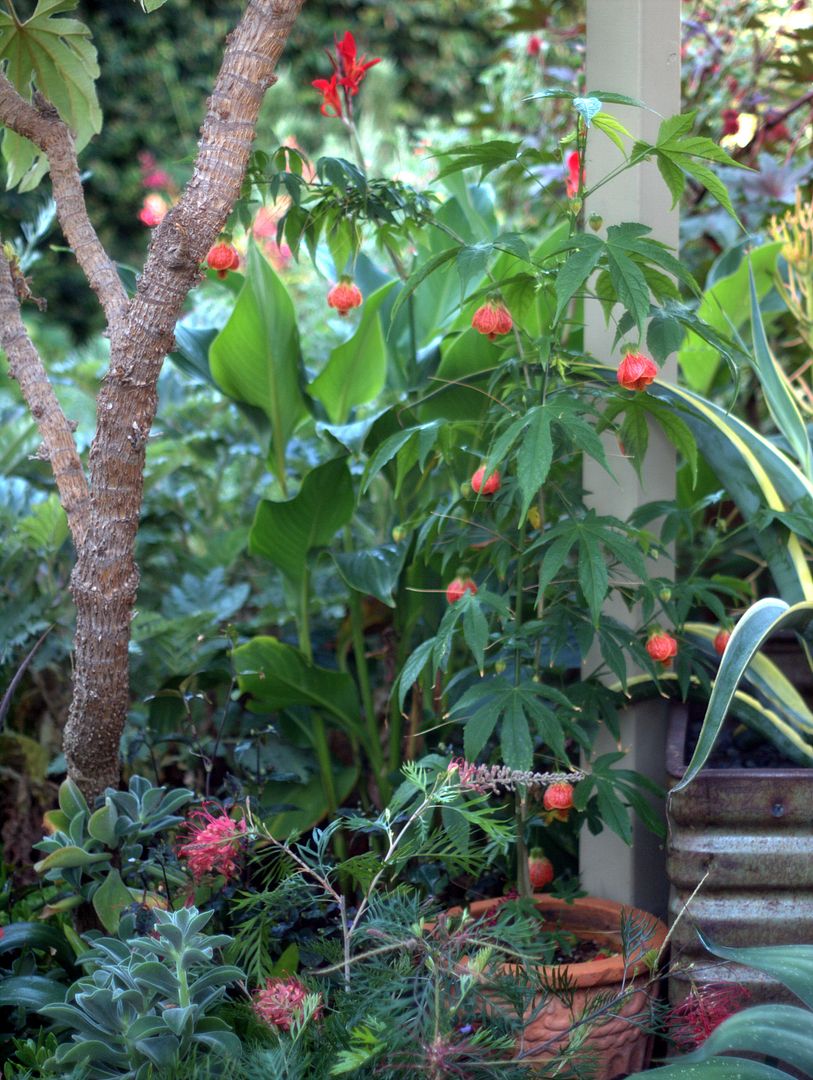 For a change, I'm enjoying the restful green leaves as opposed to the splashier variegated canna varieties. The species is such a good plant in its own right, with simple flowers, a clean outline.  Rising behind the agave tank, under the high canopy of a tetrapanax, a corner of warmth and deep orange from the canna, Abutilon venosum and Grevillea 'Robyn Gordon'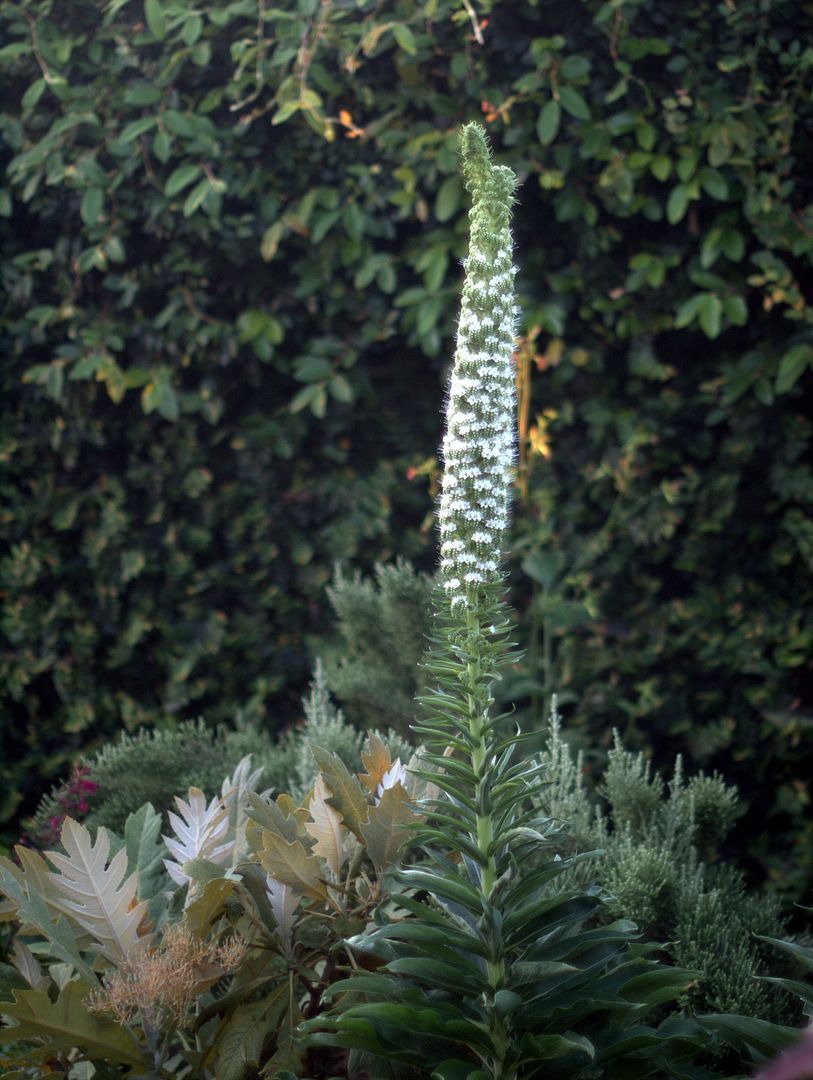 Echium simplex spikes are quickly filling out.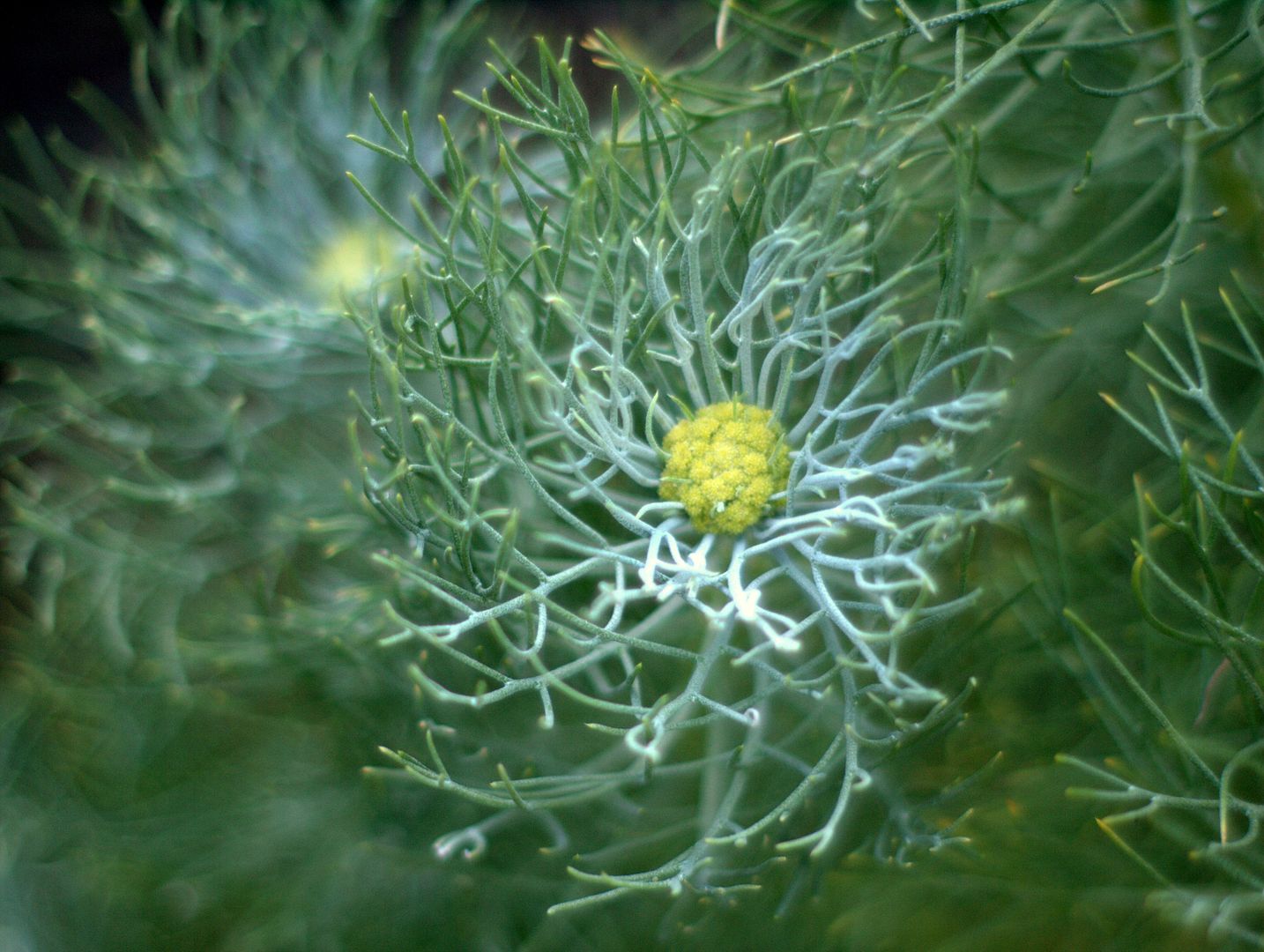 Buds forming on the lacy, silver shrub Hymenolepis parviflora (formerly Athanasia parviflora). The flowers will be golden yellow umbels.
Albuca maxima flowers reliably in the front gravel garden, with little if any supplemental irrigation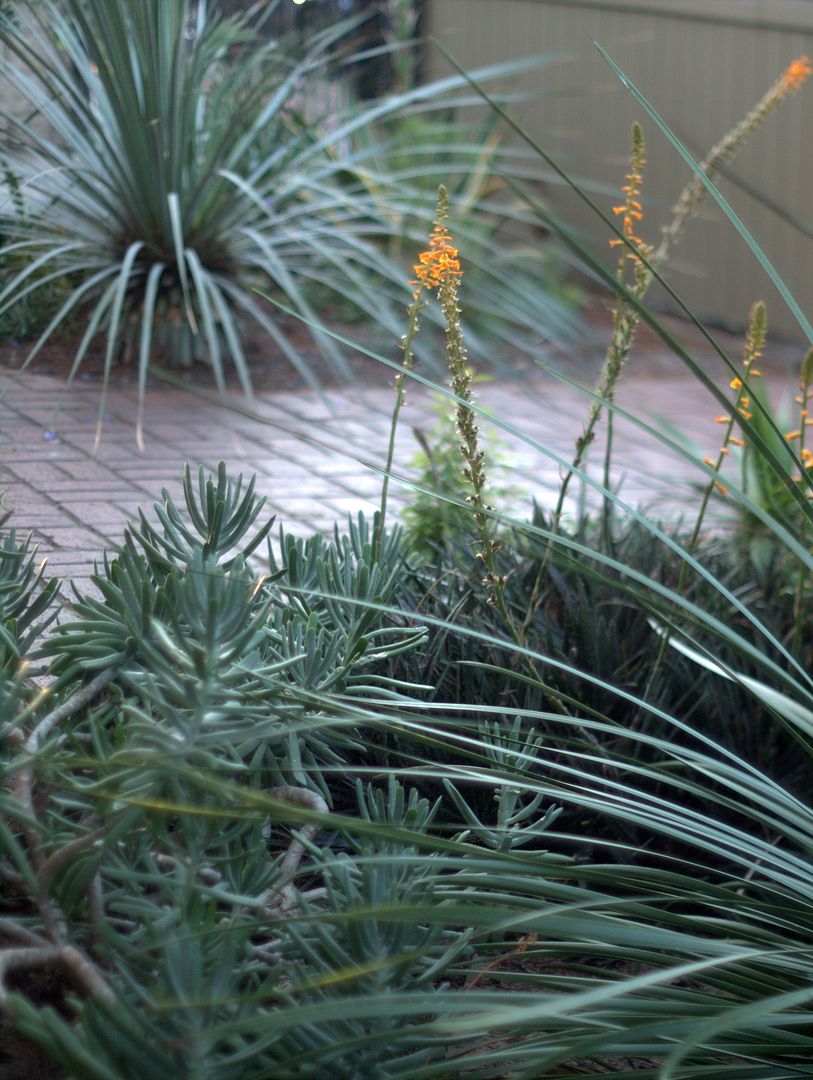 Dyckia also blooming in the front gravel garden. I need to decide whether to strip the lower leaves to expose the trunk on the dasylirion in the background, and what kind of arm protection to use when doing so.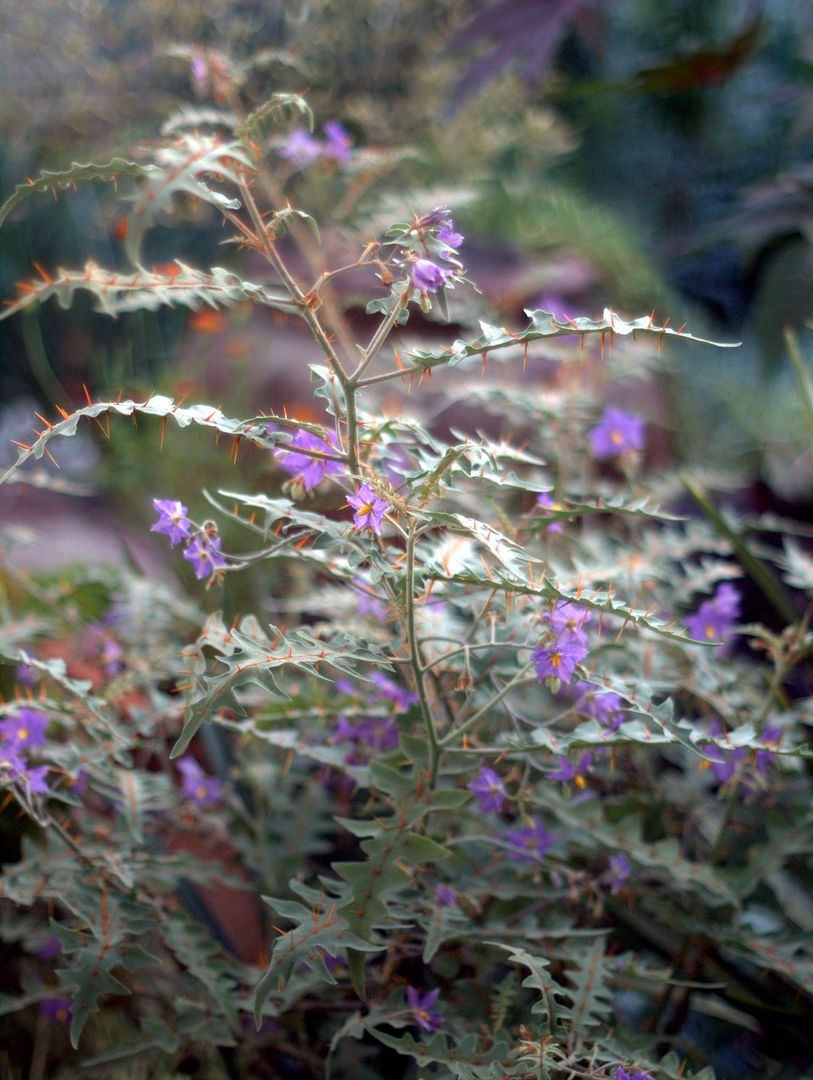 This self-sown Solanum pyracanthum surprisingly earns credit for being in bloom year-round. I think it was included in every Bloom Day post of 2014, and then bloomed all winter too. Not bad for a reputed heat lover for summer gardens.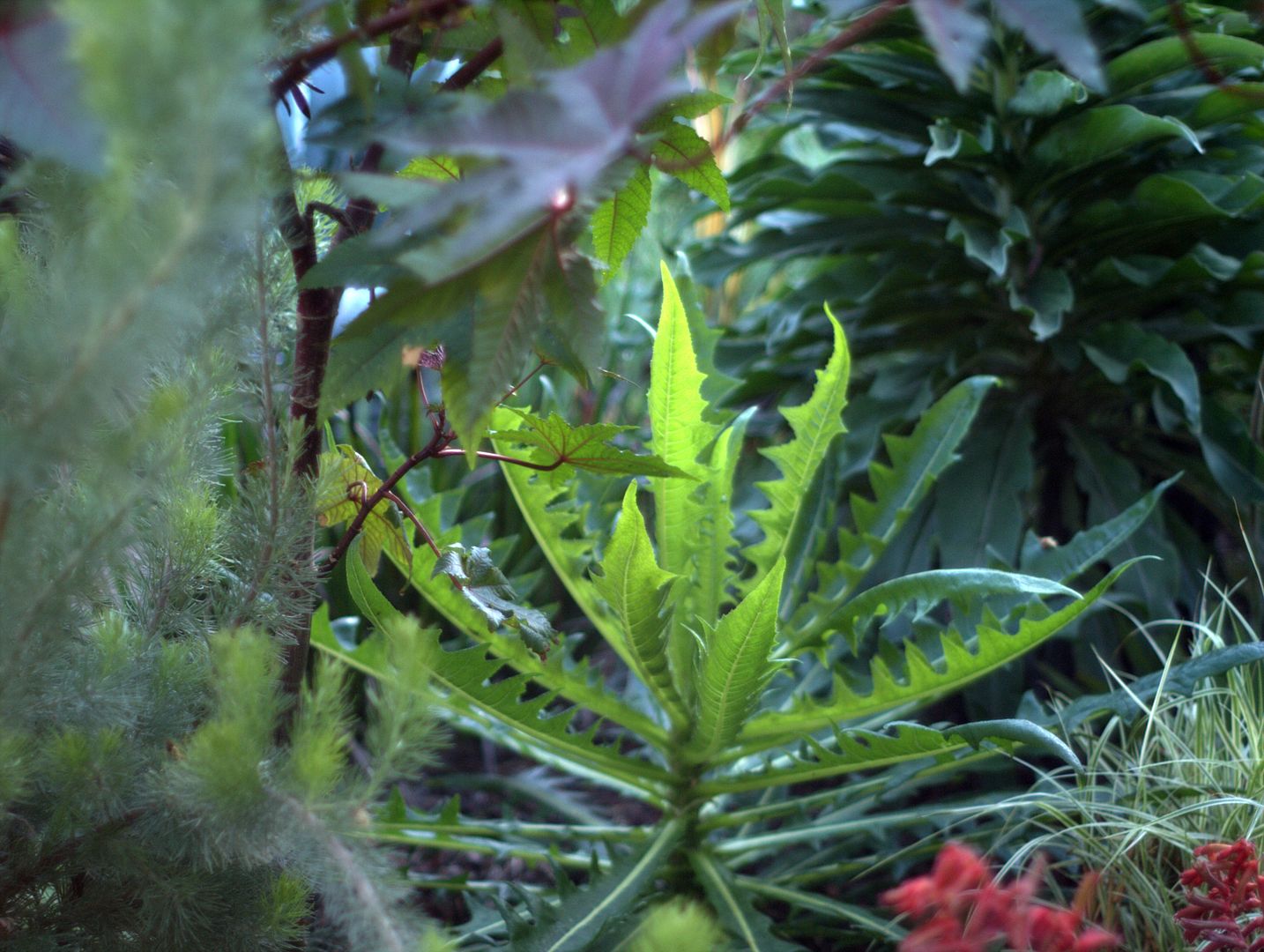 Peeking under the canopy at an ever-expanding Sonchus congestus, a glamorous member of the dandelion tribe.
Aeoniums don't always come through winter this pristine. Mislabeled Aeonium tabuliforme, I'm not sure what it is. Some kind of abbreviated form of tabuliforme?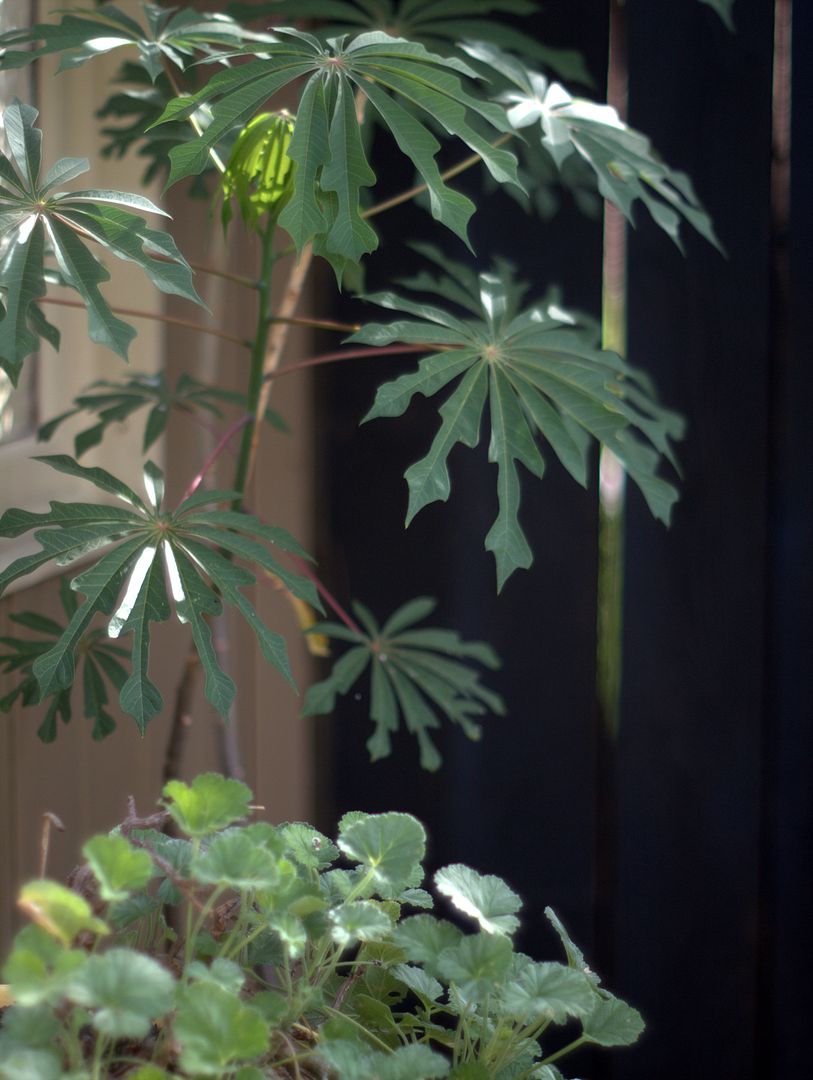 The manihots are leafing out, prime shadow-casting plants.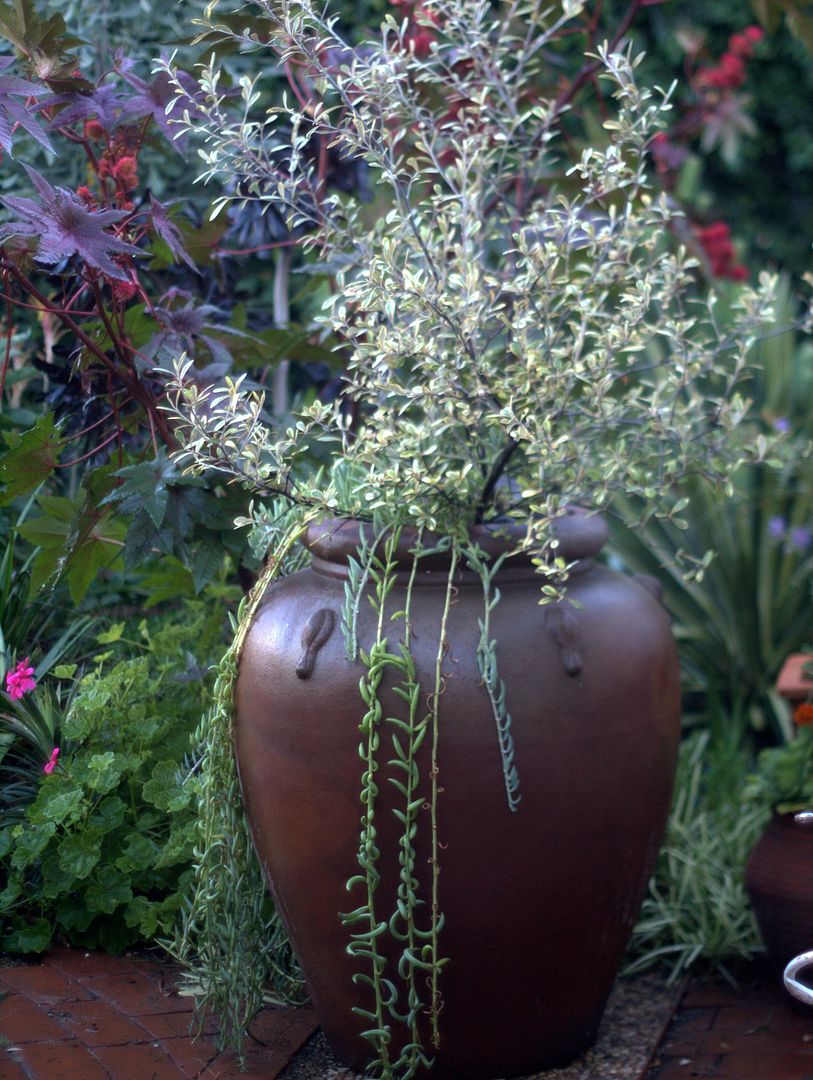 Corokia virgata 'Sunsplash,' moved yet again for some electrical work Marty was doing. Seems there's always way more seedpods than leaves of the 'New Zealand Purple' ricinus, just visible in the background, so seedpod prolific it reminds me of a red echinops.
And now April!