Yes, another salvia post. (You're looking at a person for whom the '90s publication of Betsy Clebsch's master work A Book of Salvias, was a life-altering event.) The two new salvias in my garden are so far living up to their reputation for sturdiness and early bloom, the 'Amistad' I mentioned recently and this one, 'Love and Wishes,' both planted last summer.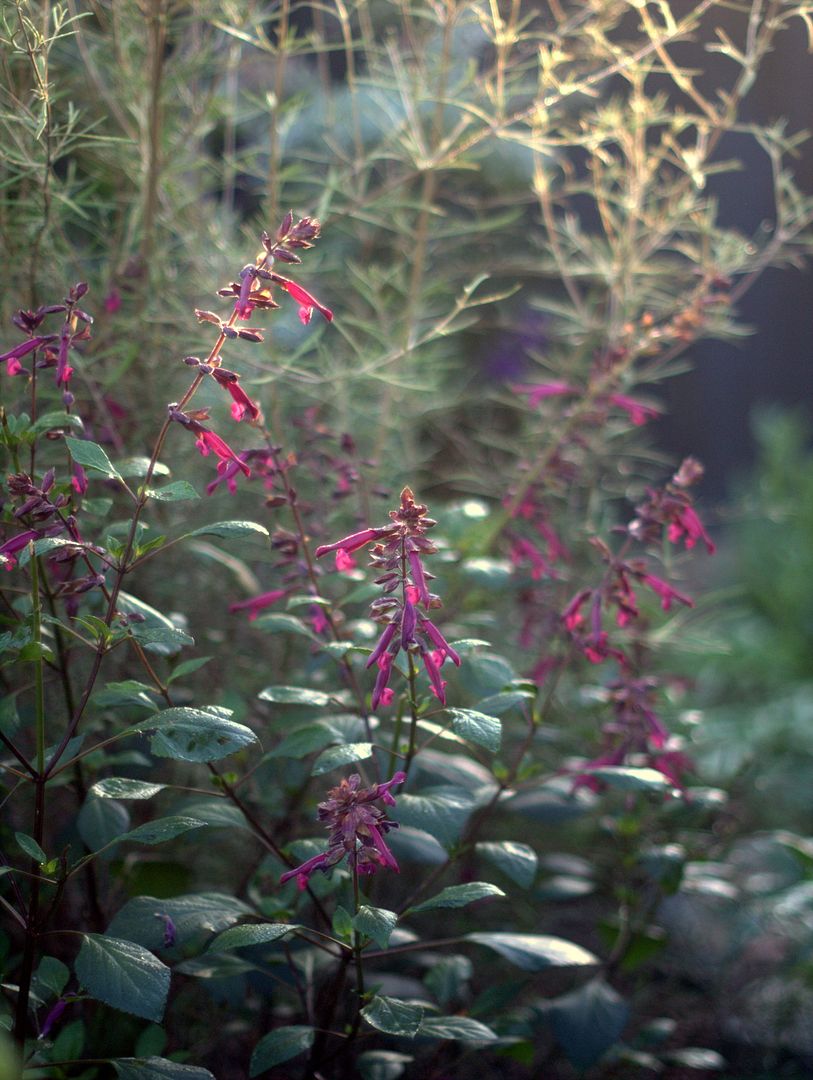 I love trialing new salvias because:
1) in this vast, square-stemmed genus you'll find a gorgeous bunch of plants, some very long blooming, and many capable of *innovative inter-species hybrids; and
2) they're incredible hubs of action for pollinators and dive-bombing hummingbirds. Their irresistible allure to hummingbirds means a vibrant kinetic energy always surrounds these plants. Set up a camp stool nearby and grab a cold drink for a lively acrobatics show put on by these little Flying Wallendas in their iridescent finery. The hummers eventually become acclimated to a human sitting quietly and will go about their zippy, enchanting business sometimes just inches away.
*'Love & Wishes' is a darker-flowered riff on the spectacularly successful Australian hybrid 'Wendy's Wish,' thought to possibly be a cross between S. buchanii and S. splendens.
'Amistad,' from Brazil, may be a cross of S. guaranitica with S. gesneriiflora. Kinda makes one pine for a spontaneous salvia hybrid of one's own, doesn't it?
Salvia africana-lutea, from 2013, fantastic color, a little too big for my garden. Highly recommended if you have the space.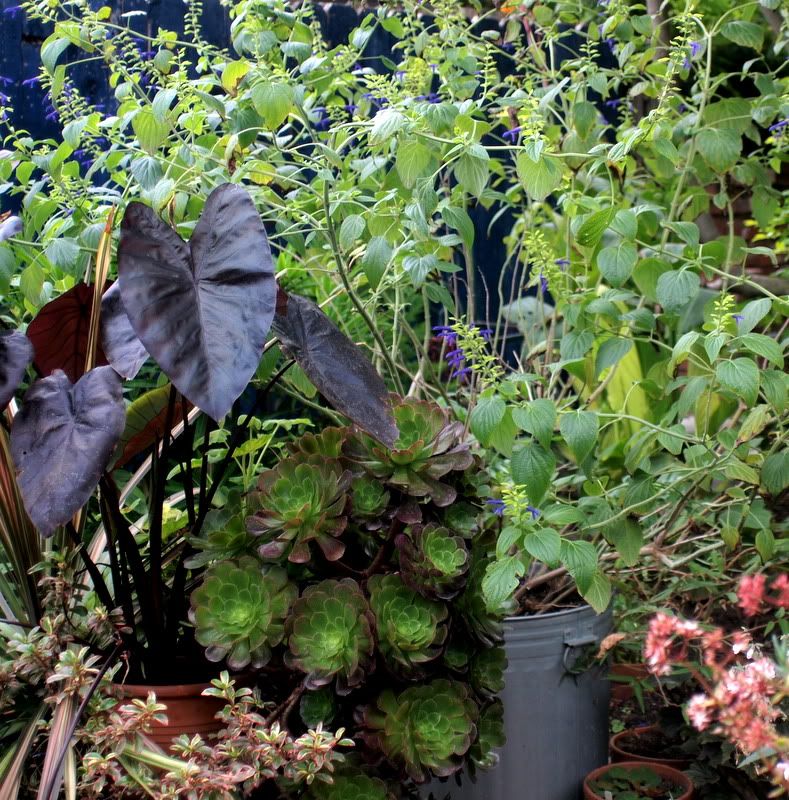 Another entry in the too-big department, Salvia mexicana 'Limelight,' from 2010, when there were a lot more summer containers to water:
"And I don't think there's an affordable pot in existence roomy enough for a mature plant, except maybe the humble trash can. (On my budget anyway.)

The salvia flowers well in morning sun, filtered sun the rest of the day. During winter, full sun is tolerated, which this salvia receives positioned under a deciduous cotinus. As the seasonal light changes, it's a simple matter of grabbing a handle and shoving it around to find the best light. Pruning it back hard in spring is also a good time for root pruning, basically running a knife a couple inches from the outer edge of the root ball, in situ in the trash can, removing the old roots, and adding fresh potting soil or even pure compost. This salvia loves rich soil. Eventually, it will be best to take cuttings and start the whole process over, since these big salvias get excessively woody with age."
Salvia chiapensis, magenta madness almost year-round for me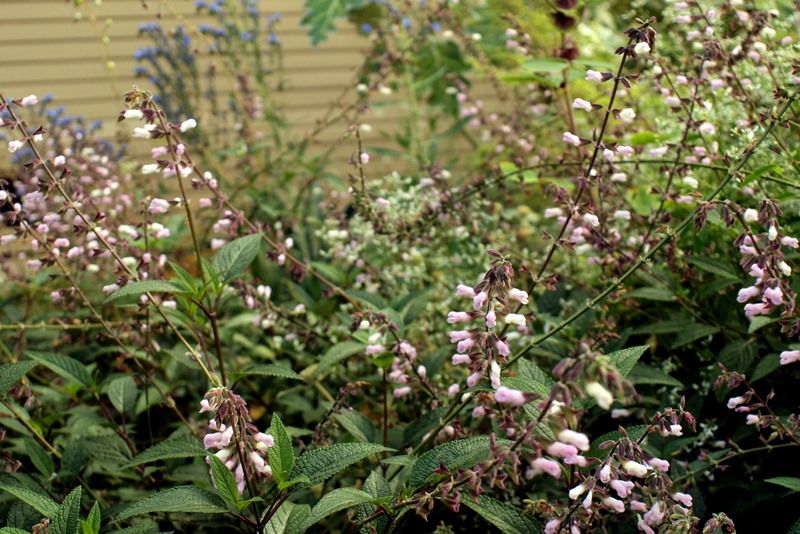 Salvia 'Waverly' from 2011. Utterly dependable. One of the best for Southern California.
The search for the perfect salvia for my very small, zone 10 garden has turned up some gems like mid-sized 'Waverley' and Salvia chiapensis, both capable of season-long bloom, with a toughness and tolerance for dry conditions belying their exquisite looks. Many others I've trialed, though always beautiful, bloom only late in the season and/or bulk up into massive shrubs that quickly outgrow the garden (see 'Limelight' above).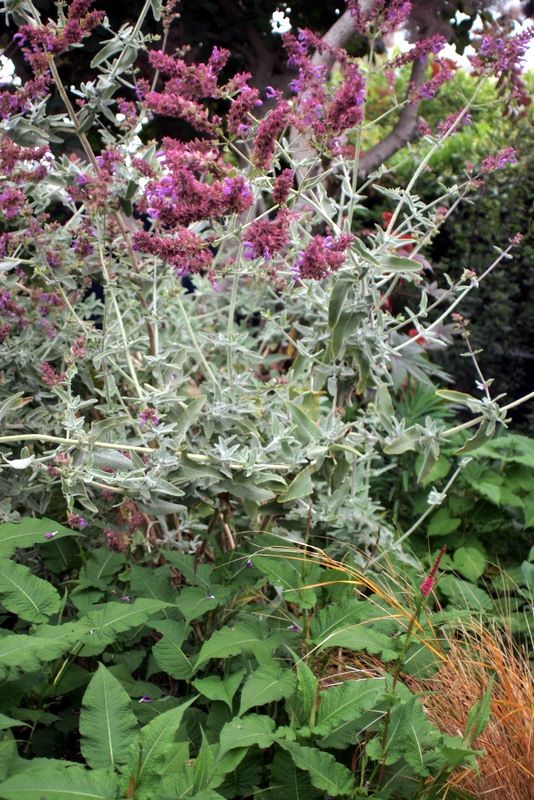 Salvia canariensis, beautiful for its leaves alone, then add in the persistent rosy bracts after flowering. Just stunning. Big and stunning.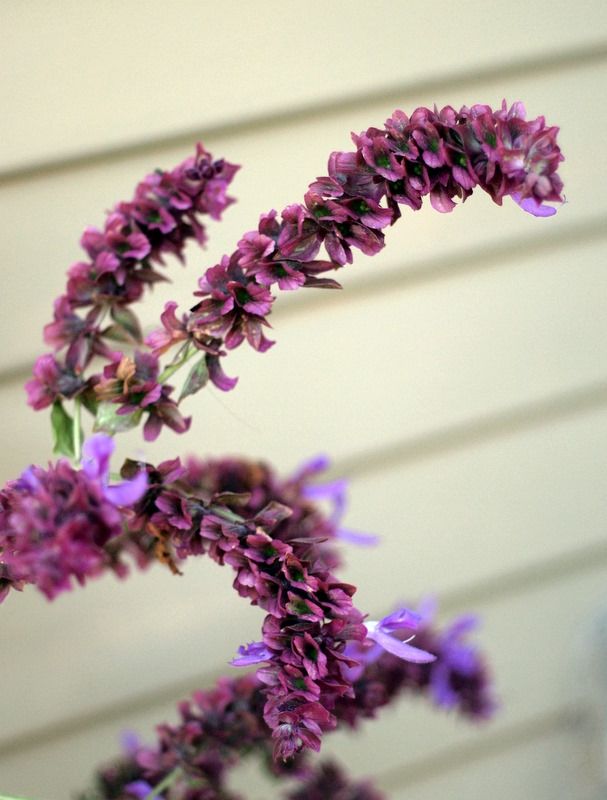 Bracts on Salvia canariensis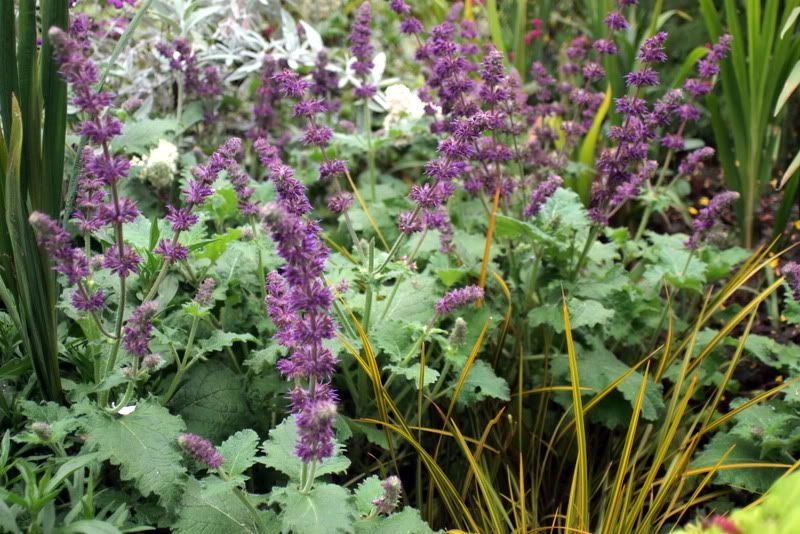 Salvia verticillata 'Purple Rain,' June 2010, blooms most of the summer
The shrubby species from Mexico and Central America are much happier here than the perennial kinds so often used as matrix plants in Oudolfian meadows. I've had some success with Salvia verticillata 'Purple Rain,' but it doesn't seem to enjoy the mild winter and usually needs replanting in spring every year. I see I made a mildly enthusiastic note in 2010 that it "blooms most of the summer." I no longer explore the herbaceous kinds, but stick to the flamboyant shrub-like species and hybrids, not too big, not too thirsty — and because they are such prolific natural hybridizers, there's always a new salvia to chase.