I've got to say it's been a long time coming, but it's still just a tiny bit surreal to wake up every day to more MSM coverage on lawns, and by extension, the plants that will have to replace lawns. Suddenly, in just two months' time, the governor has bravely steered the conversation to the generally ignored world of plants and garden design. Now my usual solipsistic focus on what I'm planting has shifted to wondering what in the world everyone else is going to be planting. How is the mostly plant-indifferent public going to figure this out quick and dirty, so to speak? (Hint: garden designers are your friends!) My theory on the enduring popularity of lawns is that they're probably the easiest garden feature to understand and control. And in a lot of ways, human life and grasses are inextricably linked. Controlling grasses is literally in our blood. In roughly 10,000 years, life as nervous prey in tall grass has eased into settling into Adirondacks with icy drinks on tightly mown carpets of lawn.
Emotionally, it's hard to give up those clear, safe sight lines. And mixed plantings require far more decision making, which can quickly push people out of their plant comfort zone. And where natural rainfall supports a small lawn, why not? A flat, green, negative space has lots of fans. Mid Century architects wouldn't know what to do outdoors without lawn. Here in California, the most diehard lawn fans are apparently looking into artificial turf in record numbers. I admit I find this solution scary for any space bigger than an area rug. It's already clear this is going to be a tricky transition away from lawns.
Sunset's "Gotcha Covered" explains the superiority of living plants as ground cover here, in comparison with paved surfaces, but there'll be similar issues with artificial turf:
"As all plants undergo evapotranspiration—the process of releasing water through their leaves, then discharging it back into the environment—they help humidify, oxygenate and cool the air. Paved surfaces, on the other hand, warm the air by radiating the sun's heat back into the environment, increasing air temperatures by15 to 25 degrees Fahrenheit. Using groundcovers near, or in place of, paved and hardscaped surfaces helps reduce that air temperature and can even lower air conditioning bills."
And what about soil health underneath that artificial turf, or how our gardens serve as habitats for species other than ourselves? Let's not panic and rush to roll out the outdoor carpeting just yet. If the prospect of replacing the lawn seems daunting, just remember the Chinese proverb:
If you want to be happy for a day, get drunk; a week, kill a pig; a month, get married; for life, be a gardener.
Aside from natives, there's creeping rosemaries, westringias, grevilleas, cotoneasters, helianthemum off the top of my head. But keep your eyes open, and you'll see examples of low and evergreen all over town. Above is Myoporum parviflorum, a fast-growing Australian native with almost inconspicuous tiny white flowers.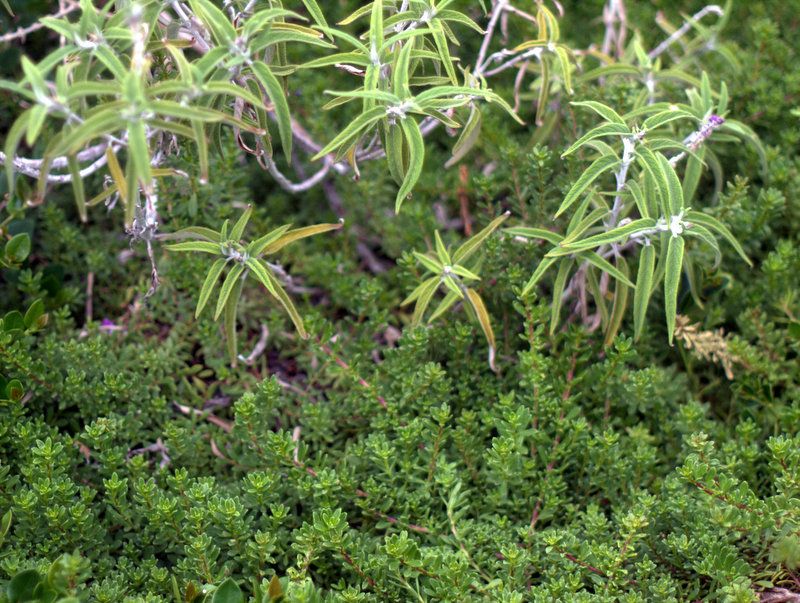 The Salvia leucantha and myoporum were filling in a parking strip at a local market. I'm trying out a red-leaved myoporum at home with succulents.
Las Pilitas Nursery has compiled a list of "Less than a foot high ground cover plants that are native to California."
San Marcos Growers helpfully breaks up their extensive list into useful categories. Rancho Santa Ana Botanic Garden has lists of Calif. natives by category here.
And for lawn-substitute grasses, there's no better source of information than John Greenlee.