I should have talked less and picked up the camera more at the meetup this past Saturday at the Huntington Botanical Garden, but that wouldn't have been as much fun as our nonstop gabfest. The occasion for the meetup was Gerhard (Succulents & More) visiting Los Angeles at the end of a week-long winter sabbatical — a plant-centric sabbatical, of course, which he will be blogging about forthwith. Gail (Piece of Eden), Gail's husband Alan, Luisa (Crow & Raven), and I were the Southern California welcoming committee.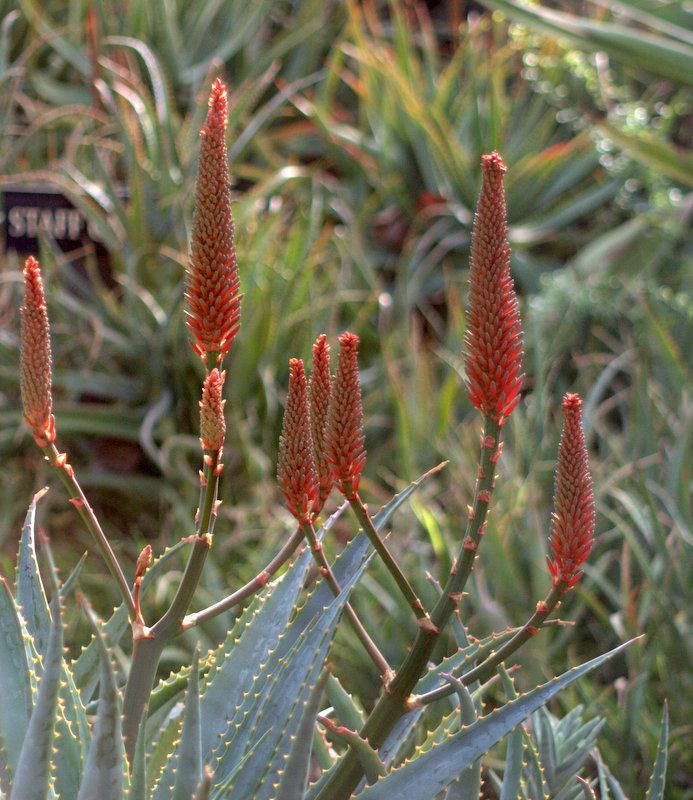 Also part of Gerhard's welcoming committee were the winter-blooming aloes.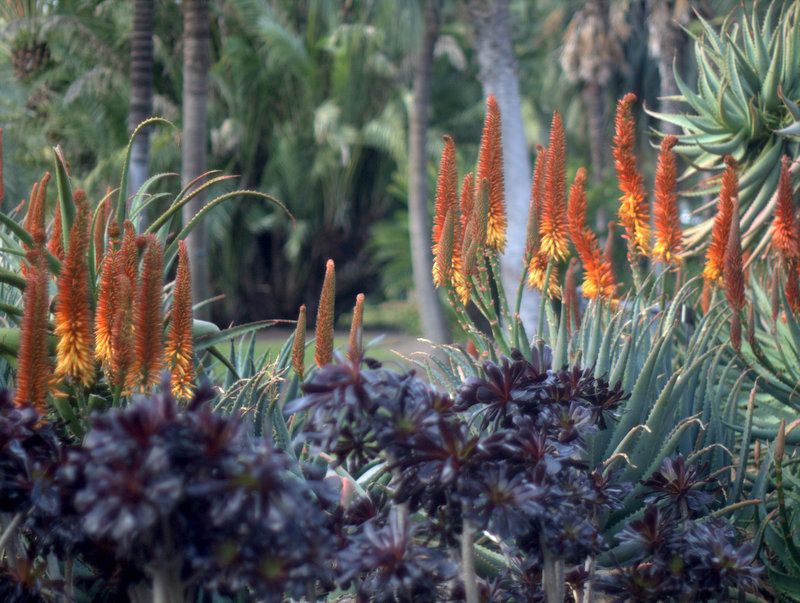 With so many aloes in bloom, the desert garden absorbed all our time and attention.
Aloe sinkatana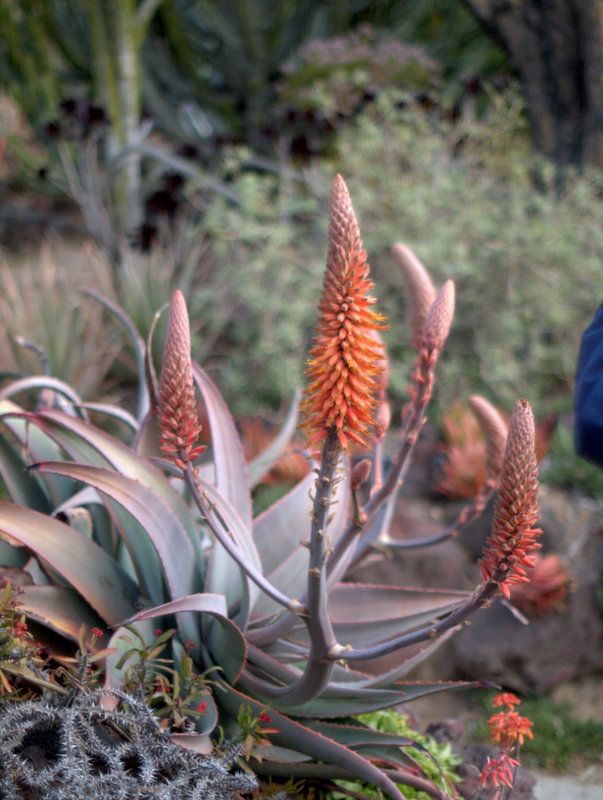 Aloe rubroviolacea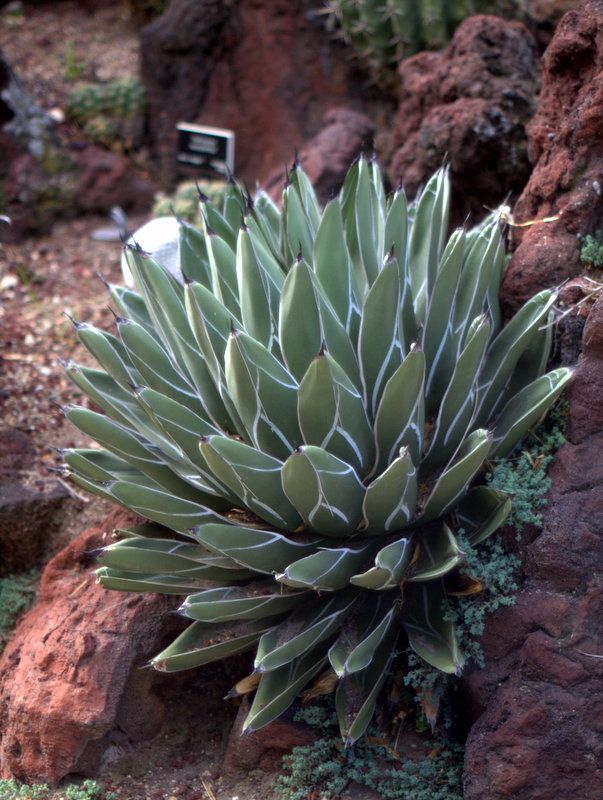 We're all pretty fond of agaves too.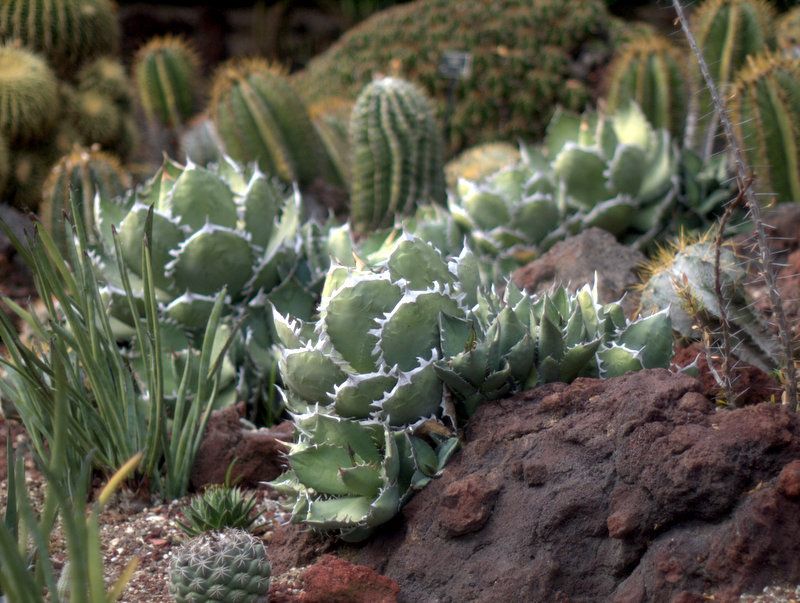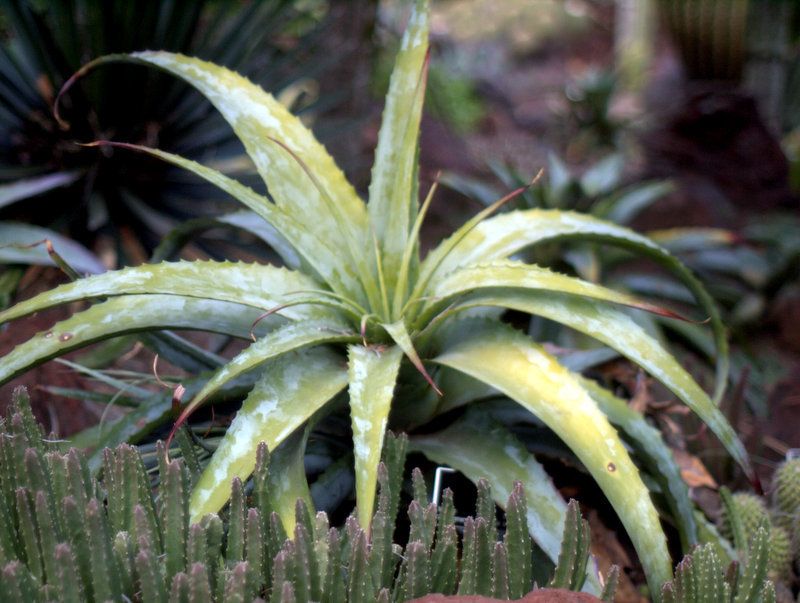 And hechtias.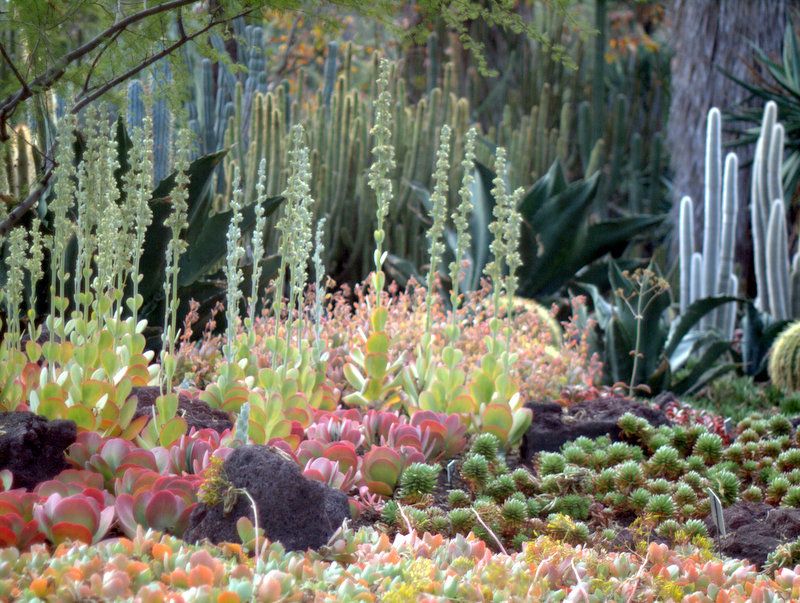 In fact, there's very little about the desert garden that we're not all crazy in love with. I hope Luisa does a post on her beloved opuntias. Alan admirably fulfilled documentary duties.
The desert garden is always jaw-droppingly amazing, but this time I wish I had more photos to substantiate my enthusiasm for the plantings in the new entrance garden. I grabbed a couple photos as I left in the early afternoon, which just hint at the large swathes of the landscape made predominantly of muhly grasses interspersed with kniphofia and aloes. The grasses carry the scene nearly year-round and are especially stunning fall and winter, at their shimmering best in the low angled light. The Huntington's own hybrid Kniphofia 'Christmas Cheer' is in bloom now, and then the torch will be handed over to Aloe 'David Verity.' Very minimalist but strategically smart succession planting on a waterwise budget, with washes of blue supplied by the mallee shrub Eucalyptus 'Moon Lagoon' The grasses are Muhlenbergia dubia, Muhlenbergia rigens, and Pennisetum 'Fairy Tails.' There was also a small massed planting of Hesperaloe 'Brakelights,' and lots of other things like verbascum and glaucium, but the overall mood of the landscape is governed by swaying, glittering sweeps of grass.
More like a quick watercolor sketch than a photo, but the general idea is conveyed. The blue wash is from Eucalyptus 'Moon Lagoon.' Kniphofia 'Christmas Cheer' is in bloom, like little signal fires dotted amongst the grasses. After the kniphofia fires die down, Aloe 'David Verity' will light up the Muhlenbergia dubia. Really smart, gorgeously simple planting.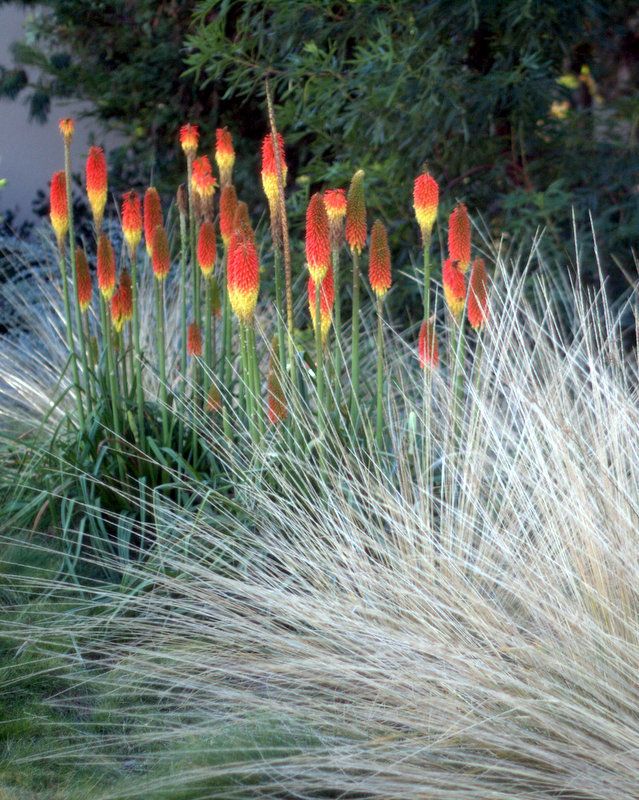 Kniphofia 'Christmas Cheer' is a hybrid of Kniphofia rooperi that emerged from the Huntington in the 1970s.
From San Marcos Growers website:
"John MacGregor, long-time horticulturist at the Huntington Botanical Gardens, noted that this plant is one of the best winter hummingbird plants he knew of for mild climates."
The new entrance garden warrants another, much more comprehensive visit. And without my blogger friends, there'll be less talk and more photos. But not nearly as much fun.