The Los Angeles Festival of Books is this weekend. I haven't been in ages. I can only imagine what the food truck scene is like now. I didn't see any garden-themed speakers on a quick check of the roster, but long ago (1998!) I attended talks by Robert Smaus, (former LA Times garden editor) Clair Martin (Huntington rose curator) and Robert Perry (native plantsman extraordinatire). The political discussions used to be very good, and around 2004 we attended a panel discussion on the Iraq War, with the late Christopher Hitchens attempting to defend his pro-war position (mostly a position he held in sympathy for the Kurds, I think), along with Mark Danner, Samantha Power and Robert Scheer. If you go, bring an umbrella.
The past two days have brought light rain, a hockey victory for the Kings over the Ducks (ferocious Los Angeles vs. Orange County rivalry), so all in all, it's been a pretty good week. On the Metro yesterday, when the doors opened at a stop midway to downtown, a gust of jasmine flooded the train, causing me to look up from my reading, just in time to see the jasmine draped over a chainlink fence begin to recede as the doors shut and the train sped away. Talk about fleeting fragrance. There's a tall, columnar, ferny-leaved tree along the freeway in bloom now too, golden flowers, whose name I've forgotten. The flowers almost look grevillea-like. Not knowing the name is bugging me. Any ideas? I was thinking maybe lyonothamnus but the flowers aren't a match.
In my own little garden, this week I've been thinking about some of my favorite kinds of plants, those that "grow up, not out."* Not necessarily plants that have been bred to behave and grow in tight spots, though that's a subject in its own right. I'm talking about ordinary plants with transformative abilities. Smallish footprint, big aerial drama. Here's a couple examples I'm enjoying this week:
The old standby, Verbena bonariensis. This is a two-year-old plant, so it made quick growth this year. Annual in colder zones. It's a much better plant for me in its second year, more uniform in structure.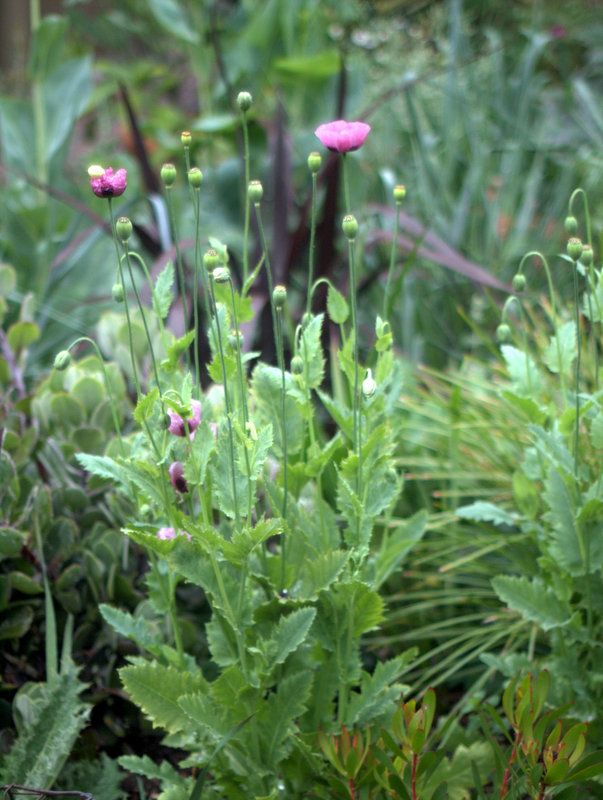 The poppies will probably be over by the end of April. Another plant that visits the garden and then leaves without causing a lot of disruption.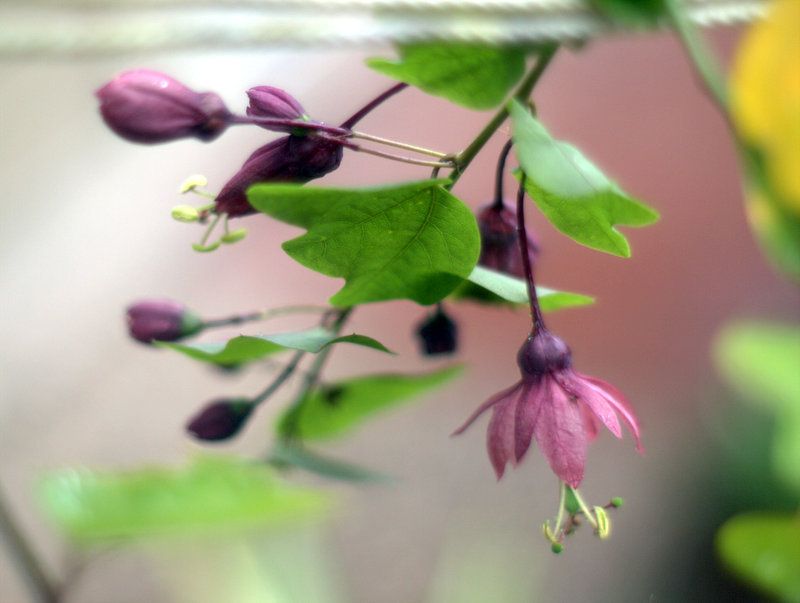 I'm not sure if this is Passiflora exoniensis, but whatever it is, I think I've found a vine to ease the pang of being unable to grow rhodochiton. (Ever so grateful to Max Parker for this!)
I lost the main clumps of Aristida purpurea, which didn't impress me hugely last year. I love what a seedling has done with this agave, though. Much better placement than my attempt. More, please. And I really should thin those pups out this weekend.
Albuca maxima. I moved a couple bulbs into the back garden. This one does quite the disappearing act, dormant in summer.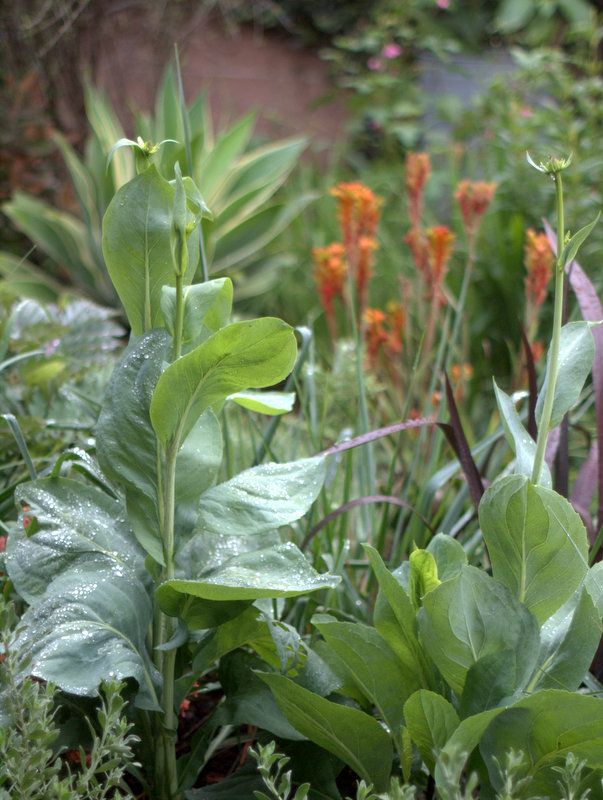 The Rudbeckia maxima experiment continues. Very entertaining so far.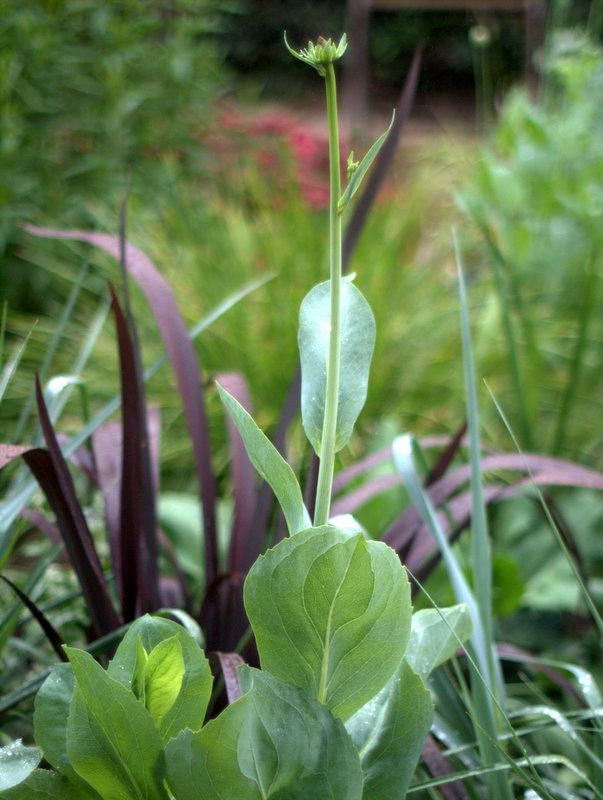 Depending on how it handles dryish conditions this summer will decide its ultimate fate. You can't really describe this as having a small footprint either, but I've removed some of the lower leaves.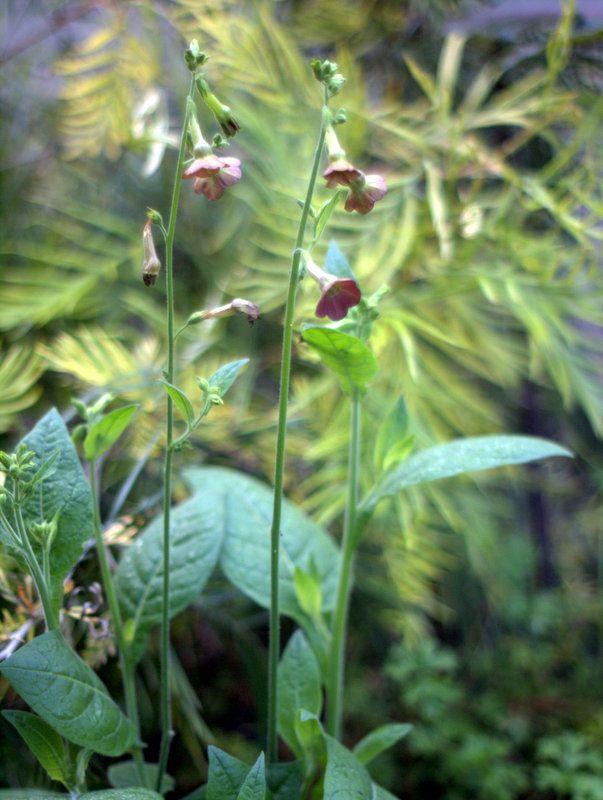 Nicotiana 'Hot Chocolate' easily hoists itself above the crowd, without being any trouble at all. Self-sows.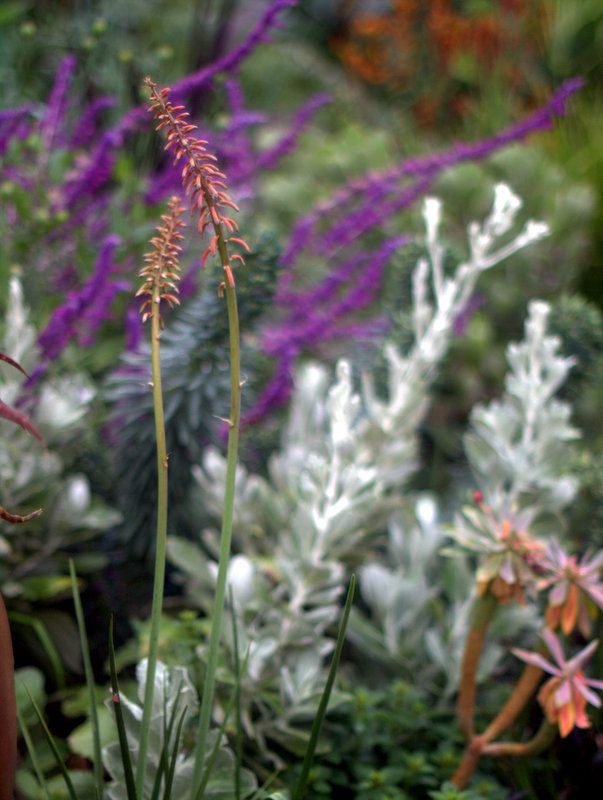 Kniphofia thompsonii var. snowdenii is slim and elegant. I hear it can be trouble with more water, but it stays put here.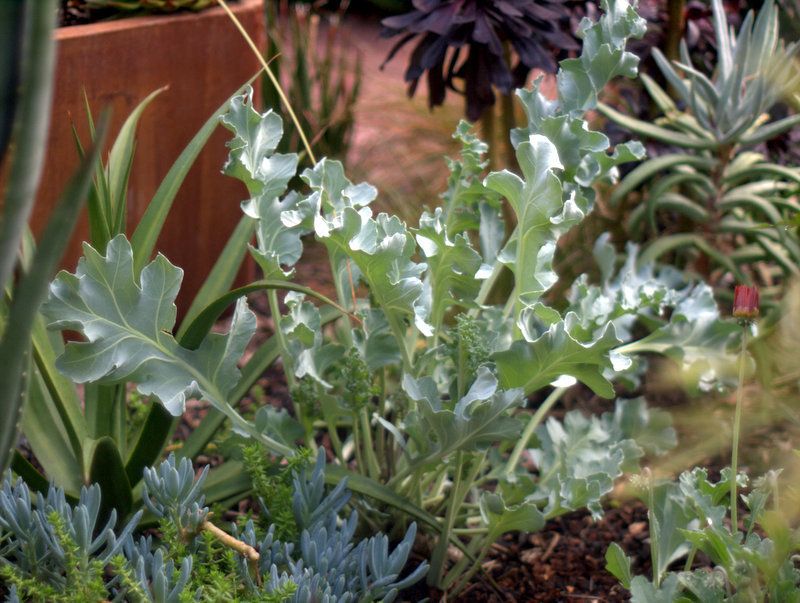 Crambe maritima breaks the tall and slender theme, but look at those gorgeous new leaves.
I'm getting lots of seedlings of this sideritis. I think it's Sideritis oroteneriffae. If you feel otherwise, let me know.
And have a great weekend!

*"Sister Sue, she's short and stout
She didn't grow up, she grew out" — Randy Newman, "My Old Kentucky Home"*
I've been reading Greil Marcus' 1975 landmark paean to American music "Mystery Train" on the Metro to work. Any critic who up front acknowledges a debt to Pauline Kael is fine by me. If you're short on time, just read Marcus on Robert Johnson, the musician whose skill went from so-so to prodigious in such a short period of time that he was rumored to have sold his soul to the devil. Without Johnson, The Rolling Stones couldn't exist. Books, music, and plants — is there anything I've forgotten? Didn't think so.