As soon as work let up a bit, for a treat I'd been promising myself a trip to Dustin's to check out his new concrete pottery.
I don't know how it happened that Dustin's concrete work became an exact match for the containers I crave.
It's a mysterious case of convergent design evolution. He makes them and I want them. I want them all.
As always, I arrive with plant questions I've saved up for him that usually get knocked out of my brain the minute I step into his restlessly creative, ever-changing garden.
I forget everything else and commence pelting him with new questions rapid-fire as I tour the garden. He takes this annoying habit of mine with incredible good nature.
For example, this visit there was the headless stump of a 'Hercules' aloe/aloidendron plunged into the front garden, reaching about chest-high, mixed in among the "totems."
I did find the head of 'Hercules' in the back garden. Some mishap had befallen the tree aloe at a client's garden, so Dustin brought the wounded 'Hercules' home for surgery.
Two of them, in fact. He assured me rooting the massive things again wouldn't be a problem.
He truly is the Willy Wonka of the plant world. Nothing fazes him, anything is possible, and pure imagination always triumphs.
Despite such absorbing distractions as headless aloes, I did manage to remember to ask about a dark brown Sticks on Fire I had heard about recently.
Had he ever heard of such a plant? Of course, he had.


Dustin: Yeah, it's right over here. You want a piece?
Chocolate Sticks on Fire in Dustin's vase.
After exhausting him with questions, I moved on to checking out the pottery and selected several pieces to bring home.
Marty feels this one holds a remarkable resemblance to One World Trade Center. I'm not sure if that was intentional.
For the moment, some of the pieces have been strewn on the ground.
The two pyramidal shapes are hollow and can be hung and used as vases or planters.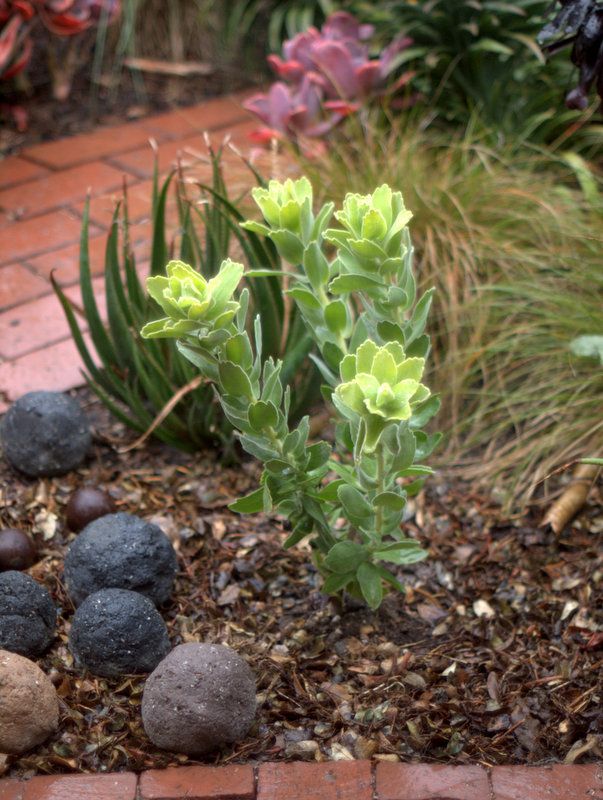 For now they're a helpful physical reminder for wandering corgi paws to navigate around Leucospermum 'High Gold' brought home from Seaside Gardens last weekend.
For inquiries on his work or custom orders, Dustin can be reached at: dustingimbel@mac.com.