Bathed in soft light and 70ish temps, April, you're so dreamy. But can you slow down and linger just a bit longer?
Open gardens, plant shows. April in Southern California gets the heart of the plant obsessed beating fast. Last weekend included a visit to the superb Mallen/Vincent dry garden in Fallbrook through the San Diego Horticultural Society. Some of Debra Lee Baldwin's book photos were taken in this garden.
Above is a specimen in the climate-controlled euphorbia greenhouse. Because Fallbrook's average low temp is 45 degrees in January, I'm guessing the motors I heard whirring into action in the euphorbia greenhouse were for ventilation purposes, not heating. Container after container framing perfectly manicured, exquisitely grown plants fill several greenhouses and are scattered throughout the 2-acre garden as well. This was my second visit (maybe third?), and it was as disorienting as the last. Perfection is hard for me to process. In my own garden, good enough is always the enemy of perfection.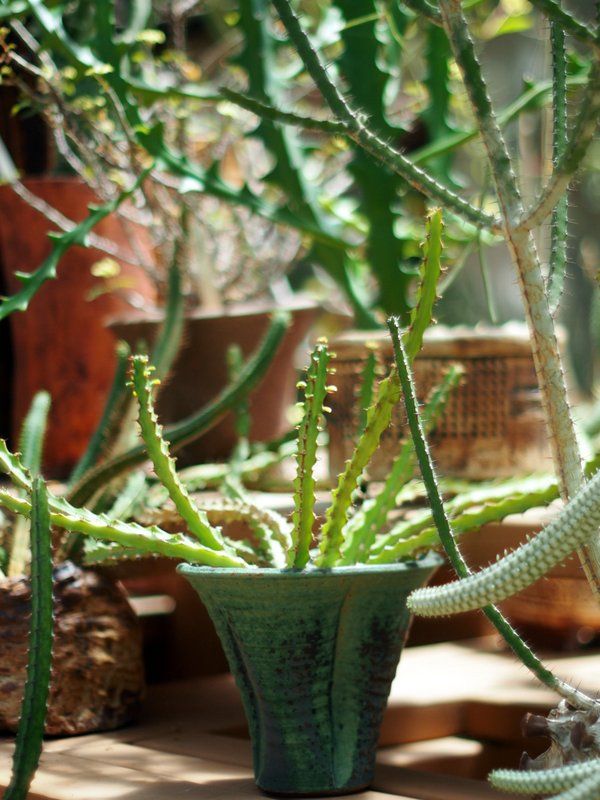 Out in the garden, some plants are ID tagged but not all. If you ask Wanda Mallen, she knows every name, including previous superceded names and contested names. I didn't always ask because there were lots of other visitors asking what's this or that.
But I so wish I had asked the name of this spectacular euphorb.
The gorgeous variegated ponytail palm is an easy ID.
(Immutable Law of Horticulture: If you kill a plant, you never forget it.)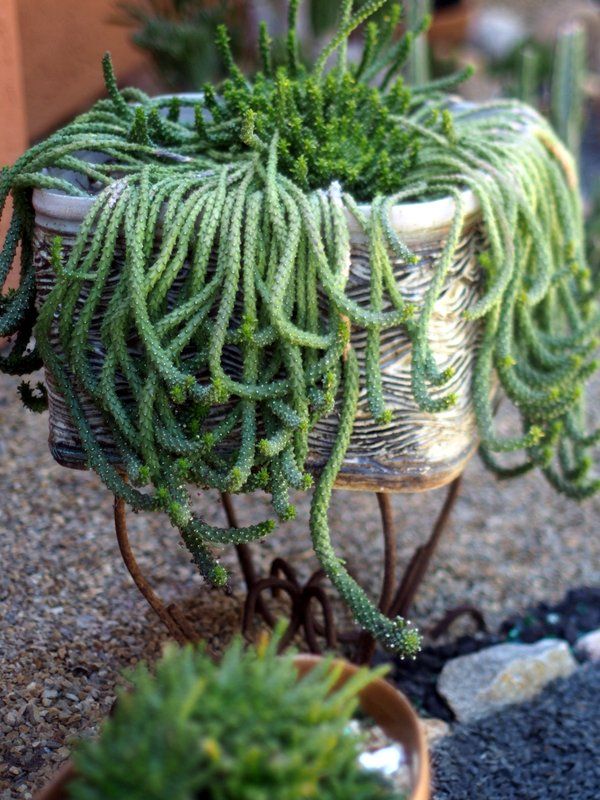 Years of careful study and observation are the only way to uncover how to display plants to their best advantage, e.g., elevating the caput-medusae type euphorbias so their sinuous dreadlocks drape down the pot. This might be my favorite planter in the garden.
There's a greenhouse devoted to rhipsalis. I'm not lying. But this one was hanging from the patio. (More photos of this patio from my previous visit here.)
Bromeliads and Elephant Food/Portulacaria afra, a container to plant then do nothing much else with but admire all summer.
Another favorite planter, a trio of young Euphorbia ammak.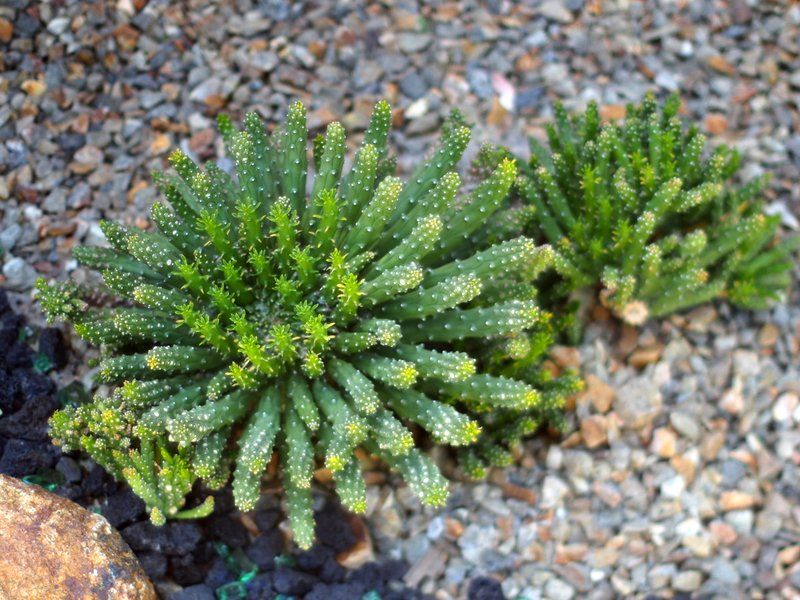 More caput-medusae euphorbia.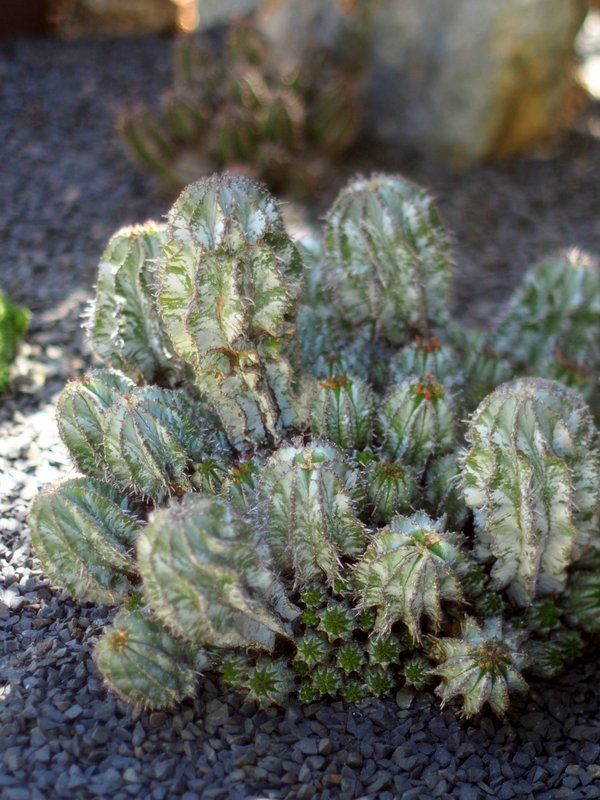 Euphorbia horrida 'Snowflake'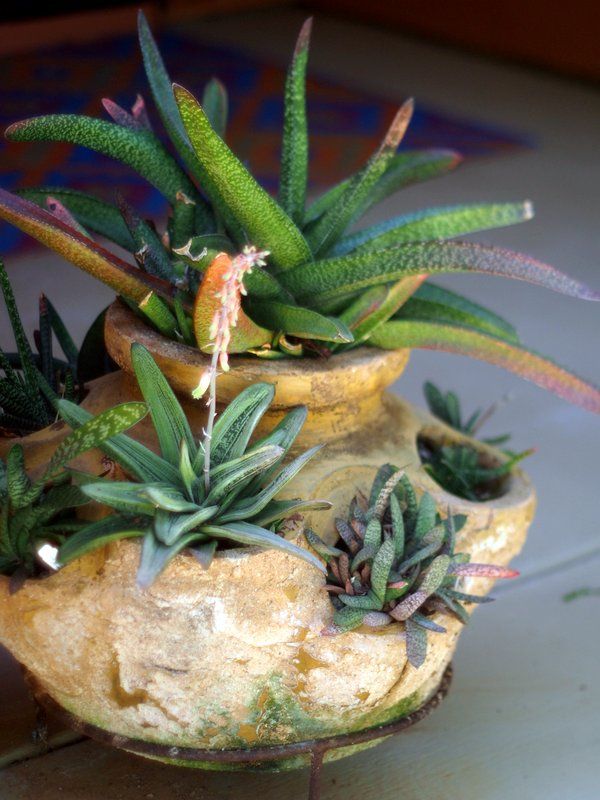 There were several strawberry jars filled with gasteria.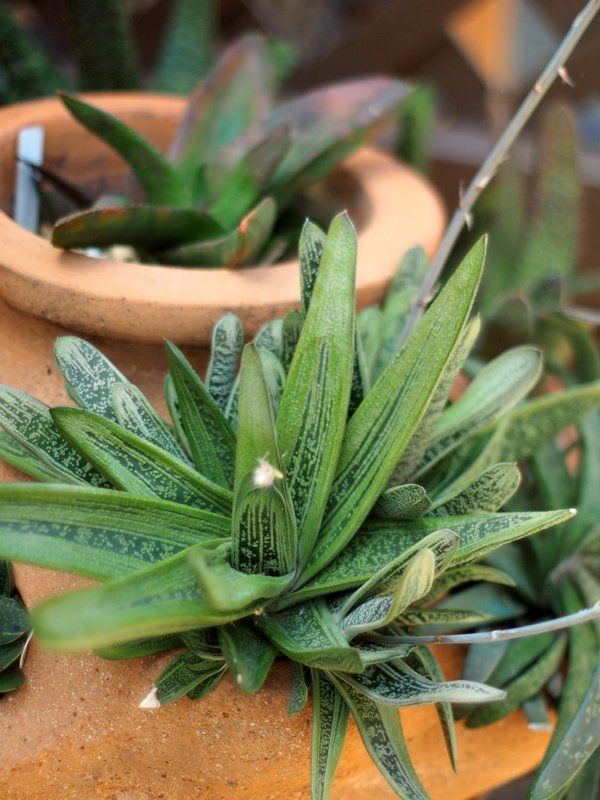 Gasteria is a succulent that stands a lot of neglect, which is what it gets from me. I just haven't really bonded with gasteria yet like I have aloes and agaves.
Cool, stomach-shaped flowers on elegant racemes, sturdy leaves, tolerant of low light. I should treat mine with a little more respect.
"Squid" pot (from Tentacle Arts) with Aeonium 'Mardi Gras'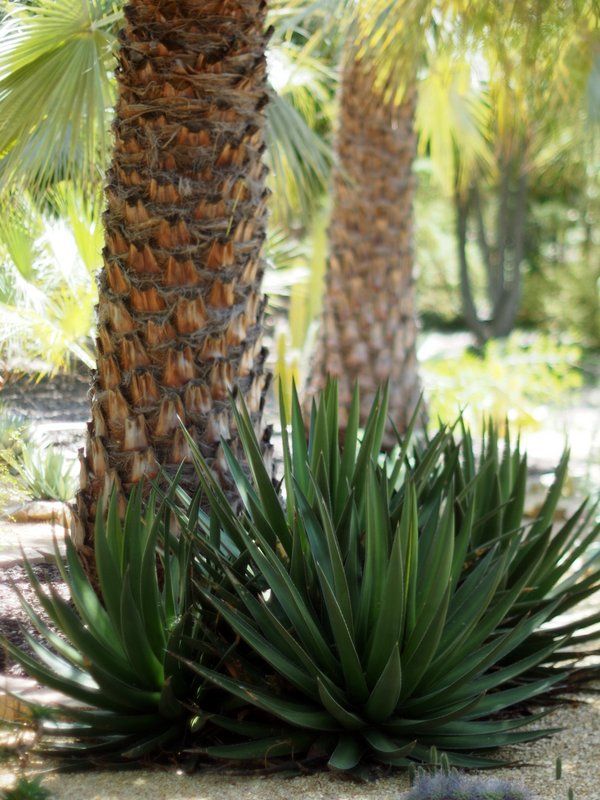 At first glance the garden seems to favor palms, agaves, and aloes, but the owners have wide-ranging interests, like conifers, callistemon, acacia, bamboo, maples, cycads.
Another gorgeous April day in this Fallbrook plant collectors' garden.