There's an irresistible momentum that sweeps me up every time I see a great-looking but unfamiliar plant. If at all possible, it must be tracked down and brought home. And then the game begins: Where to plant it?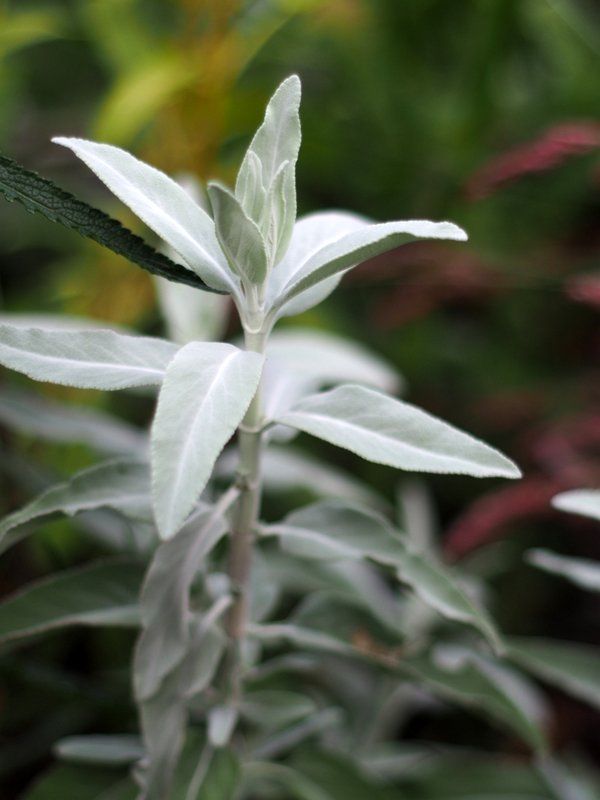 Garden designer Sue Dadd recently brought this sage to my attention, a hybrid of two California native sages, Salvia apiana and Salvia leucophylla, introduced in 1999 by the Rancho Santa Ana Botanic Garden, which is where I bought my gallon plant over the weekend at their Grow Native Nursery. I had just seen it planted en masse in a garden of Sue's design and couldn't get it out of my mind. It was one of those horticultural epiphanies, an absolutely thrilling sight, all shimmer and soft reflective shine with wands of pale lilac bloom spikes swaying around a large variegated agave.
You can image search all day long, but there's very few photos available and not much information either on this gorgeous plant. And that lack of anecdotal documentation is undoubtedly due to its size. It's huge. Easily to 6 feet with some reports of 9 feet tall and maybe half that in width. How many gardens can accommodate such a bruiser? And it's not like I'm afraid of big plants. I love how they anchor the garden and draw the eye away from the busy, busy planting underfoot.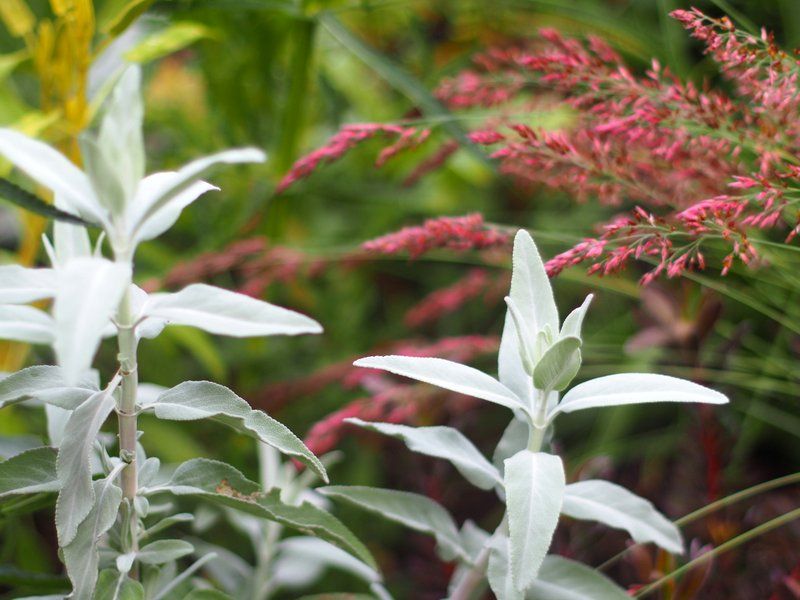 I didn't even know at the time that this was a Rancho Santa Ana introduction. I was visiting to catch their wildflower show and stopped in briefly at the nursery. There were some nice Agave utahensis for sale, one of which I grabbed. As serendipity would have it, an elegant white sage sat amongst other native salvias on their benches, and the tag said 'Desperado.' Delicious ripples of recognition ran down my spine. Knowing its fated size from Sue ("It gets big"), I picked it up, put it back, picked it up again, carried it to the checkout kiosk, abandoned it midway, then finally resolved to buy it, if only to honor the plant scientists who dreamed up such a beautiful vision and made it real and available in a one-gallon pot. Or maybe the hybrid occurred naturally, but still a human had to recognize the potential and propagate it. Science!
Back home in my garden I played a pretend game of "dress up" with 'Desperado,' trying out various sites and associations, knowing full well that, ultimately, there just isn't room to accommodate it here. With Beschorneria albiflora, the light and water requirements would be a match. I was told at Rancho Santa Ana that this sage, unlike some natives, tolerates garden conditions and doesn't need to be kept absolutely dry during summer.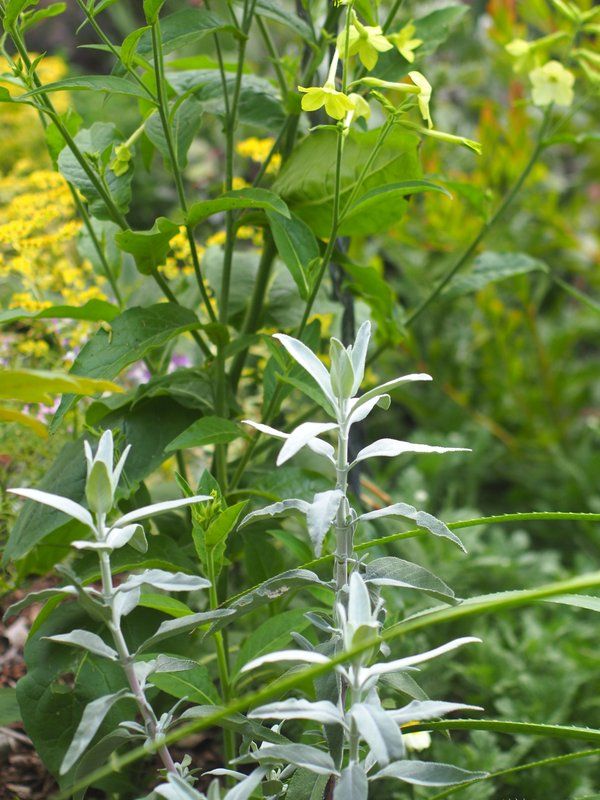 Nice with lime green nicotianas.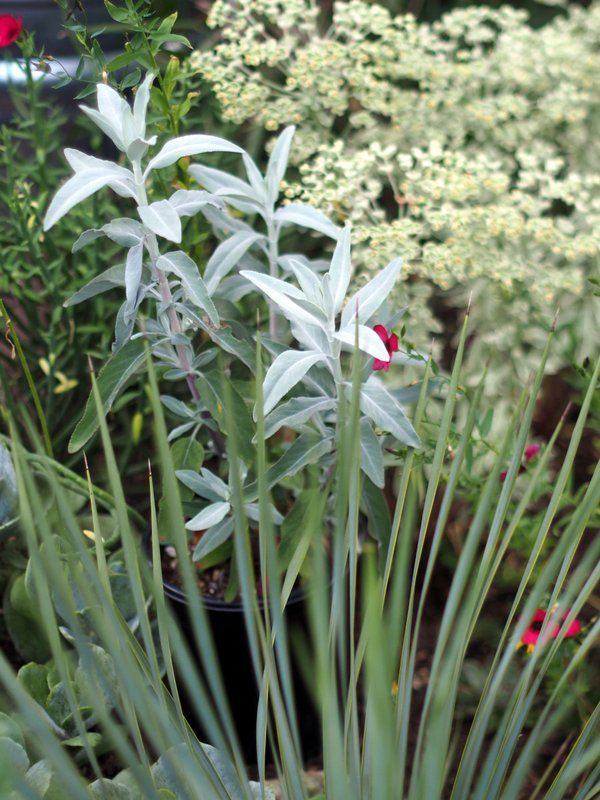 It could easily handle some of the driest spots, too, with Yucca rostrata and euphorbias. And the hummingbird show would be epic.
Or stir up some drama and high contrast with burgundy phormiums.
The Grow Native Nursery has demonstration gardens that are abloom with all sorts of interesting natives right now. In a border alongside the growing greenhouse was a compact version of another beautiful giant, the native buckwheat St. Catherine's Lace, appropriately named Eriogonum giganteum. Identical in all respects except size, it was the designer plant of my dreams: Eriogonum giganteum var. compactum. I immediately inquired as to how I could get my hands on one and was told, for now, there are none to be had. That display bed was for propagation only. I'm certain I could fit that buckwheat somewhere in my garden.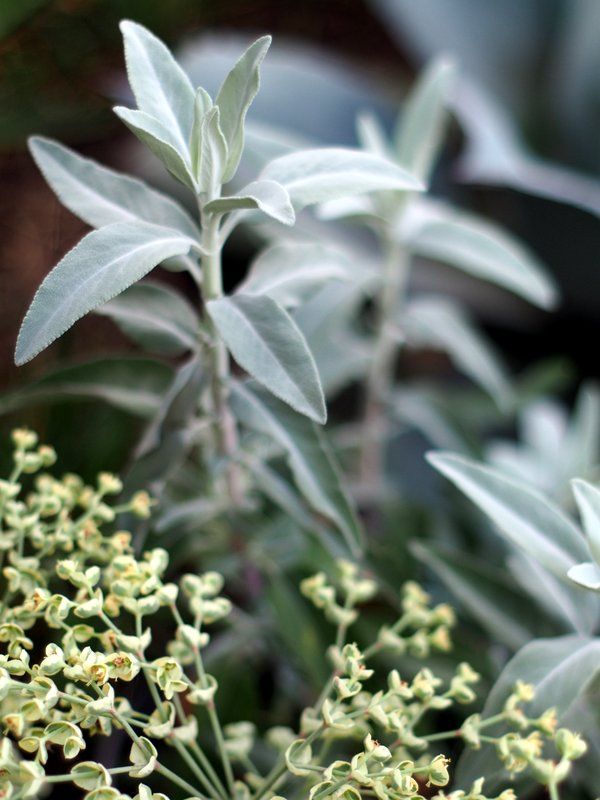 I do have someone in mind for a gift of 'Desperado.' This big, bodacious sage will have to be strictly catch and release for me. For zones 8-10 but can be grown as an annual too.
edited for veracity 4/25/17: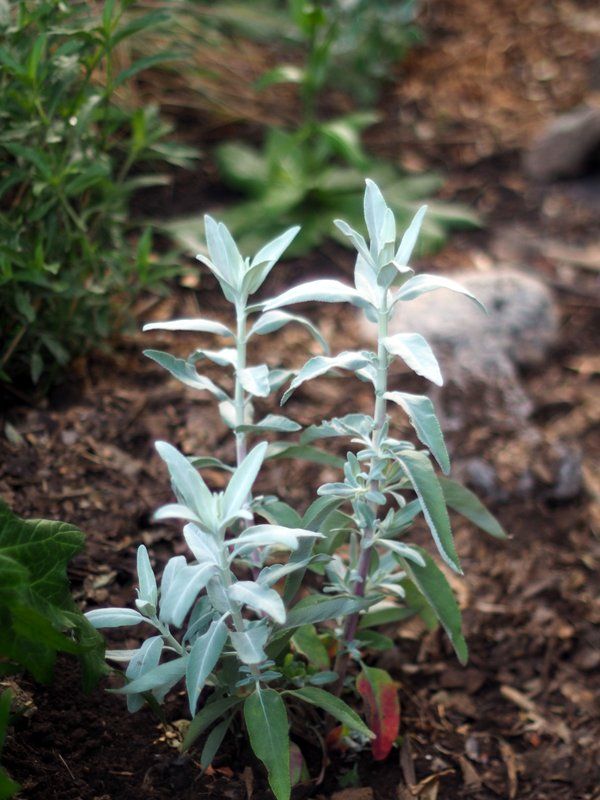 P.S. Changed my mind again. It's in the ground, very close to the back south wall. An Echium simplex I was letting develop seeds kindly gave up its seat on the bus.