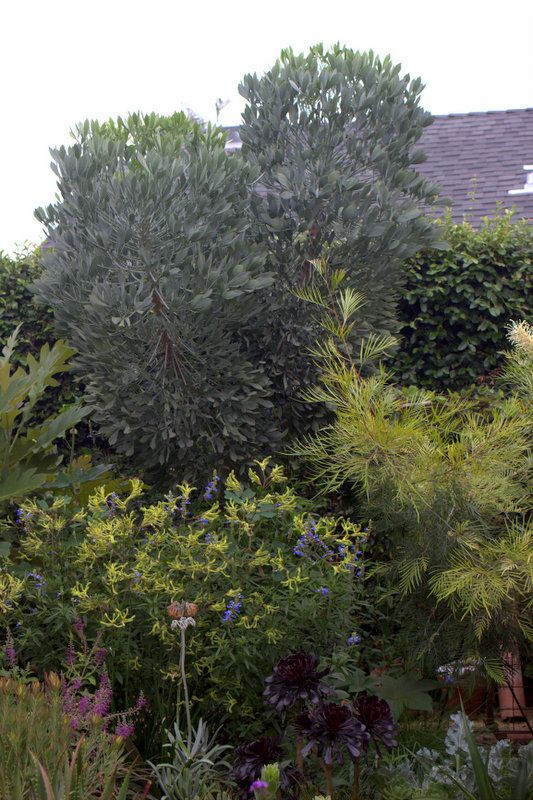 Right up there with rampant vines, another example of one of my current garden anxieties is the sharp northward lean on my Cussonia gamtoosensis. Will it ultimately do a face plant or won't it? And if it does, will it take tree aloe 'Hercules'(out of frame) down with it? Now that surrounding summer growth conceals the gravity-yielding trunk, I've felt more relaxed; as the old saw goes, out of sight, out of mind. But all winter I fretted over that exposed trunk with its oblique angle and shook it hard whenever I passed, testing the roots' grip in the soil. Seems solid enough, but who can say? Trees are so inscrutable.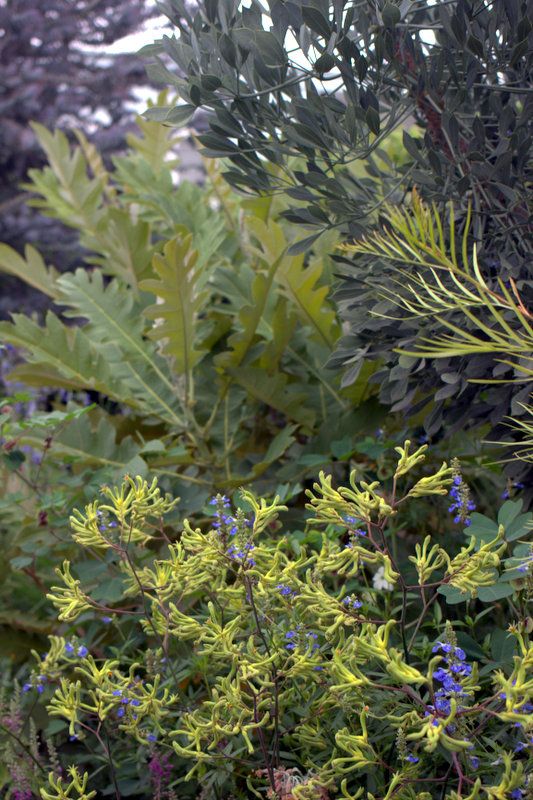 I love how the tall-growing kangaroo paws and bog sage have begun to just graze the bottom of the canopy in June.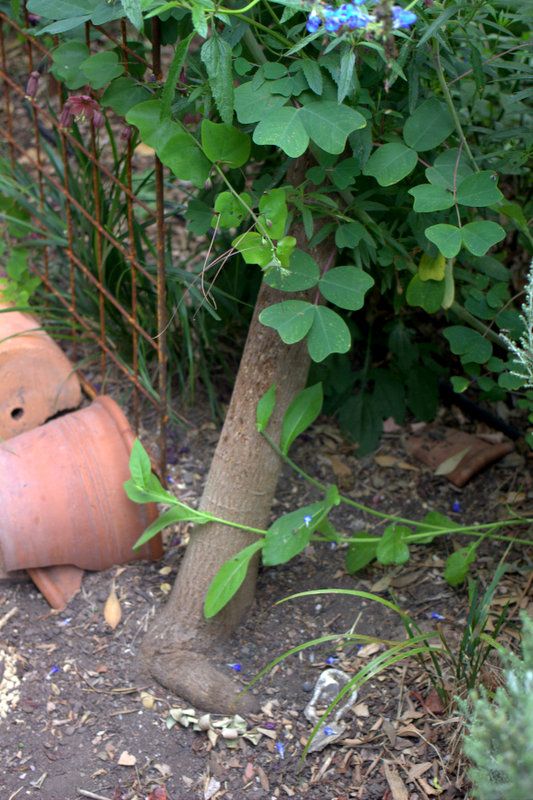 Here's the trunk (doubling as a cat-scratching post), planted in the same position as the trellis for Passiflora 'Flying V.'
And here's the gap showing how the tree diverges from an upright orientation, away from the trellis, leaning north.
There's still not a lot known about this "cabbage tree" from the Eastern Cape Province of South Africa. The lengthiest on-line description comes from this site:
"Usually (but not always) a many-stemmed cabbage tree. The natural distribution of this species, discovered in 1975, is limited to the immediate vicinity of the Gamtoos River. Listed as threatened in the Red Data Book. Preferring well-drained soil and lots of sun, it grows to a height of 2-4m. Semi-drought resistant. Makes a good pot plant. Flowers insipid. Fruit 8mm long, conical, fleshy, purplish, with bracts clasping the fruit, closely crowded along the spikes. Foliage grey-olive."
(Fancy buying some South African property along the Gamtoos River? Have a look here.)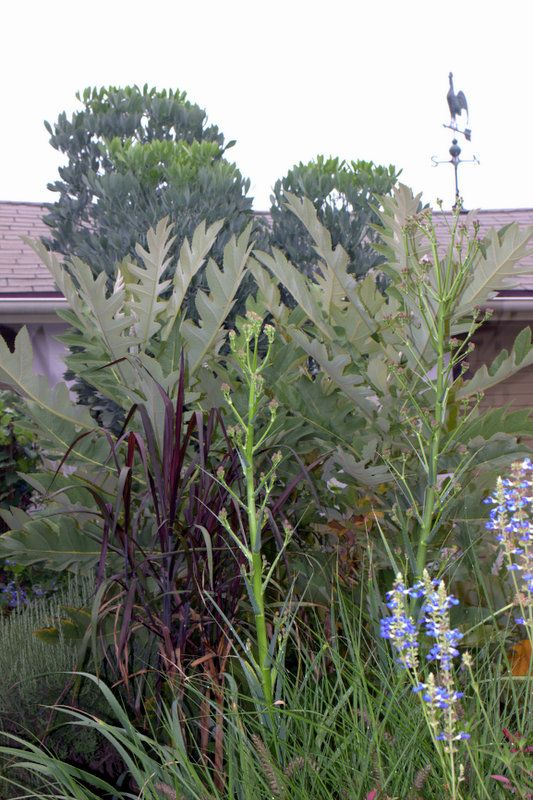 Looking west, just behind the eryngium, pennisetum, and bocconia, the cussonia now tops the garage roof. The three main branches are visible from this view.
Eryngium pandanifolium skyrocketed blooms this year. This is the first seedling from the original mother plant to bloom. Note how tall and very straight.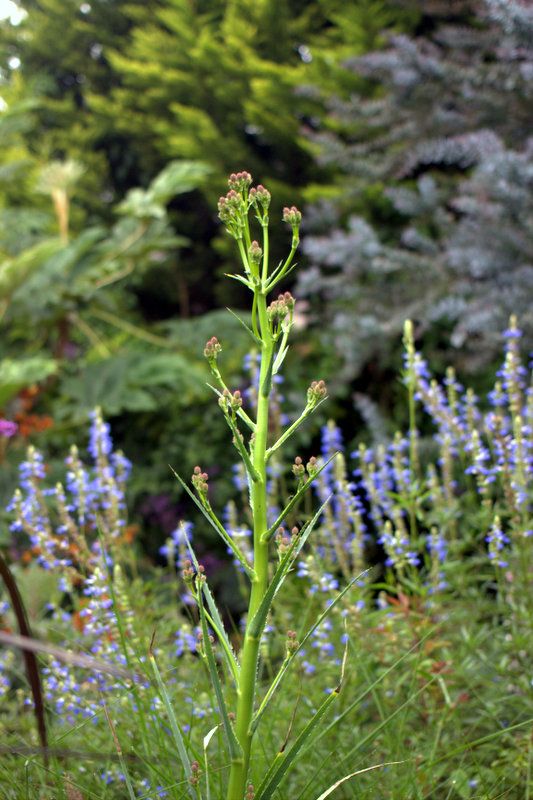 What excellent posture — that's the spirit!
Looking southward, two of the cussonia's branches appear to be making the shape of a a heart. (Love you back, but just straighten up a bit, will ya?)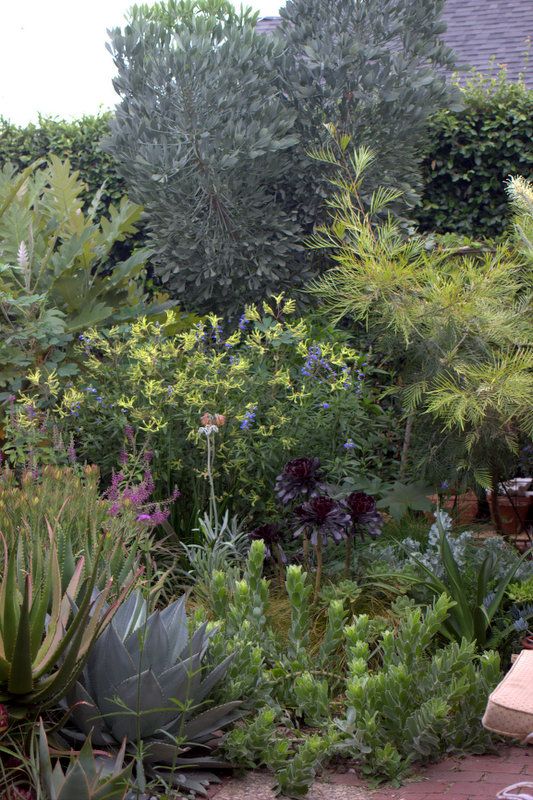 Pressed on either side by bocconia and Grevillea 'Moonlight.' I'm told crookedness in cussonias is not uncommon, but it still makes me a little nervous.
I spent a lot of time this 90-degree day in that chair just visible, reading Andrea Wulf's wonderful biography of Alexander von Humboldt, "The Invention of Nature." This footnote included from Humboldt's "Personal Narrative" uncannily describes what I was sensing in the garden this hot, lazy afternoon, an echo and match in mood across centuries:
"[A]mid this apparent silence, when we lend an attentive ear to the most feeble sounds transmitted by the air, we hear a dull vibration, a continual murmur, a hum of insects that fill, if we may use the expression, all the lower strata of the air. Nothing is better fitted to make man feel the extent and power of organic life. Myriads of insects creep upon the soil, and flutter around the plants parched by the ardour of the Sun. A confused noise issues from every bush, from the decayed trunks of trees…There are so many voices proclaiming to us, that all nature breathes; and that, under a thousand different forms, life is diffused throughout the cracked and dusty soil…and in the air that circulates around us."
Back to my off-kilter cussonia. It was much easier to photograph as a young tree in December 2013.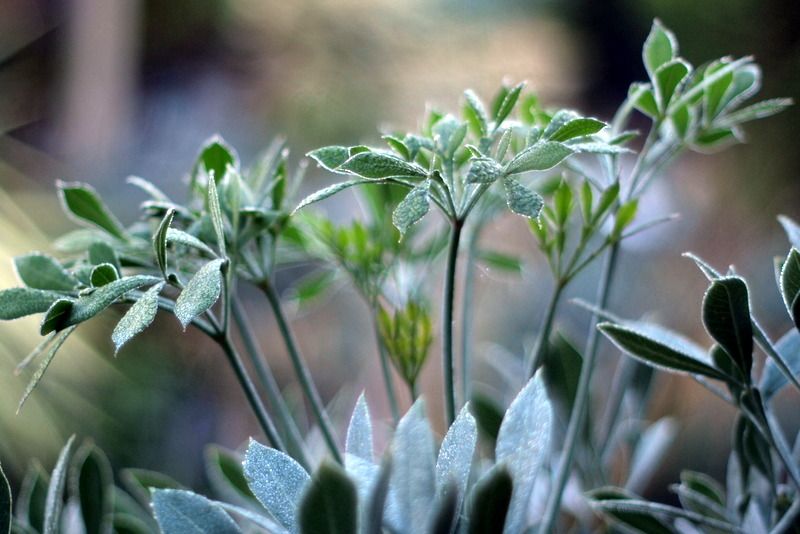 Its leaves just might be my favorite of all my cussonias.
And now that little tree takes its place as a valued, if less than upright, blue-grey backdrop to summer.
With crooked trees on the brain, I enjoyed this recent article in The Los Angeles Times, "The case of the leaning pine tree: A natural history mystery unfolds on the Central Coast." In this case, it's a matter of leaning to the south instead of to the north (or, more precisely, toward the equator), and for still mysterious reasons. The tree in question is the Cook pine, named after explorer Capt. James Cook. The article doesn't mention it, but Joseph Banks was the botanist on Cook's voyage to New Zealand and Australia, from which Banks brought back to Europe so many plants we love (banksia!) as well as aboriginal words like tattoo. And Joseph Banks happened to be an elder contemporary of my afternoon companion, Alexander von Humboldt.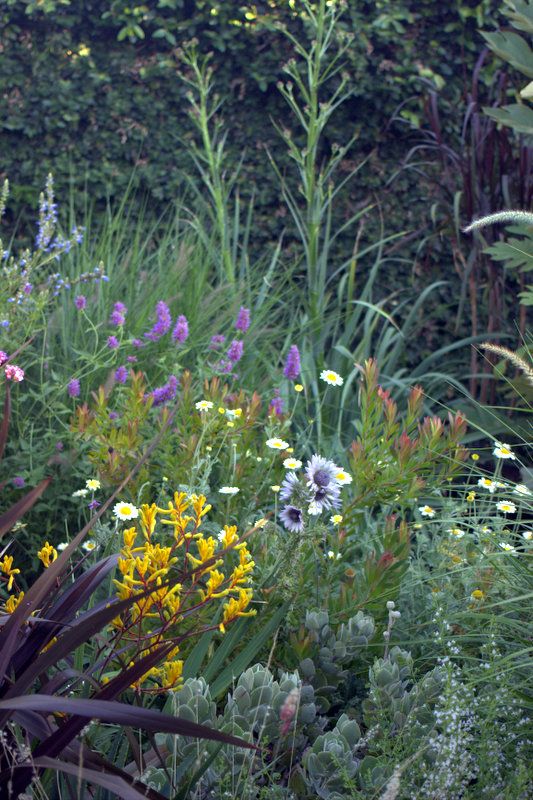 Time to leave armchair adventures behind and head inside. Stay cool!