I'm seeing Euphorbia rigida in bloom on all the garden blogs now, in my own garden, and here at the Entrance Garden at the Huntington Botanical Garden. The euphorbia is seen here with Sea Squill, Urginea maritima, a bulb that in late fall/summer throws elegant white spires of bloom as tall as a foxtail lily (eremurus). Tricky to place in a small garden due to dryness requirements/dormancy. Acacia baileyana 'Purpurea' in the background.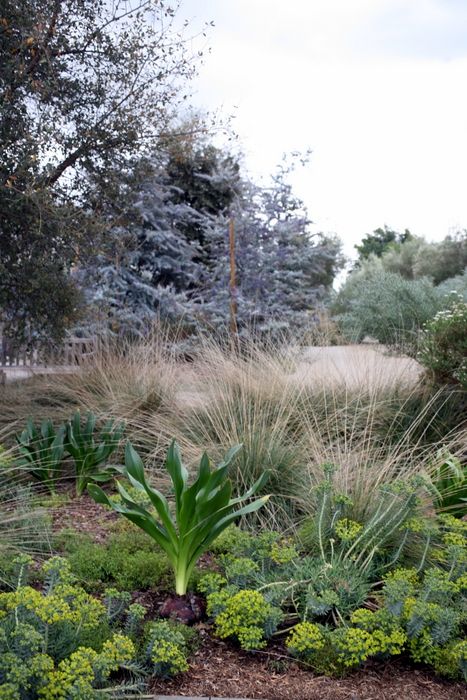 Can we say Euphorbia rigida is having its moment now, that it's [gasp] possibly even "trendy"? I've been turning over the idea of trendiness extending to garden plants after reading Grace Bonney discuss design trends ("In Defense of Trends.") I think it's safe to say that hardscape and garden design definitely follow trends, but plants? Designing and maintaining a mixed planting is difficult enough without injecting trends into the bargain. New ways of thinking about resources allocation might date once-popular plants, or pests might make once-ubiquitous plants rare (fuchsia mite!). Propagation issues can also cause some plants to disappear from the scene. Taste in plants is of course idiosyncratic and personal, but I'm not convinced a seriously good plant like Euphorbia rigida could trend one year and become declasse the next. Unless of course one is a native plant purist, in which case this euphorbia would be banished entirely outside of its Mediterranean home. In my little urban garden I don't pretend to practice landscape restoration, so any sturdy plant appropriate to a summer dry garden gets a tryout. But this is a vast subject for so superficial a treatment, since culture and gardens are inseparable. Another day, another post.
For someone who used to race straight to the Desert Garden, the Entrance Garden has added immeasurable enjoyment to visiting the Huntington.
The silver is the curry bush, Helichrysum italicum. (I crushed a leaf and sniffed it, thinking it might be one of the new silvery lavenders,)
That's not acacia but senna in bloom in a very large pot. Timeless myrtle is the hedging here.
Of course we went to the Desert Garden too.
Did William Hertrich himself design this classic Huntington tableaux of barrel cactus and Agave parryi?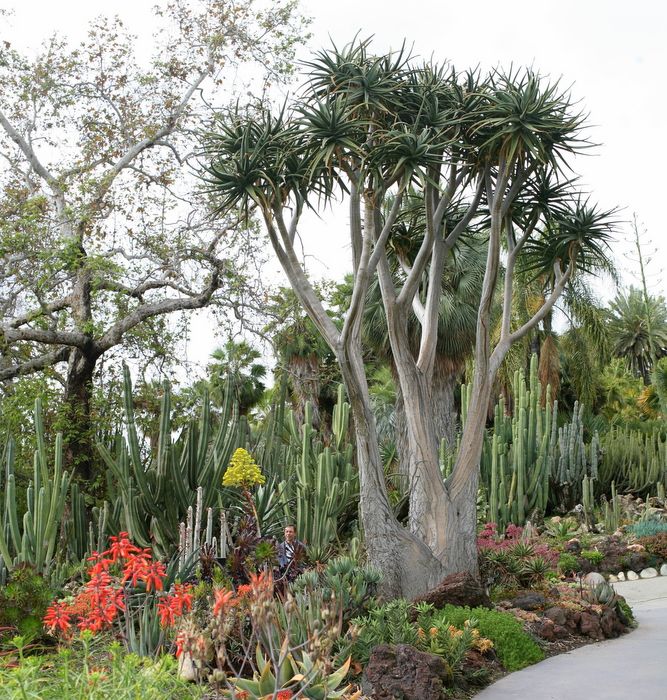 Taking the photo of the quiver tree (Aloidendron dichotomum), I didn't notice the gentleman, but I'm glad he's there for scale.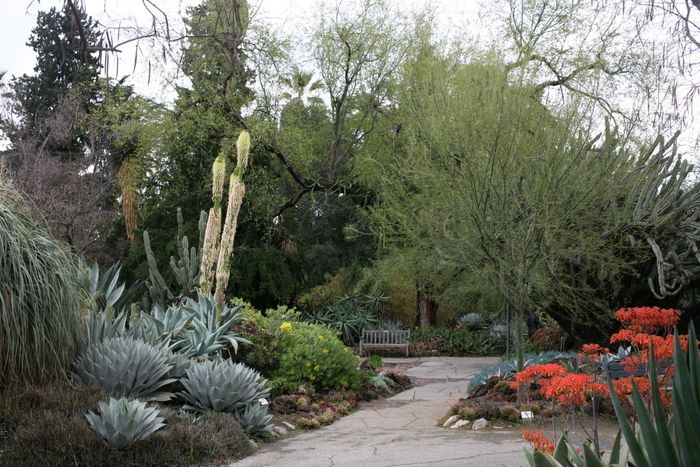 We wandered the Desert Garden for hours, and I took way too many photos.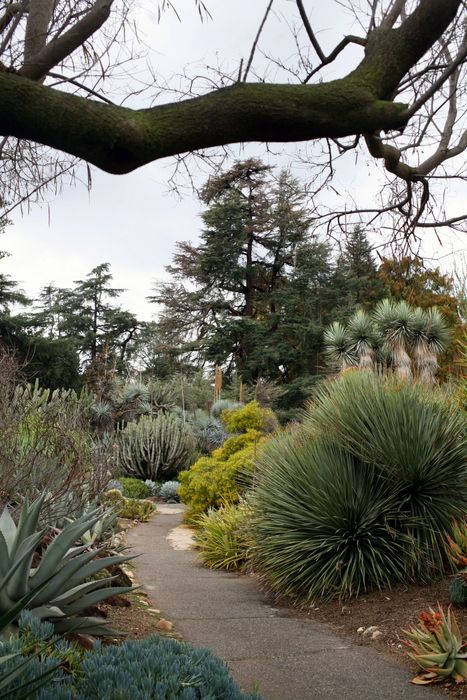 Overcast skies, but the rain was mostly finished by the time of our visit late morning.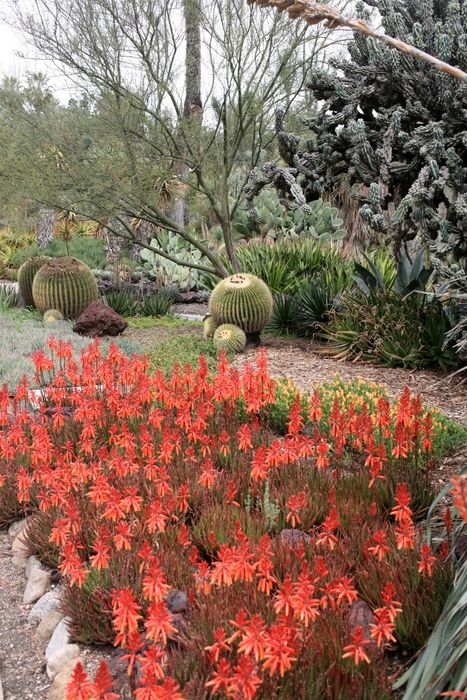 Aloe camperi was in prodigious bloom. Makes me laugh to think of my one plant building up size.
And some of the puya are just beginning to bud, so I'll be back in a few weeks.
Have a great weekend.