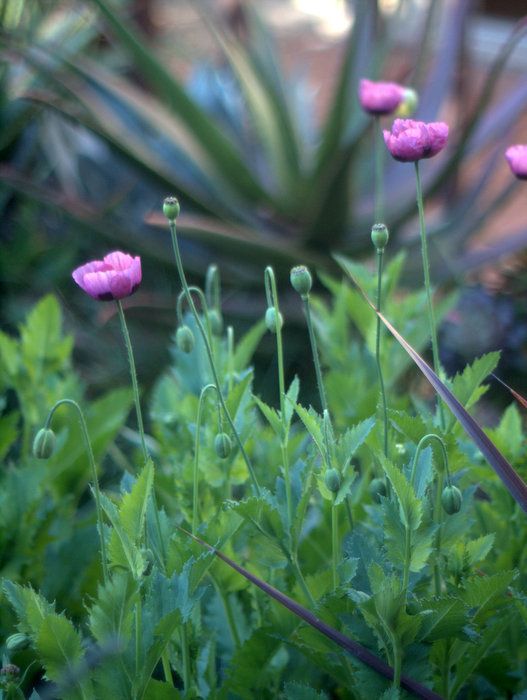 On the heels of these most welcome, intermittent March rains, the poppies have exploded into growth and tumbled quickly into bloom. Papaver setigerum, a friend of the garden since at least 2010, like all annual poppies, ultimately transforms itself into a purpose-built seed shaker that salts the garden with future poppies ad infinitum. The dwarf breadseed poppy is a recurring spring visitor that is always welcome. Much easier to accommodate in a small garden filled with sun-loving succulents than its bigger brethren.
My chair fetish was indulged at yesterday's flea market, but all for a good cause. I've a bit of an obsession with expanded metal too, so this one hits all the sweet spots. It's one of a pair I bought for the upcoming pop-up/plant fair to be held April 14 at Urban Americana here in Long Beach. "Cross-Pollination, The Pop-Up," is a local, home-grown, grassroots affair, and of course you're all invited. (That's Reuben Munoz's incredible graphic skills for a previous "Cross-Pollination" on display in the side bar and link in the header.) Lots more info coming on that soon, the plants, the vendors. The big question is whether I'll be able to part with the chairs.
If they go unsold, no problem. They'll always have a home here in the garden. (Which is suddenly feeling slightly overcrowded.)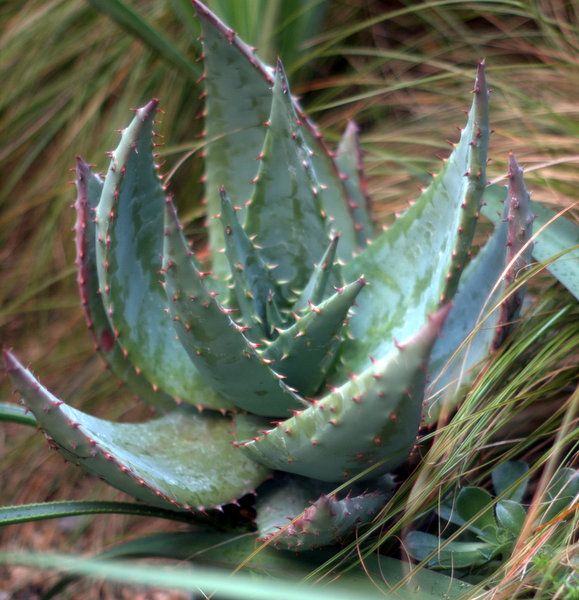 Same sentiments for the Aloe peglerae x marlothii hybrid I found at a plant sale presented by the San Diego Horticultural Society last week. Check out those spectacularly incurved leaves from peglerae flecked with marlothii's spines. That's some impressive love child. Who knows what the flower will look like? And with leaves like that, who cares? The grower thinks this won't trunk like marlothii, but will be mediumish in size like peglerae.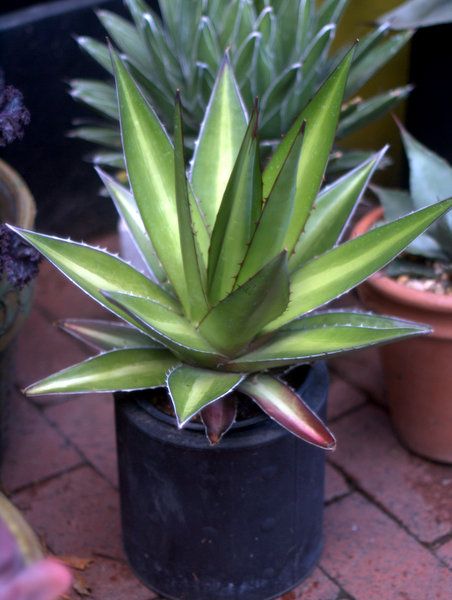 And it's going to be equally hard to part with Agave kerchovei 'Huajuapan Red,' also purchased at the San Diego Hort. sale. As always, stress will bring out more of the red in 'Huajuapan Red,' which the lower leaves are beginning to demonstrate. In its present coloring it reminds me somewhat of Agave lophantha 'Quadricolor,' except the leaves are wider than lophantha and it won't pup like crazy either.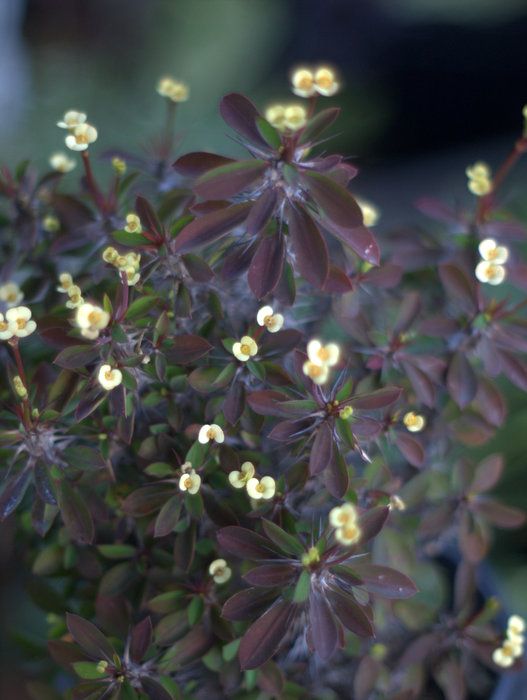 Another irresistible flea market find, some kind of Euphorbia milii-like delicacy with deep burgundy leaves nearly obscuring the thorns. And tiny chartreuse flowers. Grown from seed, the grower had no other ID information. So cool. Oh, man, this pop-up stuff is hard.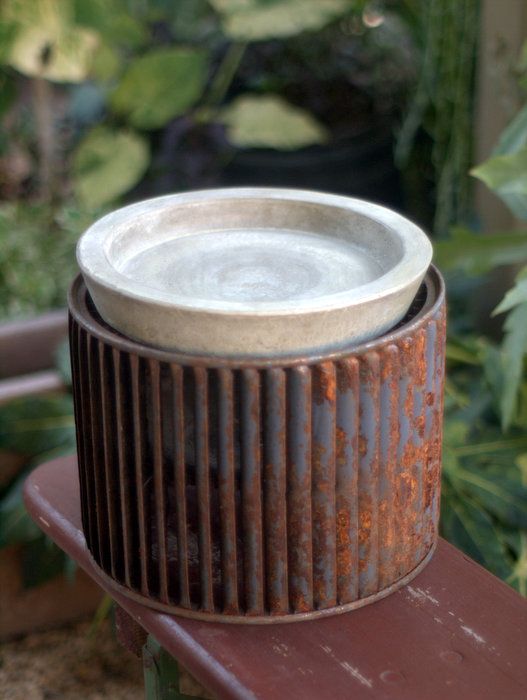 Shopping for the pop-up, I get to daydream, so there will be salvage. Bird bath? Hmmm…needs a bit more daydreaming. Don't worry, it's not all about rusty things. We're actually making brand-new, shiny stuff. I popped over to Dustin's last weekend, and as always I'm just floored by his ceramics, the pace of his output, the inventiveness. Come to the pop-up to see for yourself. We're ready for you April 14, noon to 6 p.m., at Urban Americana.
You can also catch Dustin speaking at Roger's Gardens on Friday, March 23, 2018, 3 to 4 p.m.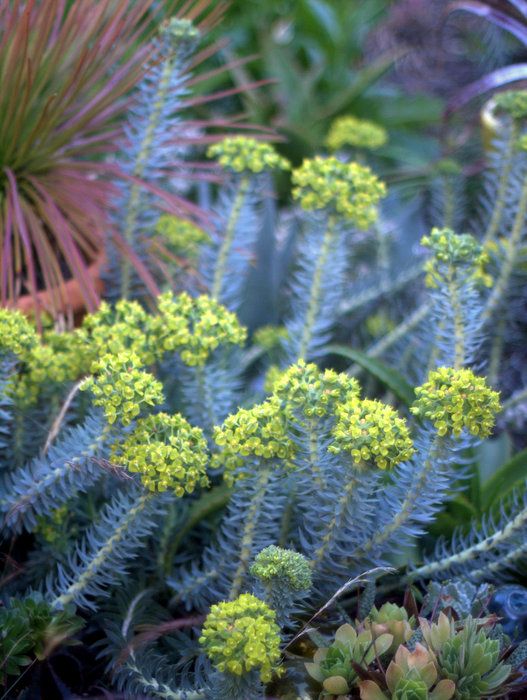 I'd love to find a source for Euphorbia rigida to include in the pop-up. Long Beach needs more of this euphorbia. I've scoured my garden for seedlings, and currently I'm out. If you have any leads on small plants, drop me an email. Feel free to suggest other plants you'd like to find too. We can dream this thing up together. I'm heading out to Fallbrook this week on another plant-sourcing expedition. There's going to be a balance of stuff for indoors as well as outdoors.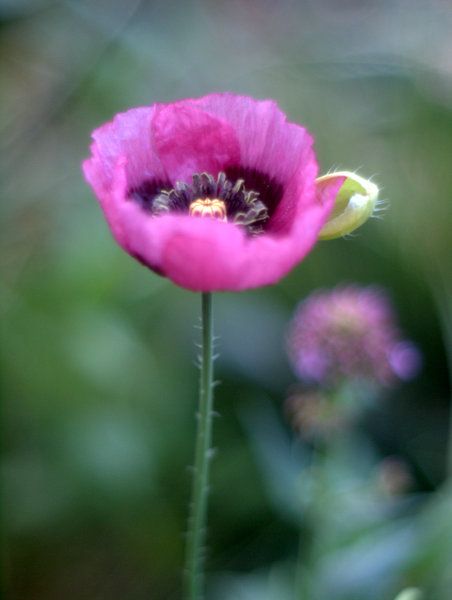 More soon!