Yesterday I removed the diseased carcass of Agave ovatifolia 'Frosty Blue' which lived its brief but spectacular life – until this rainy winter – under the acacia tree in the far southeast corner. You'd think having to battle for resources with tree roots would provide ample enough drainage — or so I mistakenly thought. But, truthfully, the thick debris littered by the acacia made an agave residing under its canopy an extremely poor choice, and I wasn't terribly sorry to have to remove it. Miscanthus transmorrisonensis has already settled into the vacancy. Thin grass blades will fare much better under the debris onslaught, and I'm very excited to watch how this grass develops over summer (vacancies don't last long here). John Greenlee says it's the best miscanthus for the west, which makes one think miscanthus are somehow problematic here, yet I've always had consistent success with them. If anything, it's their rush to gigantism girth-wise that's problematic. It is considered evergreen in this zone 10 which may be why it's considered the best. I'll just have to grow it to find out. I've never amended or mounded the garden soil for the fast drainage that some agaves and other succulents crave, and this winter the heavy clay chickens came home to roost. Agave parrasana 'Fireball' has been dug up, diseased leaves sheared off, and is rehabbing in a container. Agave schidigera 'Shira ito no Ohi' could not be salvaged and has been sacrificially cored, a method of cleaning out the center like preparing an artichoke that supposedly induces offsetting. Potted agaves fared well, as did many others in the ground.
I grew three pots of Lotus berthelotti over the winter, and the first day that hit over 80 degrees I moved them into the ground as small-scale ground covers. Winter dreams slam up against warm-weather realities real fast. I can keep up with watering shallow containers twice a day for only so long.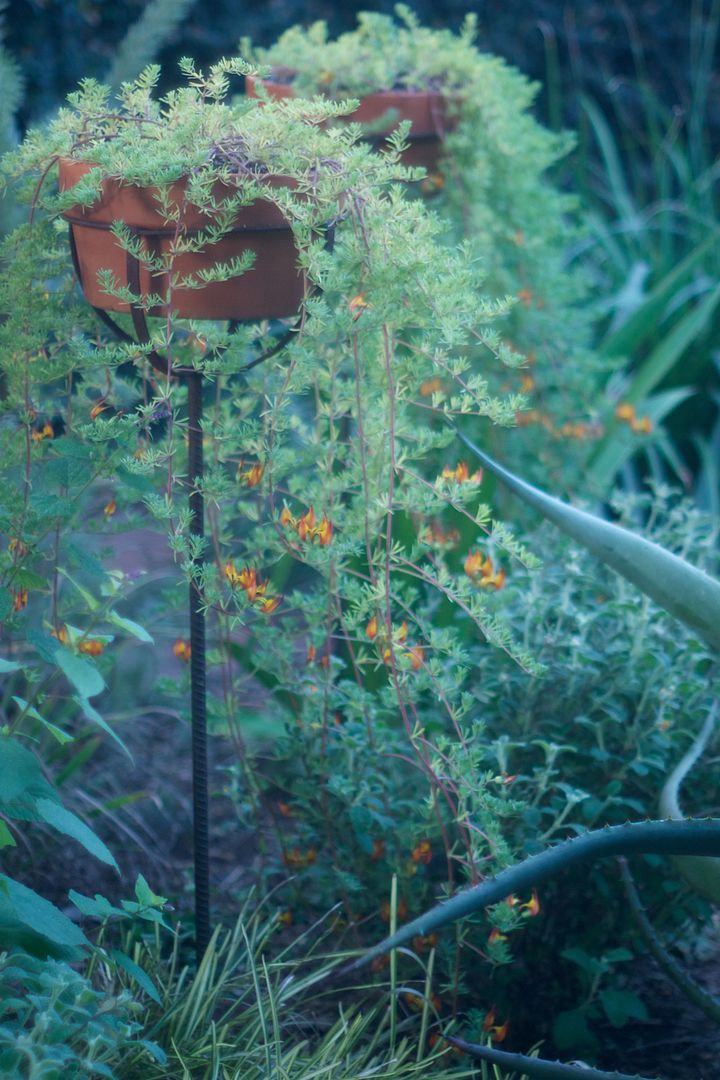 Just as I hoped, the lotus cascaded 3 feet down tall wrought iron plant stands that I had fabricated for the popup shop last year but ultimately deemed were a little too rustic for sale. (I found some deeper pots for the stands and filled them experimentally with low-growing Arctotis 'Ruby Creeper.')
Calendula were grown from seed in fall for just a couple pots, with Linaria 'Licilia Peach' added recently.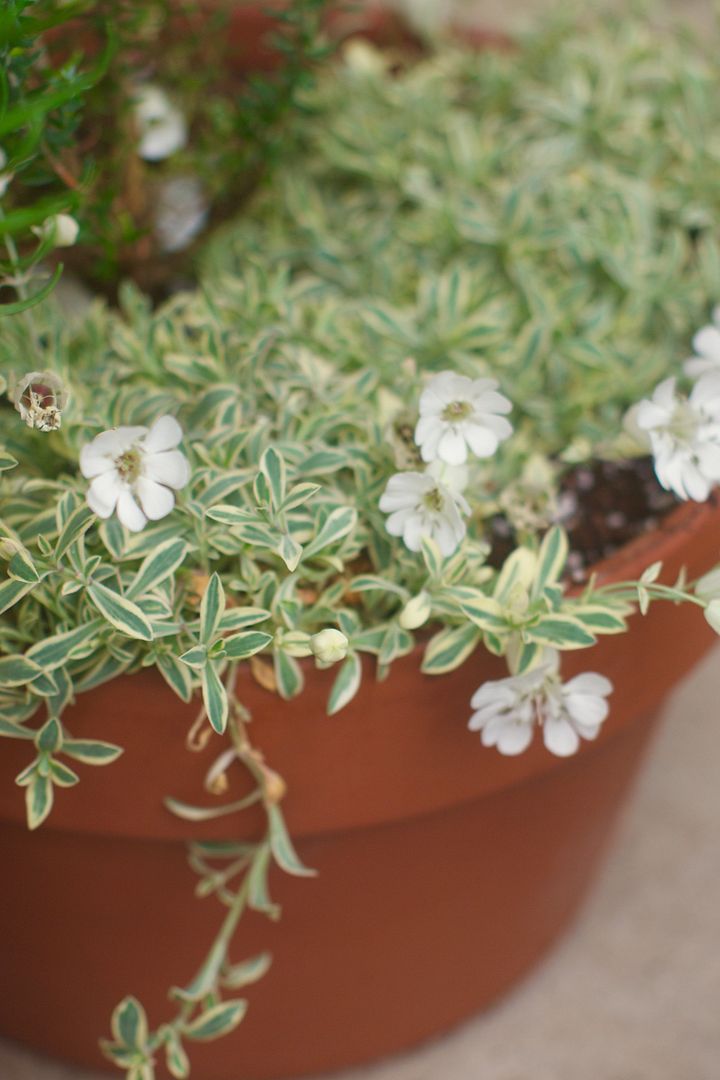 A plant I've long wanted to trial but always lacked a sunny open patch, Silene uniflora 'Druett's Variegated' is finally getting a trial in a pot with the indestructible silvery shrub ozothamnus.
My mystery aloe is in bloom. It dips and swoops, unlike the rigid upright blooms of Aloe x principis, so I'm still unsure as to its identity. I'm pretty sure it's a ferox hybrid of some sort. Whatever it is, I like it, so provenance is not that important.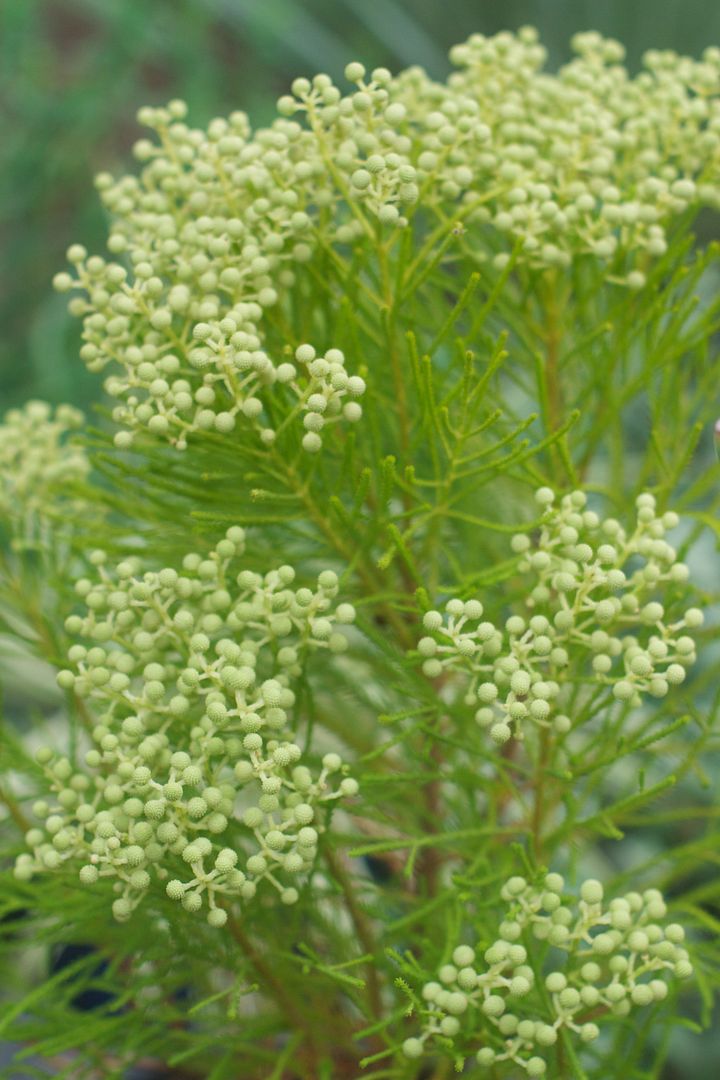 My new crush, Berzelia lanuginosa, appropriately goes by the common name Buttonbush. Fond of moist seeps in its natural habitat in the Western Cape of South Africa, I'll keep it in a container near the garden hose.
Oh, and happy first day of spring!