The clumps of leaves on these two foxgloves were impossible to tell apart in winter, but in bloom Digitalis parviflora and Digitalis ferruginea are very distinctive. Apart from very different coloration, D. parviflora is the first to bloom, and D. ferruginea is the taller of the two.
In this coastal Oregon zone 8b garden, July brings the first dahlias, more lilies, and…(add intro to Beethoven's 5th)…dierama.
The first dahlia to bloom by a couple weeks, 'AC Rosebud,' is over 7 feet tall and towers over the back fence — the only way to get a decent photo is to cut the flowers for a vase. All dahlias were planted May 2022 and no new dahlias were added for this summer.
Sown in spring, about a dozen Lychnis viscaria 'Blue Angel' were planted in the garden and in pots. Weak and spindly as small plants, I had low expectations but July turned things around. They are similar in growth habit to corn cockle, agrostemma, but maybe a foot in height.
Another annual, this one very tall, Madia elegans was brought in as plants with hopes for resowing. I saw this "tarweed" in bloom last summer, had no luck with seeds, but grabbed a couple plants this spring, very unimpressive in their nursery pots but I knew their potential: grey-green, slightly furry leaves, fringed petals, dark center, tall graceful habit, a beautiful Oregon/West Coast native. It can be grown hard or in luxurious conditions like here, where it will soar up to 5 feet. A couple stalks did break off during a very windy June but it recovered and branched out.
And now I get to set the record straight and correct a misidentification. I thought I was digging up Angelica stricta 'Purpurea' from the Long Beach zone 10 garden in autumn 2021 to transport to the Oregon garden. Prior to this post, I've referred to photos of this plant as an angelica. It is not. I've puzzled over the enormous height and lack of purple color to the umbels but assumed seed variation. Browsing a catalogue the other day, I found photos of Peucedanum verticillare — boing! Instant recognition — this is the plant! And I was growing it in the Long Beach garden in October 2020, so must have dug this one up instead of the angelica, which I also grew down south (see post here). If that's not weirdly confusing enough, this spring I planted a Peucedanum ostruthium at the base of this plant when I thought it was angelica…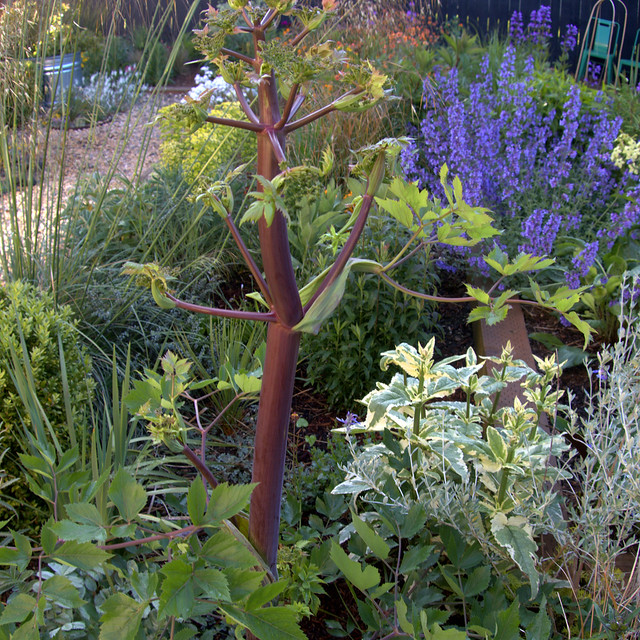 And lastly, I'm not impulse-buying many shrubs, but the colors on this podocarpus reminded me so much of the coloring of the leucadendrons in my zone 10 garden that I couldn't say no. To zone 7b, it appears to be trademarked and heavily marketed. (Some of the photos may show as links only, not sure why, but clicking will bring up the image.)