When asked only for a show of leaves, my zone 10 garden in December can give a much less angst-ridden performance than, for example, yesterday's post, which was drawing solely on flower output. Today I realized I forgot to include some things in bloom, like anigozanthos, among others. That's probably because, overall, drizzly, moisture-beaded leaves are winter's revelation in my zone 10 garden.
Mangave 'Bloodspot'
Still, it's December, with lots of bare ground showing, so this is plant porn at its most extreme, just clinical closeups. I think I can safely presume to speak for all gardeners in December when I say that, at this time of the year, we have no qualms with pure plant porn (as opposed to the macro shots of gardens in high summer). Check out the emotion-laden possibilities of the botanical closeup when practiced by a mistress of the art like Rachel Warne.
Back to plant porn. Echeverias in the mist.
Tibouchina heteromalla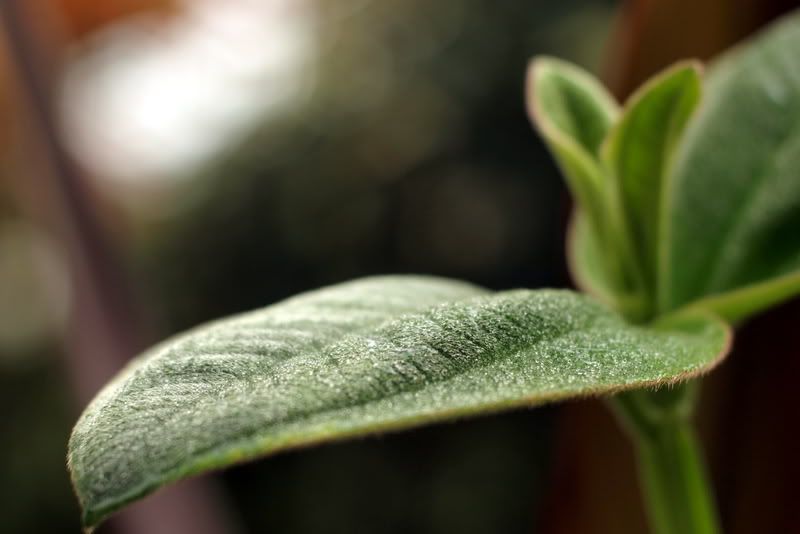 Remember when artwork was confined to crayons, the 64-pack, until your 8-year-old self was introduced to the wonders of glitter and Elmers glue, and you were crazy wild for glitter for maybe two weeks? Winter reawakens the excitement of the juvenile discovery of glitter, but without the sticky, gluey palms and itchy glitter all over the shag carpet.
Euphorbia characias
The cannas' leaves aren't too tattered yet. Canna 'Bengal Tiger'
More glitter infatuation with Canna 'Intrigue.'
Sparkling cobwebs on Sedum nussbaumerianum
Agave attenuata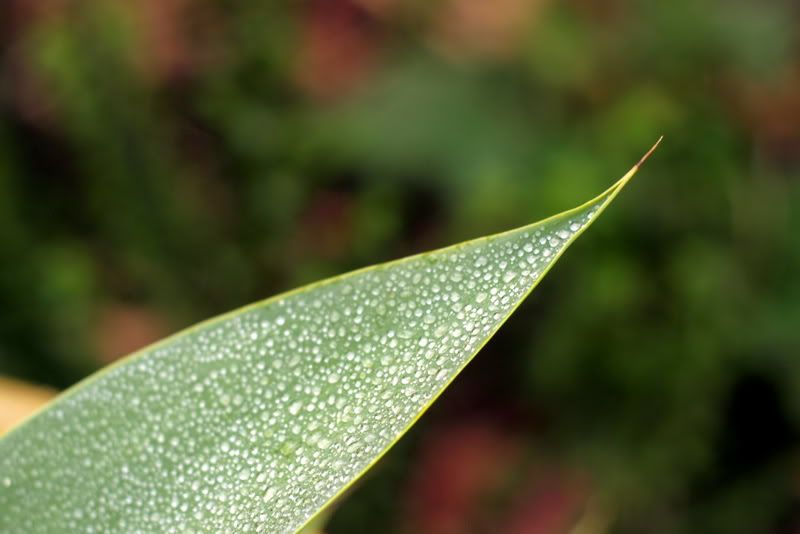 A drenched Musa 'Siam Ruby'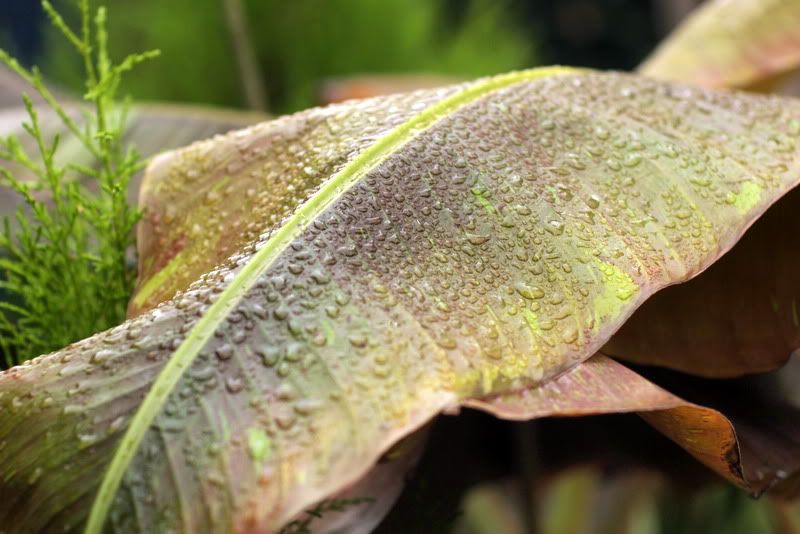 I should have included the blooms of Helleborus argutifolius in yesterday's post. Self-sown Angelica pachycarpa leans into the frame.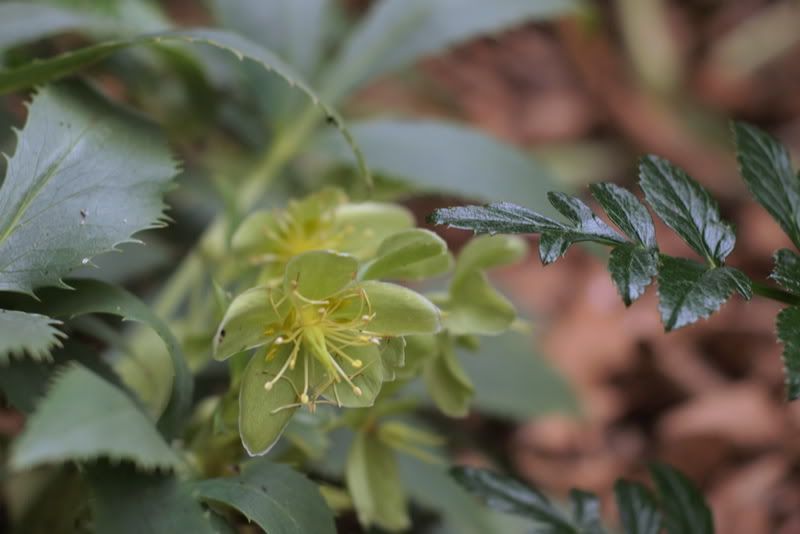 Helleborus argutifolius and Coprosma 'County Park Red,' great together in leaf, even better when the hellebore blooms.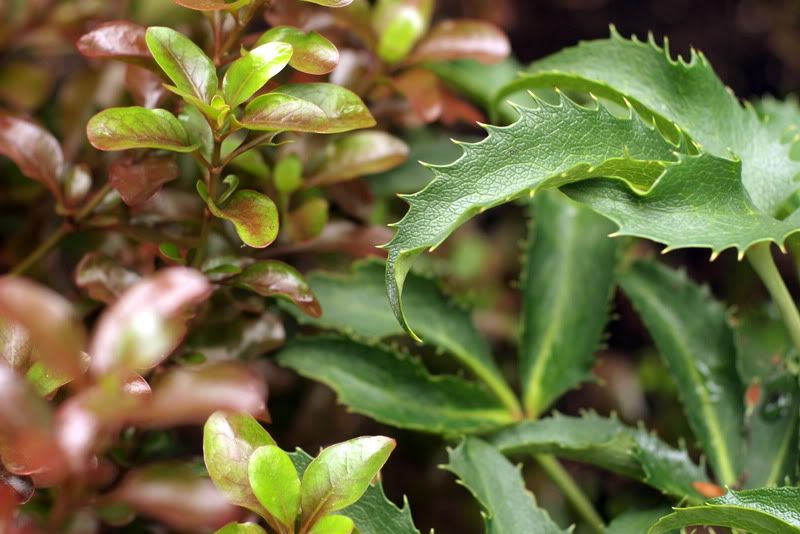 Another bloom I overlooked yesterday, Begonia luxurians.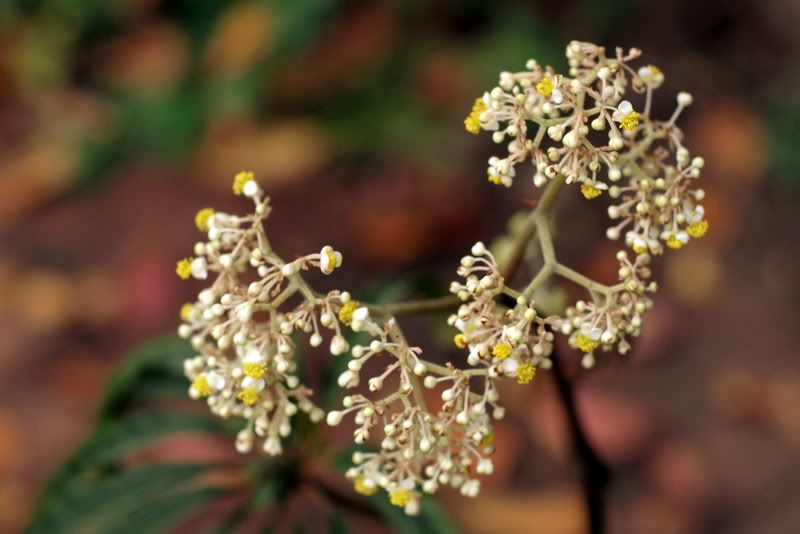 The leaves of B. luxurians.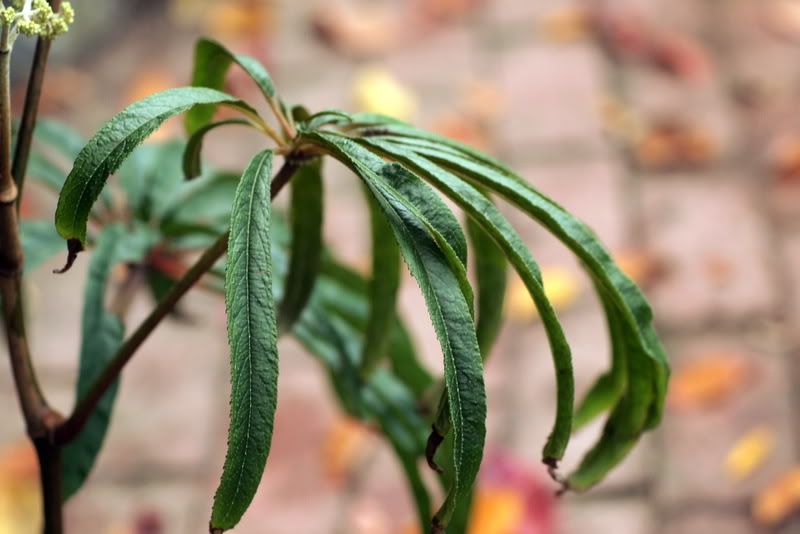 Geranium maderense 'Alba' is losing the scraggly looks of summer and has begun to elegantly billow forth in a 3-foot half dome of finely dissected leaves.
Should bloom this spring/summer. From Annie's Annuals. I can't even remember now what life was like pre-Annie's.
Thanks, Pam/Digging, for hosting Foliage Follow-up.