Looking into the future of newspapers, there's nothing but thick fog concealing possible total shipwreck. Looking to the past can seem like a golden age, especially for garden writers. In Los Angeles, we're lucky to have the amazing Emily Green as the Los Angeles Times garden editor, but at many newspapers that chair is empty. (Let's face it, the chair has been entirely removed, along with the desk and the slim column of numbers in the newspaper's annual budget for garden reporting.) In the '90s, the LAT garden editor was the inimitable Robert Smaus, a man seemingly born curious about everything horticultural, whether ornamental or edible, and possessing the rare gift for communicating what he discovered. These photos are taken from his website, but I had the good fortune of seeing his garden in person when he taught horticulture classes through a local university extension program. I've got water gardens on the brain lately and have been thinking about modeling one on Smaus' simple water tank made of cinderblocks then smoothly plastered.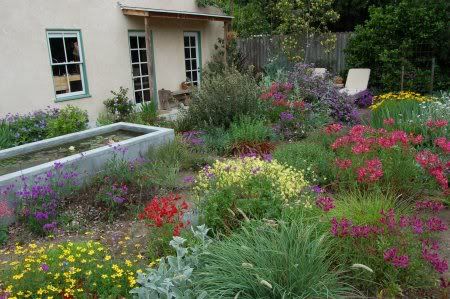 I get a cheerful reminder of Smaus' old garden now whenever I visit Jenny's garden through her blog at Rockrose, on my blogroll, where she similarly deploys sheets of flowers among pavers in her garden.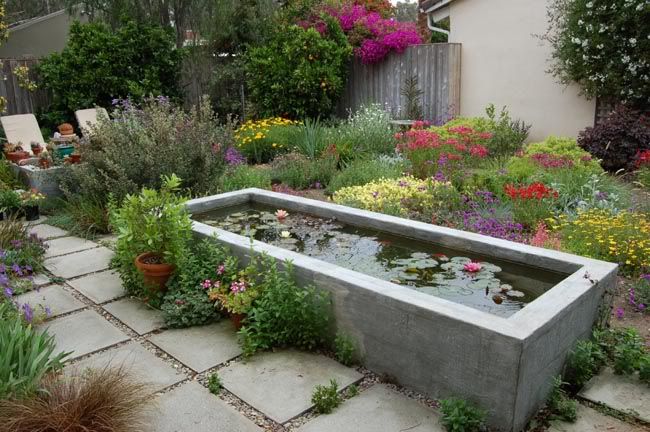 Robert Smaus writes about leaving his garden here.
The Smausian style of garden writing: "There's a new coreopsis named 'Limerock Ruby' that I planted as a little slip early last spring, and it grew and grew like credit card debt until it burst into mind-numbing bloom." Bob's book, "52 Weeks in the California Garden," is still in print.

(Edited to add: I wrote in haste and incorrectly gave Emily Green the title of garden editor for the LA Times, when her own site, Chance of Rain, lists her as a garden columnist.)