Just another brassica, right?
Let's read the label, shall we?
(Plant label: "Tree Collards. Evergreen. 8-10′ tall. Old American heirloom. Very nutritious, high in protein. Excellent steamed or boiled. Full-part sun, water regularly.")
No, that was not a typo. That's 8 to 10 feet, with anecdotal reports of 20-year-old plants reaching heights of 20 feet! (And I'll take mine braised, thank you very much.)
Brassica oleracea var. acephala, the mighty Tree Collard, a perennial. I ask you, who knew?
I'm envisioning an edible cussonia, although the tree collard may possibly fall short of a cussonia's good looks. And will need to be staked.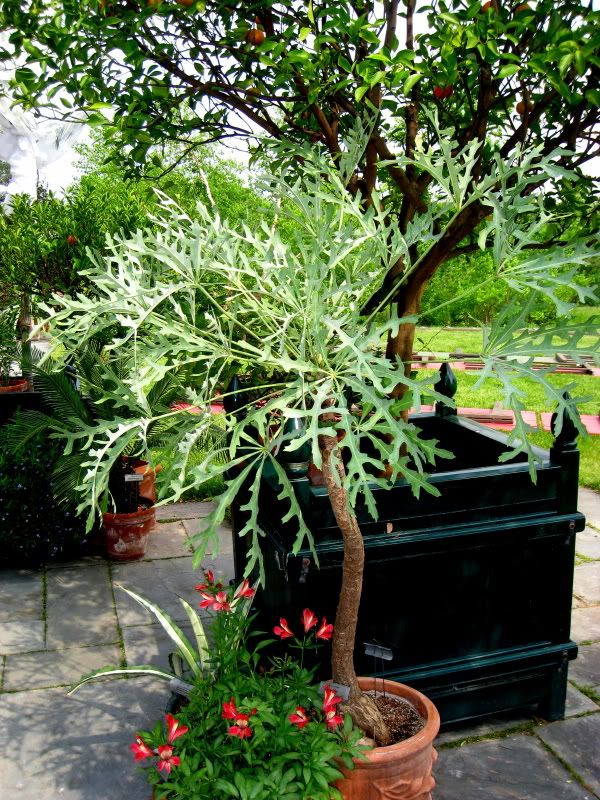 Image of Cussonia paniculata from Tower Hill Botanic Garden
And if you're savvy enough to be asking yourself, "What's the difference between Tree Collards and Walking Stick Kale?" Michael DiBenedetto elucidated this distinction in a 5/2/09 Gardenweb post. The whole thread can be found here.
This is an abridged version containing Mr. DiBenedetto's scholarly insights into collards and kale.
"In the UK, people tend to refer to what everybody else in the world calls "Collards" as "Kale". This is very confusing. Kale is Brassica napa. Collards are Brassica oleifera var acephala. [sic]* Collards are a non-heading cabbage. Kale is a more "salady" vegetable, often used as a winter salad green that is available over a longer season than lettuce. Although they are considered different species, there are no genetic barriers to crossing them.
"Kale is commonly-eaten on the European continent, especially as you go further east where lettuce is harder to grow due to the severity of the climate. It is not commonly-eaten among the British, which is why they might use the word for something else. If you ever travel in Europe and get something that looks like salad greens but is a bit tougher and heartier than lettuce, and often fairly pretty shades of blue-green or purple, often with a ruffled leaf margin (varies from highly frilled to
just a bit), that's Kale.
Collards are very commonly eaten in the subtropics and tropical highlands, because they don't bolt as easily as their domesticated cousin cabbage does. I don't know why…they might actually have a bit of tropical blood in them. You can grow them in places like southern Georgia where it is too hot for cabbage. For this reason, Africans and Afroamericans often eat Collards while northern and eastern Europeans and their descendants far more familiar with cabbage. Cabbage was bred
from wild cabbage to have the fat tight bud, so as to be storable through the winter. It was bred from probably a more northerly strain of the same species that Collards were bred from.
The Tree Collards I have are probably of the famous strain that passes from neighbor to neighbor and at certain permaculture plant sale
circles in the East Bay Area; pretty sure it's a hybrid. Note the decidedly purplish leaves with a slightly ruffled margin. Plus that might explain why the California strain is reputedly more tender and palatable than other Tree Collard strains, which are reputedly tough and cabbagy. They were bred as livestock fodder (and are currently grown as novelty items, or to manufacture "walking canes" to sell to tourists). Those are more collard-like than mine (some say "like miniature palm trees").
Since there is some confusion regarding Kale versus Collards, plus no barriers to hybridization, that might explain how someone might have hybridized them and not realized that there is a difference. If mine is a hybrid, it might need to be stabilized by culling off-types. Or it might already be stabilized. Not sure."

(*My Hortus III uses Brassica oleracea)
This is how I'm crab-walking sideways into mixing a few edibles into the main garden. It has to be intriguing. No tomatoes just yet; they're still grown in the vegetable garden (my mom's). I'm more of a last-minute grazer than a plan-ahead cook, so interesting leaves and herbs are my speed exactly. Just keep the olive oil and garlic handy.
Speaking of garlic, I've been reading such good things about garlic chives, Allium tuberosum, as an ornamental as well as for the kitchen, that I was about to embark on a costly mail order shipment. The local nursery where I found the tree collard (grown by Certified Plant Growers, Inc., Norwalk, California), also has a good assortment of various chives, shallots, elephant garlic, all manner of alliums. The garlic chives are distinguished from regular chives by their flat leaf, as opposed to the cylindrical, hollow leaf of chives, A. schoenoprasum. I'm hoping they'll bloom late summer among some gold-leaved sedges. The two are barely distinguishable now.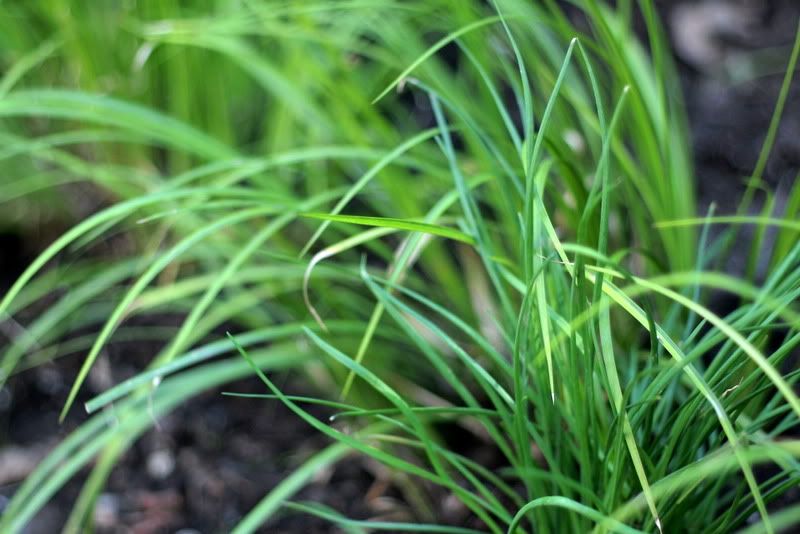 There's not such a bright line between edible and ornamental, as some of us have lazily assumed (raises hand). But it still makes my head spin to think lilies are eaten in China. And take Crithmum maritimum, samphire, sea fennel, an edible coastal dweller from Great Britain reputed to be amazing with seafood. I haven't tasted its lacy leaves yet, shown just emerging in the photo. For now, its beauty is nourishment enough.
(Edited 4/6/11: I found this at another local nursery labeled tree collard, aka "Jersey Cabbage," an heirloom brassica from the British Channel Isles. Read more here.)
(Edited 7/24/13: Since I get so many inquiries on sources, Annie's Annuals & Perennials in Richmond, California, has current stock available and also provides mail order.)