There's a particular pet-friendly motel we like in this district near the Presidio in San Francisco, the Marina Motel, which is where we stayed for the recent garden show.
Ein with his garden show face on.

Plants are a big part of this little motel's appeal. This brugmansia was in bloom in the courtyard, which is lavishly planted with fuchsias, geraniums, abutilon.
Through the little kitchenette's window from our upstairs room was a view of this private garden. I tried not to look too often. Really, I did.
And, anyway, no one ever came to sit in the chairs at the table. An empty garden is…mesmerizing.
The secret language of gardeners permeated the entire trip. These banners were flying on nearby Chestnut Street, announcing Amy Stewart's upcoming exhibit at Golden Gate Park.
Sloat Garden Center, just off Chestnut at Pierce Street, looked like a fantastic neighborhood nursery. I popped in for a few photos, meaning to go back for a thorough browse, but the weekend flew by and I never did make it back. But it was just enough time to grab this little Trifolium repens 'Dragon's Blood.' (Rainy Weekend Sale 20% Off. I wonder how many rainy weekends ago that sign was posted.)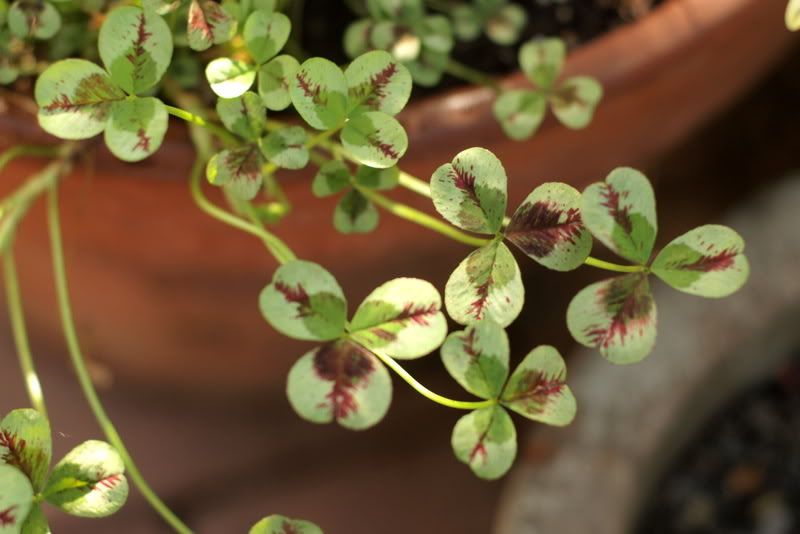 Such is the mercurial nature of city neighborhoods, the Marina District now seems to appeal more to the boomer crowd, reflected by the long line I saw waiting for Sammy Hagar to show up for a book signing at the local book shop and the nonstop foot traffic at the yoga center, but it does have relatively quiet streets perfectly suited for late-night dog walks, some good groceries and bakeries and a couple movie houses, and is just minutes from the Golden Gate Bridge. (Which is another reason why we started staying here years ago, for easy access to the plant nurseries in Marin and Sonoma Counties just over the Bridge, like the now defunct Western Hills.) The Mission district is where all the new restaurants are opening, and we did eat at Frjtz's on Valencia in the Mission Saturday night, known for its frites and huge variety of dipping sauces. Perversely, I ordered mussels, washed down with Belgian beer, Lindemans Framboise Raspberry Lambic. My husband said the mussels smelled like cow dung. I admit, they weren't the best mussels I've ever had, but I thought that smell was briny, not Bandini Mountain. A brief walk through the Presidio, which left military jurisdiction in 1994, opening up over 1400 acres to mixed commercial and public use overseen by the Presidio Trust, was the highlight of the trip for Ein. Exploring this enormous old military base at twilight, the pungent scent of eucalyptus underfoot and in the air was unmistakable, overpowering.
Just some quick travel notes.