Southern California, a mile from the ocean, zone 10, spring a couple months ahead of most of the country.
With the grasses joining the frothy euphorbias in bloom, there's now a supercharged atmosphere that animates the garden.
I love it when plants start to inhabit planes other than just ground level and do so with very little bulk. The see-through plants. Aerial fizz.
Pennisetum spathiolatum shooting skyward amongst anigozanthos.
Luzula sylvatica 'Aurea,' the golden woodrush. The bluer leaves are the Tradescantia 'Concord Grape,' now blooming, this photo taken a couple weeks earlier.
Euphorbia 'Ascot Rainbow'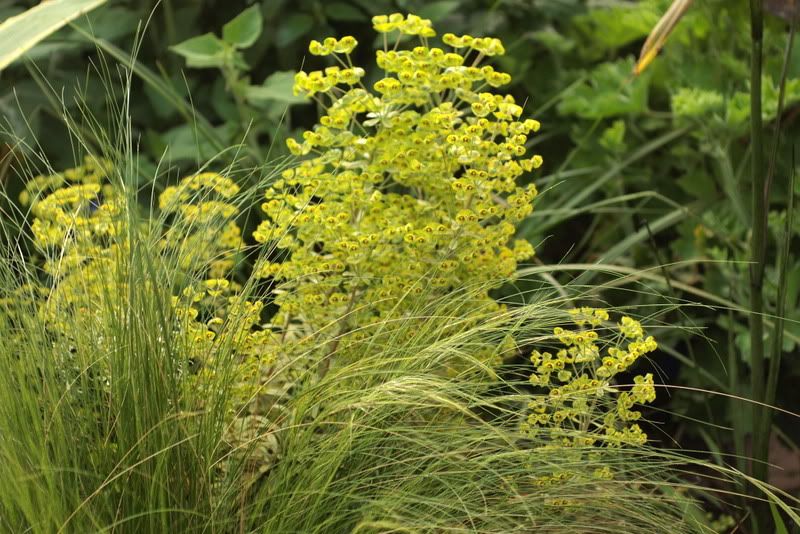 Euphorbia characias 'Silver Swan,' Libertia peregrinans, Salvia verticillata 'Purple Rain' among blades of crocosmia yet to bloom.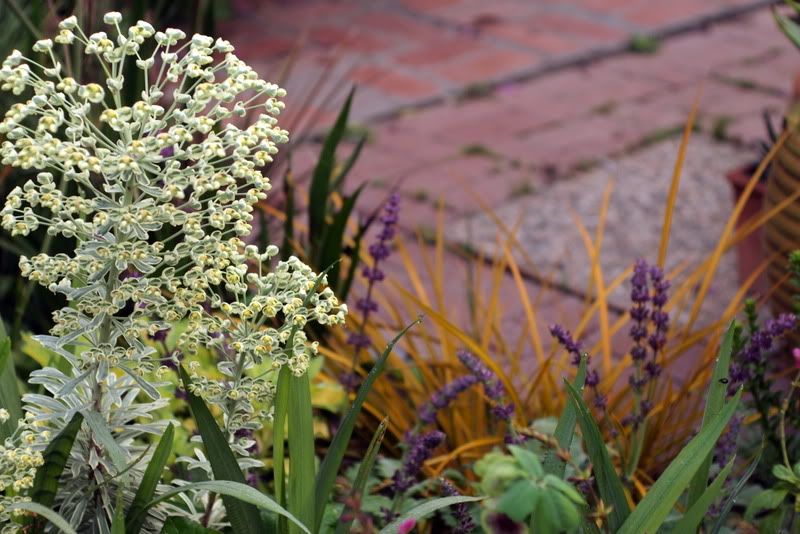 Annual poppies are still swaying, but not much longer. Temps forecast in the 80's for the weekend. Salvia 'Wendy's Wish in bloom in the background.
A magellanica fuchsia 'Hawkshead'
The alpine aloe, A. thompsonii, its 5-foot bloom stalk knocked nearly ground level by strong winds. Just noticed yesterday two more buds to join the four in bloom.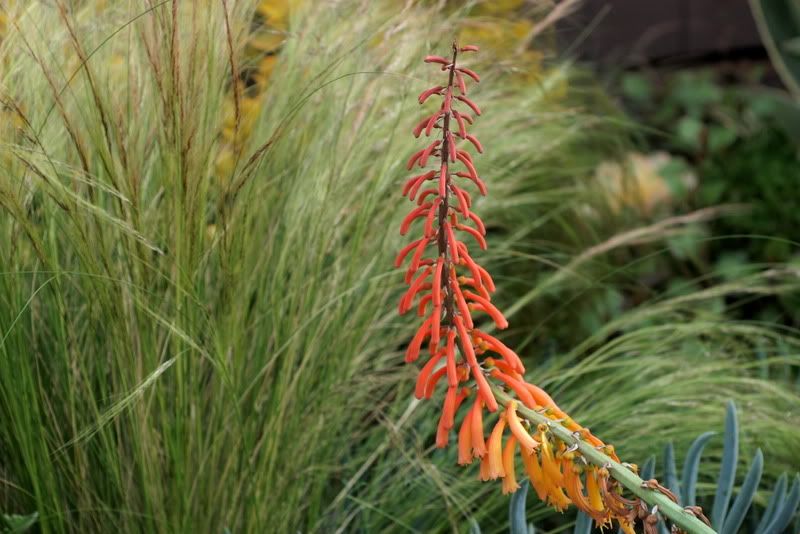 A nice geum from Annie's Annuals, throwing up lots of bloom, G. magellanicum.
(Probably need to thank Ferdinand Magellan as well as Carol at May Dreams Gardens this Bloom Day.)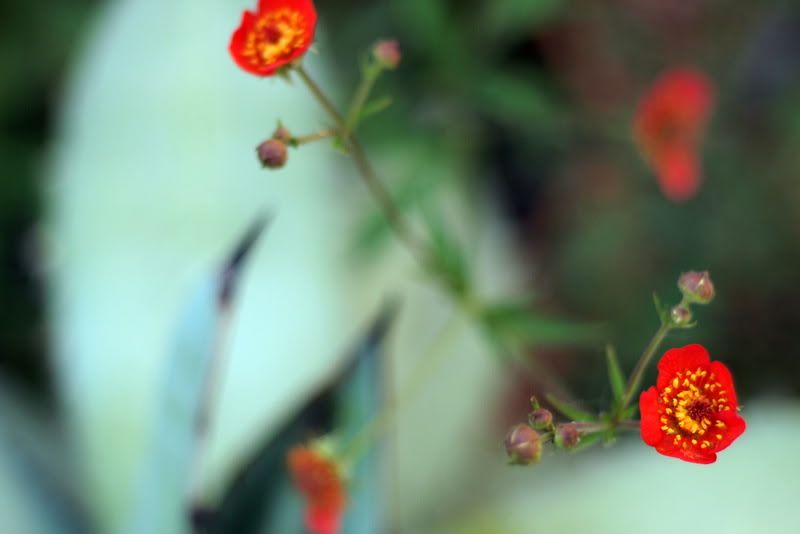 G. magellanicum leaning into Canna 'Intrigue'
Yes, that orange is also adjacent to purple in the garden, fronting this iris relative from Australia, Patersonia drummondii, with very little information available on it. Reminds me of blue-eyed grass/sisyrinchium with more substantial flowers, the leaves taller at about a foot. Purchased in the last month, probably just a spring bloomer. Here in its nursery pot.
And here in the ground, flowers closed in the early morning. Also reminds me of dietes, the fortnight lilies.
Amicia zygomeris has been lightly blooming all winter but is exploding into growth and more blooms.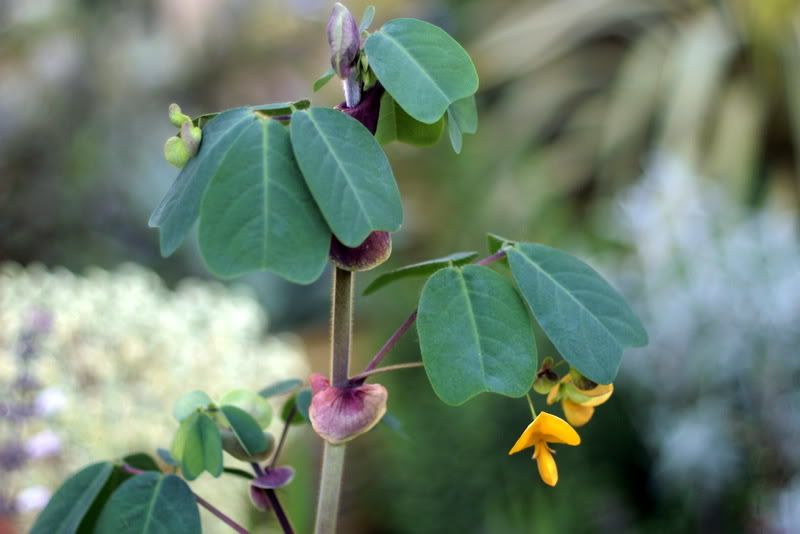 Massive cumulus cloud of Geranium maderense 'Alba' bisected by a branch of the smoke tree 'Grace'
'Grace,' who is also in bloom.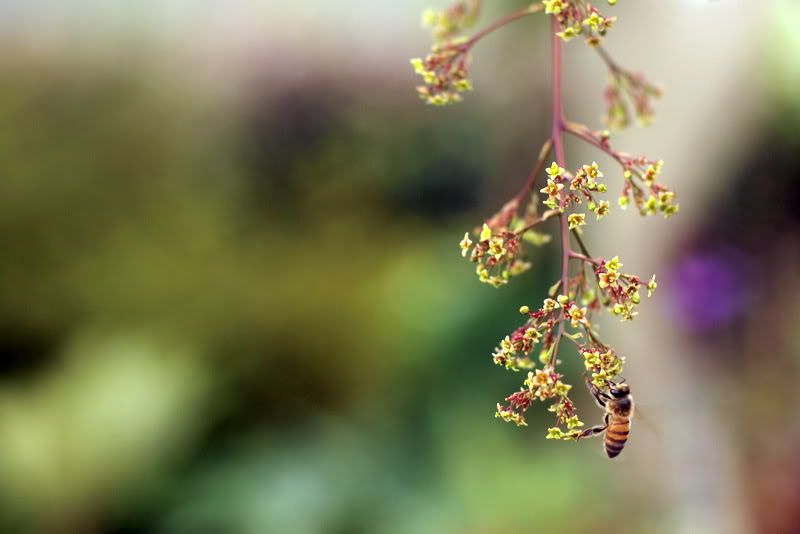 A different angle, with G. maderense in the distance, Euphorbia 'Ascot Rainbow' in the foreground, Euphorbia mellifera distant left.
(Cordyline is in a large pot with pelargoniums, coprosma, musschia, aeonium, Fuchsia 'Baby Chang,' and probably a lot more.)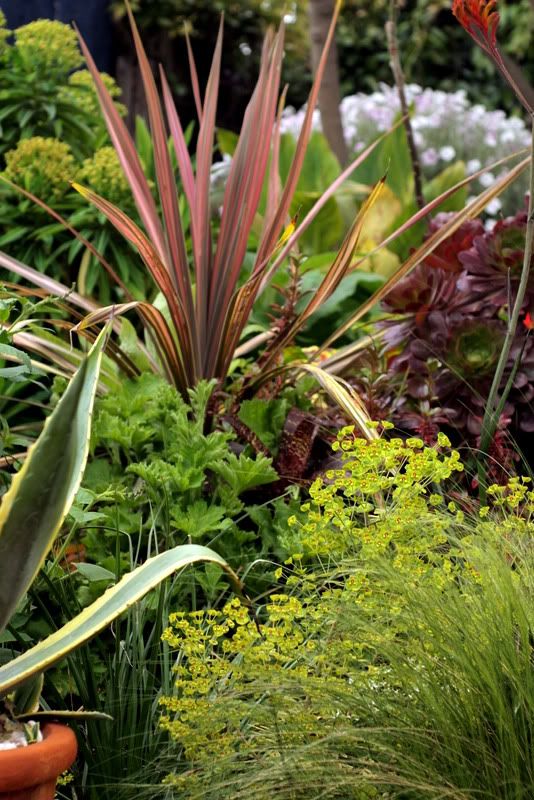 Potted pelargoniums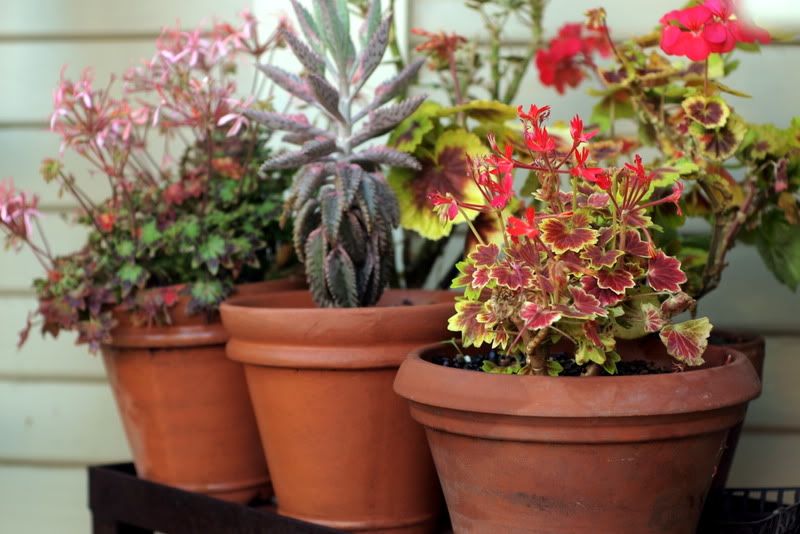 Knautia macedonia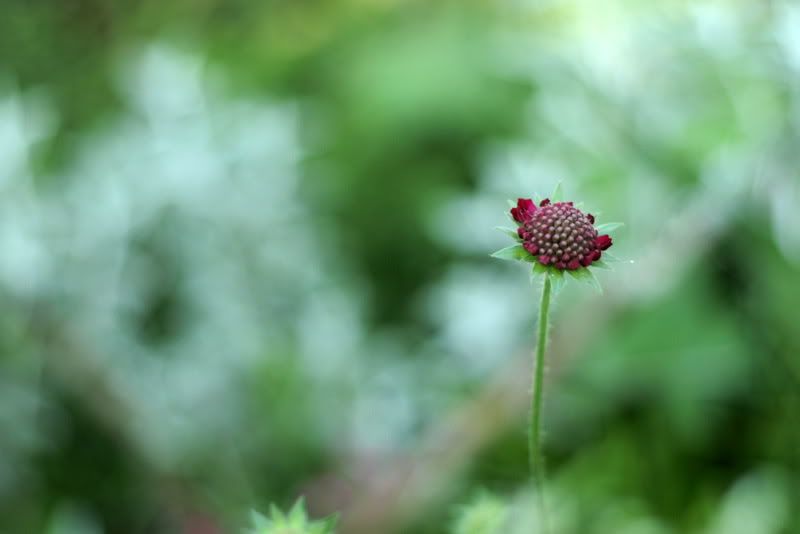 Salvias, dyckias, phlomis, Helleborus argutifolius still with fresh-looking blooms, a wonderful interval before the heat of summer arrives.
Wishing you all a vibrant Bloom Day to savor and enjoy this generous month.