This photo was taken by MB Maher during a visit he made to artists Sue Dadd and James Griffith's amazing Folly Bowl last summer.
Some agave, huh?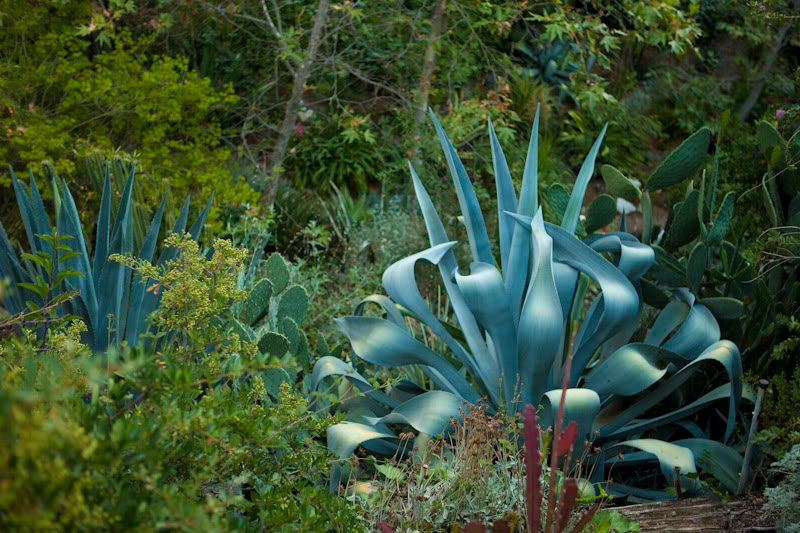 I'm now fairly sure that this uber-undulating creature is Agave franzosinii, which develops this distinctive kinetic energy to its luminous, silvery leaves when mature.
If there's another agave out there that gives this shimmering, geyser-like performance, please leave a comment and correct me. The Folly Bowl agave seems to corkscrew and twist as opposed to the
Lotusland
agave, whose leaves are more uniformly, well, lotus-like, but even so, I still suspect the Folly Bowl agave is A. franzosinii.
Lotusland
seemingly has the definitive A. franzosinii against which all contenders are measured. For example, the true A. franzosinii should not offset much, and the teeth are further apart than agaves sold under the same name.
San Marcos Growers
sells this agave from stock obtained from Lotusland, but occasionally this agave will pop up for sale from other sources, with variations such as the teeth being closer together or upright leaves that fail to cascade.
From Agaves, Yuccas and Related Plants by Mary and Gary Irish:
"No record exists of a natural distribution of Agave franzosinii. It has been known ornamentally for more than 100 years, particularly in European gardens. Whether it is an unusual form of A. americana, with which it clearly is related closely, or a one-time hybrid remains open to further work."
I have to thank garden designer Dustin Gimbel for bringing this agave's name to my attention. Many of us have probably looked at this agave in photos or in actual botanical gardens without knowing its name. I know I have.
Trio Nursery in Santa Barbara, California, has sold this plant recently and may have current stock.
There is a photo of this agave at the Ruth Bancroft Garden in Walnut Creek, California, from their Flickr photostream here, including an inspiring image of Ms. Bancroft herself still hard at work.