The entire name wouldn't even fit in the post title: Kalanchoe delagoensis x daigremontiana 'Pink Butterflies.'
How fitting that a hybrid with a parent commonly known as 'Mother of Thousands' would have a name involving syllables of thousands.
I've had this succulent packed amongst other pots on a tall plant stand, a snail-free zone, and thought its recent growth and coloring merited a more prominent place in the revolving summer containers display. The leaves look stitched together by hand, don't they?





Many years ago I brought home one of the parents, Kalanchoe daigremontiana, from a nursery, delighted with its bizarre intricacies of leaf. I admit the nursery owner even warned me: "You do know its common name is Mother of Thousands, right?"

So I get lots of extra plants. Win/win!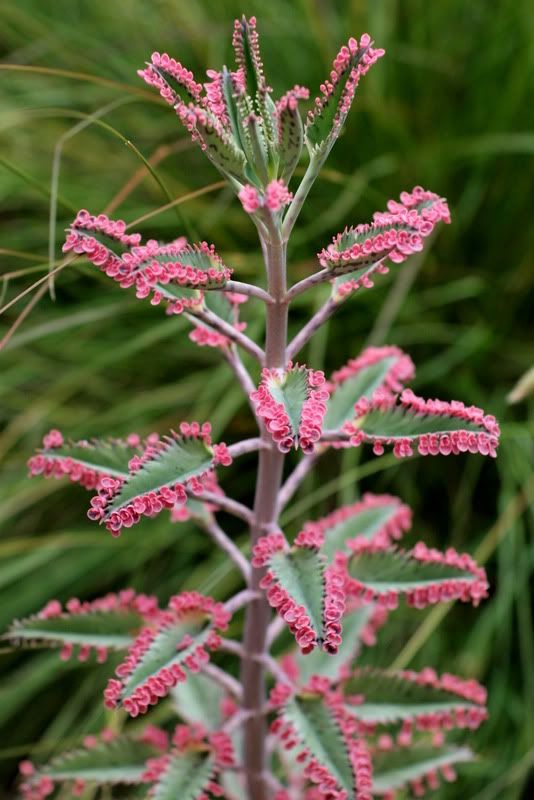 Um, no, lose/lose. The profligate K. daigremontiana propagated itself into every crevice, pot, micromillimeter of soil, each ruffly leaflet a potential plantlet, a busybody of a plant insinuating itself into everyone else's affairs. The crowns of agaves were the worst, since weeding around these plants is not just onerous, but painful.
I ditched that K. daigremontiana in short order, though still deal with its descendants. But this new hybrid was so fabulous it was worth the risk of living in an understory of 'Pink Butterflies.'
Yet the gods of hybridizing have smiled upon us with this bespoke, seemingly custom-made succulent. 'Pink Butterflies' has lost the ability to rain down its progeny on our gardens and will have to be propagated via cuttings. From Succulent Gardening; The Art of Nature:
"'Pink Butterflies' still produces copious quantities of tiny pink butterfly-like plantlets on its leaves but something in the mutation to a variegate form has taken away the ability for them to root. Sometimes a couple might take, but in general, no. It can still be propagated from cuttings just fine."
So this hybrid seems to have thwarted the Go Forth And Multiply impulses of its parent plants. 'Pink Butterflies' is a variegated sport of a hybrid known as 'Houghton's Hybrid.' I've been searching for information on the intriguing Mr. A.D. Houghton, but could find little online other than he lived and worked in San Fernando, California and was probably deceased by 1940. My Hortus III confirmed this date with a single entry: Arthur Duvernoix Houghton 1870-1938. His full name brought up a few more online entries, including a reference to his monograph on begonias and his book The Cactus Book, copy currently unavailable. Another title to watch out for at thrift shops and flea markets.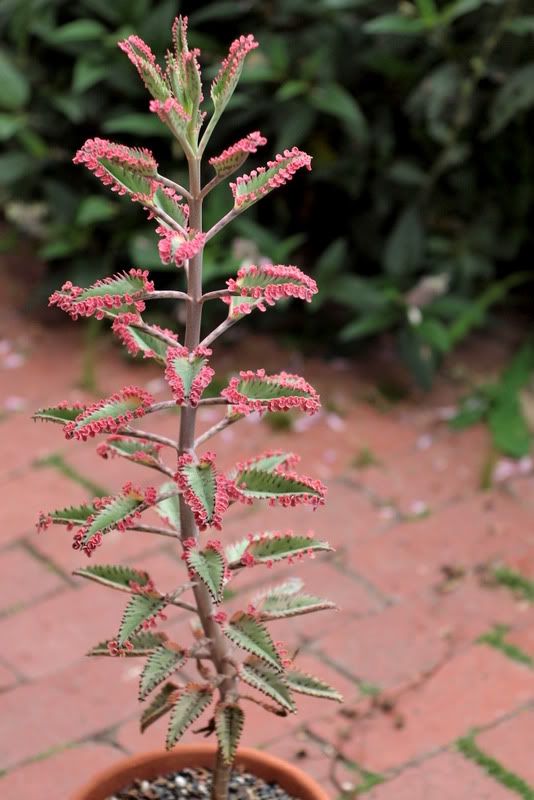 My plant comes from
Terra Sol Garden Center
in Santa Barbara, California.