Look away briefly, and June overwhelms winter's carefully laid plans.
Since spring in Southern California really gets going in March, by June plant growth is at full throttle.
The agaves, succulents, and Mediterranean evergreen shrubs have presented a sedate, enchanting picture all winter and spring.
By spring, I'm ready for a riot, for a zero-to-60 surge in vegetation that constantly teeters on tipping into chaos. I'm ready for summer, in whatever surprising form it will take. This year the mid-border perovskias I planned to enjoy late summer have been swallowed whole by June. I should have pulled out the burgeoning self-sown quaking grass Briza maxima to make way for the perovskia, but enjoyed the grasses' dangling lockets far too long. Two eyrngium have disappeared under a huge gaura's skirts, but I count this year a success, since one E. planum has managed to flower and may now hopefully reseed.
What looks like ample space in February is no match for June's sharp elbows.
Alarmed? Not really. This is where it gets exciting. The gauras last year barely stirred into life.
The perovskias are struggling somewhere amongst the haloragis and quaking grass, meant to rise up with the Persicaria amplexicaule.
Sure, many of these plants are easy thugs in areas with summer rain. I'm just grateful for the lush drama they bring to my summer-dry garden.
The Amicia zygomeris planted last fall has been a mesmerizing presence that I've allowed to grow as large as it pleases.
Permissiveness the first year in the garden, discipline the next.
In a small garden, something's gotta give, and this year it's the crocosmia getting squeezed by the amicia.
Crocosmia is tough enough to take it and will be back in force next year.
I'm keeping a careful eye on this Lobelia tupa, moved last fall to this roomier spot.
Nothing is allowed to encroach on this lobelia, not even Salvia 'Wendy's Wish.'
(The California poppies are long-lasting in this year's coolish spring/early summer.)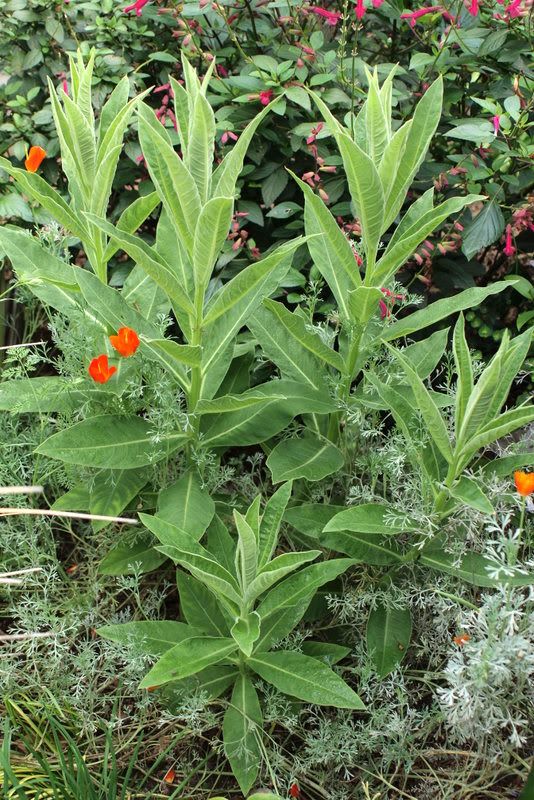 I'd never subject anything really special to the border melee in June. That's what containers are for.
But the pots lining the border do see a fair amount of action. Gaura lindheimeri leans into a potted sotol. Geum magellanicum gets support from potted Agave titanota*.
Onslaught of Salvia cacaliifolia barely held in check by a potted, battled-scarred A. americana. This salvia is flowering so well in this spot, I'm giving it a lot of latitude.
Cotyledon orbiculata var. oblonga, the 'Finger aloe' disappearing under Teucrium 'Fairy Dust.'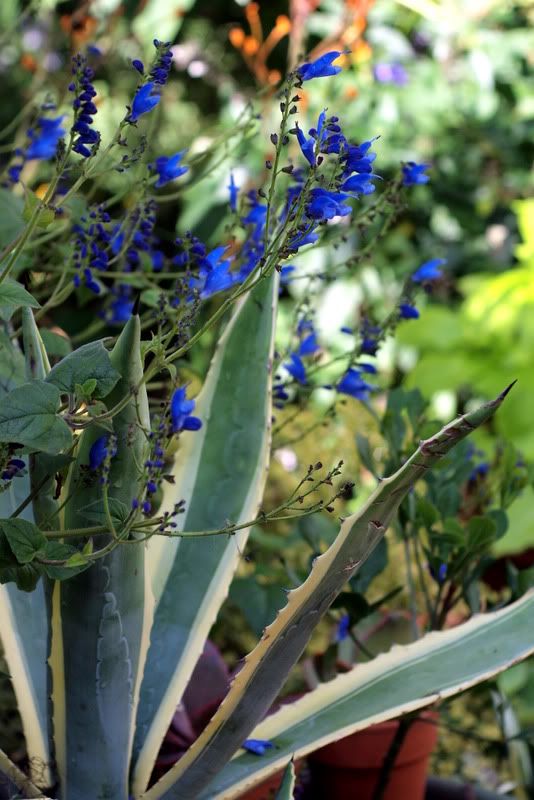 Evie among the hellebores, begonias, and compost buckets against the shady back wall contemplates the pushy, shoving garden spectacle of June.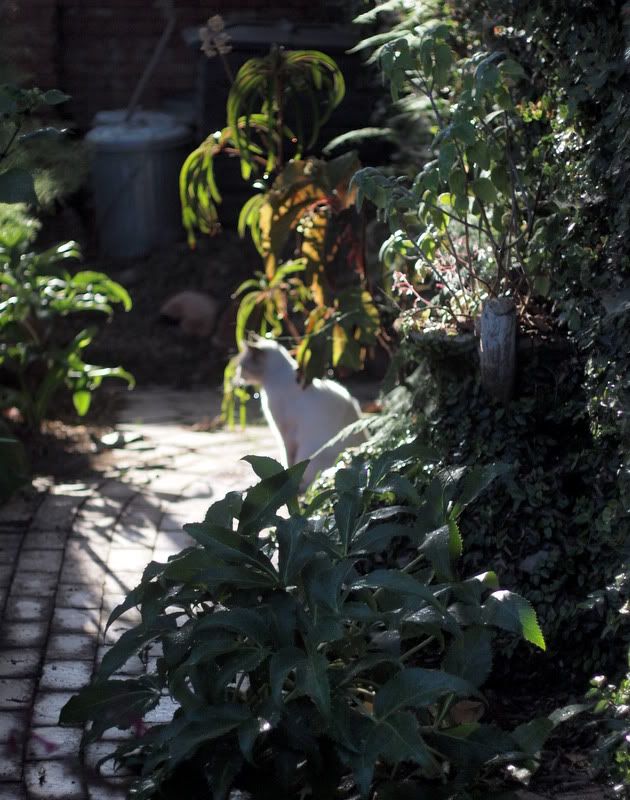 *A guess at this unnamed agave's ID. Input welcome.