Musschia wollastonii bulges out of this large pot at an angle as though off a cliff in its native haunts of Madeira, Portugal.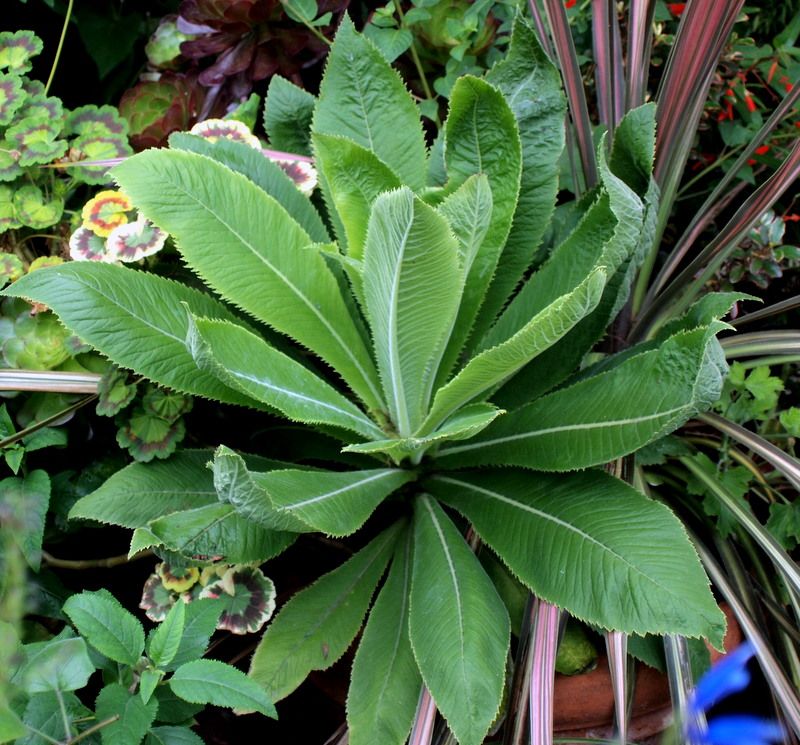 It's gaining size rapidly, pushing aside the cordyline, but I try to stay calm and suppress an increasingly giddy expectation that it possibly intends to bloom this summer. Internet photos of its 6-foot panicles of bloom show chartreuse flowers which remind me in character of Michauxia tchihatchewii, pronounced like a sneeze, another odd bellflower I grew once, with its "Catherine wheel" flowers. (Always that reference to michauxia having "Catherine wheel" flowers, a charming description. I remember the collaboration between choreographer Twyla Tharp and musician David Byrne called "The Catherine Wheel" but other than that, the words draw a blank. Possibly a reference to a medieval dance or a wheel for spinning yarn? This morning I looked it up and wished I hadn't. An appalling Middle Ages method of torture and death.)
Thankfully, this biennial Madeira Giant Bellflower has no such cruel associations. *Named for the physician and explorer A.F.R. Wollaston. John Grimshaw's Garden Diary has an interesting post on Wollaston and some of the plants given his name, like my Wollaston's Musschia, which has been thriving in filtered morning sun and the even moisture a container provides. An exciting plant for shady gardens.
*According to Mr. Grimshaw, not named for AFR Wollaston after all…