Ah, the synergy of pots and garden. Apart from the infinite aesthetic considerations, from a practical standpoint, pots can render any garden effectively zoneless or, as in my very small garden, they can stretch available planting space. In a process I repeat over and over, a prized, rare agave is finally taken down from its prominent position on a table and moved to ground level, whether planted or kept in the container, to suffer the slings and arrows of garden life — wayward paws, my own clumsy two feet, mollusk attack. Sometimes I keep agaves potted because of the formidable arrows they can sling at ankles and dog noses. Due to his fearsome spines, I couldn't make up my mind with Agave 'Jaws' but compromised by moving him to the gravel garden still confined to a container for quick removal. The passive-aggressive approach, simultaneously planted and kept in a container. That was years ago, and the roots have escaped the drainage hole and are firmly anchored in the garden. The cats love scratching their cheeks against his leaves.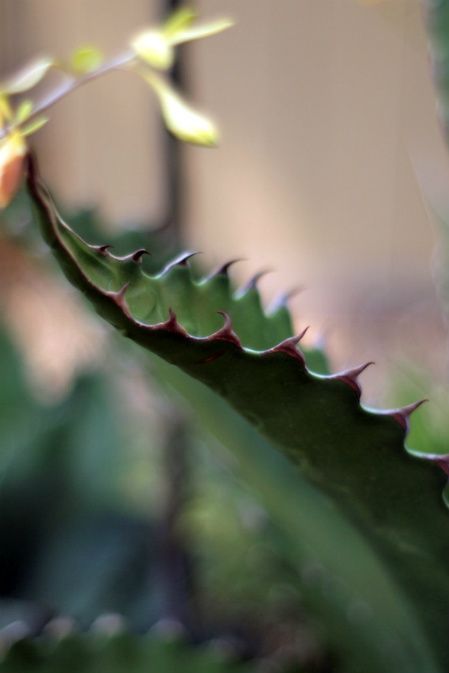 It's not that an agave loses its attraction, but more a matter of keeping table space clear for future potted attractions.
Now it's Agave desmettiana 'Joe Hoak's' turn to leave the safety of high places. I doubt I'll ever let him out of a container, though.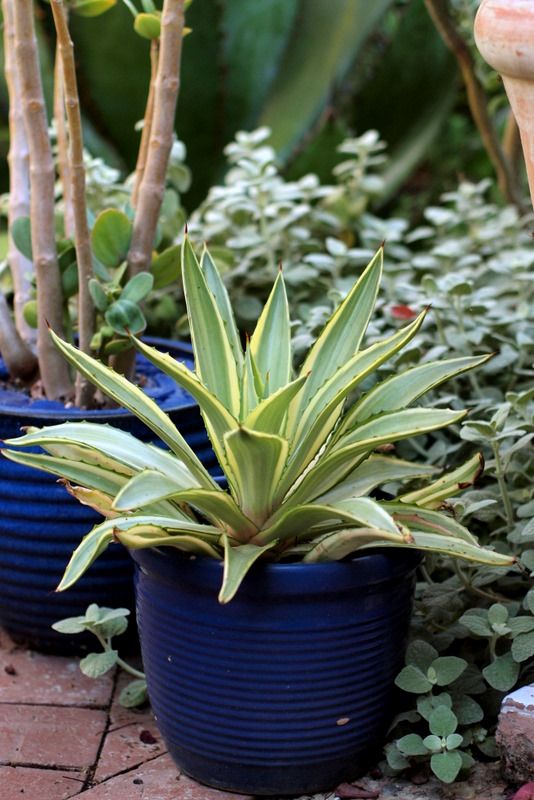 The tropical, soft-leaved desmettiana agaves always get a little scruffy and snail-bitten mid-winter, with even their symmetry seeming somehow diminished. By late summer, they've shaken off any residual winter doldrums and have arched into their finest urn-shaped form, and I can't resist letting him join in the garden festivities. But if I catch a snail within 5 feet of Joe, back up on the table he goes, which is why he'll stay in a pot. Plant Delights currently lists this agave, and theirs show the pale color of blanched endive. I'm not sure if there are different forms of this selection in circulation, or if it's just a matter of different photographers. (Or possibly from keeping the agave indoors half the year?)
Similarly, Agave 'Cornelius' was recently planted in the front gravel garden, where he'll gain size much faster than in a container.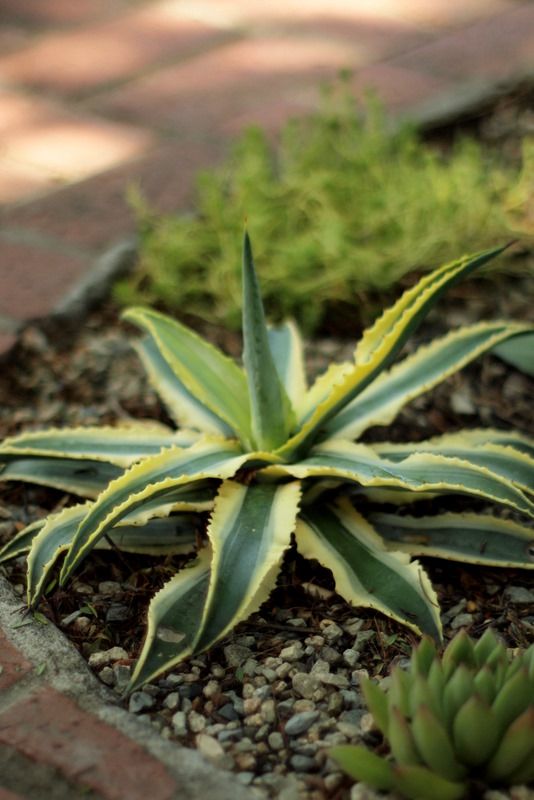 Almost all the plants in the gravel garden did potted duty on tables or in large pots for a period of time. The furcraea, the Agave 'Jaws,' the dasylirion in the distance, even the 'Kiwi' aeoniums multiplied to this size and were enjoyed in a large container before being planted out. Whatever temperature a garden experiences mid-winter, these sculptural plants were born for plinth and pedestal, be it in the humblest or most extravagant container. Containers keep them protected, admired — and, where necessary, always ready for transit as temperatures dip. Semper paratus.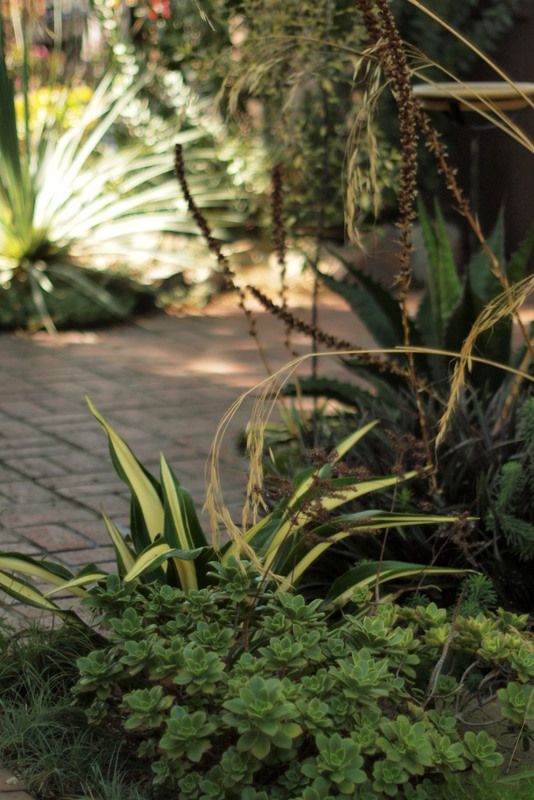 Aloes too. Aloe peglerae still in a pot.
Many of my aloes are kept in pots because the garden can't accommodate their eventual size. In the garden, Aloe marlothii lounges on helicotrichon, blue oats grass.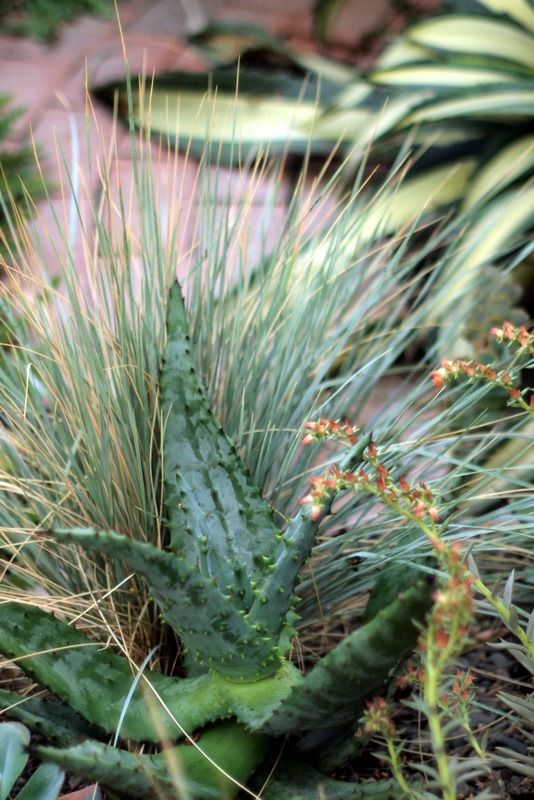 Unlike the stiff leaves of Helicotrichon elegans, Sesleria 'Greenlee' seems more pliable for succulent plantings.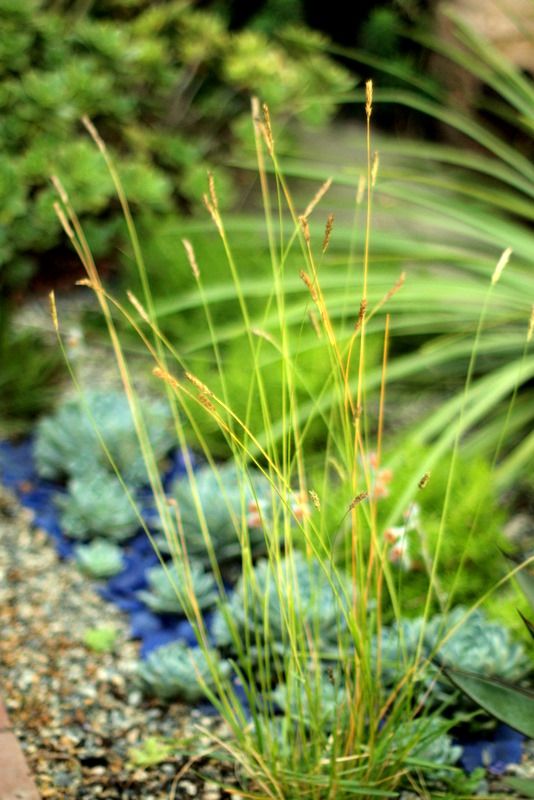 This Echeveria 'Opal Moon' wasn't even potted up but had a coffee can sleeve slipped over the nursery gallon.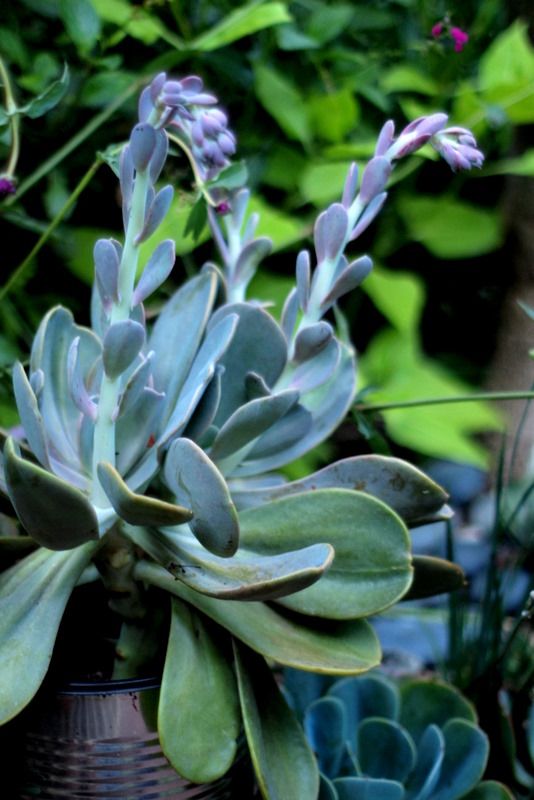 Echeveria gigantea wouldn't keep these unblemished leaves for long planted out in the garden.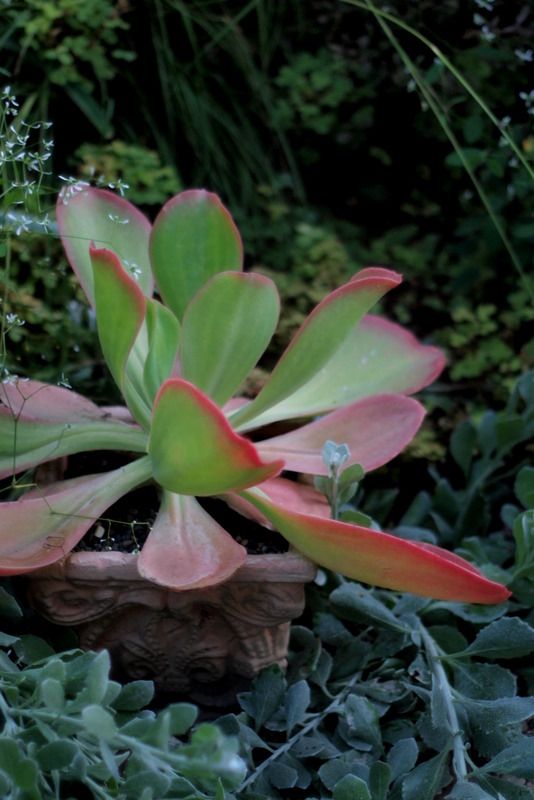 Kalanchoe synsepala recently made the move to the garden. A "walking" or stem-rooting kalanchoe, I needed to get this out of the pot to see it in action.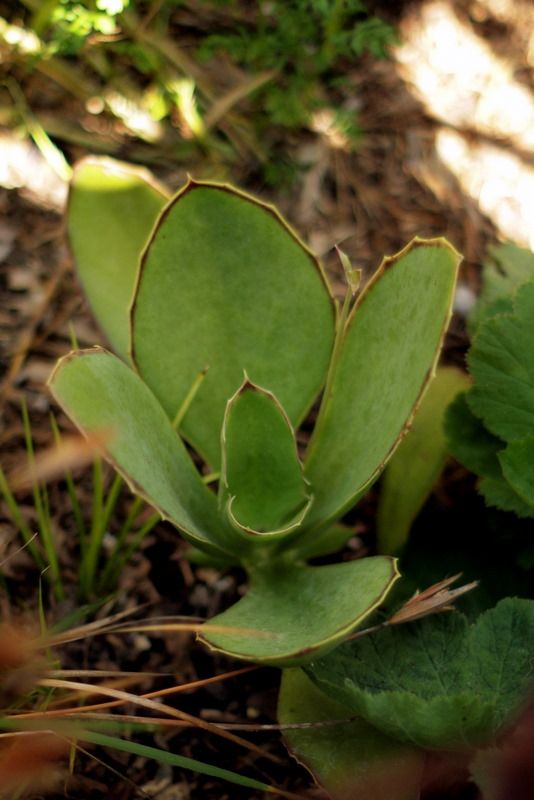 As the nip in the night air increases, it signals the great container migration is about to begin again in gardens all over the world.
So much of the dynamism of a garden is owed to pots and containers. Semper paratus!