Emily Green, in the September 9, 2011, edition of The Los Angeles Times, discusses many of the hidden costs related to keepings lawns, including the health risks to those often hired to maintain them in Southern California, in her piece entitled "The health of our gardens, and the people who tend them," found here.
In discussing the health risks faced by landscape workers, the "mow-and-blow" crews:
"Studies conducted on farm laborers working with the same suite of pesticides used in lawn care suggest that home garden teams might also be more likely than the general population to develop the pesticide-related issues of non-Hodgkin's lymphoma and having children with birth defects…The status quo is clearly unacceptable. Yet here we trip into the biggest pitfall facing a transition from turf to more environmentally beneficial complexes of trees, herbs, shrubs, succulents, meadow grasses (not turf) and flowers.
"As obvious as it sounds, to make the change, Southern California's homeowners would have to care as much about the land around their homes as the house itself. This would mean learning how to garden themselves, or paying skilled gardeners, not mow and blow teams."
And to her credit, Ms. Green doesn't underestimate the difficulties homeowners face in transitioning from relatively easy-care lawns to more complicated, diverse landscapes:
"It seems clear that homeowners and residential mow and blow crews can't effect necessary change alone. We need the entire grounds maintenance industry, along with landscape design and public expectations of what constitutes a nice yard, to change. We need civic leaders who understand that a healthy Los Angeles cannot afford lawn as a default landscape."
Personally, I love the surge of plants pressing in all around, the sense of being immersed in a landscape, and would never keep a lawn, but I fully appreciate the difficulty losing the lawn presents for many homeowners. Practically speaking, it's not an easy thing to accomplish, especially if you're not that interested in plants and gardens to begin with.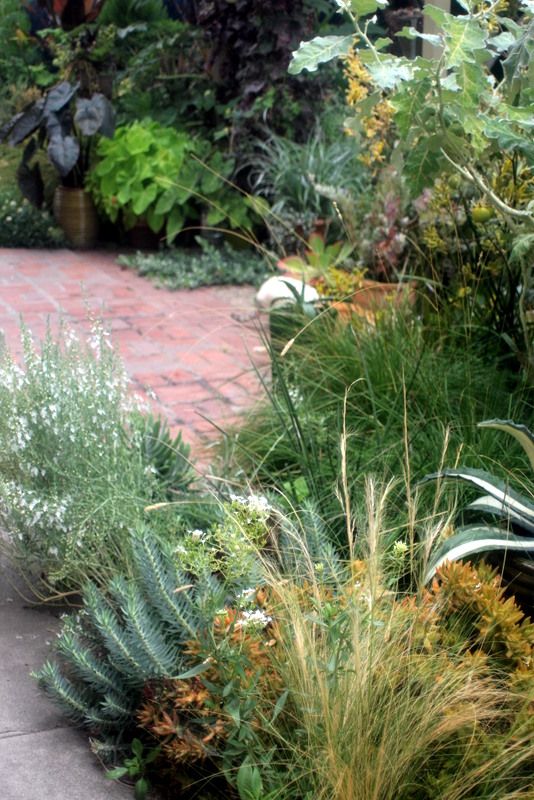 Of course, there are entrenched interests quite happy with the status quo. Catherine McLaughlin, with the garden design firm of Rodgriguez & Satterthwaite, took this photo on a local Los Angeles freeway last week. I've seen this truck around town too.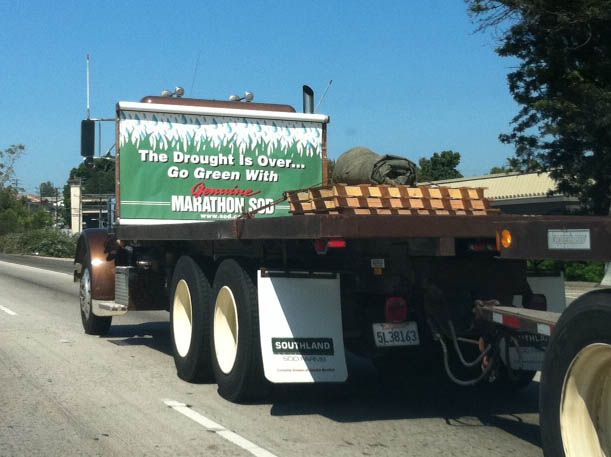 Emily Green blogs at Chance of Rain.