There's some great names in the plant world, and Cussonia is up there with some of my favorites.
And for pure enjoyment, no history of the name is necessary, just an appreciation for vowels and syllables.
Also lends itself to a good name for a cat (Pussonia?). And then there's the visual enjoyment they provide.
Some scant history. Small evergreen trees from South Africa. Right there you know they'll be tender, but still eminently desirable for containers. Members of the Araliaceae family, another name with a good complement of vowels. I'm hesitant to write their common name, Cabbage Tree, since it might then be confused for an edible, which it emphatically is not. Don't you dare go near this with a dinner fork.
From plantzafrica, describing C. paniculata: "The name Cussonia was given by Carl Peter Thunberg to commemorate the French botanist Pierre Cusson (1727-1783)."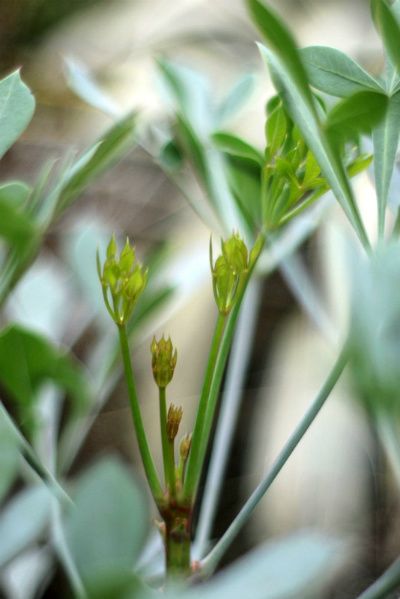 I have a small, struggling pot of Cussonia paniculata, but these photos are of the splendid Cussonia gamtoosensis, or Gamboos Cabbage Tree, which has done the most rewarding thing any plant can do, and that is to seem genuinely glad to be under your care. C. gamtoosensis has flourished, zooming ahead of C. paniculata in leafage and trunk. Purchased from a local nursery spring 2011. I had passed it by in autumn 2010, but noted the exuberant little guy again the following spring, after it had spent the winter sitting in an aisle of remaindered plants, now offered at discount. My Cussonia paniculata is such a malingering, cranky, trouble child that I hesitated briefly on bringing home another, but this Gamboos Cabbage Tree's vigor and lust for life after a long winter in a gallon can solidly won me over.
Since Pam/Digging has declared this Support Your Independent Nursery month, a nod is in order to this great local nursery, International Garden Center & Floral Design and their amazing selection of pottery, succulents, water plants. I pop in every time I work near the airport/LAX. (The grower of this cussonia was Northern California's Annie's Annuals & Perennials.) Both these cussonias I'm discussing are caudiciform, growing from a swollen stem or caudex, but this is only apparent on my C. paniculata. The gamtoosensis shows no caudex at all. But that tells you how tough and drought tolerant these little trees are, which makes them perfect candidates for container culture.
Which brings us to the succulents planted at the base of the cussonia, Delosperma sphalmanthoides, bought from another wonderful independent Northern California nursery, Cottage Gardens of Petaluma. This little succulent was growing in a gorgeous display garden at CGP. One of the very helpful nurserymen led me to it and pointed it out as his favorite. Also known as the Tufted Ice Plant, High Country Gardens lists it for zones 5-9, so this little one is not tender at all.