First bloom on little Pelargonium echinatum, which I wrote about last January here. That its gnarled, dessicated branches somehow put on this performance every January is like getting a sneak preview of spring in a 6-inch pot.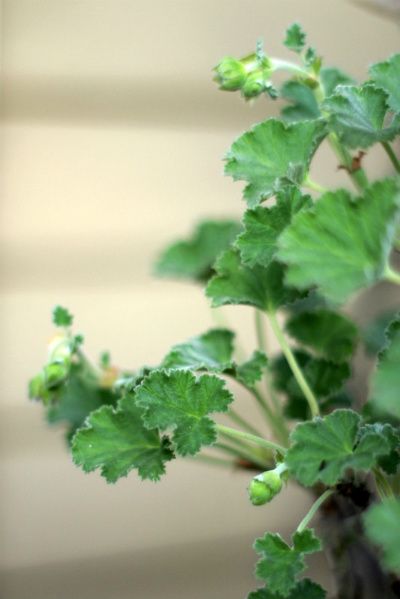 And oh, happy day, the first bloom my garden has ever seen from coronilla, which I wrote about last May here. The short version is, plants mysteriously die. Sometimes cuttings can be taken before they do, sometimes not. Mercifully, this last cutting I took of the dying shrub rooted.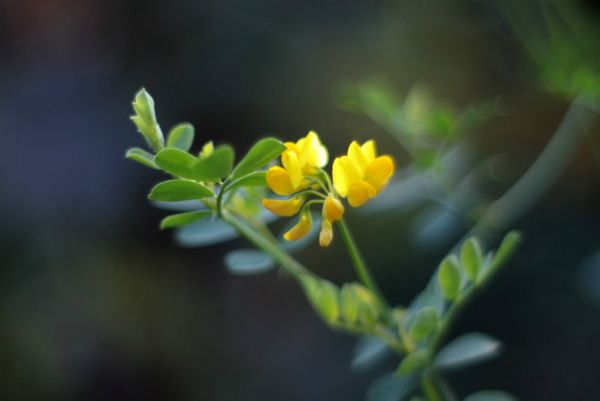 This lanky shrub shimmies through a spiral tuteur I bought for it last summer, which gathers up its many scandent stems and lends some needed organization and support. Goldeny pea flowers, beautifully glaucous, rue-like leaves, delicate tracery, shadowy patterns, coronilla has it all. And scent too, though I haven't detected any yet. Maybe as more blooms open.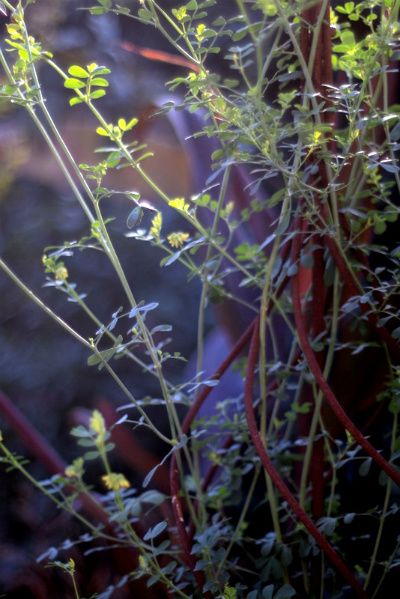 I have one more phoenix plant coming along, a single cutting of Euphorbia ceratocarpa that took well over a year to root, which it finally did this summer. The cutting is now about a foot high and seems to be safely on its way to planthood. I had no idea cuttings could take such time to root. Seeds, yes. But waiting over a year for a cutting to root, as was the case for both the coronilla and the euphorbia, was a complete surprise. The only photo I could find of this willowy euphorbia is from very early days in the blog.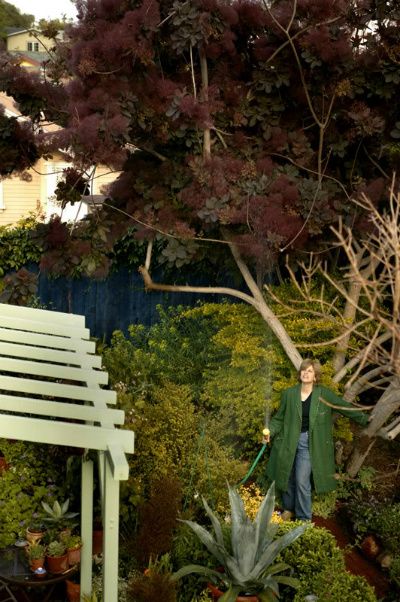 The typical euphorbia flowers can be seen against the blue fence, to the left of the golden duranta, which is also now gone. Indeed, the pathway that I'm standing on is mostly gone and given over to planting. My neighbor now has the potted Agave americana, and those smoky columns to the left of the agave are the lophomyrtus I just moved to the front garden. I was apparently intending a formal parterre-ish framing for the agave, then obviously changed my mind. There's a golden coprosma in there too that has been moved to make way for a melianthus. (What a lot of goldeny stuff I had going.) The pergola has since been repainted, and Digitalis ferruginea has been planted where the agave pot once stood. The only thing that remains the same is that ratty robe, which I coincidentally am wearing now. Seems I change out plants much more frequently that I do my wardrobe.