Insubstantial Sisyrinchium bellum, Blue-Eyed Grass, is an elusive subject for the camera due to its habit of shutting its petals around "magic" hour, that pre-sunrise/post-sunset window when a photographer can rarely go astray. Still, it's an utterly charming denizen of path-side plantings. Modest, self-effacing, unobtrusive, all those old-fashioned virtues are embodied in this California native.
Its neat and tidy evergreen grassiness would hardly be worth a mention all year, but for the morning in late winter when the slim leaves are topped with starry blue eyes winking up from the pathway's edge, where there was nothing but green the day before.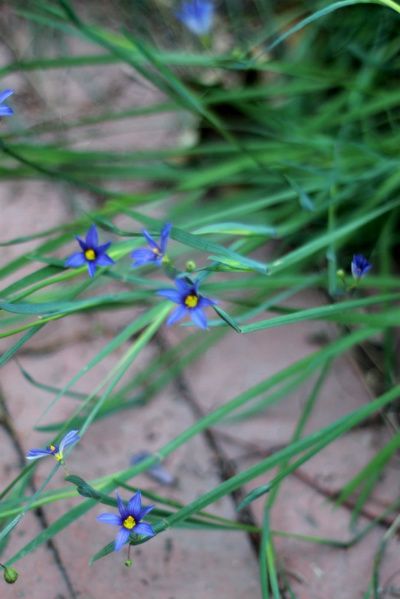 This little relative of irises will never command a room, but it also will never be an obnoxious trouble-maker like Ipheion uniflora, a blue-flowered menace of a bulb which blooms here about the same time. Like the quiet person at the party that unexpectedly scintillates on closer acquaintance, that is the delicate appeal of Blue-Eyed Grass.