As I've written in posts like "Type G Personality," it seems every summer has its folly. This year looks to be no different.
The chains are hung.
I'm using the word "folly" to mean a project of dubious merit, not in the gardenesque sense of anachronistic temples and grottoes popular in 19th century landscape gardens.
The chains are an attempt to forego using trellis to support the grapevine, which needs some help to make it up and then over the top of the pergola. I've moved out most of the pots and clutter under the pergola (yes, this is the cleared-out version), and intend to keep it more open. Handy and I had fish tacos and Peronis here last night. The little pot is a short-timer, to be potted with Agave 'Kisho Kan' and moved elsewhere. I've sworn to keep this table free of plants. The occasional cat may perch here, but when the mid-day summer sun hits the galvanized top, they're going to feel about as comfortable as…well, as a cat on a hot tin roof. We mainly use the tables early in the morning and at the end of the day.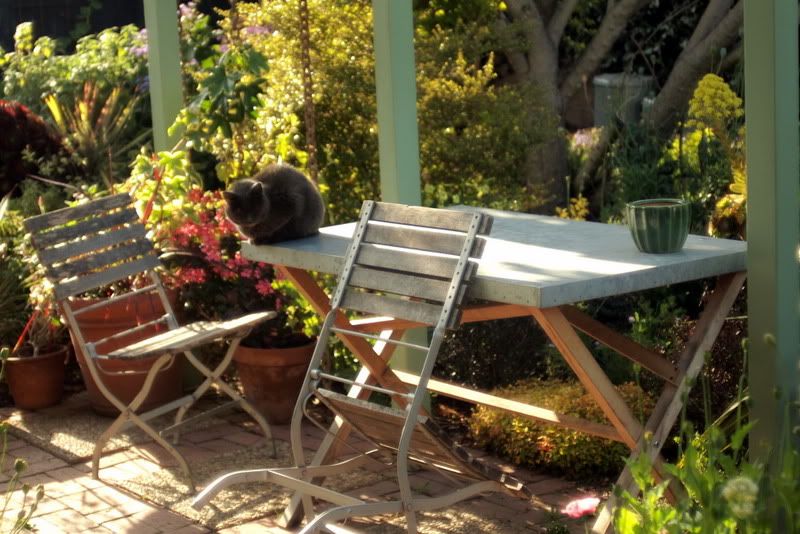 The grape, a dwarf Vitis vinifera 'Purpurea,' is grown for its leaves and not its fruit. I might have to thin the vine a bit to keep it confined to the lengths of chain.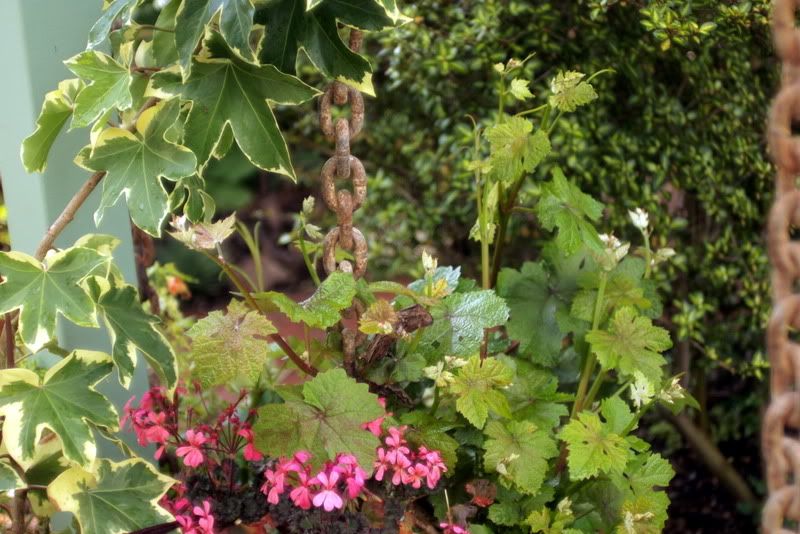 The fatshedera was also grateful for a little support.
This is a good opportunity to introduce my partner in folly, who found the chains when I expressed interest in the idea, then lent a hand in hanging them. They were very heavy. He'd rather stay incognito, so for purposes of the blog, he'll be known as "Handy."
It was Handy's idea to swag the chain horizontally, like a valance.
I'm not sure about the green paint of the pergola and the rusted chain, which kind of mixes the metaphor (upkeep and decay?) Not too sure about that swag either. But it'll be interesting to find out how the grapevine and chain interact. Folly 2010 is launched.