Lobelia tupa from Chile is blooming for the first time in my garden, thereby making everything right again with the world. Long time coming, Ms. Tupa. The color on the lobelia is deeper than salmon but slightly less intense than tomato red. Pure and unmuddied. Don't crowd her and give her lots of compost. 4 feet tall now but still a young plant. Seems to be a late-summer bloomer everywhere else in her favored digs of zone 8 and warmer.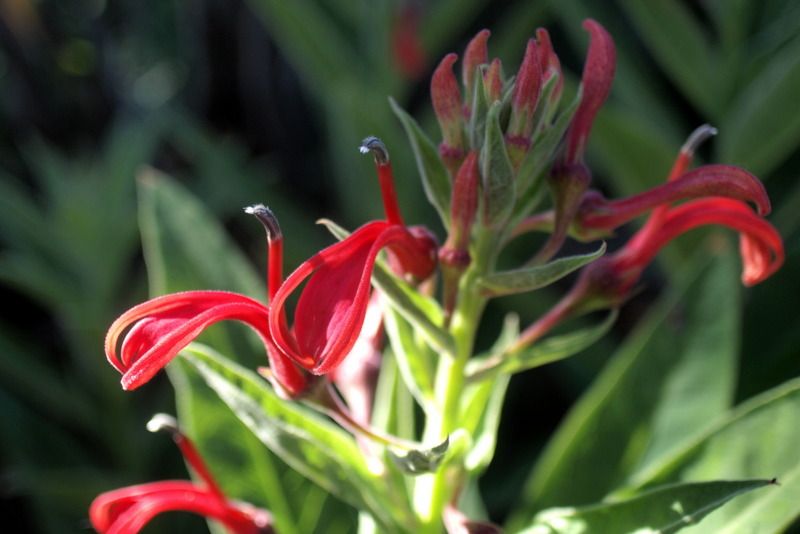 I had an enormous Agave bovicornuta growing here last year. Big mistake, for both me and the agave, whose leaves were spotting brown from the relatively higher levels of irrigation in the back garden, while my forearms were spotting red from the frequent piercings from its formidable spines. Never should have been planted in a part of the garden I change up so often. Its rapid speed of growth did catch me off guard. For old time's sake, a photo of the agave from last year. Was that cowhorn agave purdy.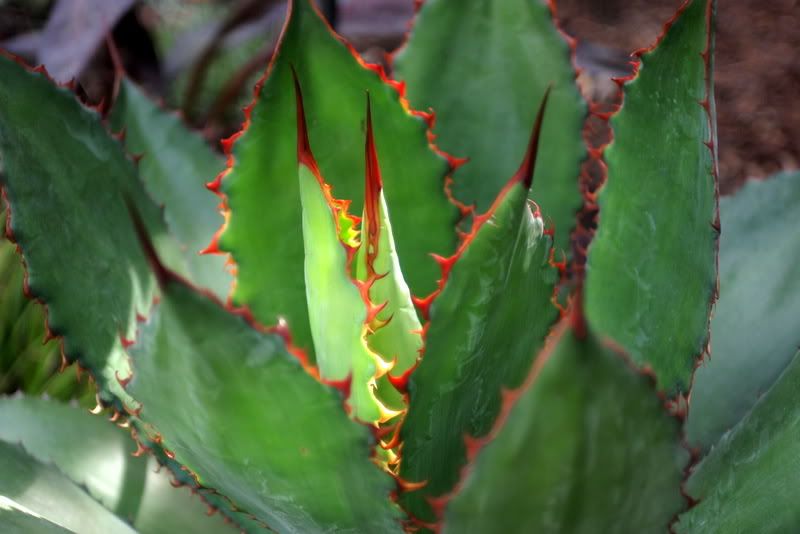 Petunia integrifolia axillaris ("Wild White Petunia") has started to reseed about, which is always the game plan. Tough and fragrant.
The mother-ship plant came from Annie's Annuals & Perennials.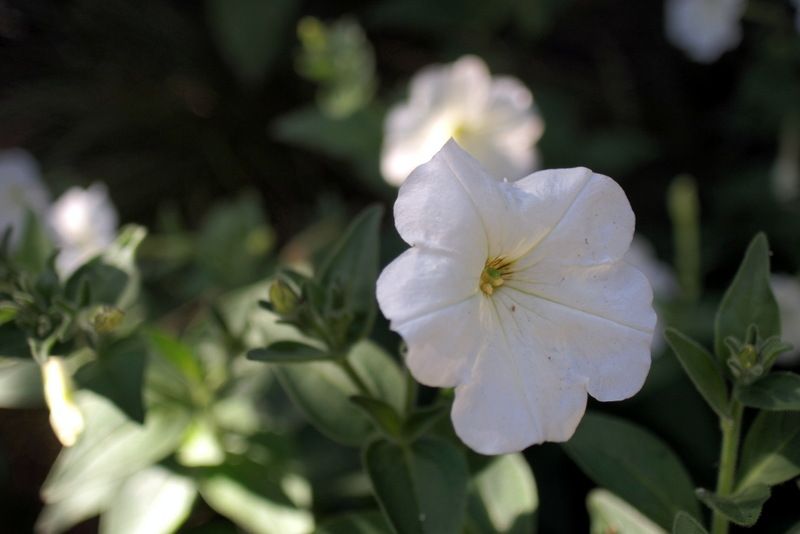 Shrubby Teucrium betonicum, also from Annie's, looks promising but would probably appreciate being moved out of the tough-love gravel garden.
The rolling tool cart is serving as a summer conservatory, changed out frequently with the potted plant du jour.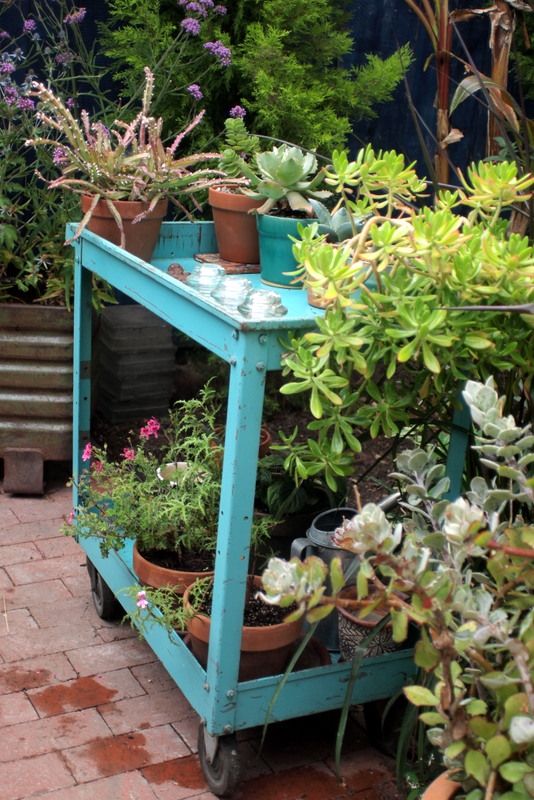 Moving the Lepismium cruciforme here into full sun will deepen its reddish coloration. I'm waiting for this trailing, epiphytic cactus from Argentina and Brazil to gain some heft and length before moving it to a hanging container. All those tiles I seem to accumulate make great pot trivets, and the glass interrupters are useful for holding down tablecloths in a breeze. Finding sensible purposes for irrational magpie acquisitions is so satisfying. Still haven't identified the sedum in the foreground on the right.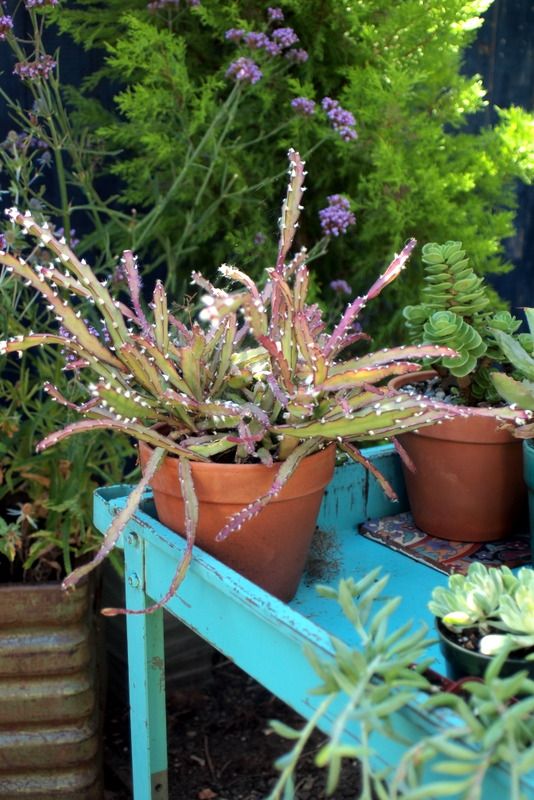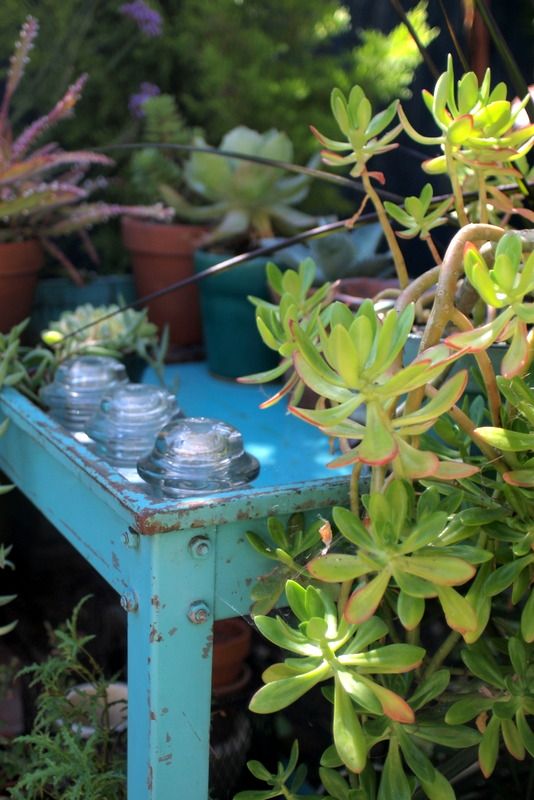 The stacked-leaf succulent is Portulaca molokiniensis from Hawaii, which shatters my childishly cliche notions about Hawaii's plant life as one vast Rousseau's jungle. I may need to take up my brother's invitation for a visit one of these days.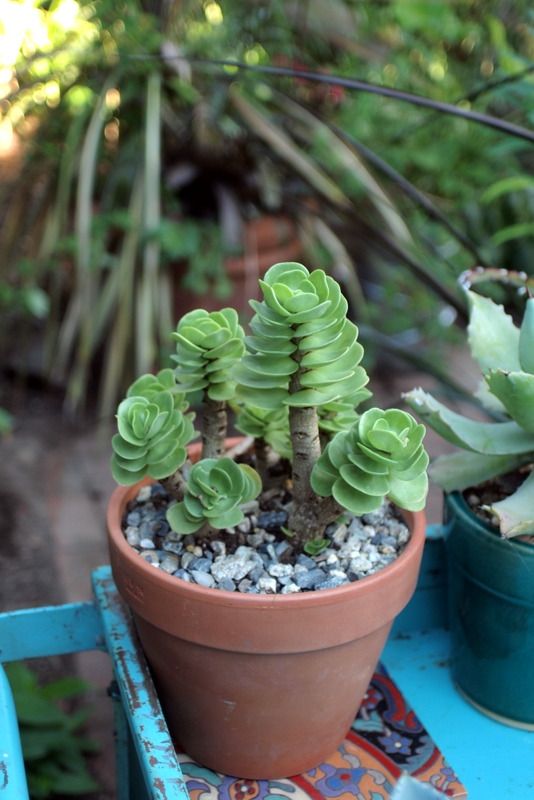 Our early morning marine layer, aka the June Gloom, which I find anything but gloomy, is almost over. Dahlias just beginning.
In addition to 'Chat Noir,' I planted a couple other dahlias, for a grand total of three this year. They're a tricky plant to fit into a tiny garden along with the other plants I enjoy growing, so three is really pushing it. Keeping them in pots in the garden border makes it easy to dial in their water and compost needs. Even with these maneuvers, I may end up moving them to my community vegetable plot since their needs are so similar to vegetables.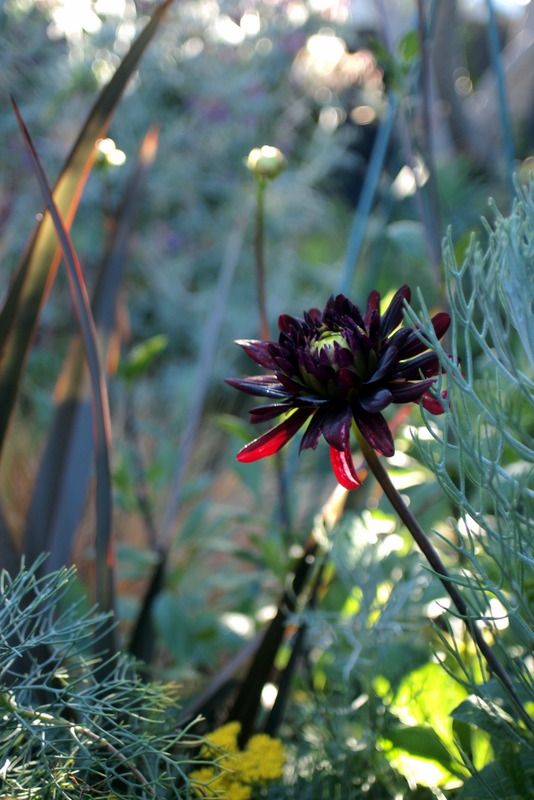 I mentioned my infatuation with expanded steel in a recent post, seen here in a little table I've had for some years.
If you can't stop yourself from placing potted plants on outdoor tables, even to the point of ruining them, this is the way to go.
Containers drain right through the fretwork.
Southern California is a graveyard of machine shop detritus like these mysterious former agents of industry.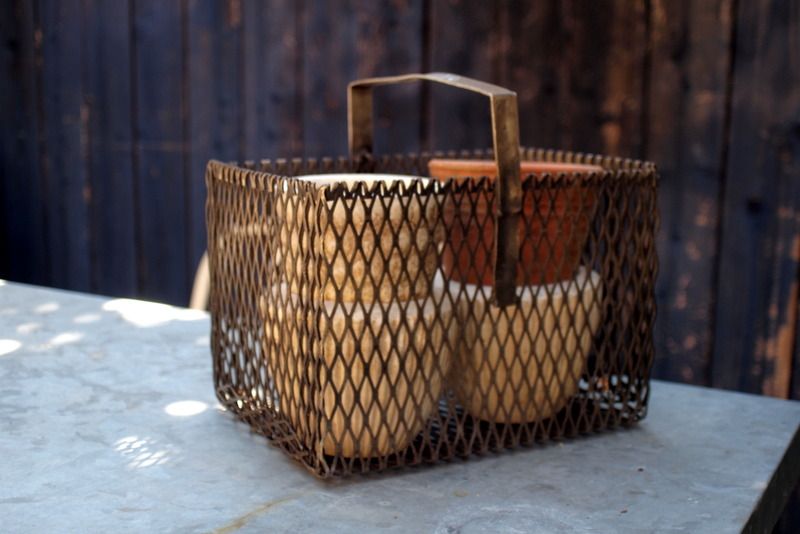 Time for another good prowl through the salvage yards. And the CSSA Annual Show & Sale at Huntington Botanical Gardens this weekend. All on just two days, cheated out of a long weekend by the 4th orphaned in the middle of next week.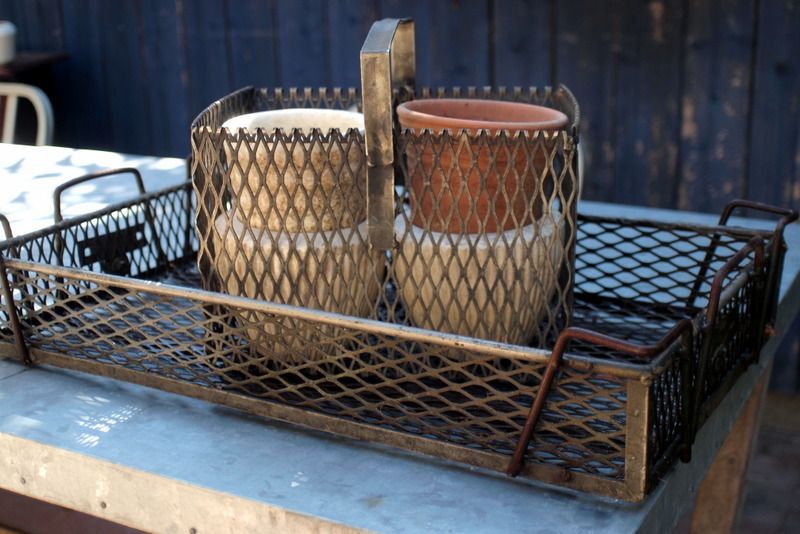 Another entry from the Agaves I Have Loved and Lost department, this one taken in June last year of my now-departed Agave guadalajarana. Maybe I'll find another one at the CSSA sale.