I want to show you a house and garden I found earlier today, but first you'll need to look at the Pacific Ocean, just as I did before I found the house.
No, this wasn't a vacation. I had a couple hours between jobs in San Pedro, California, a small town just over a couple bridges from Long Beach.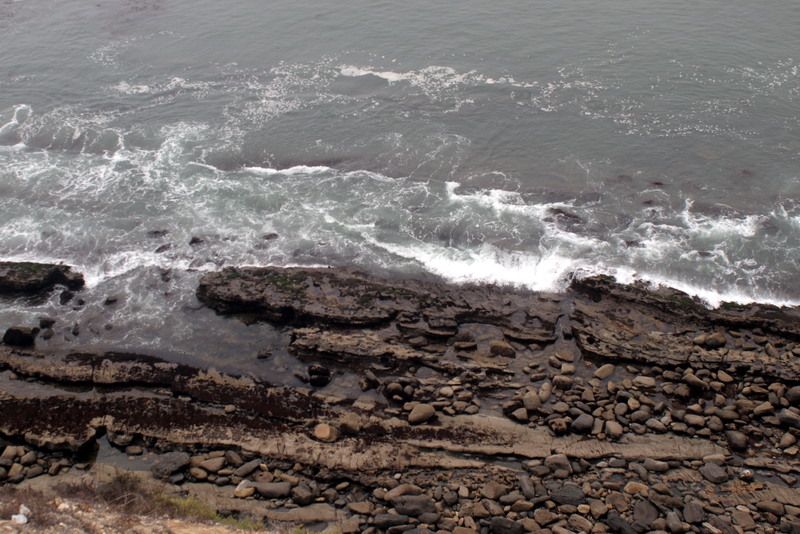 San Pedro is possibly one of the oddest cities in Los Angeles County, a little harbor town in which the mighty Port of Los Angeles is located that still manages to retain the look and feel of an Italian fishing village. It is as psychologically isolated from the rest of Los Angeles as the Cinque Terre is physically cut off from the rest of Italy. A town immune to endless attempts at gentrification. Town of my father and countless relatives. I lived here in an apartment house overlooking the waterfront in my mid to late twenties. Both my sons were born here. My first community garden was here. So when I got a 2-hour break between work assignments in San Pedro this morning, it was with an insider's knowledge that I headed to Point Fermin Park, to see if I could maybe sneak into the Sunken City, the apocalyptic remains of a 20th century neighborhood that slumped and slid on geologic waves into the sea.
But I couldn't very well crawl underneath the security fencing surrounding the Sunken City in work clothes. That would be silly! (and coincidentally illegal but nobody cares.) So I settled for a walk amongst the huge magnolias in adjacent Point Fermin Park, the southernmost point of Los Angeles County, land's end high up on vertiginous bluffs overlooking the seaweed-strewn tidepools of the Pacific Ocean.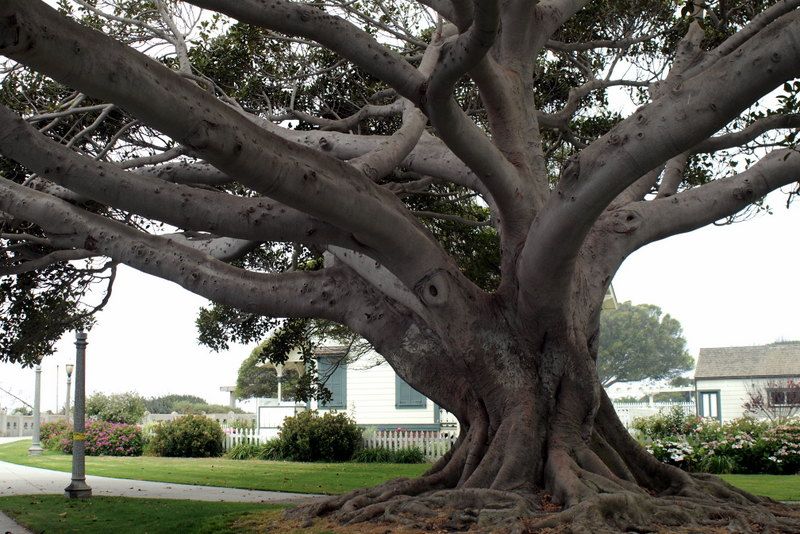 This hilly little town has numerous microclimates. I left hot, clear skies at 6th Street, disappointed that at noon there'd be little chance for decent photos, and traveled less than a mile to find the park shrouded in a moody, dense fog. The cliffs smelled of anise, the fog horns blew, and I happily practiced my rusty native plant ID skills on the coastal scrub. Lemonberry (Rhus integrifolia), coyote bush (Baccharis pilularis). And the dreaded exotic invasive tamarisk (Tamarix aphylla).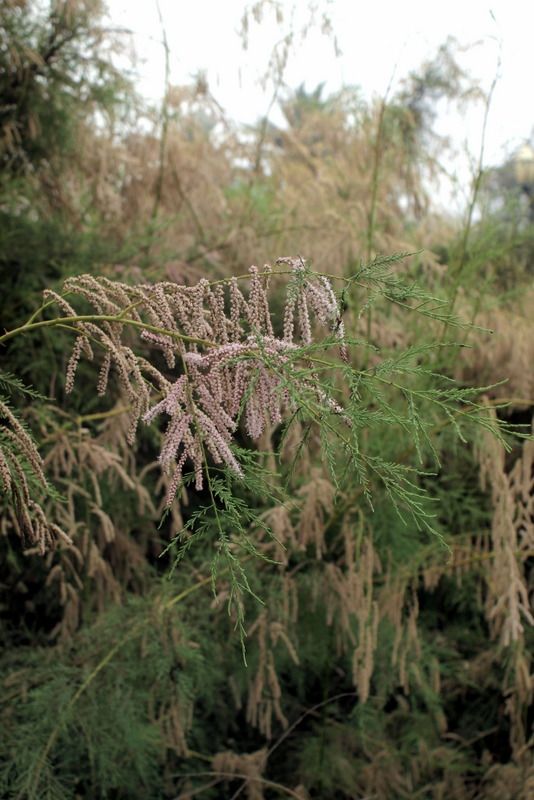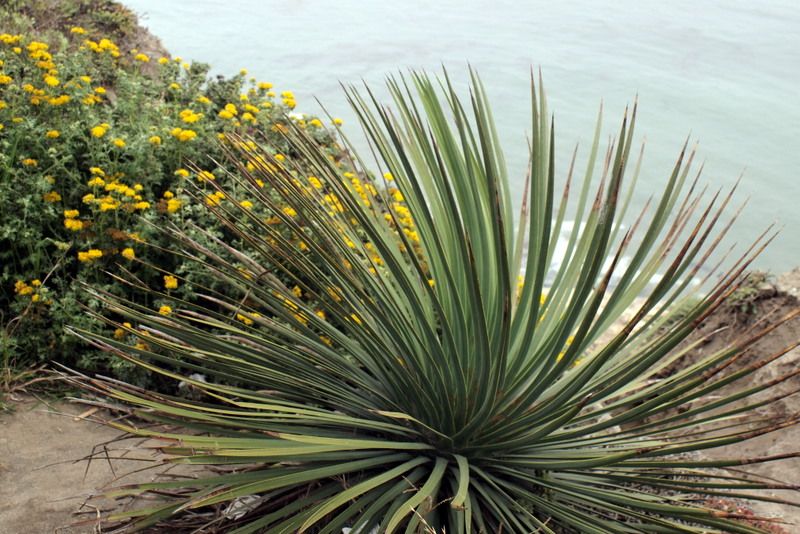 Movie trivia: The Dude stood on these bluffs to distribute the ashes of his friend in The Big Lebowski.
Jake Gittes visited the bluffs to confirm suspicions of water being diverted into an ocean-going culvert from orchards to make way for a land grab in Chinatown.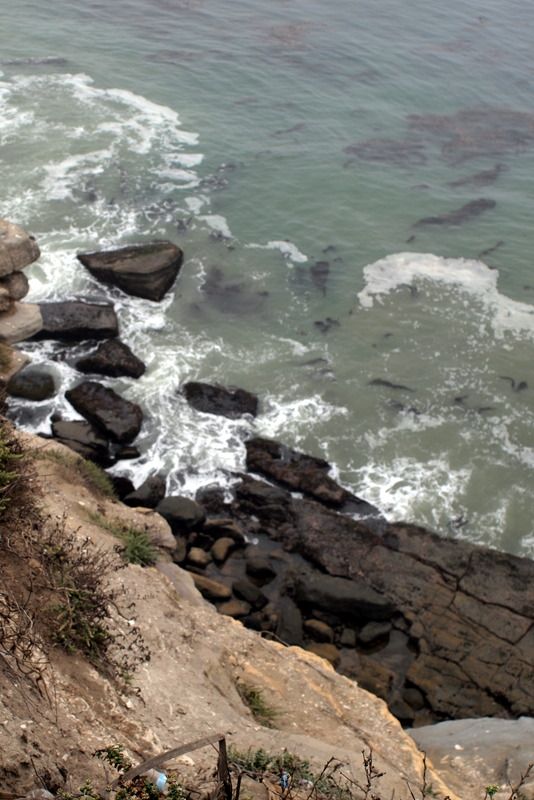 A last look before returning to work. It has been too long since I've had a good stare at the ocean.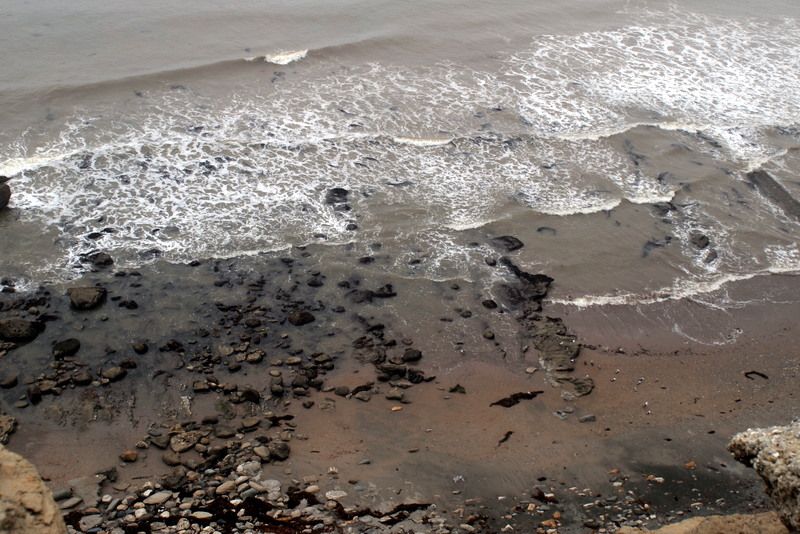 Running a little late, with maybe just enough time to buy a bottle of water, I skidded to a stop when I saw this.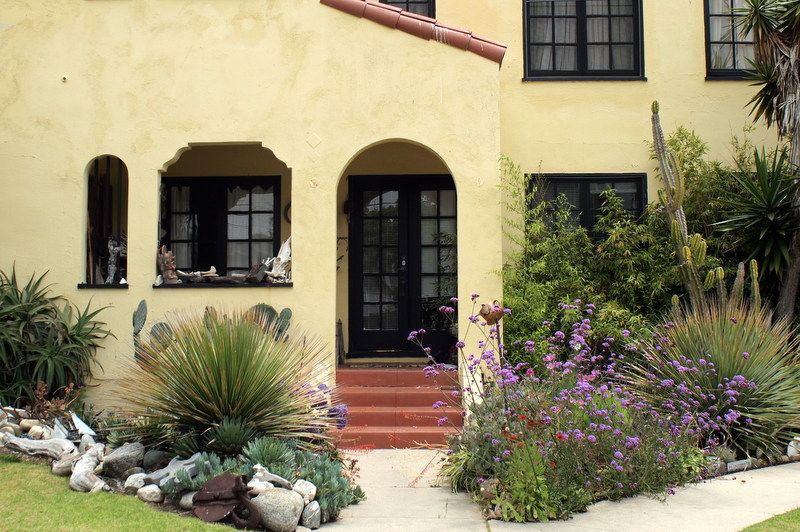 The front garden of this Spanish Revival apartment house was an artless collection of driftwood, rusty maritime salvage, rocks, bones.
A Joseph Cornell shadowbox of a garden picked and gleaned from the Pacific Ocean.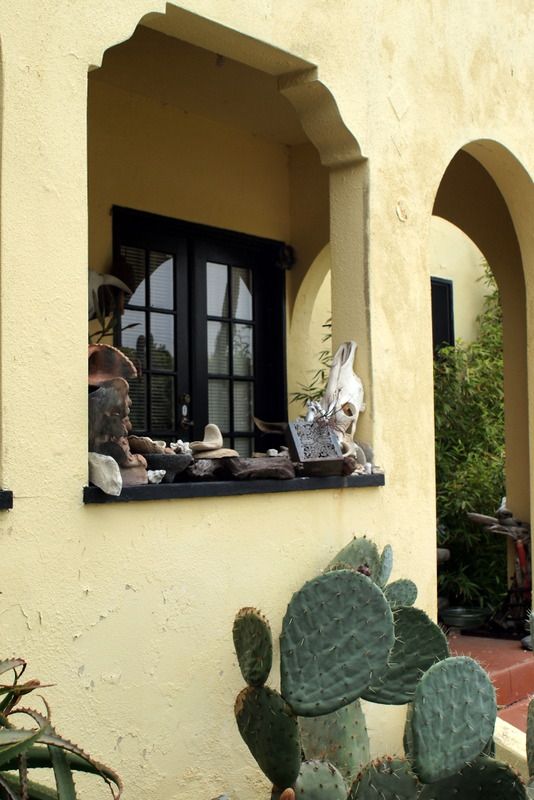 There was nothing studied or "styled" about the front garden, yet it emanated such a concentrated feeling of someone thoroughly immersed in local patterns and textures, whose character and habits I could discern from their simple garden as though reading their private journal. I basked as long as I could in its quiet exuberance.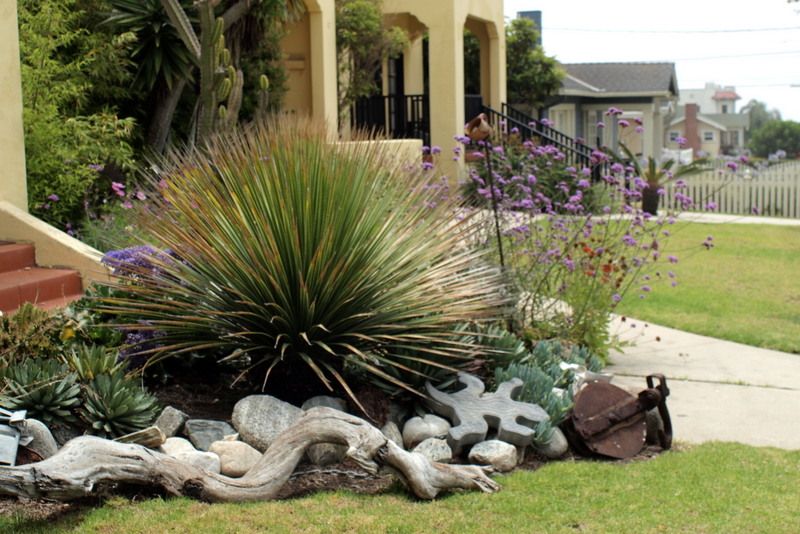 Sotols, aloes, cactus, agaves, Verbena bonariensis, prickly pear, bamboo, gaillardia, cosmos, larkspur.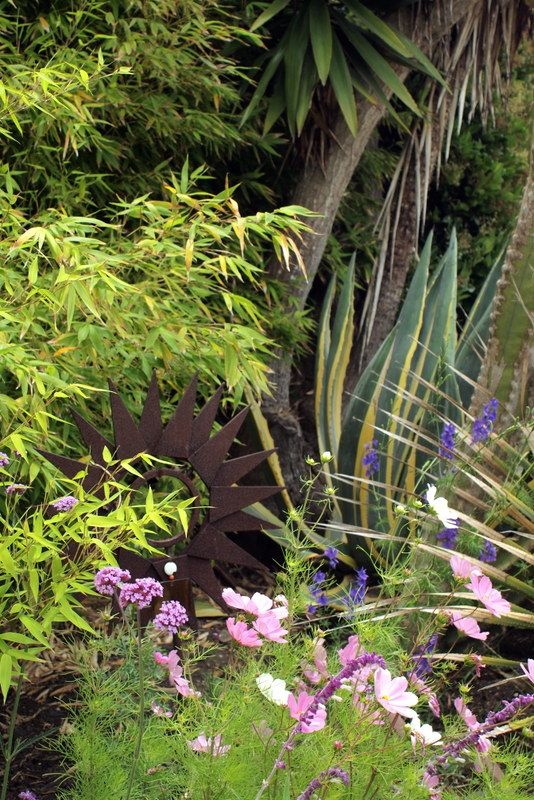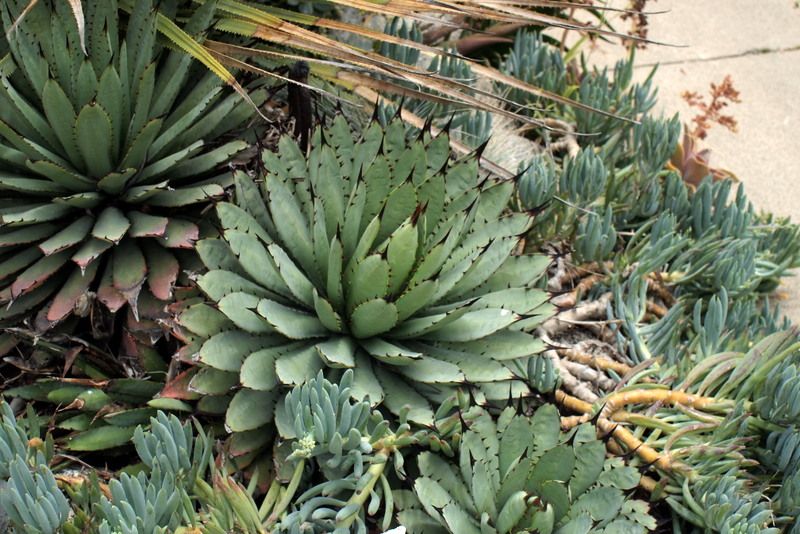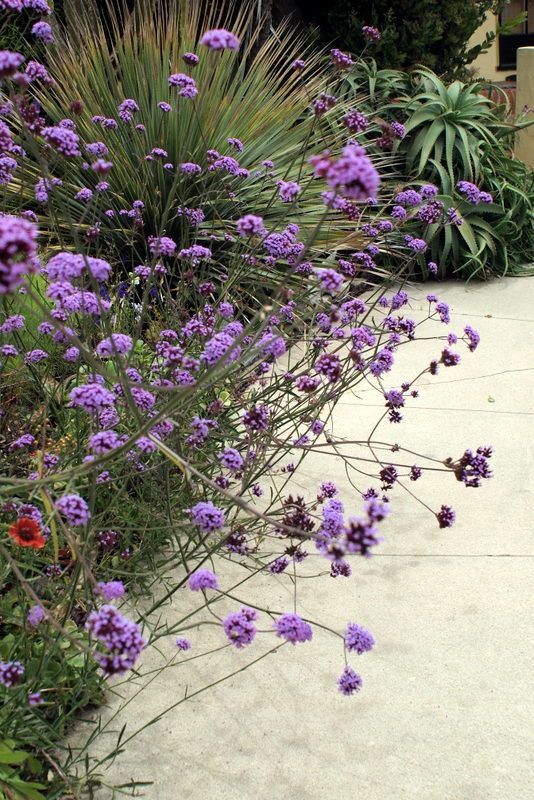 The tipsy teacup wasn't just ornament but also a very effective bird feeder. The birds wouldn't leave it alone.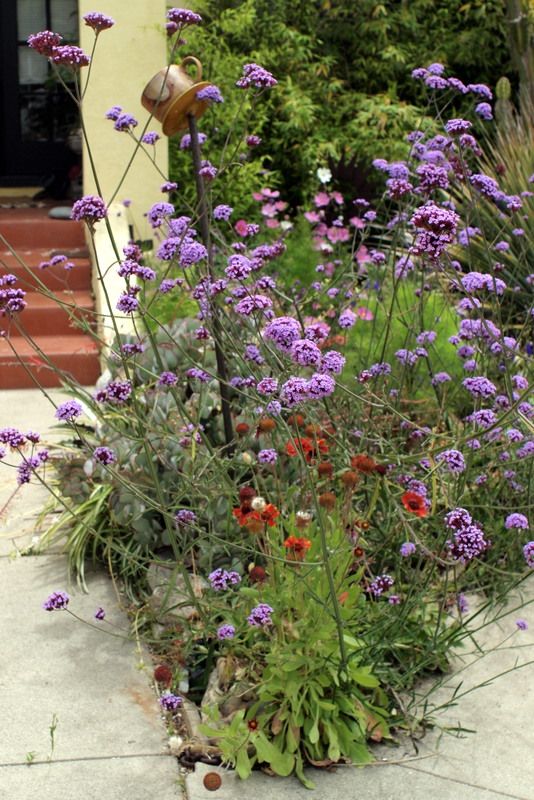 A garden of someone happily at play on the unstable edge of the continent.