I find vacations in the Pacific Northwest have a lot in common with Chinese food; after being home for a few days, you're hungry for another serving of Puget Sound, please. I'm sitting at a table in my garden in Southern California, staring up at a piercingly blue sky, like a child's crayon drawing of Sky, trying to recapture the thrillingly turbulent, clouds-of-Michelangelo skies that were overhead every day of our six-day visit to the Pacific Northwest. Skies like this one off the balcony at our hotel in Silverdale, Washington, the staging place for gardens and nurseries outside Seattle and on Bainbridge Island on the second half of our trip.
A sky you don't turn your back on or rain might sneak in to pelt your umbrella-less head. Which theoretically doesn't happen in the PNW's mostly summer-dry climate, but it did happen once, at the nursery Cistus on Sauvie Island, and wasn't a big deal at all. Nursery umbrellas are always handy, even if little frogs have to be coaxed out of the folds before hoisting it overhead.
I've attended just a couple road trips with this group of rabid plant enthusiasts, and both those trips were on the West Coast. But any garden-rich part of the U.S. is fair game, and the Pacific Northwest was chosen this year for its wealth of incredible nurseries and gardens.
The trip was divided into two chapters, Portland and Seattle, and the itinerary looked roughly like this: Arrive Portland, Oregon, meet at airport, pile into car, then immediately head over to Loree's house to take her up on the generous invitation to visit her garden and then lunch at the McMenamins Kennedy School. Loree's garden, the eponymous Danger Garden well known from her blog, has already been chronicled by a couple of my trip mates, fellow bloggers Kathy at Gardenbook and Sue at Idyll Haven. (Sue gives a nice history of the garden group here.)
The clean lines of Loree's garden geometry are the perfect counterpoise to a serious plant lust.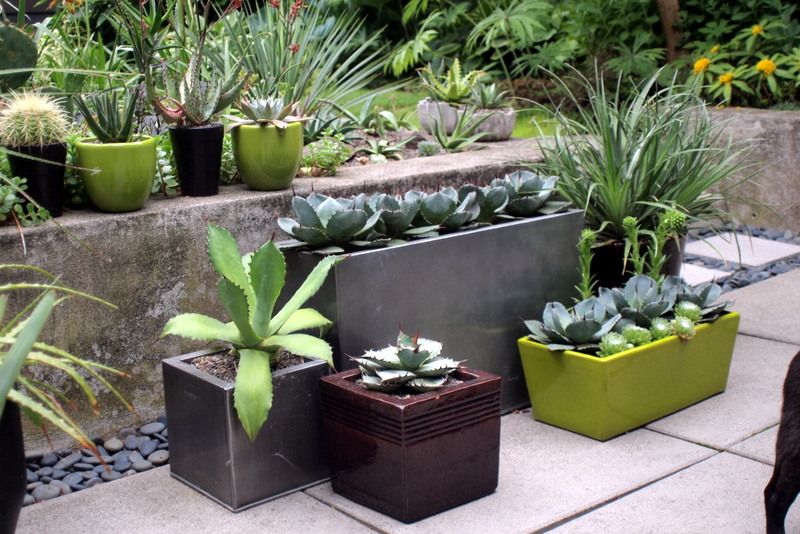 The next two nights we slept in a botanical garden. In comfy beds and with complementary breakfast, of course, but for the entire time we spent at the Oregon Garden Resort, the 80-acre botanical garden in which the hotel is located was at our disposal, to wander at will. A couple of what were, for me, the "signature" plants of the trip were first seen here at the OGR, like this dierama in bloom outside our rooms and then everywhere else we visited.
Dierama, or Angel's Fishing Rod, is an African member of the iris family, to zone 7.
Also seen at OGR was another signature plant of the trip, eryngiums, which bloom spectacularly well in the PNW.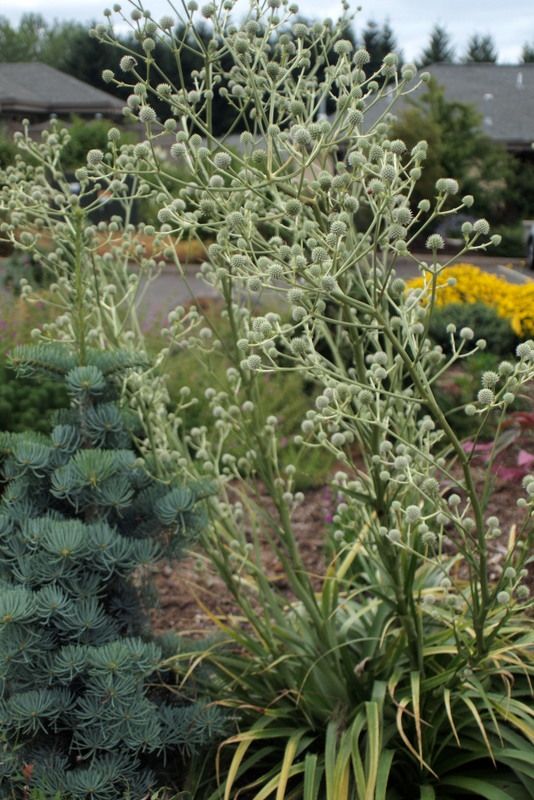 Thoroughwax, Bupleurum falcatum, an understated evergreen I've always admired.
And the flashy Tiger Eye Sumac, Rhus typhina, was widely seen throughout our trip
As was Leycesteria formosa (but especially in it's golden-leaved form 'Golden Lanterns')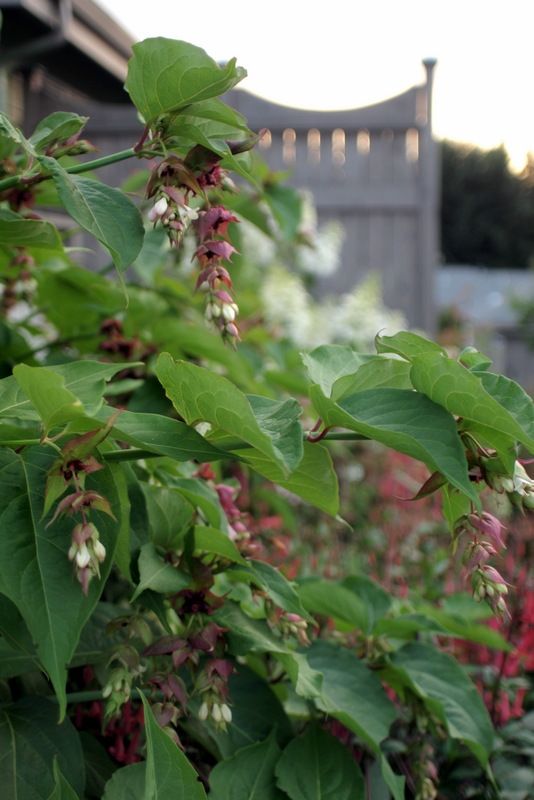 The Clematis tangutica on the arbor at the OGR was a harbinger of the PNW as Clematotopia
The next day, Thursday, started with a tour of the tissue-culture labs and display gardens of Terra Nova Nurseries. (It is a rare thing to be among travelers all uniformly excited about touring a plant tissue culture lab. I love these people!) I'm probably wildly misquoting Dan Heims, but my iPhone notes tell me Terra Nova tissue cultures 3 and a half million plants a year at this 18-acre site. One in 20,000 of those is a mutation that might be the next sensational tiarella, heuchera, echinacea, kniphofia, agastache destined for sale at your local nursery.
Aralia cordata 'Sun King' on the left, echinaceas and the dark flowers of Calla 'Edge of Night' in the background. All the plants seen in the display gardens are currently available.
Dan says the 'Popsicle' kniphofia series is a nonstop-flowering breakthrough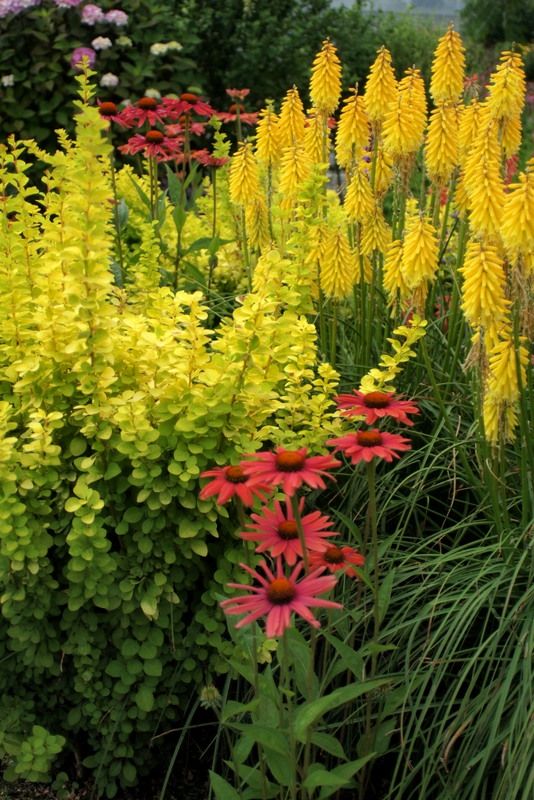 Agastache 'Blue Boa'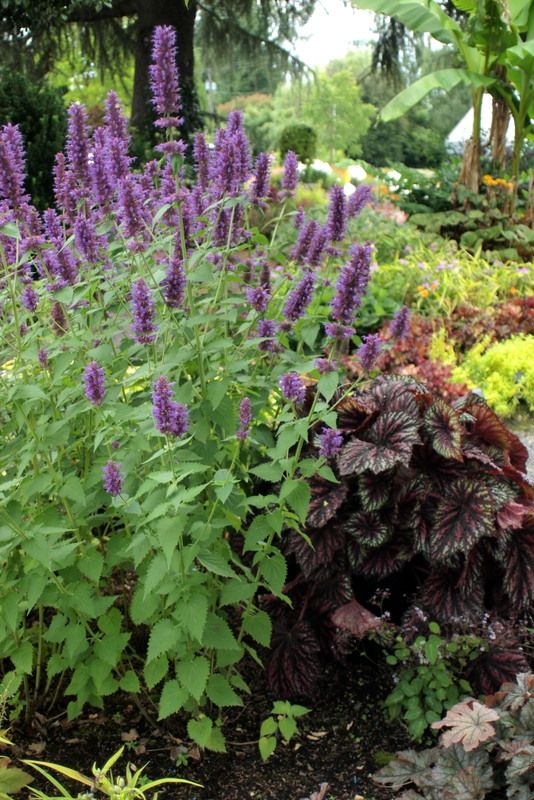 Agastache 'Summer Glow'
I was intrigued by this diminutive crocosmia coming into bloom, 'Twilight Fairy Gold,' which has the bronzy leaves of 'Solfatare'
Fatsia japonica 'Spider Web'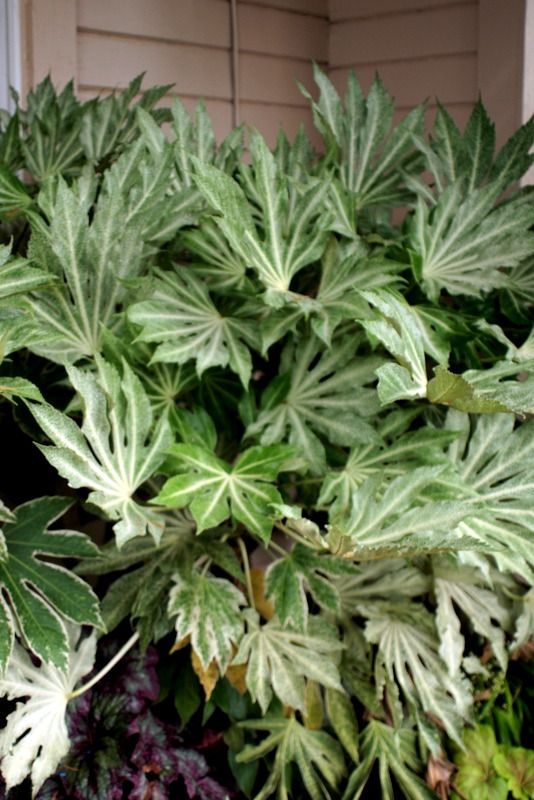 Persicaria 'Brushstrokes' and heuchera
Actaea 'Black Negligee' with the Japanese forest grass Hakonechloa macra 'All Gold'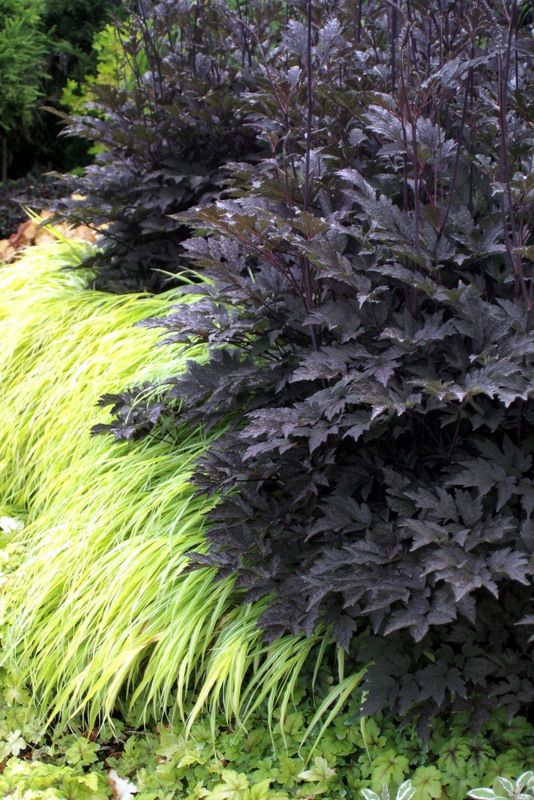 Endless permutations of echinacea, the coneflowers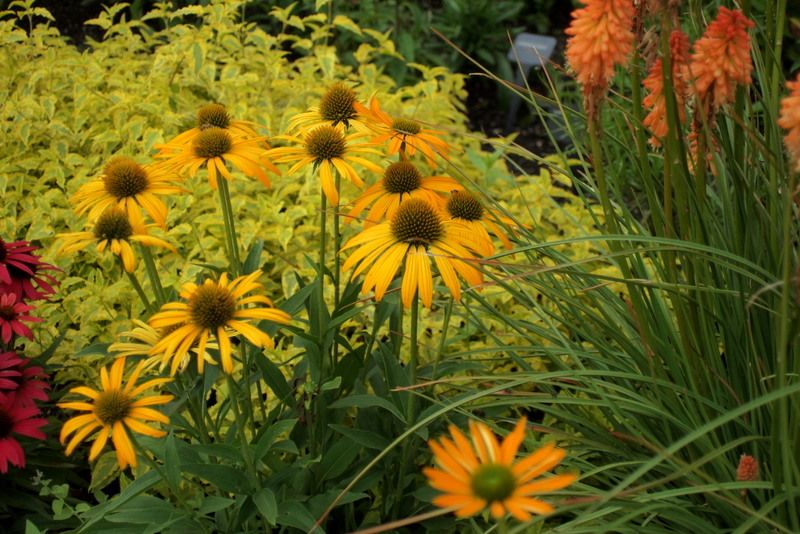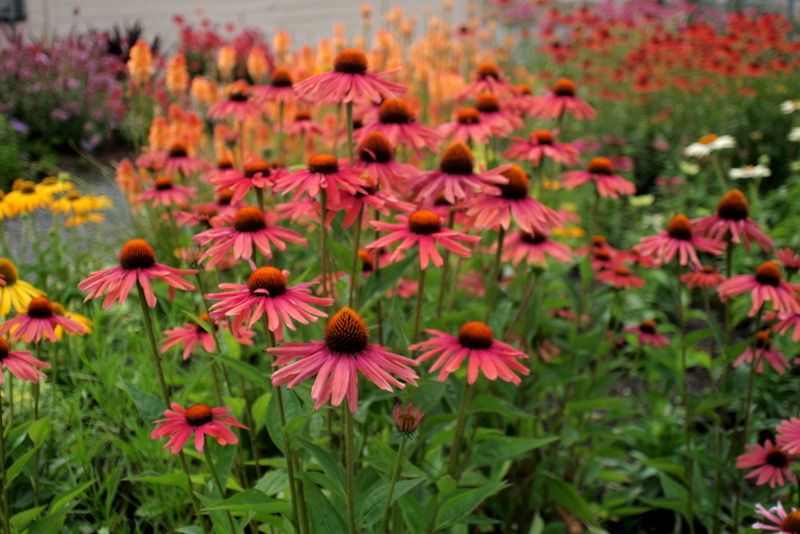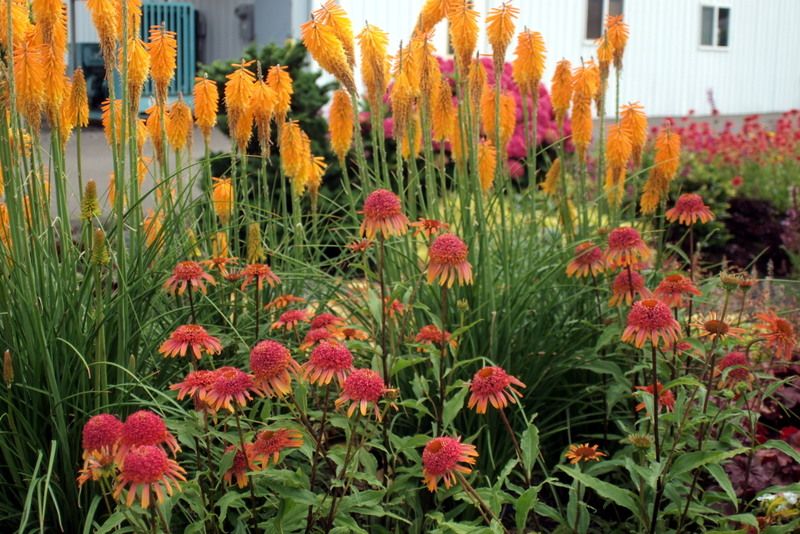 Might be time to rinse the palate at this point with a grouping of cannas, sedums, and Yucca rostrata 'Sapphire Skies'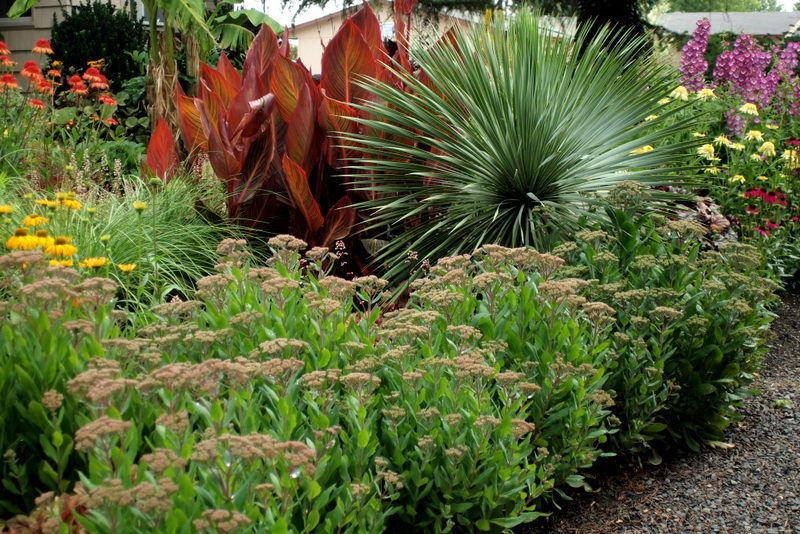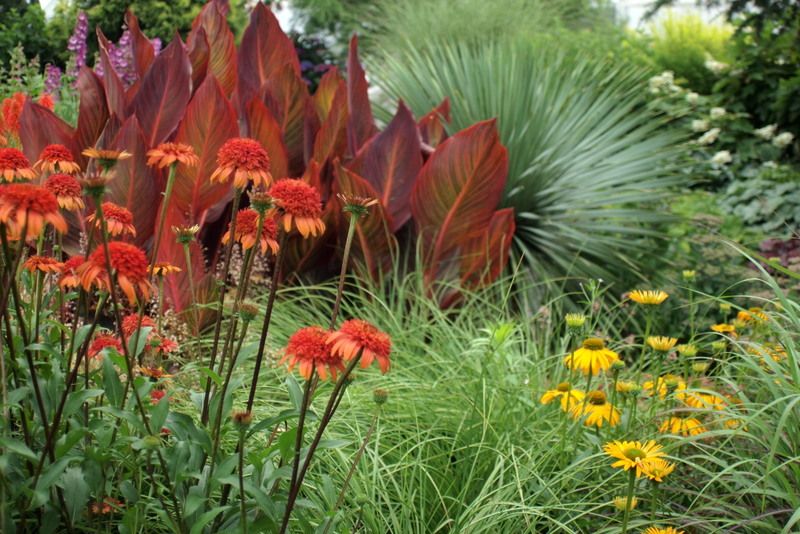 We finished off the day with a tour of Dancing Oaks, where I apparently felt a deep need to photograph something familiar at this point, like Aloe striatula.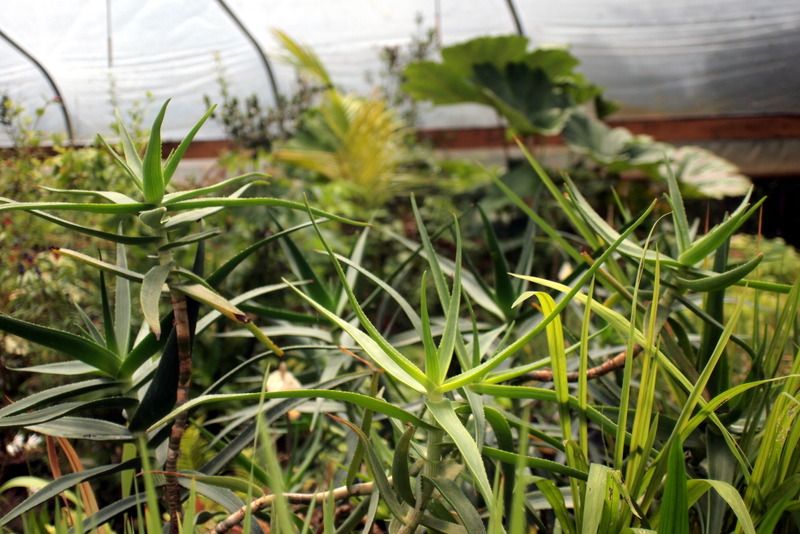 Eucomis flourish in the PNW. This is 'Can-Can'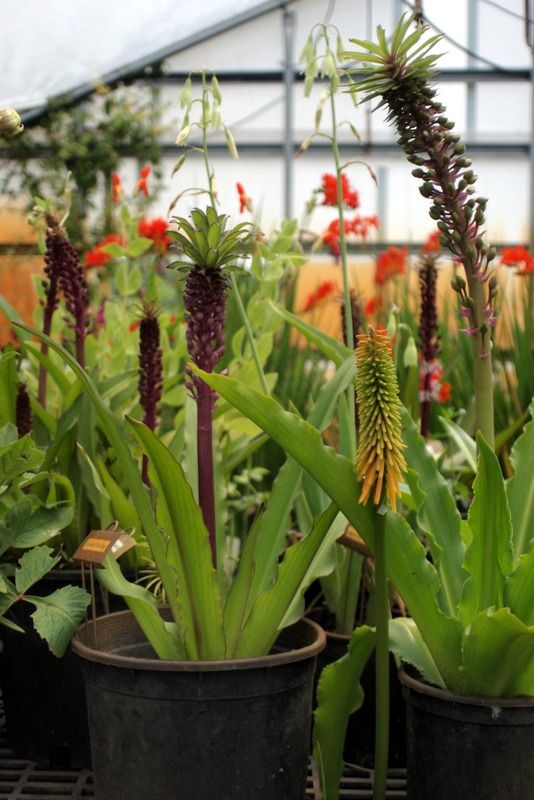 The sun unexpectedly blazed at this beautiful nursery and garden filled with eminently desirable plants. I managed to get only a couple photos before the camera battery died. One of the owners, Leonard Foltz, was amazingly generous with his time and knowledge, which we found to be the case at every garden and nursery we visited.
And that's just the first two days. More soon.