Visiting first-rate plant nurseries necessarily involves purchasing plants, or so I've always believed — even if the purchaser is thousands of miles from home and has to shove the pots into an already bursting suitcase and then into the cramped overhead compartment of an airplane. Even if the nursery offers the sensible alternative of mail order. This is a long-standing, deep-seated compulsion of mine, and no trip is considered a success without some newly discovered plant settling its roots into my garden the day after I return. A gardener's equivalent to trophy refrigerator magnets with images of the Grand Canyon or the Eiffel Tower, I suppose. During the recent visit to the Pacific Northwest, under the mistaken impression I wouldn't be able to fly plants back into California, I fought off this compulsion and resisted many fine plants. After being repeatedly assured that it was safe/legal to fly plants home with me, I caved on the last day, at Far Reaches Farm. We had been urged everywhere we visited that we absolutely must squeeze in a trip to Port Townsend to check out Sue Milliken and Kelly Dodson's nursery Far Reaches Farm, where rare plants abound, like this very cool, black-eyed Aster souliei in their display gardens.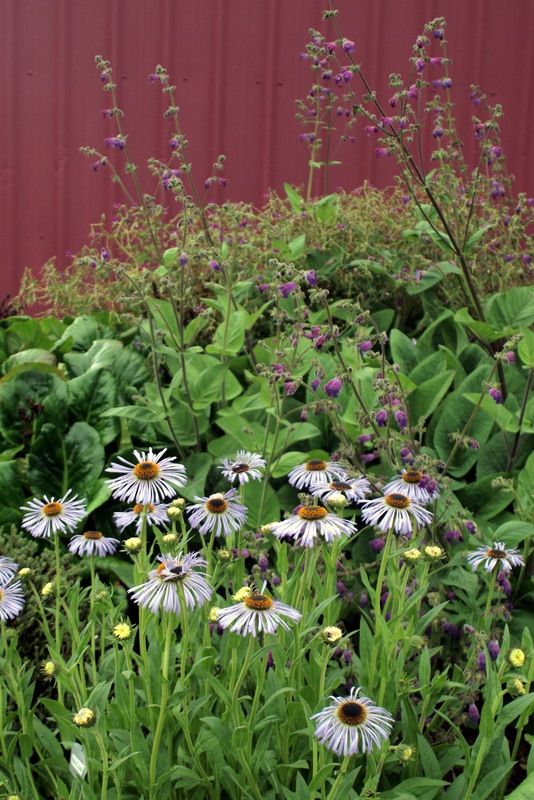 As luck would have it, Far Reaches Farm had stock of the fabulous Alstroemeria isabellana that Sean Hogan had pointed out to me in a display garden at his nursery Cistus earlier in the week. Meeting some plants for the first time can be like making the acquaintance of that person with whom you have an instantaneous, natural rapport, and so it was with this alstroemeria: Thick, succulent, pleated leaves and dangling, aloe-esque flowers — we were instantly best friends. It's already throwing out a bloom stalk and, knock wood, I should have a photo in a week or so. This photo was found here, the ebay plant seller Strange Wonderful Things.








Following the timeworn, axiomatic advice "In for a penny, in for a pound," it made sense at that point to add seven more plants into the bargain, mostly shrubby stuff like corokias and olearias but also the hardy ginger Cautleya gracilis and this ruddy form of Saxifraga stolonifera named 'Maroon Beauty.'


The description on Far Reaches Farm's alstroemeria plant ID tag dredged up decades-old memories of stuffing our Honda Civic with loot from Western Hills Rare Plant Nursery in Occidental, California, pots sandwiched in between an always-drooling Newfoundland, two kids, two adults, and assorted other gear:
"We got this from Maggie at Western Hills some years ago as an Alstroemeria x Bomarea hybrid called 'Fred Meyer.' Thanks to Martin Grantham at UC Davis, we finally have the correct name. This is a rare and surprisingly hardy species from Brazil which does great outside for us. Pink corolla with green petals and yellow throat…Average to drier. July-August. Zone 7. Sun/part sun."
(Garden Conservancy writes about the recent change in owners of Western Hills here.) Sean Hogan, who is related to one of the new owners of Western Hills, says he has high hopes for the garden now, with much work already accomplished in clearing out the overgrowth of brambles and cataloguing the garden. What an interconnected, supportive and generous world plant nursery people inhabit.

What else did I bring home? The now unshakeable conviction that a water garden must be next on the list. The Little & Lewis garden, which is not at all a large space, seamlessly incorporates many water containers and gardens. George Little described how this water garden rimmed in baby's tears has been in existence a mere three months, starting out life as a stock tank, which was painted on the interior a dark green to minimize the shine from the new tank, then surrounded with dry-stacked rocks filled with little pockets of soil for plants to colonize, in keeping with their naturalistic approach. And plants do colonize swiftly in the advantageous growing conditions of the Pacific Northwest! Summer-dry, Mediterranean climates like mine, whether in Southern California or Greece, the source of much of Little & Lewis' inspiration, have long relied on water gardens to convey a sense of lushness and plenty via this most precise and controlled use of water. Their book "A Garden Gallery" also gives lots of reassuring advice on starting a water garden, as well as being a photographic journal of their celebrated first garden, which is just next-door to their current garden.
The waterlily 'Ultraviolet' was just beginning to bloom. We were maybe only hours too early.
(Kathy at Gardenbook has a great post on our visit to the astonishing garden of these warm, generous artists.
Anyone with even a passing interest in archaeology will immediately recognize kindred souls in George Little and David Lewis.)
Some of the best souvenirs are the memories of meeting plants I'd only read about before, like this anemonopsis at the Bellevue Botanical Garden.
Or this celmisia just about to bloom at Dunn Gardens. There wasn't a name tag, but it couldn't be anything but a member of the tribe of New Zealand Daisies. I don't really have an Actor's-Studio favorite swear word, but upon seeing a huge celmisia for the first time, an involuntary eff me escaped my lips — luckily, the docent wasn't around.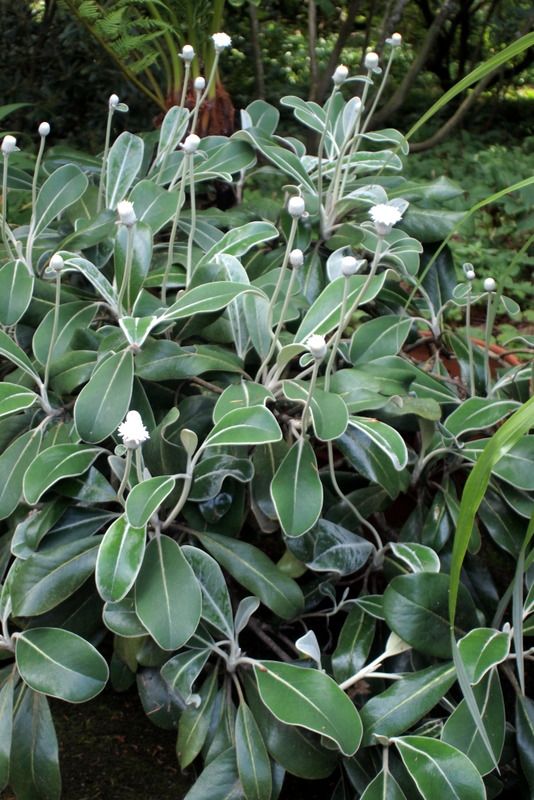 Edited to add possible ID: Pachystegia insignis
At Linda Cochran's renowned garden on Bainbridge Island, I discovered what a 15-year-old stand of Lobelia tupa looks like.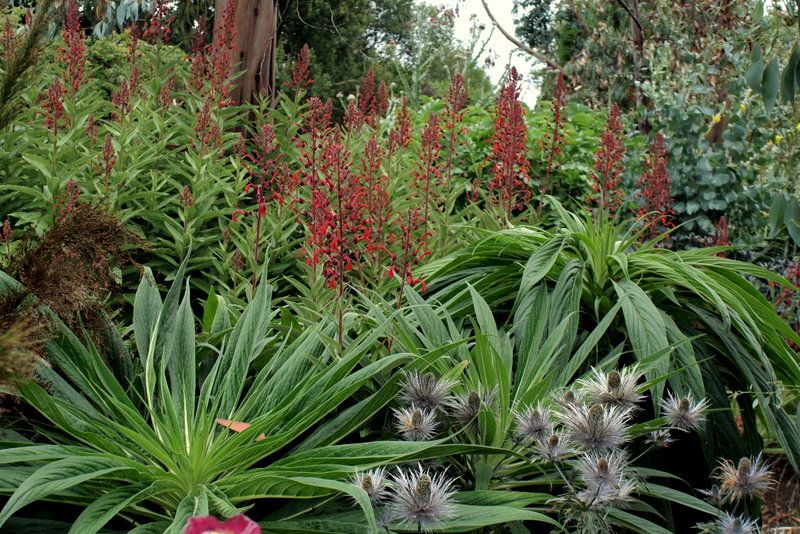 After years of gardening for mainly foliage effects, Linda said her interest in photography is increasingly drawing her towards flowers.
Lilies were another signature plant in bloom everywhere we visited. Regal lilies at Dunn Gardens.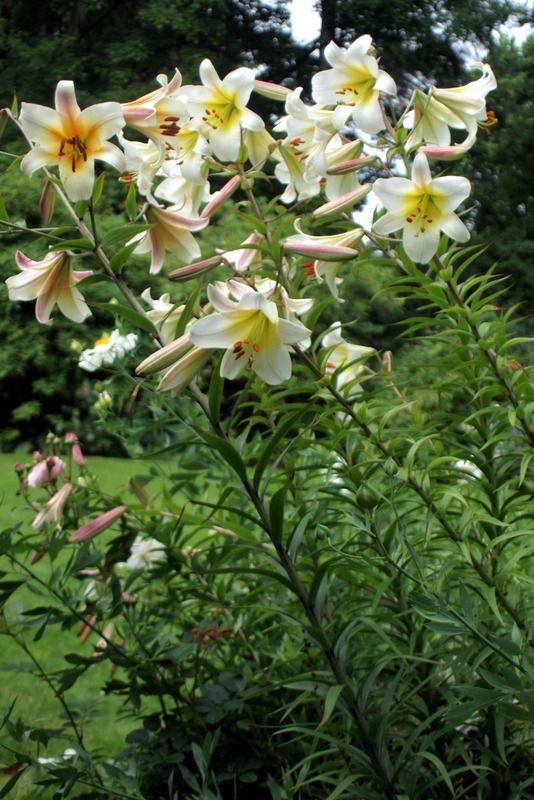 Melianthus was also widely planted, seen here at Linda's garden with potted Japanese forest grass hakonechloa.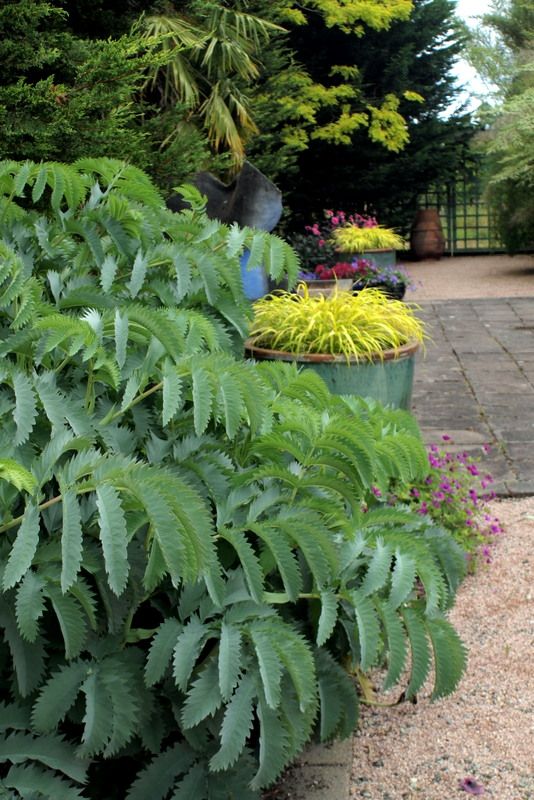 Hostas of course were everywhere.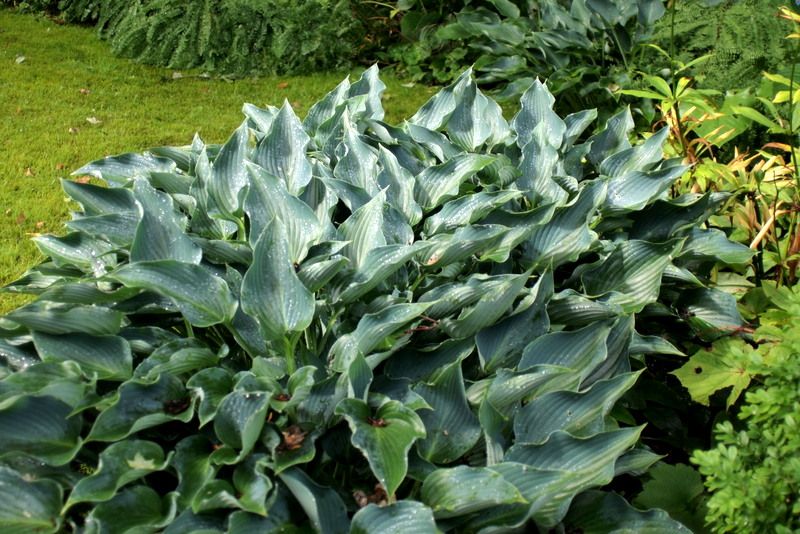 And brilliantly planted containers, like this one at Dunn Gardens. Acid yellow, corrugated leaves of Pelargonium 'Golden Lemon Crispum' against the smooth blue chalk fingers of Senecio mandraliscae. I've outright stolen this bit of genius, no doubt the work of curators Charles Price and Glenn Withey, and have already found the pelargonium at a local nursery. Senecio mandralsicae is too rampant here, so I'm trialing the similar but more restrained Senecio serpens.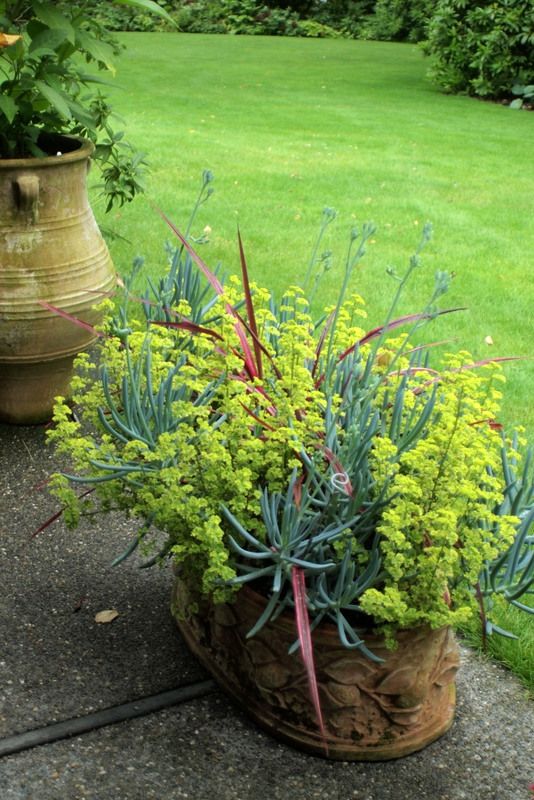 The same pelargonium, like bolts of zig-zagging, foliar electricity, used elsewhere at Dunn Gardens.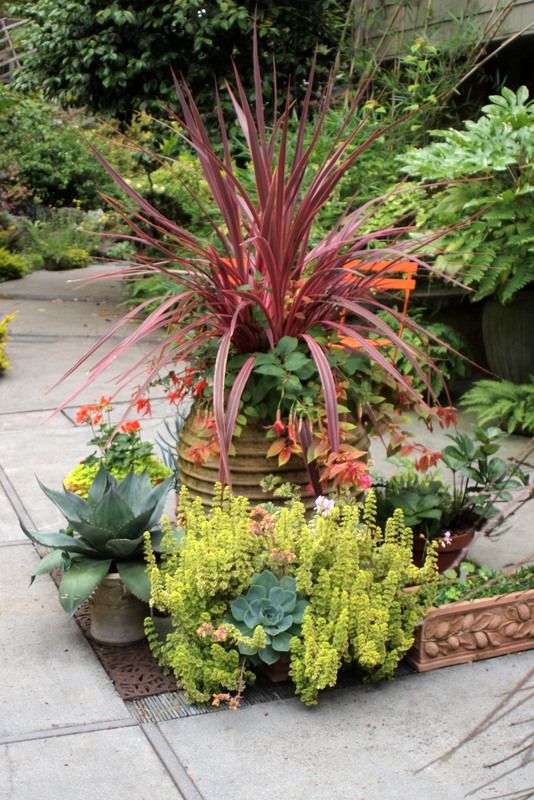 Potted lewisia at Dunn Gardens.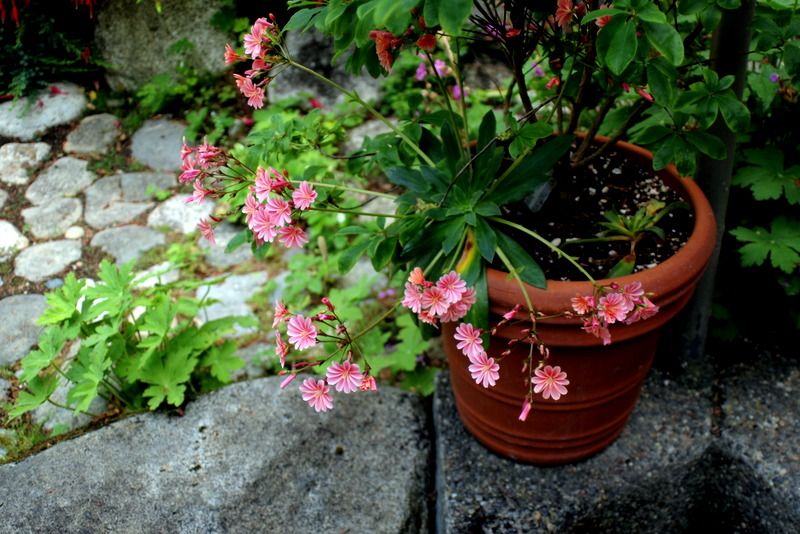 More potted beauties at Dunn Gardens. No idea what these are.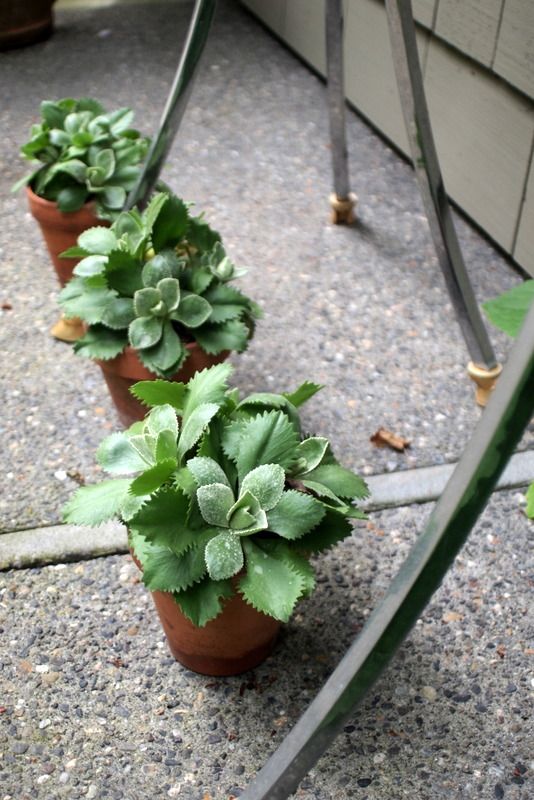 Linda Cochran prefers clay pots for spiky plants, which she simply shatters when it's time to move on to a larger pot size instead of struggling to remove the plant, risking gashes and scratches.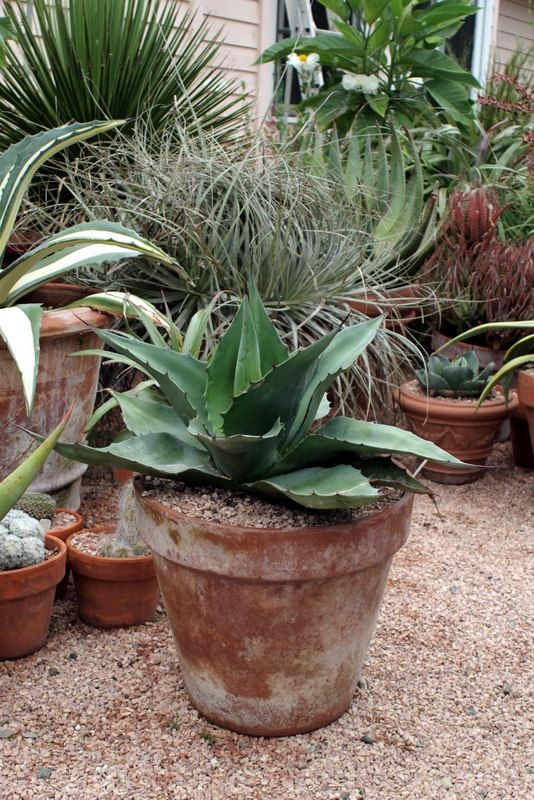 I also discovered that all nursery dogs are unfailingly good-natured. One of the Blue Heeler cattle dogs at Dragonfly Farms.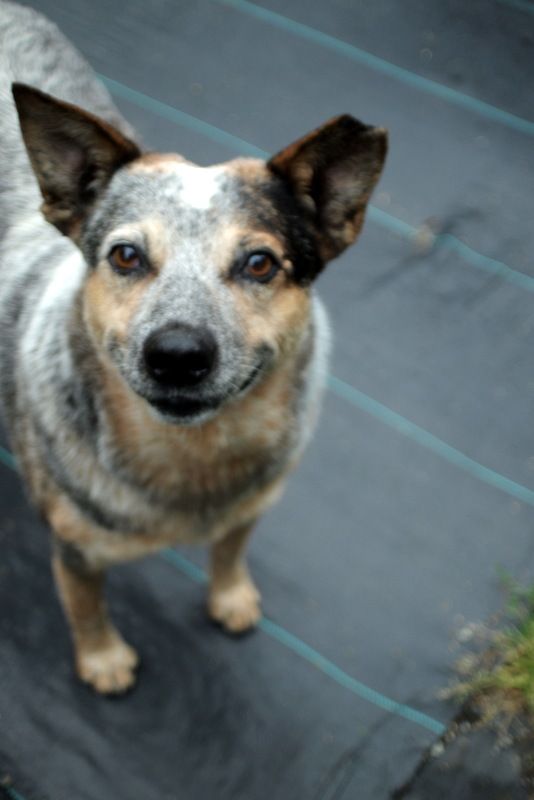 I hadn't seen perennials grown this well since visiting England. The colors gleam and remain vibrant under overcast skies. From the display garden at Dragonfly Farms.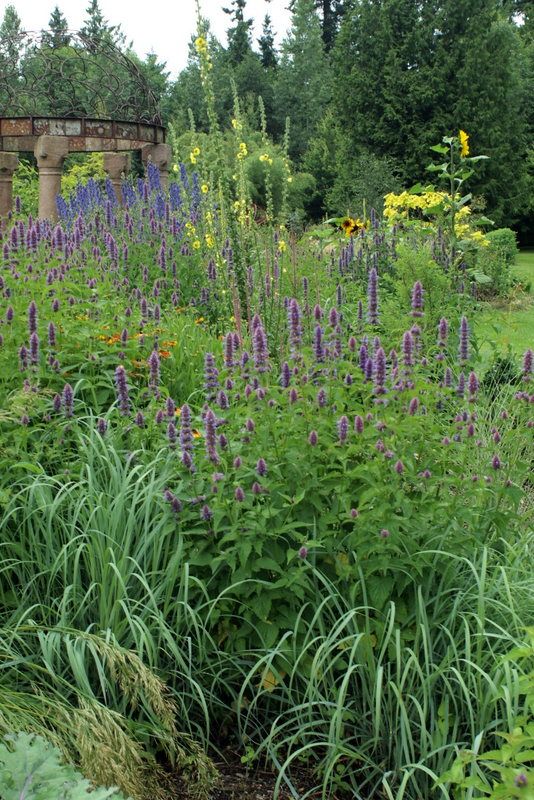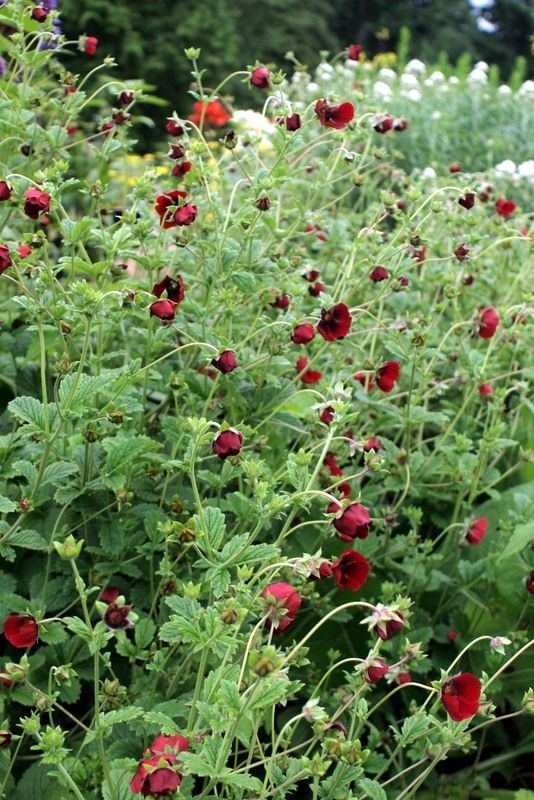 To everyone whose nursery and/or garden we toured, the warmest thanks for the generous gifts of your time and knowledge.