April 2010 Gardens Illustrated arrives in the mailbox.
Two-page spread depicts in photographic splendor Carol Klein's sumptuous spring-blooming choices to grow underneath Cornus controversa 'Variegata.'
What's this Prunella-like, spiky, dusky pink-flowered wunderkind with the lush foliage? A calamint maybe? Lamium orvala, you say? Never heard of it.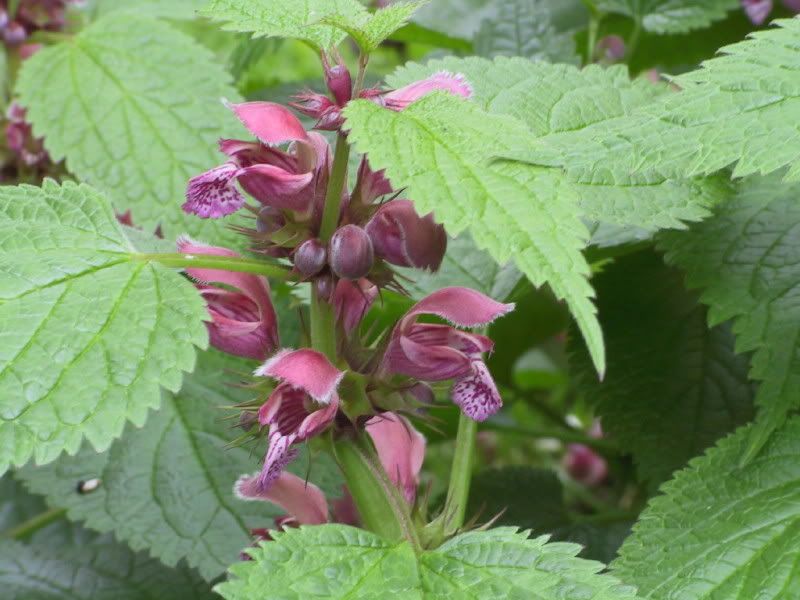 (Photo courtesy of UK Hardy Plant Society)
This photo is responsible for the ensuing mad dash to the computer. The excellent Hayefield blog kept by Nancy Ondra profiles it under "Three Neat Plants" for May 2009, along with Symphytum x uplandicum 'Axminster Gold.' Which despite being a comfrey, is very rare. I love comfreys — tough, happy, durable plants for shade — but rarely do they reach out and grab you through the monitor, Videodrome style. This 'Axminster Gold' had me by the lapels.
And look, Digging Dog has it for 2010! — no, sold out. After much frantic clicking, a single source for the comfrey is found for $20, normally what I could consider an absurd amount to pay for a plant. But it's apparently the only one available in the whole world at this moment in time.
And that, my friends, is the anatomy of a plant purchase, one that's left me breathless and short $31 (including shipping) without setting foot out of the house. (Never did and probably never will see the movie Videodrome but the reference comes in handy.)
Now, back to this Lamium orvala…maybe there's a cheap seed source…