August is not a month to be trifled with. Spring comes so early here, with winter more a brief, rainy intermission than a season, that by August I really need to 1) loosen compacted clay soil that refuses to absorb another drop of moisture 2) add some compost/manure 3) water thoroughly 4) mulch again. Yes, it's August, miserably hot and ant-ridden, but to ensure I have a garden worth looking at in October, these chores can't be avoided. At the very worst, for a few days I look like the Wild Woman of Borneo and require three showers before nightfall. Maneuvering under the tetrapanax to water and mulch always brings down a shower of ants, and finding them later crawling on my arms and neck becomes commonplace in August, to calmly flick off like dandruff. While accomplishing Nos. 1 through 4, a huge amount of plant material is cut back and even some transplanting done if slightly cooler weather is expected. It has cooled down a bit, so anything that looks like it won't survive until that optimal window in autumn for transplanting gets dug up and relocated, like the Digitalis ferruginea buried under Pennisetum spathiolatum. As I worked, I uncovered a few more plants of the buried-alive variety that had to be moved, to hell with the consequences. The Echeveria agavoides much prefers life freed from that heavy-breathing mass of variegated sisyrinchium. The sisyrinchium was the one moved in this instance, split into about five pieces, a small fan left behind.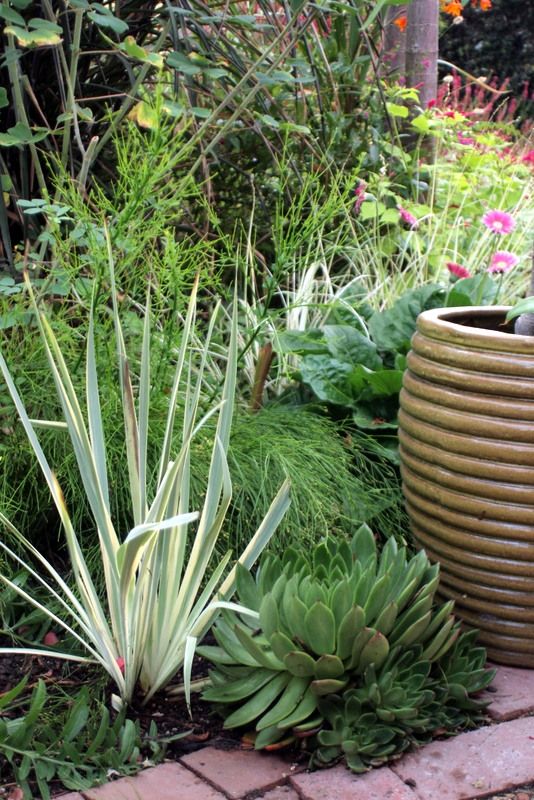 Paraphrasing garden writer Christopher Lloyd, who fielded many anxious queries about the best time to move plants, "[T]he task should be deferred until spring. That is my official pronouncement. Don't expect me to follow it myself, because I'm also a great believer in doing a job when I want to do it, and to hell with the consequences."

Any of the potted pelargoniums I collect can be popped into bare spots after the clean-up, like this ivy-leaved Pelargonium 'Crocodile.'




The local Home Despot had good prices on Aeonium nobile, a monocarpic species.
So nice to have something shiny new in August, which handily gets my vote for the cruelest of months.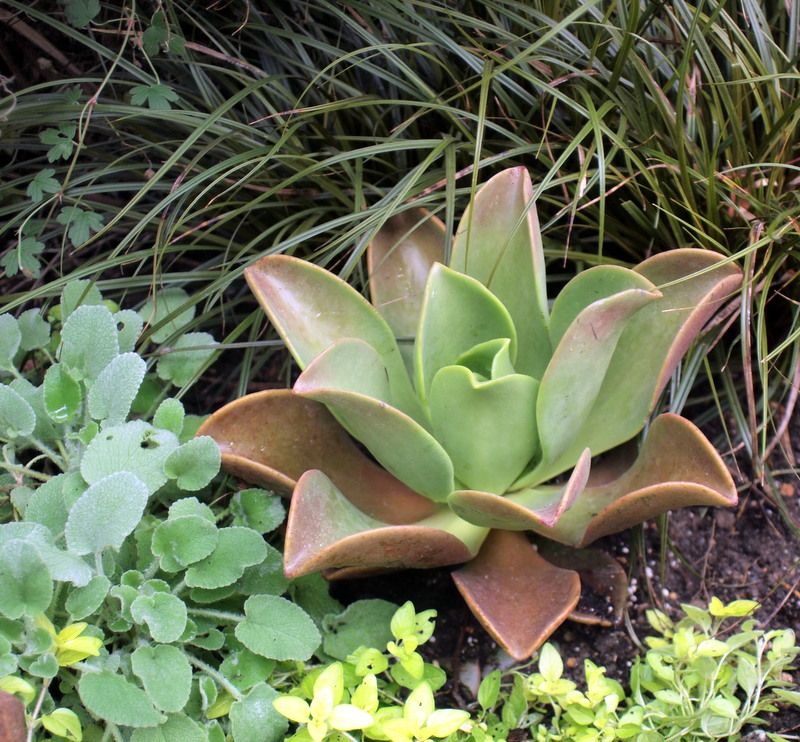 More shiny happy new. Local nurseries stock interesting selections of begonias in August. Rhizomatous Begonia 'Silver Jewel'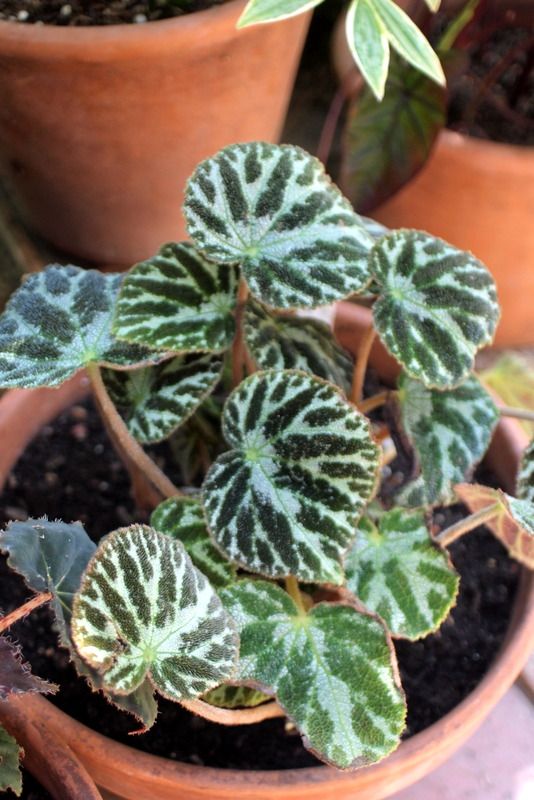 You'd think it would be impossible to lose track of plants in a small garden, but I do it all the time. This grass or, more likely, sedge, wasn't moved but left where it was discovered growing under the Salvia 'Wendy's Wish.' The blooms are just peeking through the top of the salvia, which are what alerted me to its existence. It probably reseeded here. Any possible ID's welcome.
This mystery grass/sedge comes from the old Western Hills Nursery in Occidental, California, probably the last plant I purchased from them, and I don't want to risk losing it. I vividly remember asking then-owner Maggie Wych what was the grass with the plumey inflorescence dotted throughout the sunny borders, but I just can't remember the name she gave me. I'll wait until autumn to move it to a spot where it can be better admired. The blooms stand about 3 feet above the nondescript leaves.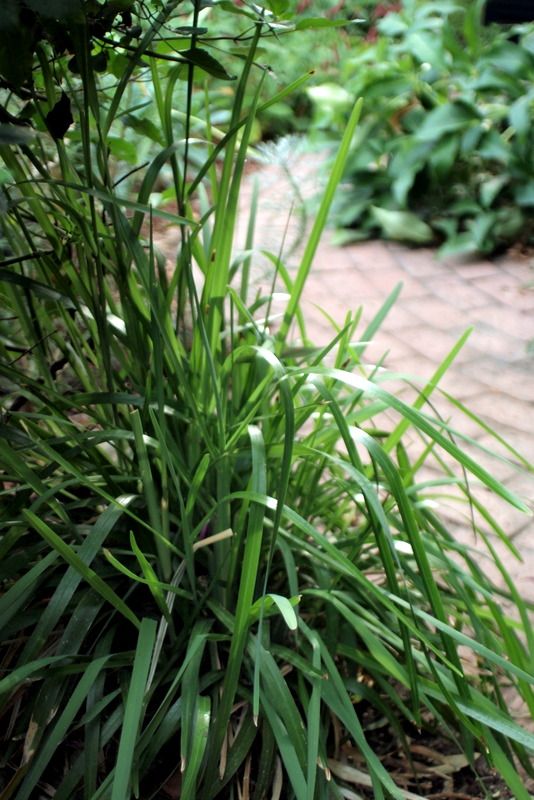 Last task for August: Order tulips!