Looking at the front fence, in back of which, planted along the sidewalk, is a row of box hedging, now over 7 feet tall. Height restrictions of course limit privacy options for fences along the sidewalk, but as far as augmenting fence height with hedges, the sky's the limit. At least that's my interpretation of city fence height ordinances. Knock wood, no code enforcement complaints so far. Sounds and tantalizing scents of Labor Day festivities wafted over the hedge all weekend. The local Cambodian temple in particular was in full swing. Just the tops of the heads of tall boys on skateboards whizzing by, sometimes being pulled by their dogs, can be seen over the hedges now. If, like Ein, you are inclined to see some street action, the front porch still affords prime views. Ein's little corgi heart beats fast for boys on skateboards, so imagine the palpitations when dogs are pulling those boys on skateboards.
Looking the other way, the box hedge blocks this view into the back garden. Total privacy has been achieved here, (she said, barely concealing a smug note of triumph). Agave 'Mr. Ripple' has sentry duty along the pathway to the east gate, which is in a local shop being repaired at the moment. He's been repelling the soccer balls that have been sailing over the dwarf olive hedges all summer from the east boundary. Gardens are an awful lot about boundaries, aren't they?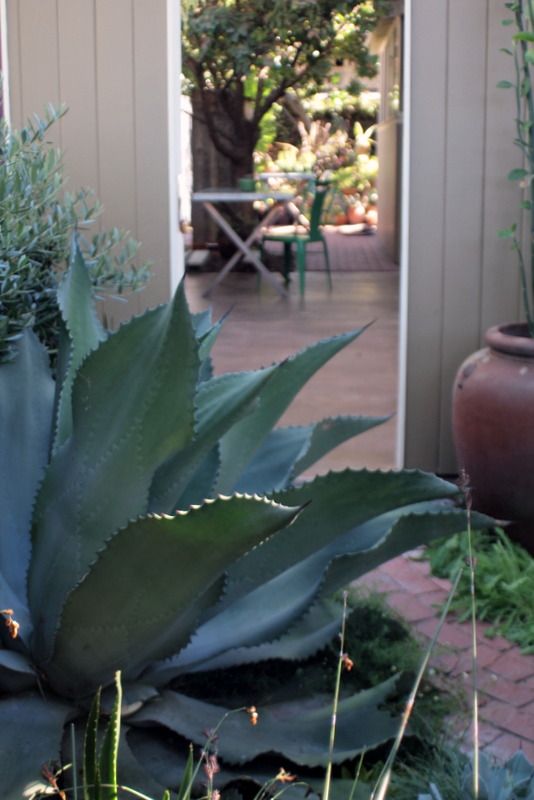 The dwarf olives on the east boundary, 'Little Ollie's, are over 5 feet in height now, growing much faster than I hoped for, but the height is most welcome. Growth of hedges is easy to handle, and the dwarf olives should max out at around 6 feet. As far as the other plants, growth can be a bit more problematic. Mr. Ripple, for instance, grabbed the hem of my neighbor's dress yesterday. And now I'm clipping and shaping the olives around him. 'Mr. Ripple' seems to have had a fair-sized growth spurt this summer. He hopefully has achieved his maximum height at about 4 feet but may still grow wider. The Agave potatorum to his left is about a foot in diameter.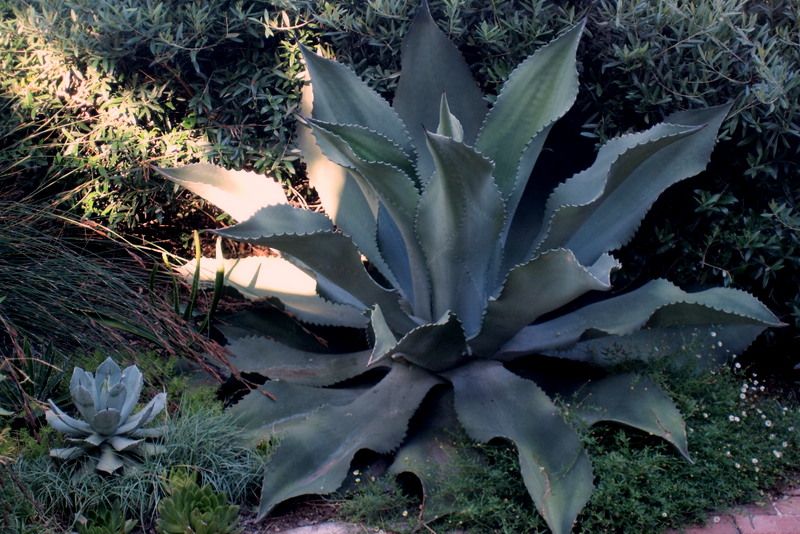 August was a month of cutting back, moving, thinning, all the predictable outcome of a zeal for plants that knows no bounds. The agave 'Jaws' was moved last week too, which was terrifying, like defusing a bomb, but it did go smoothly.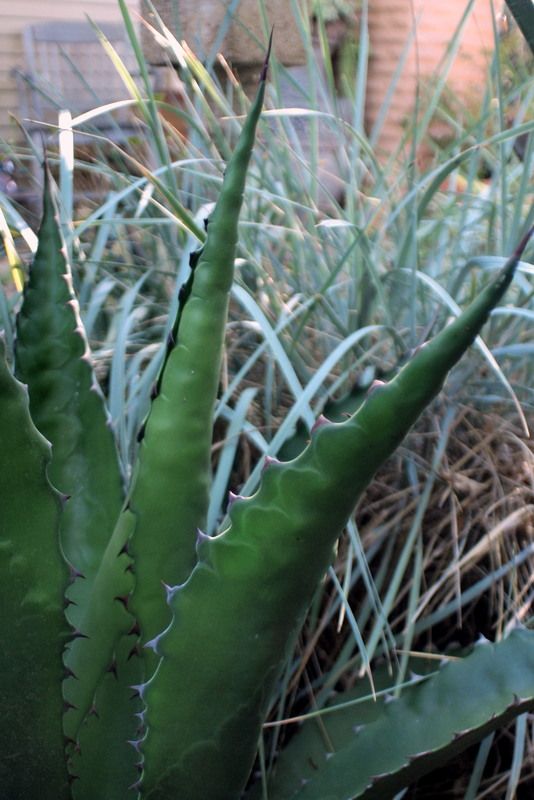 But what a thorny dilemma: Save Mr. Ripple or the dwarf olive privacy hedge? I'll defer that decision for now. I'd rather think about my lovely new variegated (thornless) beschornaria, predicted height and width between 4 to 6 feet. I wonder how big it will really get?