Some interesting Sunday reading to be found in another nuanced, contrarian view of the High Line Park in New York City. I know, not another post on the High Line! I can't help it, I'm utterly fascinated by this subject. So many twists and turns down those old railway tracks. Jeremiah Moss, who blogs at Jeremiah's Vanishing New York, had his Op-Ed on the High Line, "Disney World on the Hudson," published in the New York Times on August 21, 2012.





Some sample paragraphs:

"Not yet four years old, the High Line has already become another stop on the must-see list for out-of-towners, another chapter in the story of New York City's transformation into Disney World. According to the park's Web site, 3.7 million people visited the High Line in 2011, only half of them New Yorkers. It's this overcrowding, not just of the High Line, but of the streets around it, that's beginning to turn the tide of sentiment."

"Originally meant for running freight trains, the High Line now runs people, except where those people jam together like spawning salmon crammed in a bottleneck. The park is narrow, and there are few escape routes. I've gotten close to a panic attack, stuck in a pool of stagnant tourists at the park's most congested points."


images found here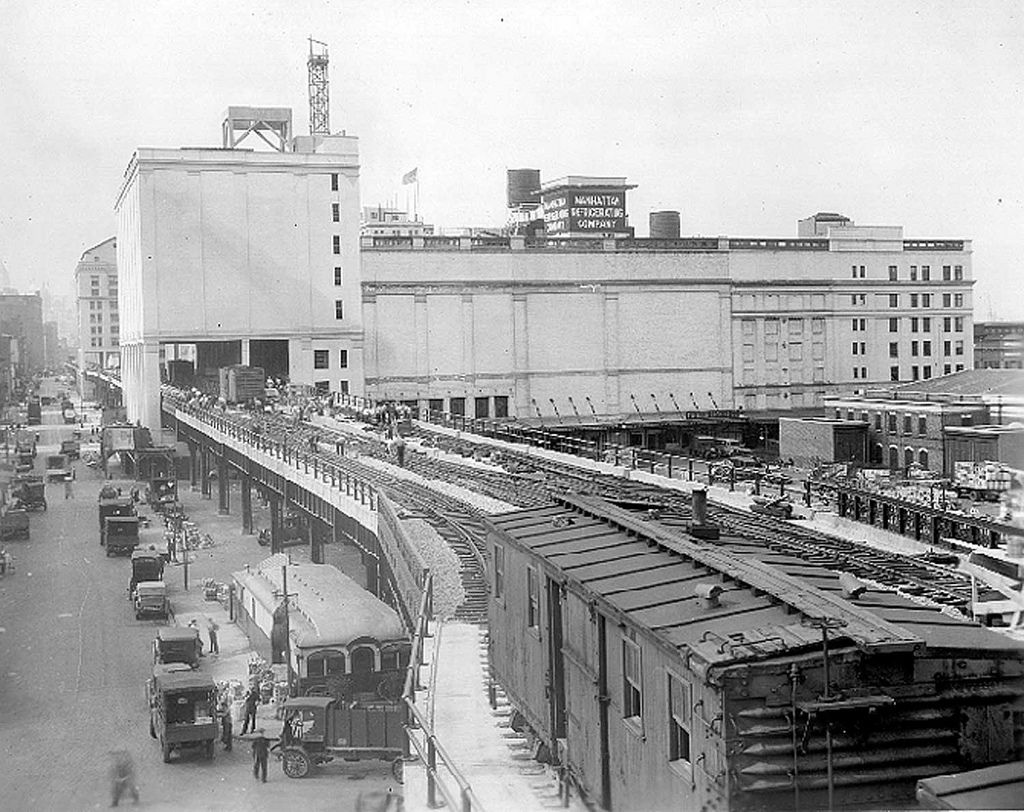 The High Line was certainly on this out-of-towner's must-see list when visiting New York. In fact, it was the prospect of walking the High Line Park that finally induced me to stay a few days in this astonishing city and have my first look around, a trip I had put off year after year. Just the first section was open when I visited in the autumn of 2010, and there were no stagnant pools of tourists to be avoided at that time. It was fairly empty. Who could have imagined that the High Line Park would be so successful that it would stir up some New York nativist blowback? Rezoning the surrounding Chelsea neighborhood to allow for an influx of expensive, fish-bowl high-rises adjacent to the High Line seems to be the cause of much of the animus. ("
Close Quarters
," New York Times 8/1/12)
Gain a park, lose a neighborhood?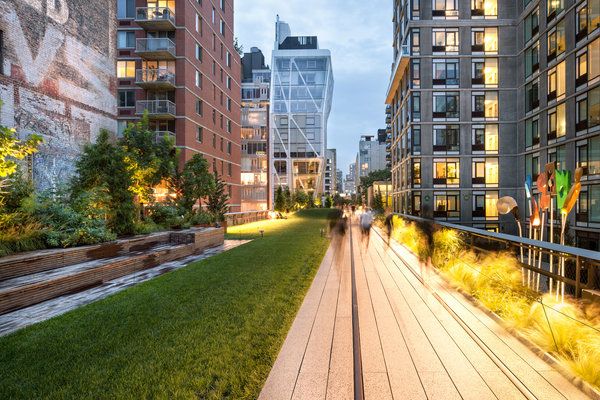 Unintended or otherwise, one of the consequences of the repurposing of the abandoned elevated railway trestle into the High Line Park has been to spur a juggernaut of gentrification, a fate the city of Los Angeles has long been praying will be visited upon its downtown. We're finally getting a park, too, the 12-acre, much-delayed Grand Park, scaled back from pre-recession ambitions.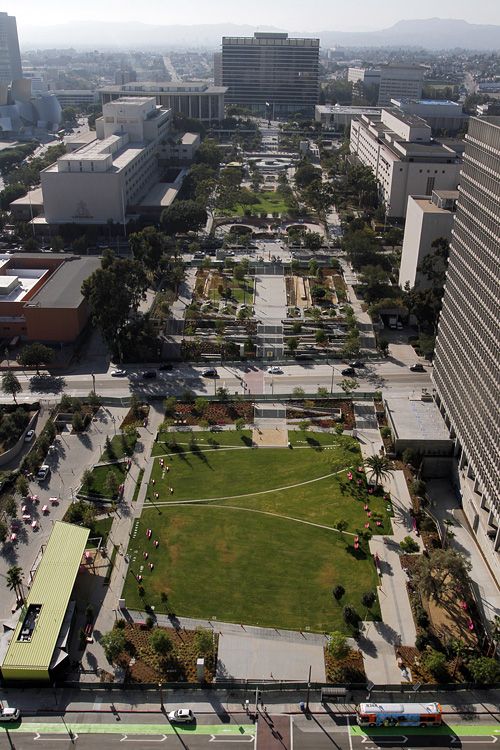 Los Angeles is woefully in need of public parks, found to
rank 17th
among major U.S. cities in public space devoted to parks. Yes, we have our public beaches, but there's currently no Metro Rail service that runs to the beaches.

Image found here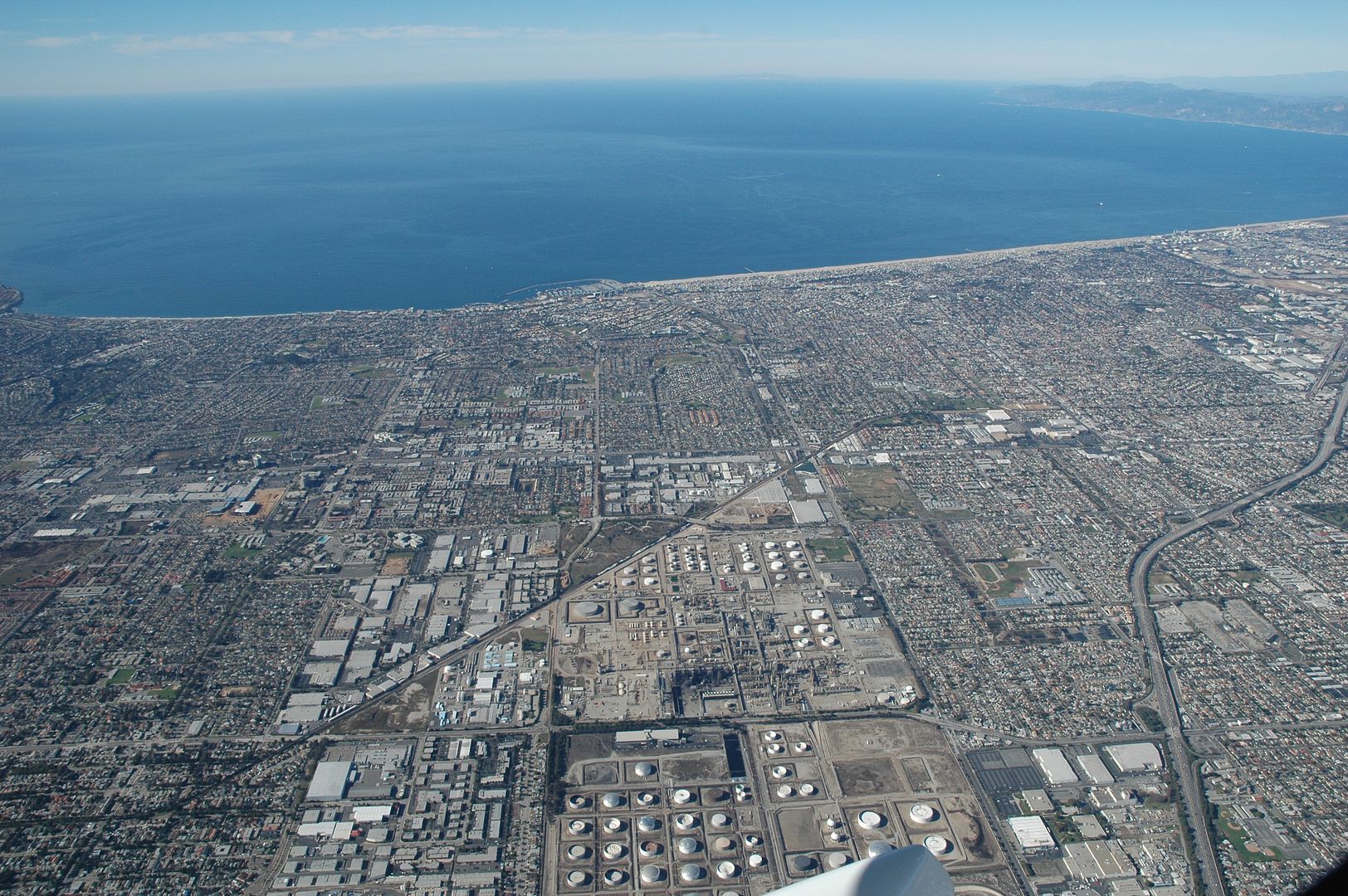 Image from LA Times

A tale of two cities, a tale of two parks: As a park, the High Line brilliantly captures the innovative optimism and skyward character of New York, taking up no new space at the ground level, whereas Grand Park is an awkward fit around parking garages, interrupted Los Angeles-style by streets breaking it into sections, just as our freeways isolate neighborhoods. But for now it's all we've got. From Christopher Hawthorne's
review
in the LA Times 7/24/12:
"Mostly what we've had is a collection of thousands upon thousands of privately owned and miniature Central Parks, one for every suburban backyard. Grand Park represents something else: an attempt, imperfect but encouraging, to chip away at the rigid infrastructure of the car-dominated city and make a private city a little more public."
Like the newly gentrified Chelsea neighborhood surrounding the High Line, Los Angeles developers originally had big plans for the area surrounding the Grand Park:
"Under the original plan, which backers said would help create a "Champs Elysees" for Los Angeles, a dramatic Frank Gehry-designed complex of high-rise towers, shops, upscale condos and a five-star hotel should have been completed by now."
Unlike the grass-roots efforts that got the High Line Park rolling, big-money developers have always been in charge of Grand Park, and developers will always aim for the Beverly Hills jackpot.
"During the height of the real estate boom, developers unveiled numerous luxury projects, believing the downtown revitalization was so strong that it could support Beverly Hills-level retailers and residences."
Then there was that pesky 2008 recession. At least New York got the High Line out of their devil's bargain. We did get some nice hot-pink chairs though.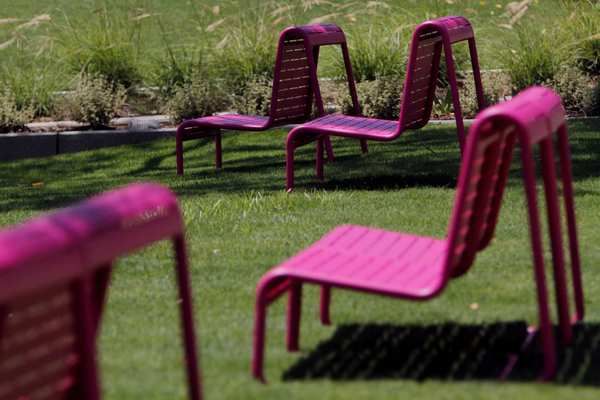 And who knows? In the big picture, maybe we're actually lucky that the recession knocked the glitz out of our park and left us with a modest, workday space instead of a tourist magnet like the High Line. I do have to warn Mr. Moss, though, that I plan to once again join the throngs of tourists clogging the High Line Park to see the completion of its subsequent phases. The High Line's success is just another example of the price that great cities — London, Paris, Venice, New York — pay for their daring, walkable beauty.