It may technically be autumn, but the high temps and torpor of summer persist. I'm feeling a bit muzzled by the heat, but stuff is still getting done.


Agave parrasana 'Fireball' was moved to a larger pot this weekend.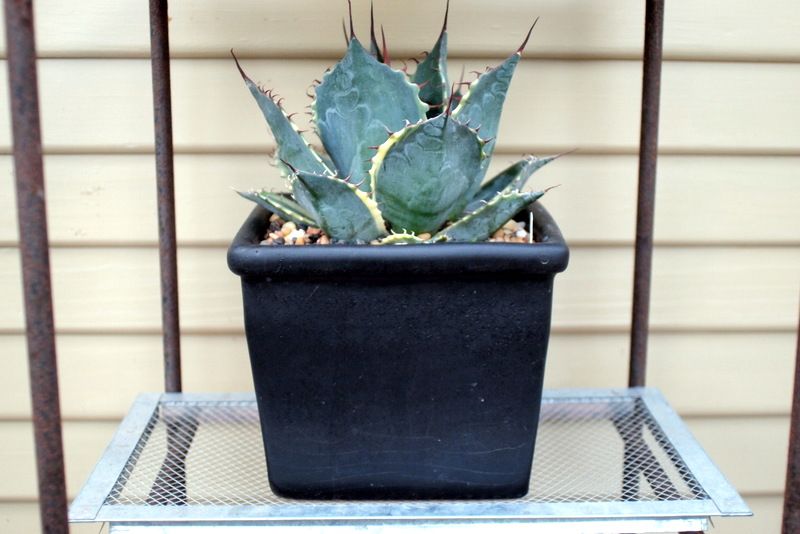 As was Agave 'Dragon Toes'
And this little New Zealand Tree Daisy with the big name of Olearia virgata v. lineata 'Dartonii' was potted up too. I've already planted an Acacia baileyana 'Purpurea' in the last available spot for a tree, so for now this olearia will have to spend a good part of its young life in a container.
Far Reaches Farm's description reads: "Intriguing 'Shrub Daisy' from the South Island in New Zealand. If you've hankered for a willow but lament your dry conditions, then weep no more. All the grace and texture of a small willow with the bonus of small white flowers."
The black containers are from a pottery wholesaler at the southern end of the Harbor Freeway I visited a month or so ago, and the salvaged iron stand has been kicking around here for years. Its original industrial function remains a mystery. A recent purge moved it to a discard pile in the driveway, where I rescued it once again on Saturday. There's a constant tug between clearing useless junk out and having it on hand to play with.

The shelves are vents of some kind that I picked up at a hardware store over a year ago that looked like they'd be useful for something.
Wish I'd picked up four.