Meet my heroine, Ms. Henrietta Mouse.
"…she is an artist, a designer, a dreamer, a builder, a creator, all that and more too."
The Venice Garden Tour got me thinking about Henrietta Mouse again, a children's book that was a particular favorite in our house over 20 years ago. Ms. Mouse, architect extraordinaire, designed houses for her animal friends, and the Venice architects and designers' canny adaptations to crowded urban living conditions revived memories of this lovely book.
When it came time to lay in a good stock of children's books over 25 years ago, lots of those Little Golden Books, like Saggy Baggy Elephant, were gifted to us on the kids' birthdays. I was appalled. I had a long list of books for them when they reached 12 and over, but for the younger ages I had no such list. These Little Golden Books obviously weren't going to cut the mustard, so I started browsing the library shelves. What I found at the library amounted to a golden age in children's literature, especially the art work. Reading aloud Chris Van Allsburg's The Garden of Abdul Gazasi was thrilling for the kids, but the drawings of the topiary in Mr. Gazasi's garden had me hooked. These are the kinds of books parents don't mind reading aloud the requisite 100th time.
Assuming our copy of the Ms. Mouse book was long gone, I searched on the Internet for the author's name and hoped to maybe find a copy. Turns out this book is out of print but beloved by so many it sells for $250.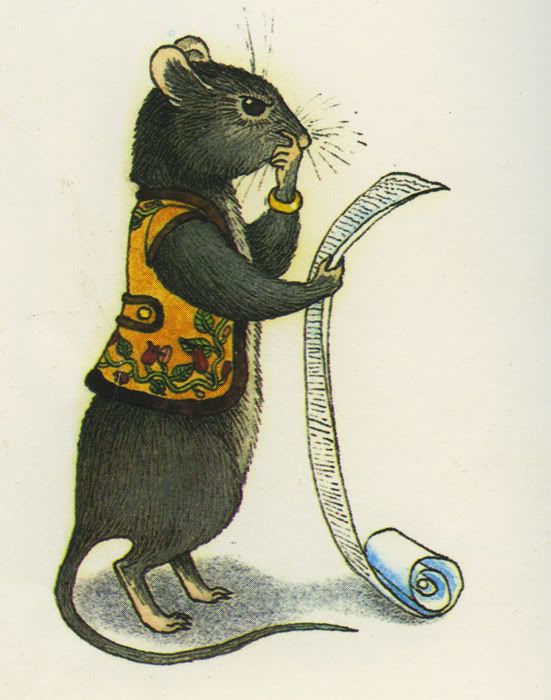 We were all stunned. Our Ms. Mouse achieving superstar status! Which led to the pressing question: Where was our copy?
Coming home from work late the next day, there it was on my desk. The garage had been ransacked and our copy found in storage. As I remembered, my youngest son's name is inscribed in the inner cover, and it's a little beat up from all that childhood adoration.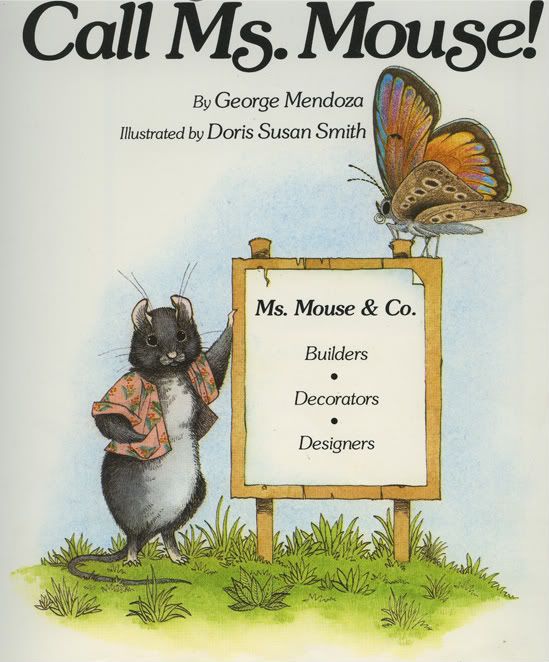 The artist Doris Susan Smith loves to depict cross-section views of the various dwellings, a technique also favored by the director Wes Anderson in his films like The Life Aquatic and Fantastic Mr. Fox.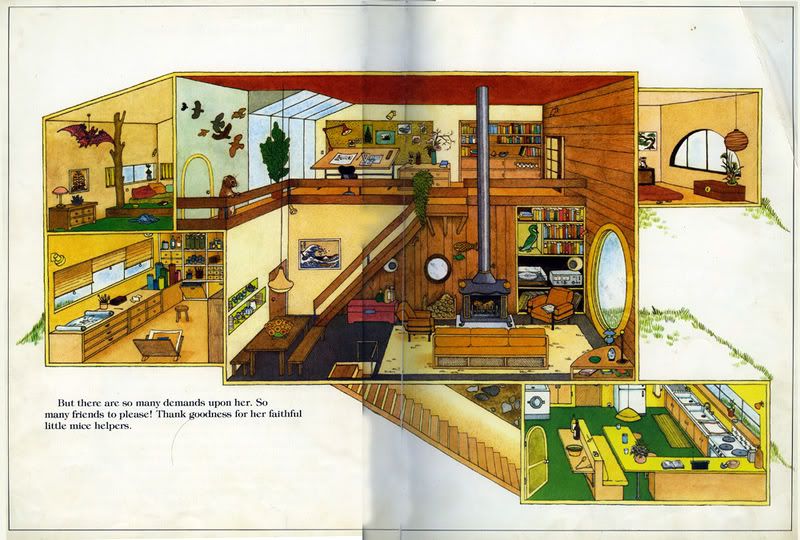 From NYT review 11/221/81: "This book is a showcase for a new artist, and her work is so enjoyable it's more than worth the price of admission. There are 16 double-page spreads, in pen and ink and lustrous watercolor, showing the animals' dwellings. They range from an underwater Atlantis for Trout, through Pig's deliberately ostentatious palace ("See what piggy money can do!"), to a compact, snug home for Worm (with storage cellar and greenhouse-attic, all inside a pear securely fastened to its tree branch by rope and brass fittings), to a tent for decorator Ms. Mouse, a nature lover at heart. Each dwelling is lovingly furnished down to the tiniest detail. The animals themselves, in the best tradition of this demanding genre, are true to their own species, yet have distinctly human characteristics. Let's hope Doris Susan Smith does many more books."
If this book pops up at a flea market or thrift shop, grab it. You won't be disappointed, whatever your age.