I went on a treasure hunt for a half-forgotten bulb in the front gravel garden in early fall, Crinum 'Sangria.' I was certain it was in there somewhere.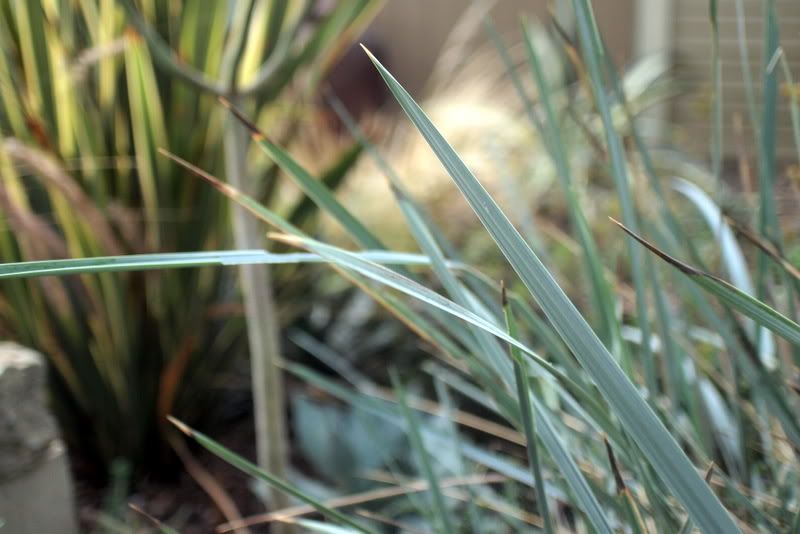 That's when I noticed the new green tips of the nerines piercing through a sea of gravel. Spring is full of such miracles. When they happen in fall, it makes one gasp out loud.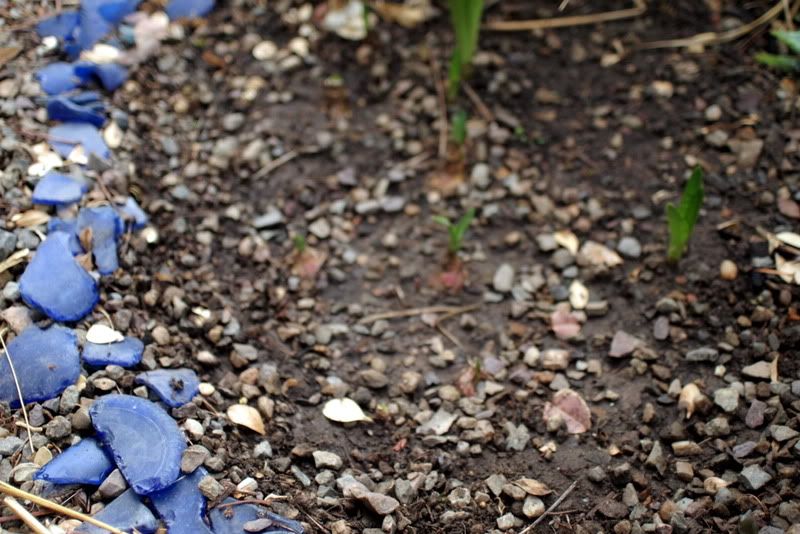 Yet the crinum remained elusive. Brushing lyme grass out of the way, sure enough, the crinum was buried under Pelargonium sideroides and withering away from lack of light.
(If I could remember where I subsequetly planted the crinum bulb, I'd have a photo of that instead of the pelargonium.)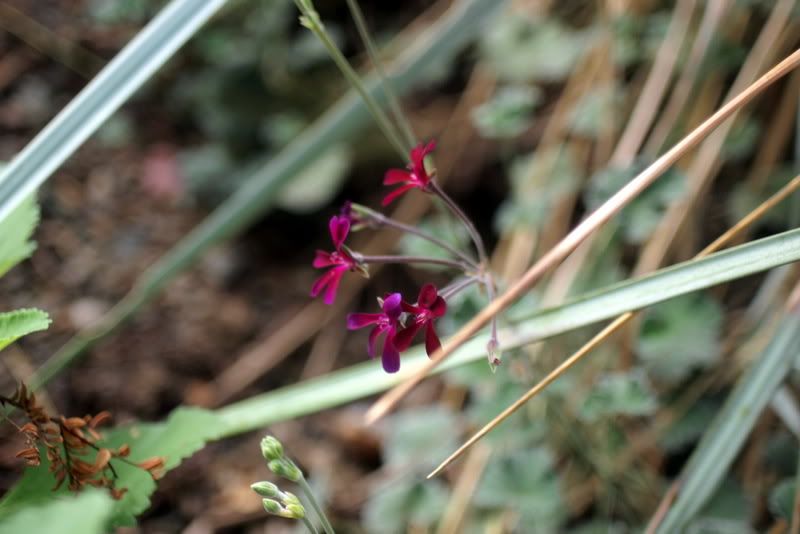 Which has always been the problem for me with the "other bulbs," these late summer-blooming bulbs of the amaryllidaceae family: Remembering where I've planted them. These bulbs, including crosses like amerines and amarcrinums, were born to thrive in my zone 10, winter wet/summer dry gravel garden, but I've been too slow or stubborn, or both, to catch on. For starters, any plant that hates to be disturbed is going to have a difficult time with the incessant renovations taking place in my garden. Pot culture is required by gardeners in zones too cold to grow these bulb outdoors, and that method may provide a solution for me as well, as counter-intuitive as it may seem. (Plus I hate having to mess with lots of little pots.) In my defense, I have never seen these bulbs grown locally, or even offered by local nurseries for sale.
To finish the poor crinum saga, I pulled it out roughly by its pseudostem. With this kind of treatment for a bulb famous for resenting disturbance, I can kiss off seeing a flower from that bulb for, oh, five years. Maybe forever. Sigh. I didn't really expect it to flower anyway. I'm a firm believer that if you don't commit, really commit body and soul to a plant, it just will not grow for you. And making a commitment to properly site these summer-blooming members of the amaryllidaceae family where they won't be swamped by other plants has always been my weakness.
I'm fairly sure I moved the crinum somewhere in the vicinity of the nerines that Matt Mattus of Growing With Plants mailed to me last year in a remarkable gesture of horticultural generosity, in a sunny spot as close to no-disturbance as I can muster. I'm wildly excited about the prospect of seeing Matt's nerines bloom. The wonders he produces in a Massachusetts greenhouse put me to shame here in mild zone 10.
Upon discovering them in growth in late August, I had carefully marked the site of the dozen or so Nerine sarniensis with blue glass so I didn't inadvertently stomp on them and began to water them.
(Providing a dry spot for such bulbs has never been an issue. This area was dead dry.)
On September 27, the flower bud forms, backlit by blazing morning sun, another day over 100 degrees.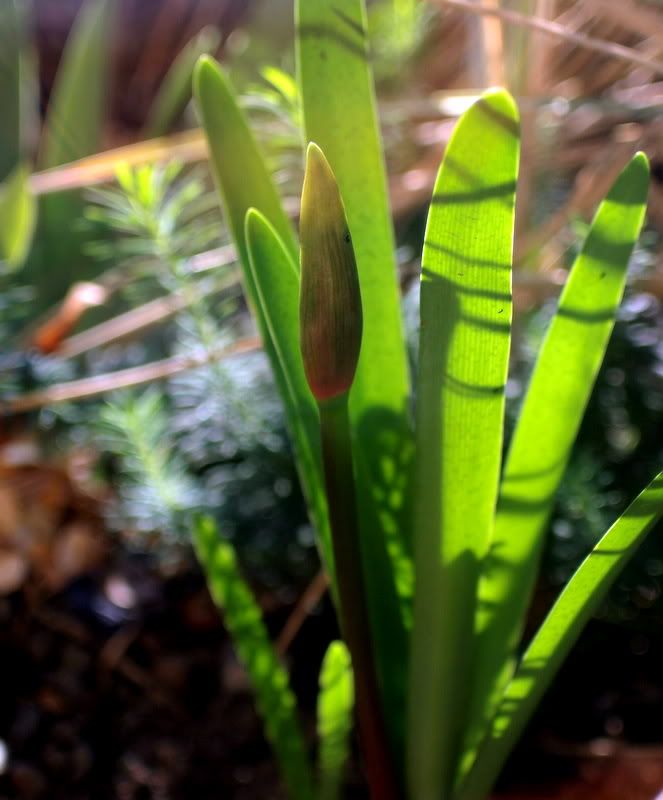 And today, the flower bud just about to open: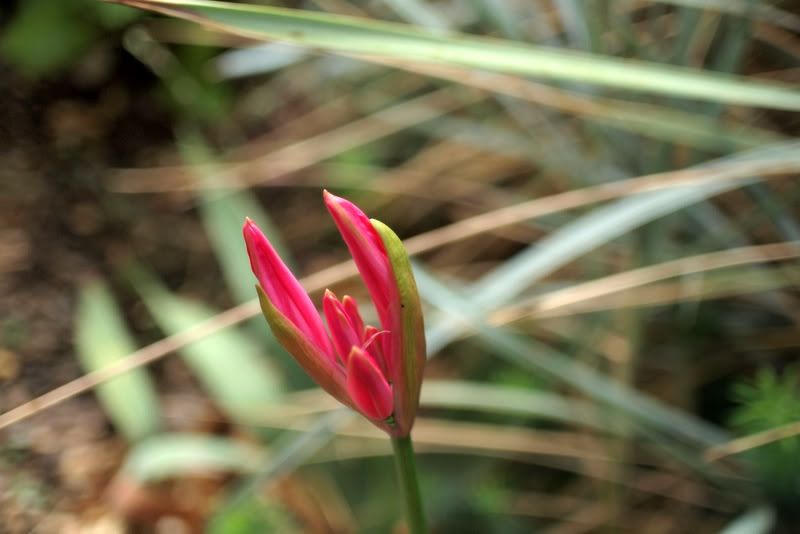 And wouldn't you know, I'm leaving town for a week on Wednesday. Hurry up, nerine!
In the meantime, here's a 2006 post by Matt on his nerines, as well as a recent post on nerines from The Exotic Garden Blog.
Warm thanks again to Matt for the gift of nerines. I definitely won't forget them.