I certainly don't have a garden large enough to include a 6×6 fall-bloomer like Salvia mexicana 'Limelight.'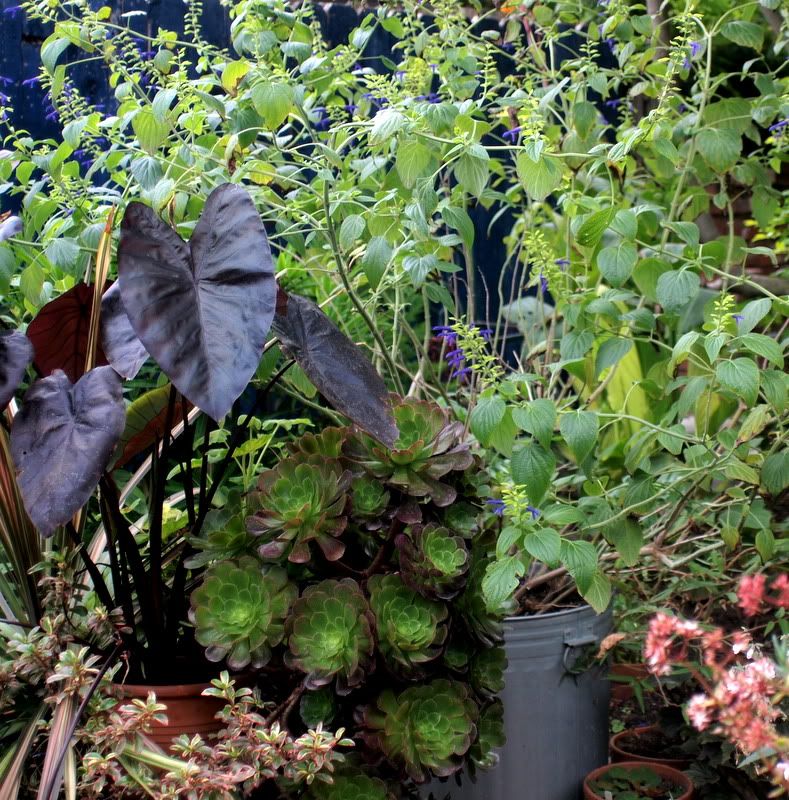 And I don't think there's an affordable pot in existence roomy enough for a mature plant, except maybe the humble trash can. (On my budget anyway.)
The salvia flowers well in morning sun, filtered sun the rest of the day. During winter, full sun is tolerated, which this salvia receives positioned under a deciduous cotinus. As the seasonal light changes, it's a simple matter of grabbing a handle and shoving it around to find the best light. Pruning it back hard in spring is also a good time for root pruning, basically running a knife a couple inches from the outer edge of the root ball, in situ in the trash can, removing the old roots, and adding fresh potting soil or even pure compost. This salvia loves rich soil. Eventually, it will be best to take cuttings and start the whole process over, since these big salvias get excessively woody with age.
I admit to feeling occasionally silly employing such goofy tricks, especially during spring when there's this big, hulking trash can full of a dormant plant to maneuver around. That feeling of foolishness evaporates as soon as this salvia finally hits its stride, when everything else is winding down. The leaves are nothing special, but they are a rich green and not bothered or chewed on by any pests, so it does contribute a luxuriant leafiness even when not in bloom. Once in full bloom, you can't stand in admiration of this salvia for longer than a minute before a hummingbird darts in, causing the branches to bob and sway by its diminutive turbulence.
Other salvias reputed to be good fall/winter bloomers for Southern California include Salvia iodantha, wagneriana, madrensis, macrophylla, karwinskii, all which make very large plants. Obviously prime candidates for trash can culture.
If trash can chic is not to your taste, careful placement of summer pots offers possibilities for concealment. I'm thinking my brugmansia's next home may be in the trash.