When photographer MB Maher was in town a couple days ago, I told him that I keep bumping into one of his images in my travels through blogs and Pinterest boards. It's one he took many years ago of Los Angeles artist and set designer Rick Frausto's delicate, high-wire, aerial ballet of beakers, flasks, corkscrew wire, roots and spider plants for a kitchen window. This photo has been bobbing around on the Internet, obviously holding some special, intimate message for lots of people in those flasks and bottles.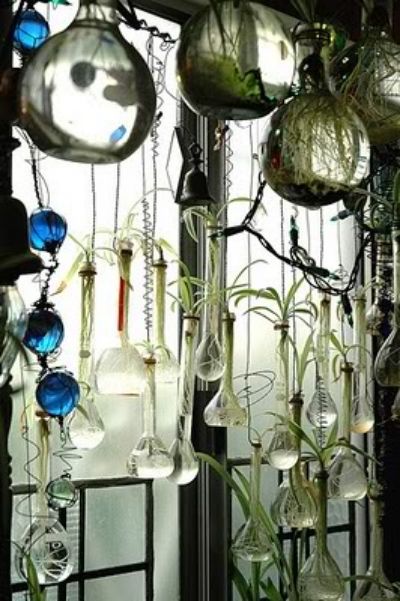 I had forgotten the artist's name and the provenance of the photo entirely, and that's when Maher told me that years ago he had made a little video snippet on Frausto. I immediately asked could the little film be found? And so it was, a work in progress with terrible audio, but it's only fitting to put a name to that photo at last. Maher says this video was made during a period of "long, languishing student work when he had no idea how to run sound and as a result lost a lot of tape/interview and barely cobbled together this love letter to LB artist Rick Frausto."
Presenting Mr. Rick Frausto, creator of Kitchen Window With Beakers.