Seems all I bring home from my little 10 X 10 plot lately is sweet peas and fava beans. Not exactly a practical daily diet, but nourishing enough each in their own way.
More on the mysteries of fava beans later.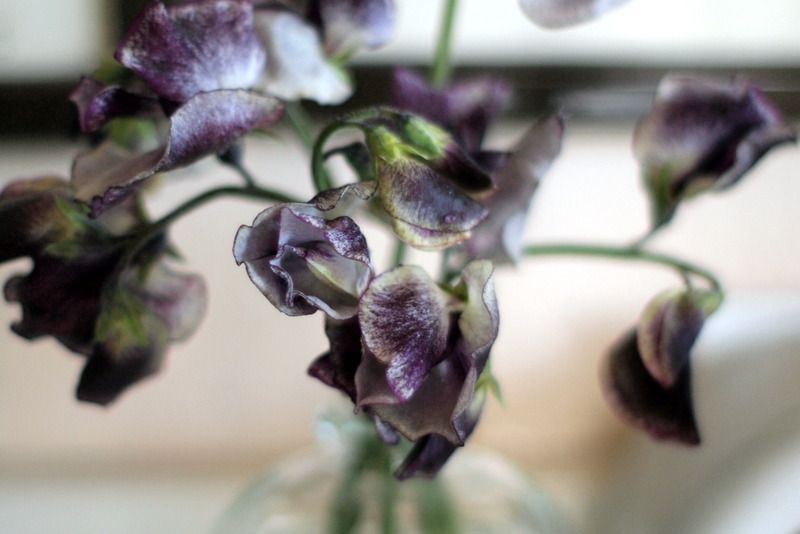 Record-keeping is not my strongest suit. That's a paragraph on its own in the as-yet unwritten post "Why I Blog.' But I dashed off an email to myself with the date I planted these sweet peas, 11/29/12, noting only one of the names of the three varieties I planted, 'Nimbus.' White petals flushed and veined in indigo.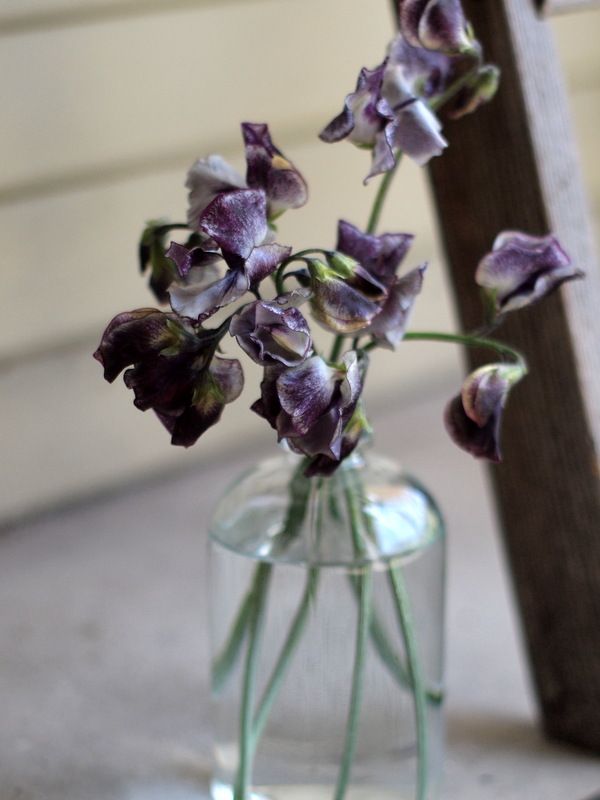 They were bought as small plants of named varieties. Stormy 'Nimbus' is quite the change-up from the loads of deep wine-colored sweet peas that have been filling Mason jars and vases since late March from a seed mix by Renee Shepherd that I direct-sowed in November. It's called 'Velvet Elegance,' an early-blooming, day-length neutral strain. I like this mix for fall planting, when the plants can take advantage of a long, cool growing season and the winter rains. And 'Velvet Elegance' does bloom extra early in the short days of spring. It's all about getting as long a season of cut flowers as possible before the heat of summer kicks in. I'm using "cattle panel" as trellis to support the vines.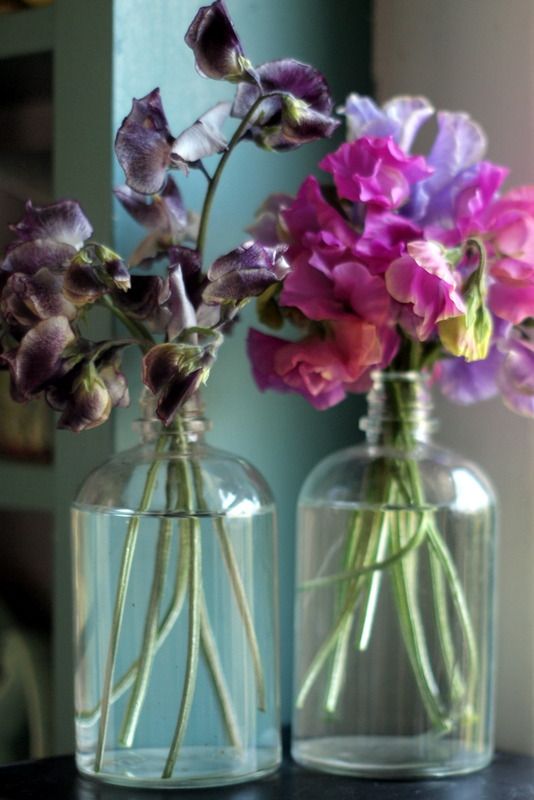 Much as I love the 'Velvet Elegance' mix as a sure-fire source of flowers, I'm really glad I took a chance on a few named varieties to shake things up in April. I wasn't sure the soil in my garden plot could grow decent sweet peas at all yet, after construction equipment from a municipal drain project left it in such a compacted mess. Splurging on a few fancier kinds seemed a bit reckless at the time. If gambling away 10 dollars can be considered reckless.

The gamble paid off. The moral: Sow sweet peas, lots of them. You will probably be tired of cutting them for vases before they are bloomed out. Starting plants from seeds is best, but don't ignore an opportunity to bring in some exciting new kinds even as small plants. There must be a window in just about every climate where sweet peas can grow and bloom, however small that window may be. In Southern California fall sowing might be best, so they grow strong in cool temperatures, taking advantage of whatever winter rain we get to bloom early before the heat of summer.

I left the bucket of sweet peas in the car yesterday while I did a few errands. When I opened the door again, the unexpected fragrance that poured out stunned me for a moment, until I remembered leaving the flowers soaking in a bucket on the floor of the car. Along with finding the smallest parking spaces in Los Angeles, now I know a Mini Cooper on a warm spring day holds scent quite well.