Autumn is a time to dream of American prairies, shoulder high with the blooms of plants bearing the names of forgotten explorers.
Right alongside the list of places I've yet to visit is the list of plants I've yet to see, such as vernonia, named for English botanist William Vernon.
(V. altiissima, angustifolia, arkansana, baldwinii, crinita, fasciculata, flexuosa, gerberiformis, glabra, karaguensis, Melleri, missurica, noveboracensis and no doubt others.)
An American prairie plant, member of the asteracea, blooming in fall. "Habitats include upland areas of dry prairies, hill prairies, glades, openings in upland forests, thinly wooded rocky slopes, pastures, abandoned fields, areas along railroads, and miscellaneous waste areas." Looks like purple ageratum in photos. Although British landscape architect Russell Page famously dismissed perennials as so much "colored hay," the English tried mightily, and still do, along with now the German and Dutch, to marry the classical garden style with the informal use of soft-stemmed flowering perennials, many of them from North American prairies.
Some of us just can't get enough of the colored hay.
(photo from The Telegraph)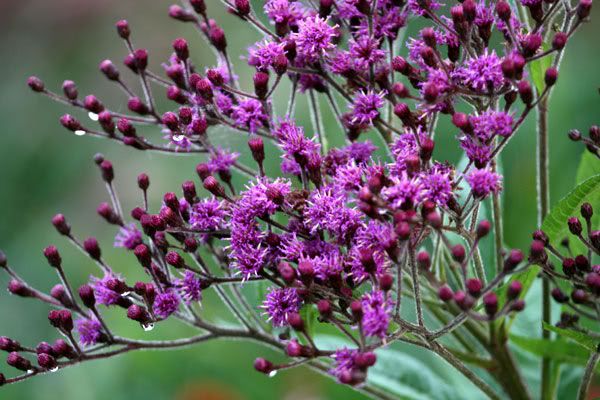 And sometimes a poem can convey much more than a photo.
Ironweed by Robert Morgan
There is a shade of purple in
this flower near summer's end that makes
you proud to be alive in such
a world, and thrilled to know the gift
of sight. It seems a color sent
from memory or dream. In fields,
along old trails, at pasture edge,
the ironweed bares its vivid tint,
profoundest violet, a note
from farthest star and deepest time,
the glow of sacred royalty
and timbre of eternity
right here beside a dried-up stream.
published in the Atlantic June 2010