Ricinus communis, the castor bean/oil plant, is the freshest sight in this late-summer garden. Unlike the rest of us, the swampy heat of late August only improves its looks. The tree-like mother plant, a 'New Zealand Purple,' lived through our typically frostless winter, just as ricinus infamously naturalizes all over Southern California. By early summer it's 6-foot presence had become woody and gawky, and to add to its aura of unwholesomeness, it had become beloved as a perch by evil-eyed grasshoppers. It was kept mainly as a support for some tweedia vining up its trunk. I finally pulled it out in July, when its sparsely leaved hideousness was too much to ignore, but of course seedlings keep popping up, just as they have been doing since early spring.
In early August I let a few seedlings remain, and I'm very glad I did. The new growth is fresh and lush and everything the year-old mother plant was not. Like other tropicals, they've grown fast in the heat of August, several feet in a few weeks, especially those seedlings left to grow in situ. I've transplanted a few around the garden that are much slower to throw those big palmate leaves.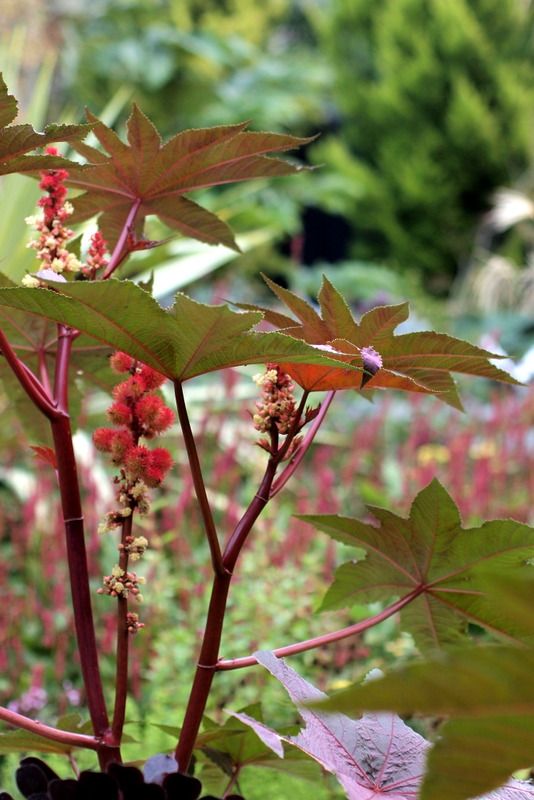 Watching these castor bean plants grow lush and beet red this August nevertheless prompts a string of ambivalent musings. Yes, it's beautiful, but it's also a local pest that's escaped cultivation. In my small, walled garden, the large seeds aren't going anywhere, but then there's always its sinister, non-garden applications to seize the imagination. It gets a chapter of its own in Amy Stewart's Wicked Plants, and by now we all know (or should know!) of the highly toxic and potentially lethal properties of its seeds. But processed correctly, the oil has long had many uses, both industrial and, however misguided, medicinal. In fact, it was castor oil that I mistakenly believed I had been given as a child. With vague memories stirred by these plants, I was all set to harangue my mom, who's out of town for a couple weeks, on the still sensitive topic of childhood nutritional supplements in the form of castor oil, when I realized with a little research, and confirmed by a quick phone call, that it was tablespoons of cod liver oil she was giving us as kids, always accompanied by a couple saltine crackers to soak up the goo. Eventually, mercifully, we were given the cod fish oil in chewable tablets.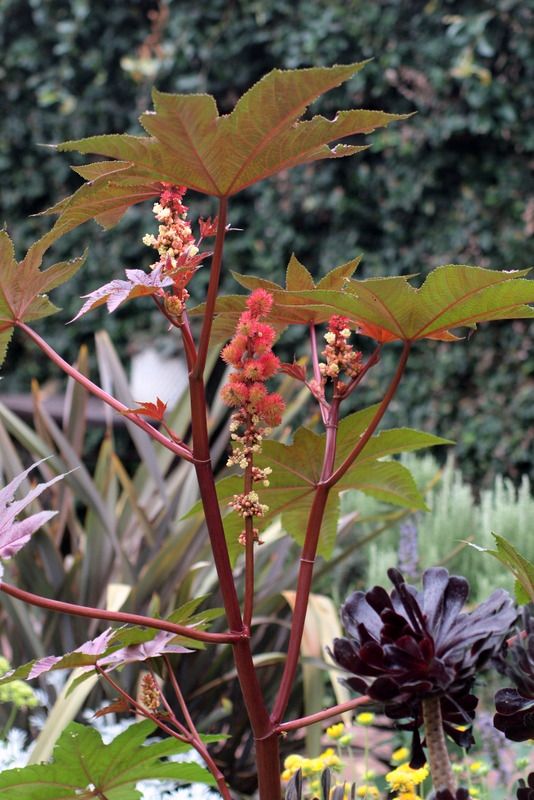 Cod liver oil was yucky enough, but castor oil would have been an entirely different level of "taking your medicine." Castor oil, too, had its heyday as a folk remedy and alleged nutritional supplement for children. As far as any real nutritional value, castor oil, unlike cod liver oil, offers none, but its infamous laxative properties made it an effective threat of punishment. And apart from its many industrial uses, it's also been used as a form of torture: Wikipedia: "In Fascist Italy under the regime of Benito Mussolini…political dissidents were force-fed large quantities of castor oil by Fascist squads."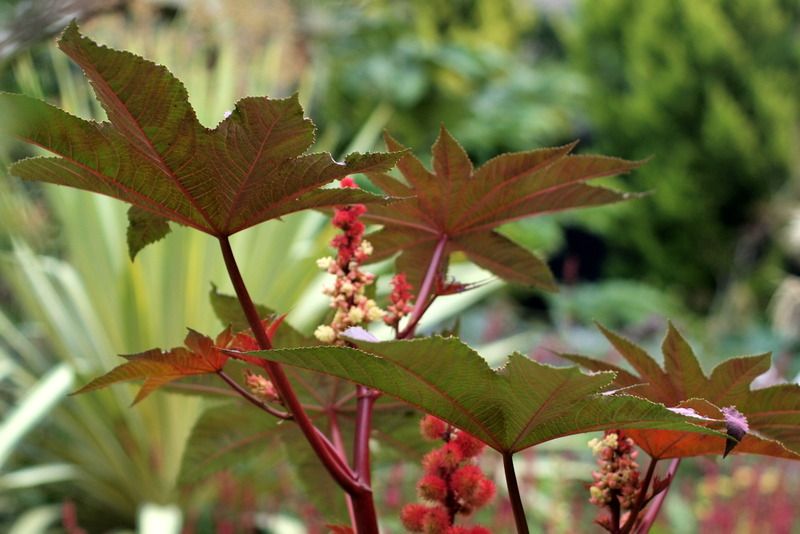 That's a lot of baggage for any plant to carry.
Ricinus communis, the castor oil plant, a member of the euphorbiaceae. If you didn't make late summer seem as fresh as spring again, we wouldn't even be having this discussion.
I'm linking this post to Loree's blog Danger Garden, where other favorite plants are discussed weekly.