If I wake up to a day that has a few extra hours rattling around like loose change in the pockets of Marty's jeans that I always borrow, clinking against paper clips and last night's Peroni bottle cap, it's pretty much guaranteed I'll make something, not all of which ends up on the blog. Case in point, as Mr. Serling said. There's this old, topless coffee table base I've kept around for just such a day with a few spare hours, which happened to be sometime last summer. Maybe I'd make a new tabletop out of mosaiced bits of salvaged wood lying around. An idea which, big surprise, turned out to involve a basic knowledge of carpentry that I don't currently possess.
But look, there's all these succulents that need thinning! You can see where this is headed, in the direction of the craft of least resistance: Succulent table!
Completed in a couple hours, it immediately turned from triumph into garden albatross, taking up all the room of a coffee table with zero functionality. In my zeal to make use of excess succulent cuttings, I neglected to build into it a flat surface, even if only large enough for a cup of coffee. Or a Peroni.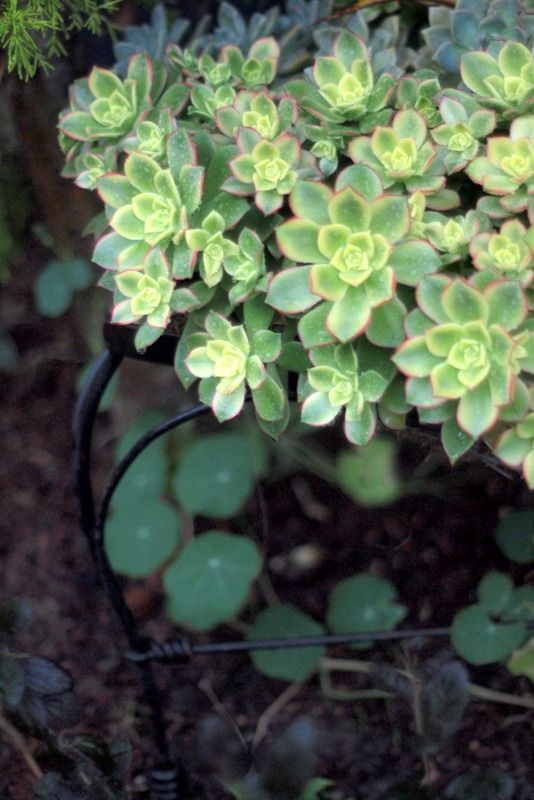 At the end of some ill-fated projects, there's that weird sensation, a mixture of both accomplishment and dread. This was one of those projects.
But the succulents were thriving in the shallow, free-draining root run, a hammock of hardware cloth mossed to hold soil, so I continued to care for it, cursing freely when my knees banged into the table, as they often did. With summer approaching, and chairs and tables getting shuffled, I really wanted it out of the way, preferably in a spot shielded from full sun to reduce watering needs. And if there wasn't a suitable spot, it was time for the albatross to go.
Looking around this tiny garden for a scrap of space I've somehow overlooked, as I've done a zillion times before, I settled on a gap between the Monterey cypresses against the eastern fence. Not wanting to crowd these important privacy screens, I'd left the ground mostly bare among the three. The table tucked in snugly between two, and the albatross was, at last, no longer underfoot. In fact, the albatross loved its new protected location so much that the succulents plumped up and spilled over the sides, hiding the armature of hardware cloth. And for the first time it didn't seem quite so silly after all.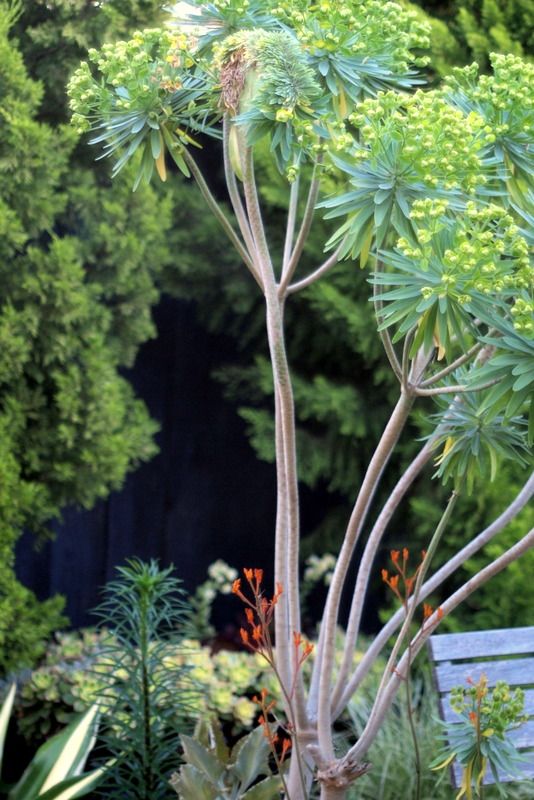 Tucked in against the fence, even this week's hot and fiercely dry Santa Ana winds couldn't touch it. Now, instead of a failed table, it's an abstract band of mostly bright Aeonium 'Kiwi' floating about 3 feet above ground level, lighting up the gloom at the base of the cypresses.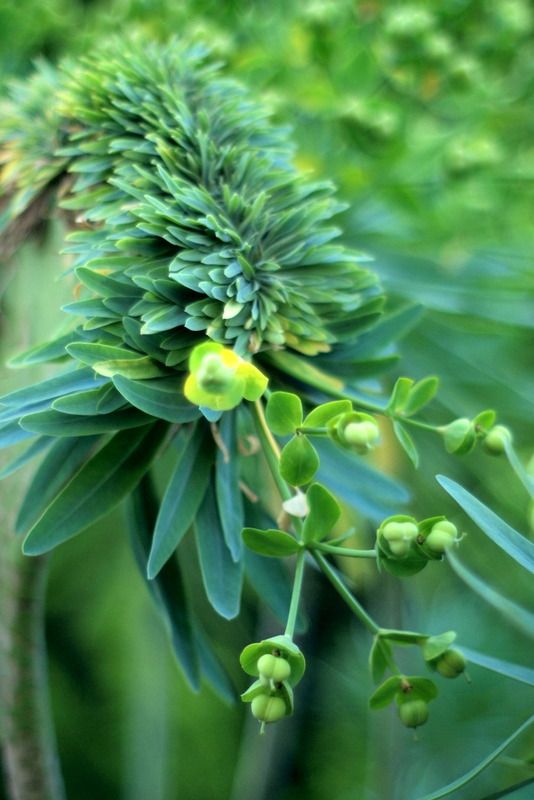 (Here's a closeup of the fasciation on that bloom of Euphorbia lambii you probably noticed.)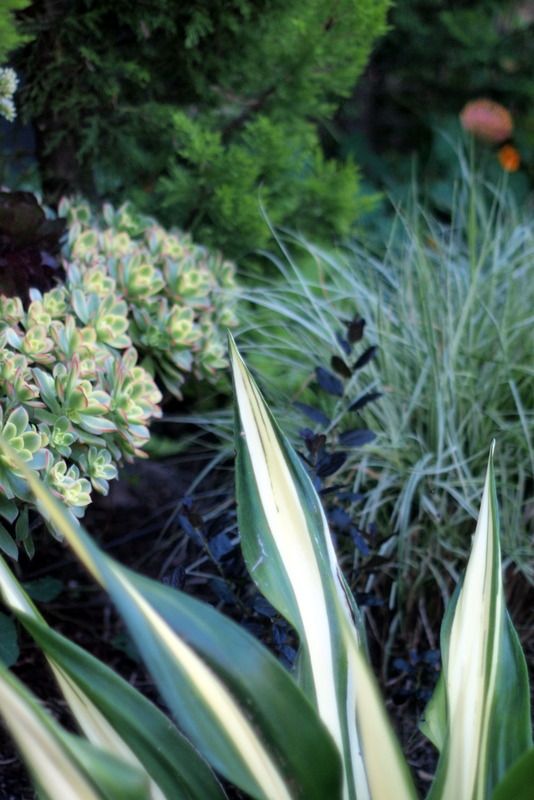 Once the cypresses and a couple shrubs mature/survive, the albatross will have to be relocated, but it can stay through summer.
Just forward of the cypresses, the shrubs are dark-leaved Ceanothus 'Tuxedo' in the foreground and Leucospermum 'Sunrise' in the distance.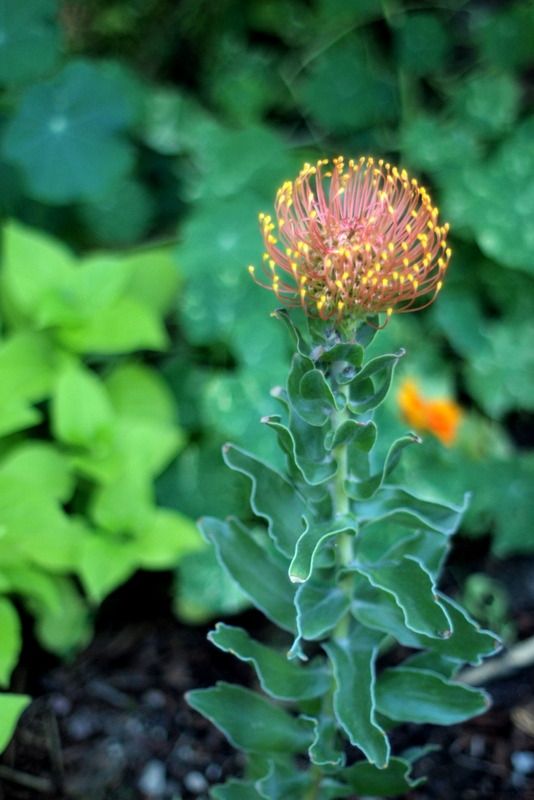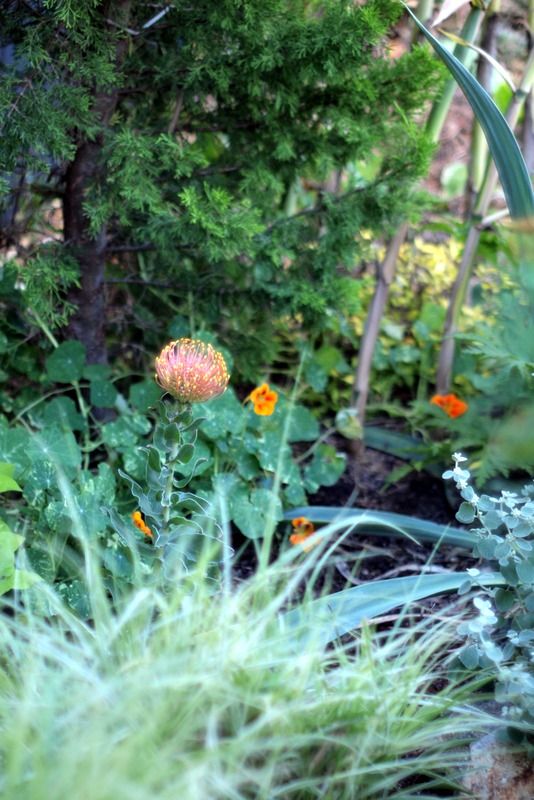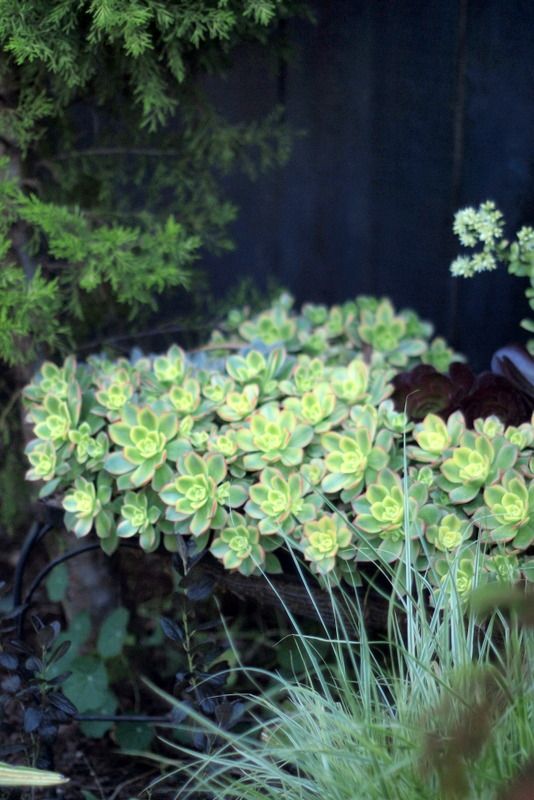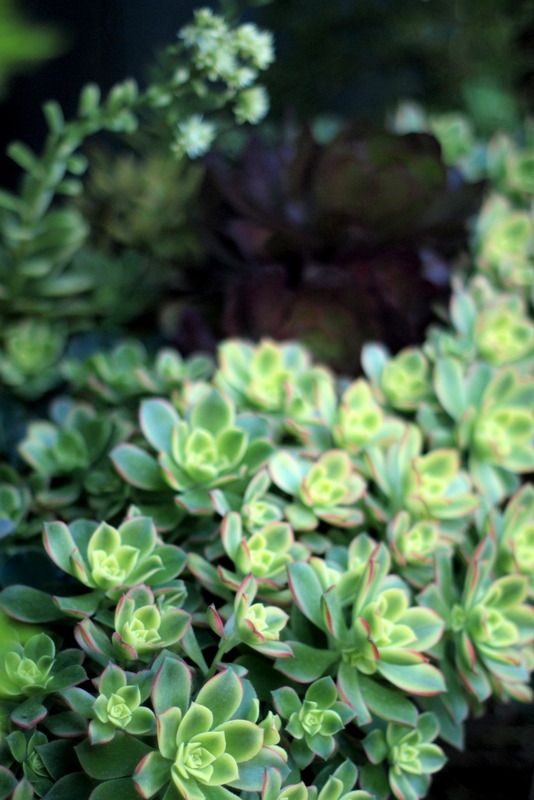 Now the succulent table experiment has me thinking in new directions. After visiting the Moorten Botanical Garden, building raised benches for succulents and cacti has become an intriguing possibility I've been keeping open for an underused side patio, something I can practice on with those basic carpentry skills I hope to acquire.