I had a paycheck a couple weeks back that was bigger than expected, so that's when my ongoing cold inspection of every variegated octopus agave on offer around town turned into hot acquisition. Always expensive, always a little bit beat up, because those long arms/leaves are impossible to ship and keep in stock undamaged. Agave vilmoriniana 'Stained Glass' is the variegated form available, named after the late Charles Glass, curator of the Cante Institute and Botanic Garden in San Miguel de Allende, Guanajuato, Mexico, who was circuitously responsible for bringing this agave to the attention of San Marcos Growers, which introduced it in 2008. The best group of local specimens I've found are at the International Garden Center near the airport, and since I often work near LAX I had been checking them out for some time. Flush and with a serious intent to buy, I methodically compared each agave, counting the number of pristine leaves, and the plant with the most was the take-home winner. I emptied out this big industrial tank of accumulated odds and ends, but chiefly an enormous Miscanthus 'Cabaret.' It does remind me of an octopus trying to climb out of an aquarium (which I have seen done, by the way. Marty worked with fish trapped in power plant intakes way back and once brought home a small octopus. One afternoon was enlivened by the sight of it making its determined way across our beach rental's shag carpet to the perceived freedom of the toilet. The feisty kraken was returned unharmed to the aquarium, where we fed it small crabs for a while then released it.)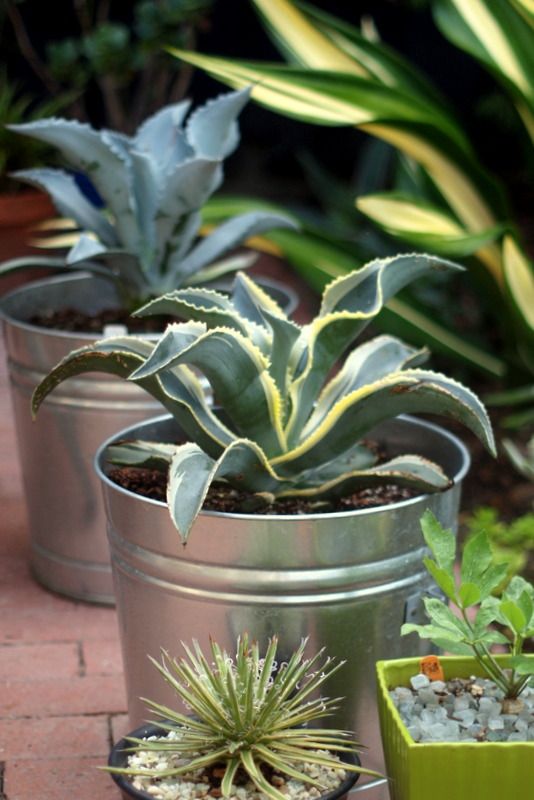 Same type of methodical comparison resulted in choosing my Agave gypsophila 'Ivory Curls,' purchased as consolation for suffering with a head cold in October. (There's as many justifications for buying agaves as there are agaves to buy, and there's two for you, a good paycheck and a bad head cold.) This was the best-looking rosette, but other plants already had pups attached, a nice bonus. Decisions, decisions. The pup-forming plants' leaves were much more distressed, mottled with those brown spots I see on a lot of Agave americana 'Mediopicta.' It's probably a harmless blemish possibly caused by overhead watering, but why ask for trouble? The good-looking but solitary plant made the cut. The blue agave behind it is Agave franzosinii, both agaves' leaves now curling in unison. The franzosinii had already outgrown its first pot, so these cheap buckets I had on hand seemed a good temporary home. A couple Salvia 'Amistad' were ousted, planted in the garden, and now it's Bucket O'gave. The gypsophila will reputedly grow no bigger than 2-3 feet high and wide, but the franzosinii can reach the size of a VW bug and will probably explode out of the bucket in a year. What I'll do at that point is still in the planning stages (no idea!) Little agave in the front is A. X leopoldii. The species Agave vilmoriniana was also purchased and planted in the ground. I've been on a county-wide agave rampage this fall.
And that's the Friday agave report.